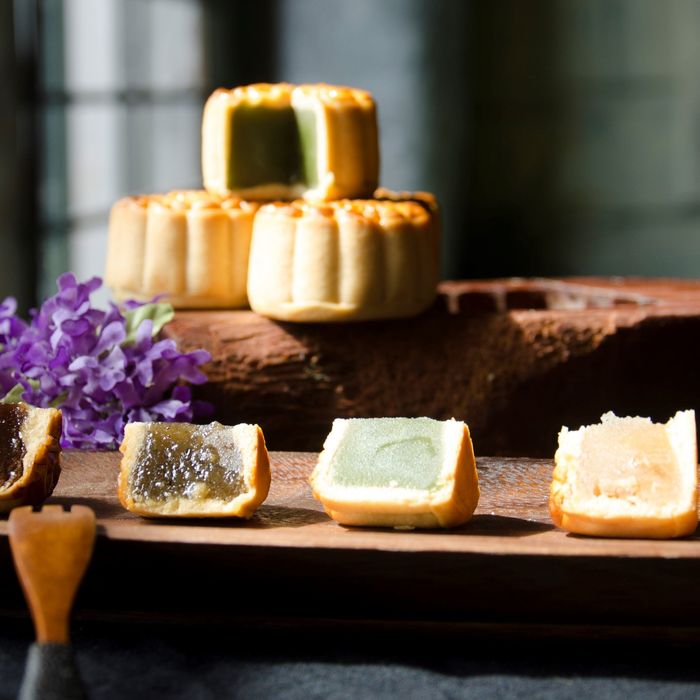 Walk into any Asian grocery store right now, and you can't miss it: rows and rows of red-and-gold boxes, bearing labels like lotus seed, red bean, mixed nuts, and egg yolk. In the weeks leading up to the Mid-Autumn Festival, stocking up on moon cakes — petite, dense pastries packed with sweet or savory fillings — is a tradition synonymous with the festival itself.
Falling on the 15th day of the eighth month of the lunar calendar (which takes place on September 21 this year), the Mid-Autumn Festival is one of the most important Asian holidays, celebrating the bounty of the autumn harvest when the moon is at its brightest and most beautiful. As a gesture of auspiciousness, moon cakes are commonly exchanged and enjoyed among friends and family. The cakes are often stuffed with salted egg yolks, which symbolize the moon — the more yolks inside the cake, the greater the prosperity.
Moon-cake variations are endless, and everyone has their own fiercely held opinion on which styles and flavors are the best. I have a personal fondness for the lotus-paste moon cakes containing as many eggs as possible, and when I was growing up, my parents would slip me extra yolk from their own slices. (When they brought home anything with dates or nuts, however, I was completely uninterested.) If you don't have the good fortune of living near an Asian bakery or grocery store, we've chatted with various cool people about their favorite moon cakes that are available to purchase online. (And if you're looking for some strong tea or fine china to serve with your moon cake, check out our list of AAPI-owned businesses to support.)
White lotus-seed paste is a classic moon-cake flavor, one that food photographer and blogger Peggy Chen calls a guarantee win. "The white lotus-seed paste is smooth and nutty, and the salted egg yolk has a savoriness that balances out the sweetness," Chen says, recalling how her grandma would pick up a box of these Wing Wah moon cakes every year. After her passing, "my family continued the tradition. We gift each other these specific moon cakes every Mid-Autumn Festival," she says.
Michelle Hsu, founder of Ilha Candles (which recently came out with a moon-cake-shaped candle), is also a fan of the classic lotus-paste and egg-yolk combination. Though Walmart isn't typically the first place to come to mind when buying moon cakes, she says this Joy Luck Palace box set is "so affordable and surprisingly really good!"
Black Bean Grocery co-founder Brandon Ly's go-to moon-cake supplier is the classic Hong Kong–originated Kee Wah Bakery. They carry "a huge range from the traditional bean pastes to low-sugar/high-fiber alternatives and more modern custard creations," Ly writes, so whether you prefer mung bean or red bean, pineapple or date paste, meat or mixed nuts, you're likely to find what you're looking for from Kee Wah.
Multiple people mentioned the popular Asian bakery 85C as a reliable source for Taiwanese-style moon cakes, which, according to Hsu, feature "a flakier outer layer and are usually stuffed with mung-bean paste, braised minced meat, and other delicious things that give the moon cake a perfect sweet and savory balance." Chen also finds that the round Taiwanese moon cakes "have a better filling-to-yolk ratio than square ones." Both Chen and food writer Clarissa Wei agree that 85C's taro mochi flavor is one of the best, especially since "the mochi adds a chewy twist to it," Wei says.
Kevin Wong, co-founder of Lunar Hard Seltzer, always had a box of Sheng Kee moon cakes at the dinner table growing up. It's filled with an assortment of flavors, including date, lotus, pineapple, and red bean — but Wong's favorite filling has always been "jujube dates because of its sweet, smoky, and sour complexity." These cakes do not include the egg-yolk center; Wong has never been a fan, though he's "been told it's a grievous sin, one I should be ashamed of committing," he jokes.
When food TikTokker Cy Nguyen can't find her favorite moon cakes at her local Asian grocery store, she also turns to Sheng Kee, whose "assorted collection is my go-to for gift-giving." As a kid, her favorite was a "date, nut, and egg-yolk combination," but this more contemporary set also includes fun fruit flavors such as strawberry, mango, and honeydew.