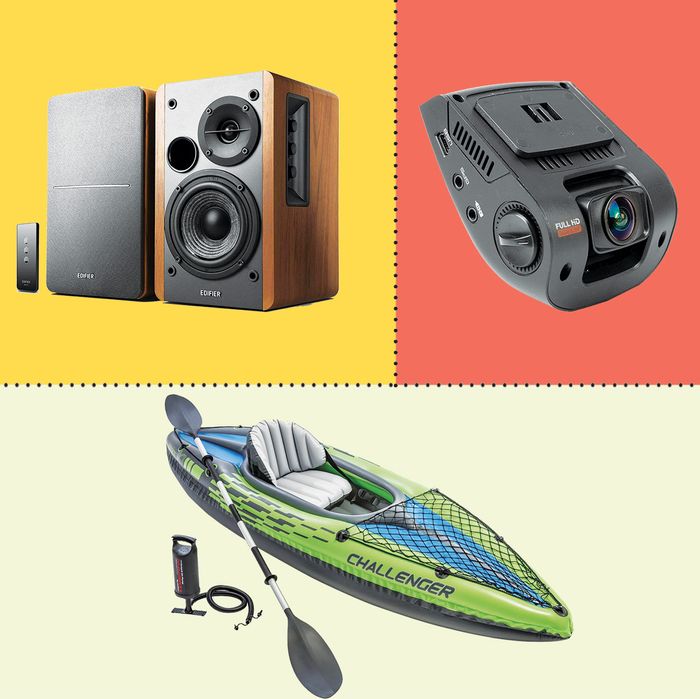 Image courtesy of the retailer
Here at the Strategist, we like to think of ourselves as crazy (in the good way) about the stuff we buy (like pillows), but as much as we'd like to, we can't try everything. Which is why we have People's Choice, in which we find the best-reviewed products and single out the most convincing. This week, we're highlighting the best-reviewed items on sale for Amazon Prime Day. Everything below is not only vouched for — it's on sale. (Note that reviews have been edited for length and clarity.) Follow us on Twitter for our coverage of lightning deals, too.
Note: We've been hearing that if you add items to your cart but don't check out swiftly, the deals are lost. Try not to wait!
"This thing is no joke! I took it backpacking on Maine's Bigelow range. When I ran out of the water I brought, I was A-okay with this. Just bring a wide-mouth bottle to fill with water you find. On top of one of the lower peaks, I drank from the most disgusting-looking crevice filled with brown scum. I thought, this is going to be safe, but taste horrid. WRONG. TASTED LIKE THE FRESHEST SPRING WATER. Better than any tap. I'm from Maine, and I've tasted plenty of water right from mountain springs, so take my word."
"LOVE this kayak! I've taken it out twice a week for the past month on the Charleston Harbor, and it's worked incredibly well. Inflates quickly, deflates and folds up perfectly. I spend no more than 20 minutes total with setup and teardown, giving me more time on the water before I head to work. Nice and compact when it's packed up, so it fits nicely in my Prius and stores beautifully in my condo. It's also quite durable. It's exactly what I wanted for my recreational kayaking."
"This is actually a great little TV! I had a bit of an issue setting it up because my internet provider was the issue, but I contacted the customer-service number on the box and they were FABULOUS … this TV will let you (very easily) set up your DirecTV, cable boxes, DVD players, and has a button for Amazon, Netflix, sets up your Hulu … The volume is very sufficient … It's just a great TV for your bedroom, guest room, kid's room … And the price is terrific … I'll definitely purchase another one for my guest room."
"This thing is awesome. Amazing sound for a small speaker. Battery charge lasts as if it were touched by Puff the Magic Dragon. No regrets. LOVE it. I had it in a crappy delivery vehicle, (box style) with no modern conveniences of man, and when I was about 30 to 40 yards away, it created an amplified version and it sounded so nice, it made me laugh. So, you could have it in the doorway of a shed outside and use that as an amp apparently, and enjoy incredibly crisp highs and lows. Very cool. You will like it."
"I love my Fitbit. I fought with myself for a year trying to decide if I wanted to spend that much on a glorified watch. I finally made myself do it, thinking it would help me stay active. It does that and so much more! I use it as a silent alarm so that I wake up in the mornings without waking the whole house. The bands can be switched out so that it goes with anything. You can connect with friends and do challenges. It tracks your sleep patterns, your heart rate. You can get notifications to move or exercise. The thing even connects to your phone so that you know when you are getting text messages and calls without carrying your phone everywhere. This is worth the money for sure!"
"We spent a long time looking for just the right area rug for our family room and we definitely found it. This rug is perfect! The colors and distressed are just as pictured. Not sure if it's the design or color or both, but it's hard to tell when the rug gets dirty. I vacuum it regularly, but you would never know it's dirty just by looking at it (and with a dog, two kids, and their friends playing at the house that's a bonus, for sure!). Couldn't be happier with this purchase!"
"I absolutely LOVE this blanket!! It washes up well, doesn't shed, and is heavy and soft! You can not beat this for the price! I chose the cream-color one in the largest size. It warms me instantly, and the heaviness of the blanket gives me a sense of security. I would definitely buy this blanket again!"
"ABSOLUTELY FANTASTIC! I owned an older model that I bought over five years ago that was starting to have problems. I really debated between this one and the less expensive V6 model … VERY glad I took the plunge. This baby is very powerful. It does such a good job that I now only use my big Shark vacuum for the rugs about once a week. You won't be disappointed with its performance."
"Disgustingly amazing. I can't say how much I enjoy using this. You don't really realize how dirty your floor is until you use this. I love not having to vacuum before 'mopping,' and I love not having to actually mop. This thing rocks. We have three levels of floors that really should be mopped frequently between two cats and traffic. This makes my life easy. No vacuum, just use the CrossWave. It does a great job and I haven't touched the mop since it showed up. Poor mop."
"I absolutely love this grill. We have other big grills and they take a long time to heat and are not portable in the least. This grill is perfect! It's easy to put together, really easy; it moves around on the patio to exactly where I want it with little effort; and it's a breeze to cook on. If you marinate or season your food prior to cooking, the charcoal grills are only marginally better. Seriously, I wouldn't trade this grill for any other grill."
"I'm in the construction and remodeling business, and having rented these devices for years from the big-box stores for use by my subcontractors on an as-needed basis, I was a bit more than skeptical about purchasing an electrical pressure washer in this price range. I purchased this one for my own personal use and I can attest, based on the above experiences, and my record-keeping, this item has paid for itself after the first two uses. I would immediately buy it again. A plus is the quiet operation. We have designated "quiet hours" in our small city, and the low level of noise during use means the ability to use it any time of day without bothering adjacent neighbors. I have used it a total of 32 hours so far without a hitch, but even if it quit tomorrow, I have already recouped the purchase price and would buy it again."