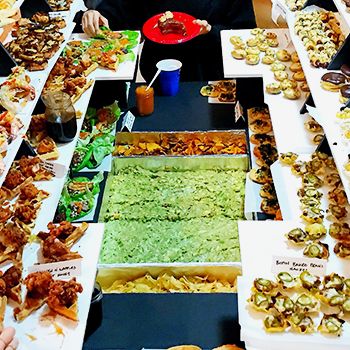 Our three-tiered snack stadium (hand shown for scale).
Photo: Tsz Hin Kwok
A snack stadium, at its core, is just a football-field-shaped thing that you serve food on for a game-time party. But a great snack stadium is an architectural feat teeming with delicious bites that will delight your friends while they watch the Super Bowl — or sit around planning their tweets for the halftime show. My boyfriend and I started making a crazily ambitious Super Bowl snack stadium a few years ago for no clear reason — we've never really been crafty or organized. But I'm spending my life with a football fan who went to architecture school, and since we both like cooking and taking unimportant things way too seriously, the snack stadium has turned into a way to channel that energy.
You can do the whole thing in a weekend, as long as you're willing to skip whoever's birthday party and have a little focus. We think of it as a "36 Hours In" two-day exercise, except we literally never leave the house. Here's how.
Lots of snack stadiums you see on the internet use food structurally — big stacks of sandwiches to form the outside walls and so on. That might seem efficient, but if you think about it for five seconds, it's gross. You don't really want to be eating from a structure that's been picked apart by everyone else's hands all evening.
We build ours out of foam core board. This set works nicely.
You'll also need a straight-edge ruler.
Some pencils (you likely have some lying around already, but just in case).
A razor-blade craft knife for precise cutting.
And this is the fun part: a hot glue gun. If you're living with someone who went to architecture school, they have these items hidden in your apartment in a battered cardboard box. I assume you don't, though.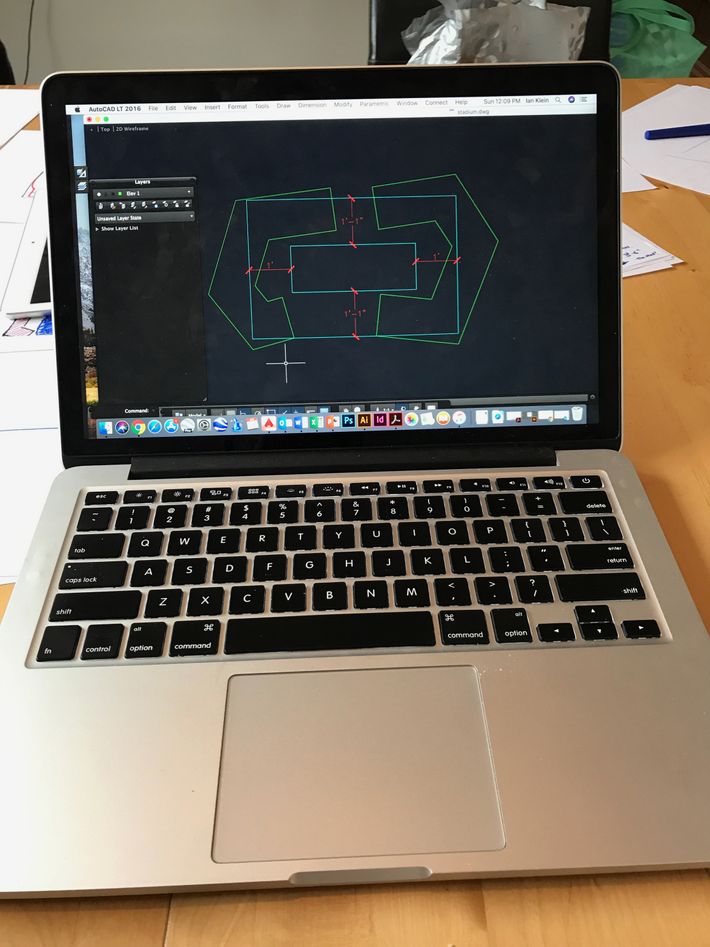 1. Next, plan where you're going to serve it — a smallish table or kitchen island, ideally where people can get at all sides — and use that to figure out how big the base should be. We tried to wing it the first year and ended up having to cut everything twice, so spend a minute sketching it out and figuring out dimensions.
2. I don't know how big your table is, but say you've got a space that's two feet by four feet. Cut a rectangle that size. Then cut two two-foot-long strips and two four-foot-long strips and glue them to the bottom of that rectangle. Now, you have a little platform.
3. Cut out a field. Let's continue to assume that your space is two feet by four feet — if you want to be rigorous, a football field (plus end zones) is 120 yards long and about 53 yards wide. If you divide that out, your proportionate football field would be 30 inches by 14 inches. Cut a 30-inch-by-14-inch rectangle out of the foam board.
4. Then take a sheet of tinfoil, place it over your two-foot-by-four-foot base, then place the 30-inch-by-14-inch rectangle in the center of the platform as neatly as you can manage. Now, you have a base.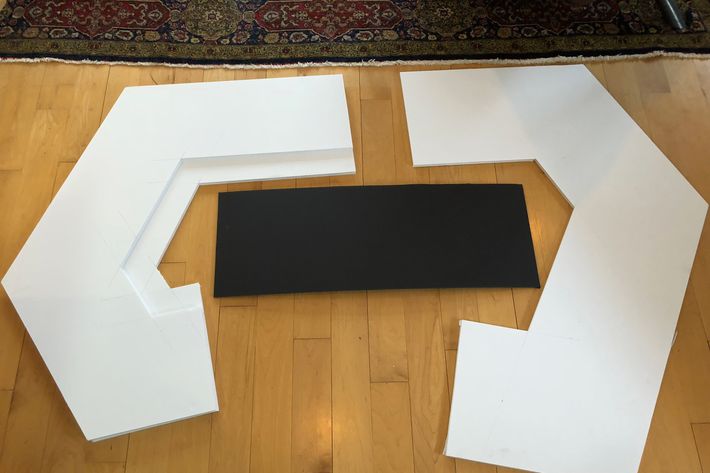 5. Now, you just want to build trays to go above on either side, like the tiers of stadium seating. Because your stadium is four feet long, cut trays (we do three tiers on top of the base, meaning six trays, but four trays would be fine to make two tiers). Make these also four feet long and maybe six inches wide. If you want to get fancy, make them increasingly smaller, so they will slope like a stadium, or cut U-shapes, like we did.
6. Then cut four six-inch squares and glue them vertically along the edge of the base, and put the tray on top of them. Repeat that on both sides. Then repeat it again for the next set of tiers. If you have three tiers, you'll need 16 squares (two tiers require 8).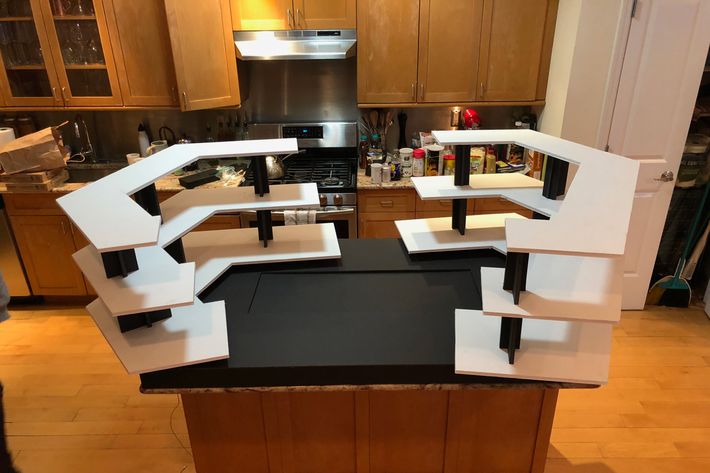 7. Cut up the foam board and glue it all together. If you've never used a hot glue gun before, it's pretty easy: Just use a pencil to mark where the pieces join, since once you start gluing, you've only got one chance to get it right. After you've applied the glue, hold the pieces firmly together for about ten seconds and you should be golden. (And remember to unplug the gun when you're done, so you don't burn your house down.)
No matter how high-concept you get, people still want to eat Super Bowl things at your Super Bowl party. Add some chicken wings, pigs in blankets, and so on to the list — that stuff will always get eaten before the lettuce-cup salad. Everything should be finger food, which is easy enough if you remember that most things can go on a cracker or a little piece of toast. We divide our stadium in half and cook a bunch of different foods for each of the regions of that year's teams. That meant chicken and waffles last year for Atlanta, and pulled-pork sliders the year before for Carolina. Since the Patriots are apparently never not in the Super Bowl, we've ended up making about a million mini–lobster rolls (you can use crawfish tails; it's way cheaper and no one will know). If you're stuck, these are some cookbooks specializing in small snacks. (Don't judge Martha Stewart; it's pretty good.)
Also, you might think that making a field out of guacamole and end zones full of chips is the most obvious thing in the world. Just note that it takes approximately $400 worth of avocados to fill a decent-size football field, and once you start serving the real food, everyone will forget about it, leaving you with about $387 worth of now-brown guac. Instead, maybe do some retro Jell-O, in a disposable aluminum pan, or just buy a sheet cake that you decorate with green icing.
The Strategist is designed to surface the most useful, expert recommendations for things to buy across the vast e-commerce landscape. Some of our latest conquests include the best women's jeans, rolling luggage, pillows for side sleepers, ultra-flattering pants, and bath towels. We update links when possible, but note that deals can expire and all prices are subject to change.
Every editorial product is independently selected. If you buy something through our links, New York may earn an affiliate commission.