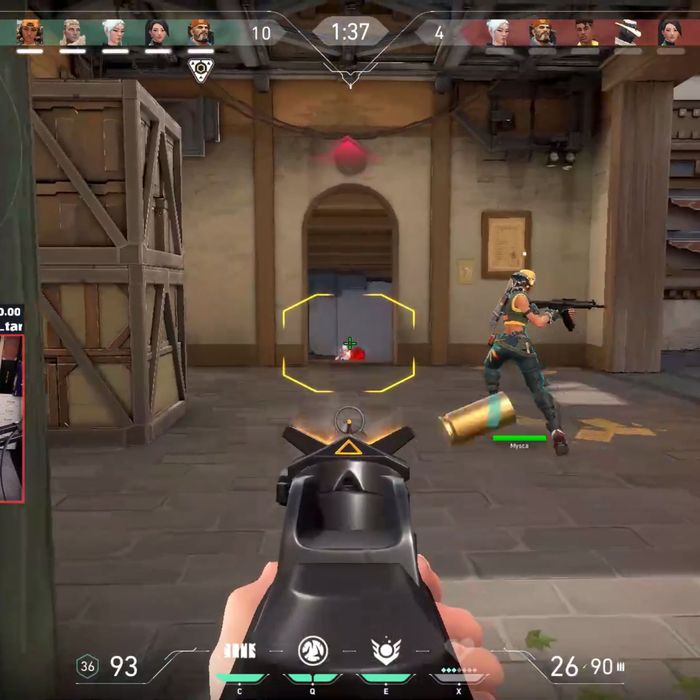 If you're starting to feel as though everyone is streaming during the pandemic, that's because they are. According to The Verge, 2020 was the "year of the Twitch streamer," with millions of people spending 1.6 billion hours on Twitch. Even Representative Alexandria Ocasio-Cortez joined in, streaming the game Among Us to as many as 435,000 viewers — one of the 20 biggest streams ever, according to TwitchTracker. If you dream of becoming streaming's next AOC, or even Ninja, now is as good a time as ever. While you may not have the same immediate success, the potential is out there: You can make money or just enjoy games with a community of viewers. Especially if you're prepared.
Alexander "Alexotos" Medeot, whose channel focuses on building and designing mechanical keyboards, advises beginners to start small — and be brief. "I thought the more time I spent streaming meant more people discovering my stream. In most cases, it's the furthest thing from the truth," he says. Another mechanical-keyboard-building streamer, Tae Ha Kim, recommends streaming with a plan in place. "Having a set schedule that viewers can expect to see you live is beneficial. Learn to use your time efficiently and wisely and take time to prepare actual content for streams," he says. Streaming without a goal in mind is like planning a heist without knowing if the bank has any money in the vault.
In terms of content, Medeot says, "Make sure you enjoy the content you're streaming. The internet is the biggest bullshit detector going, so if you try to fake enthusiasm, you'll end up looking silly." From there, it's a matter of balancing gaming with participating in the chat. Sara "Pumpkinberry" Paige, who runs a tabletop RPG stream called Tablestory, says, "Think of yourself as an entertainer, a comedian, etc., in a room full of people."
If that's a role you're ready to take on, we asked Medeot, Kim, Paige, and five other professional streamers to share their tips on how to do it well and what equipment to do it on.
Best mic and mixer for streaming (for most people)
"Great-quality audio is essential," says Tom "Unit Lost" Stewart, a streamer who often makes videos about the popular FPS game Overwatch. Paige agrees, saying, "Audio is the first thing you should upgrade in any stream." They both use the same setup: a RØDE Procaster XLR microphone plugged into a GoXLR, which Paige describes as "a mixer, compressor, and voice-effects changer rolled into one." While you may choose to start with a less expensive USB mic (like the Blue Yeti, below), Paige says it won't have the compression you need to keep your volume levels consistent. "I play scary games every Friday and scream a lot, so it wasn't an option to not have it working properly," she says.
Best premium microphone for streaming
If you're hosting streams focused on ASMR or singing, Medeot recommends this mic. "The hobby I stream, mechanical keyboards, is largely sound related. To convey the most accurate and detailed sound, I needed a good microphone," he says. "It works so well for almost every application I've thrown at it."
Best budget USB microphone for streaming
The benefit of a USB microphone is that it's compatible with almost all computers; just plug it into a USB jack. Also, it's much less expensive. Both BrickinNick, who has a family-friendly crafting channel that focuses on creative LEGO builds, and Dominike "DomoStanton" Stanton, a professional comic-book artist who shows viewers the behind-the-scenes of his art, recommend the Yeti. "I started with a Blue Snowball and eventually upgraded to a Blue Yeti. Only now, after nearly five years of streaming, am I looking into a high-end microphone," BrickinNick says. The Yeti has gain control, a mute button, headphone output, and a convenient headphone volume knob if you need to adjust things on the fly.
Best headset for streaming
Christopher "Cnotbusch" Notbusch, an artist who makes custom sculptures on Twitch, recommends the SteelSeries Arctis 7. These headphones have a 24-hour battery life, and, he says, "I'm able to move freely without a cord," so he can maneuver around sculptures and quickly adjust positions without sacrificing great audio quality.
Best overall camera for streaming
"While you can stream with your phone, I highly recommend investing in even a cheap mirrorless camera or DSLR," Kim says. A camera gives you better image quality, and you can plug in a dedicated microphone for better sound as well. "The camera I use is my Sony a7R II with a 28mm f2.0 Sony lens," Medeot says. (iJustine uses the same camera.) "The mount is compact and works very well, and for anyone looking to do an overhead rig but who doesn't have space, this is such a compact solution."
Best (less expensive) camera for streaming
Compared with mirrorless cameras like the one above, DSLRs are a little larger and heavier because they use a reflex mirror and optical viewfinder instead of an electronic display. Justine Griffin, a classically trained violinist and singer (as well as a streamer) uses a Canon 70D with a few tweaks. "It has a maximum record time of around 15 minutes before auto shutting off," she says. "My fiancé helped me find a work-around by installing a program called Magic Lantern and buying an Elgato Cam Link," an HDMI connector that turns any camera into a webcam. The Canon 70D is an older model, so we recommend you pick up either the 80D, which records 1080p video at 60fps, or the 90D, which records in 4K at 30fps.
Best overall lighting for streaming