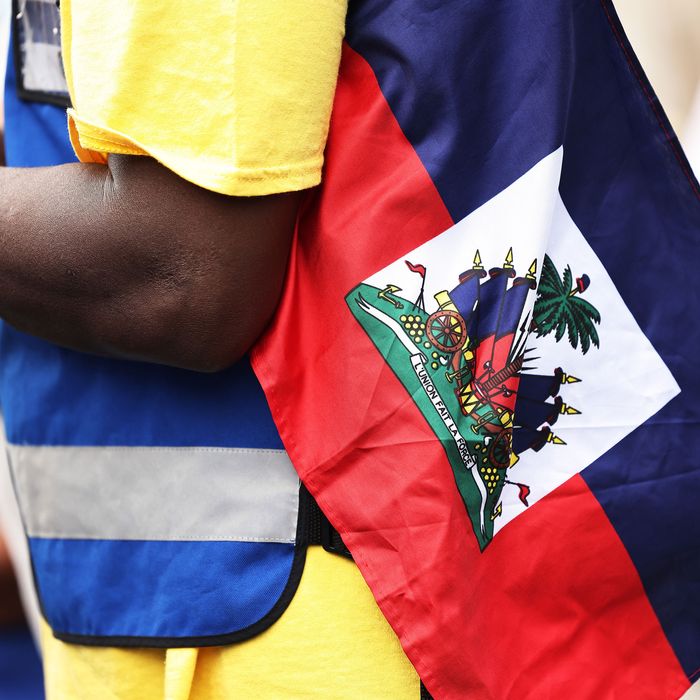 Photo: Michael M. Santiago/Getty Images
Haiti was struck by a 7.2-magnitude earthquake this past weekend that destroyed homes and buildings and killed more than 1,400 people and left more than 6,000 people injured. This earthquake was even more powerful than the 2010 earthquake that devastated the country. It also comes just a month after the political upheaval following the assassination of President Jovenel Moïse. And rescue and recovery efforts have been further hampered by Tropical Storm Grace, which has drenched the country with heavy rains.
If you want to help Haiti right now, first consider where you're donating. "People should look at who organizations work with locally. What are their relationships and history with the local community and local, grassroots institutions? And maybe if you can't figure it out, maybe if they're not forthcoming about their relationships with local communities, it's a sign that this isn't something they prioritize," explains anthropologist Laura Wagner, who previously worked as an archivist for Duke University's Radio Haiti Archive.
That's an opinion seconded by Jonathan LaMare, the chief programs officer of Mercy Beyond Borders, who also advised looking for organizations that help areas affected with food, water, and shelter. Look for local organizations with a "long-standing presence in the affected regions and who already have the connections, infrastructure, and so on to use those funds effectively," Wagner explains. This is especially important as the 2010 earthquake left many with "a real and justified sense that big organizations are out to help themselves, not the people whose images and stories they use to raise funds," Wagner adds.
That's why there's been some controversy about donating to the American Red Cross. A 2015 report from NPR and ProPublica found that the non-profit mismanaged aid that was donated after the 2010 earthquake. "People are warning against donating to the Red Cross to support Haiti because, simply put, the Red Cross squandered over half a billion dollars in aid meant for Haiti and we're not willing to watch them do it again," says Ashley Yates, the media director for Planting Justice. "Most people want their donations to actually make an impact, to actually support the people they have in mind when they give."
Similar to our previous lists on where to donate amid the COVID-19 crisis in India , organizations that give back to Asian communities, and how to support Black lives and communities of color, we compiled a list of organizations where you can donate to help with earthquake relief in Haiti, including recommendations from Wagner, LaMare, and Yates. Of course, this guide is by no means complete so we'll be keeping it updated.
UNICEF is working with its partners in Haiti to assist children and families in need. The organization says it has sent more than 30,000 medical kits with more health, water, and sanitation supplies on the way.
Wagner recommends Partners in Health since it "has been around for a long time and has deep roots in Haiti." She praises the organization for its ability to "mobilize quickly and effectively," including in response to the 2010 earthquake. "And they work with Haiti's Ministry of Public Health, rather than trying to work around them," Wagner emphasizes. Yates also recommends Partners in Health.
Health Equity International helps run Saint Boniface Hospital, which is a "full-service hospital" that's "within an hour or so of the epicenter," according to LaMare. The organization says it's using donations to keep the hospital fully operational to help care for earthquake survivors and COVID-19 patients. Wagner also mentions Saint Boniface as a "mostly Haitian-staffed hospital serving the regions devastated by the quake."
Hope For Haiti works to reduce poverty in the country, emphasizing education, health care, and economic opportunities to help its mission. Through donations, the organization is hoping to support short-term and long-term relief efforts, including supplying medical supplies and distributing home water-filtration systems.
LaMare recommends Mission of Hope International since it has had a presence in Haiti for decades — they "were key in the recovery and relief efforts back in 2010." LaMare points out that the organization is already on the scene and based less than 50 miles east of the earthquake's epicenter.
"The best aid is direct aid. So look for organizations based in Haiti first, then spread out from there," Yates says. That's why Yates recommends SOIL, which she describes as "a local organization with a track record of supporting after natural disasters." SOIL created its own special relief fund for emergency response efforts — and plans on working in partnership with other local organizations. "Many people looked to them after this tragedy and although they are not in the region hit, they answered the call with a fund to support local leaders in the hardest hit region" Yates told us.
Community Organized Relief Effort, or CORE for short, is a crisis response organization that helps underserved communities around the globe. CORE says it is currently assisting in Haiti through debris removal and emergency medical assistance while also providing food, water, and shelter.