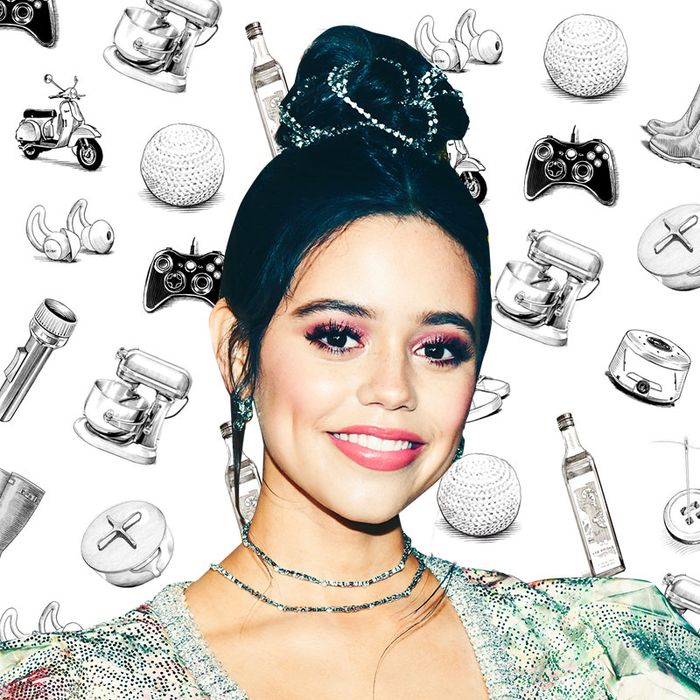 Photo-Illustration: The Strategist; Photo: Getty
If you're like us, you've probably wondered what famous people add to their carts. Not the JAR brooch and Louis XV chair but the hair spray and the electric toothbrush. We asked actress Jenna Ortega, who's a Neutrogena global ambassador and is starring in Netflix's upcoming show Wednesday, about her calming gum, childhood hot sauce, and the time-tested shoes she can't live without.
I'm on set in Romania filming the show Wednesday for Netflix, and my makeup artist, Nirvana, uses this to prep my lips in the morning. She also uses it as a skin treatment if I have a dry spot on my nose from the cold weather or if I just got my nails done and there's a bit of cuticle that's a bit coarse. If I don't plan on wearing makeup during the day, and my lips are dry or it's cold outside, it's the No. 1 thing I use. It's one of those products that enhances your lips a bit — not like that stinging sensation from lip plumpers — but just because it hydrates your lips so much and it has a nice pinkish tint to it. Now, it's part of my morning and night routine. I make sure that I carry it around everywhere I go, and it lasts forever. I even got my little sister on it.
I always try to incorporate some sort of ginger in my meals or drinks. In L.A., there's this culture around juicing and wellness, but I became more obsessed with ginger when I started filming Wednesday because of my director, Tim Burton. I personally enjoy my coffee in the mornings; he prefers his ginger shots. Every morning, or when we've had a pretty difficult day or are getting kind of tired, he always offers up a Moju ginger shot. Now, I have them anytime he offers, multiple times a day almost. I've already had a couple today. I agree with him that it gives me that extra boost. Also, with all that's going on right now, it makes me feel better and makes my body feel a little bit cleaner, since ginger is good for the immune system. I've tried other ginger shots before, but these are just very smooth.
When the pandemic first started, popcorn was pretty much the only thing I ate, and I literally always had a bag on me. When I went to film Scream 5, Dylan Minnette and Mason Gooding were going on and on about Lesser Evil popcorn. They were very, very passionate about this popcorn and were asking everybody if they had tried it. I told them no, and I felt so ashamed because I'm supposed to be this popcorn lover. The next day, Mason and Dylan had a bag of this with my name on it. It changed my whole world. It feels so light and refreshing. I mean, popcorn is popcorn. It's going to taste good no matter what, but if I'm going to be picky, and if I buy popcorn for myself, this is the brand I go to.
This is going to sound disgusting, but I promise you I could drink this stuff. I love hot sauce. I'm not afraid of spice. If I could have every meal with hot sauce on it, I would do it. Tapatío is by far my favorite. It has more of a kick than Cholula, and Tabasco doesn't have enough flavor for me. Tapatío is just a good mix of flavor and spice, and if you know how to use it right, it won't be too overwhelming. Also, it's like when you grow up and you've had your mom's version of a food and somebody else's version, you're going to prefer your mom's because you just grew up with it. Because I grew up with Tapatío, it's ingrained in my brain that this is the correct hot sauce. I'm like, This is what I should use my entire life. And I'm not mad at that.
This kind of sounds unprofessional, but depending on the job, I always have gum tucked up under my teeth. It keeps me focused, and I feel like I can speak clearer when I have it. It's my OCD brain telling me that I need it in order to do a good job. For example, on my second day on set for The Fallout, I was really nervous. My mom came in, and performing in front of family gives me the worst anxiety. I was also working alongside Shailene Woodley, and this was a really important therapy scene. My character was suffering from trauma and I wanted anyone watching to resonate with what I said or did in there.
I was really freaking out, so I put my gum in. That's when I was like, Oh, the blue gum goes really well for me. That day, we blew through the scenes. And, as soon as we started filming, there was a calmness about me, which isn't always there. For the rest of The Fallout, I had this specific gum on me and same for Scream 5, X, and Studio 666. It's become a comfort for me to turn to. Now, I have four or five packs sitting around my house in different places so I can pull them if I need to.
I have these on me at all times. I do enjoy the occasional silence, but I would much rather be listening to something or have something on in the background. I don't know if it's because I grew up in a really hectic household, but anytime there's not music playing, it almost stresses me out. I wear these on set. I wear them going to work, leaving work, going for walks. Even feeling the headphones on my chest is comforting. People call me a perpetual headphone head. I love these because I can control them from the side without pulling out my phone. I've also been getting into a lot more film scores lately, and these are so grand and elegant. They're noise-canceling, so the sound quality is better for complicated pieces. I can pick up on different things I wouldn't if my phone was just playing the music on the counter.
If you saw my pair of Chucks, they're almost embarrassing. They could walk themselves, as my mom would say. My classic black Chuck Taylors are just so comfortable. And I like when things are a bit lived-in — these have been through a lot.
In Wednesday, my character doesn't wear a lot of makeup, but there's a lot of physical stunts that use fake dirt and blood. It's heavy on my face, and I was breaking out more. I have a pretty simple routine — face wash and moisturizer — but I felt like I needed to protect my skin more and add a layer between myself and the makeup. That's where the serum came in. [Editor's note: Ortega is a global ambassador for Neutrogena.] I started using it morning and night, and it really helps. I have combination skin and it's also very cold here, so my skin gets very dry. This gives my skin a nice balance — it doesn't leave me too oily or too dry. It's a nice additional step that's contributing to taking better care of my skin and helping it out while I'm filming.
The Strategist is designed to surface the most useful, expert recommendations for things to buy across the vast e-commerce landscape. Some of our latest conquests include the best acne treatments, rolling luggage, pillows for side sleepers, natural anxiety remedies, and bath towels. We update links when possible, but note that deals can expire and all prices are subject to change.