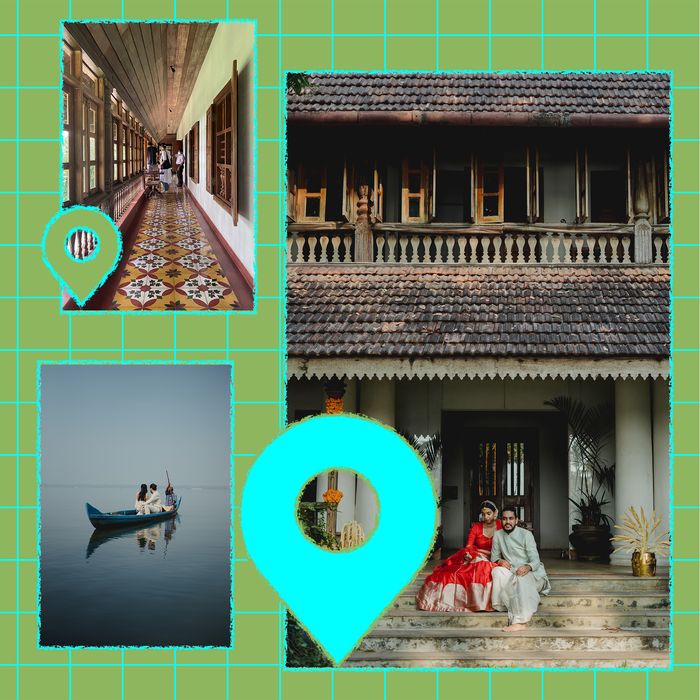 Photo-Illustration: The Strategist; Photos: Utharaa Zacharias
Everyone knows that person who spends weeks sniffing around travel blogs, going deep into Tripadvisor rabbit holes, collecting Google docs from friends of friends, and creating A Beautiful Mind–style spreadsheets to come up with the best vacations and itineraries possible. In this recurring series, we find those people who've done all the work for you and have them walk us through a particularly wonderful, especially well-thought-out vacation they took that you can actually steal.
Since moving to the Bay Area in 2017, Soft Geometry co-founders Utharaa Zacharias and Palaash Chaudhary return to their native India every year for Christmas. This year, however, they saved the trip for January to coincide with their first wedding anniversary. They started in the southwestern city of Kochi, Kerala, where Zacharias grew up, and spent the week paddling through the scenic fishing village of Vaikom. "This leg of the trip was special, because it was the first time Palaash was coming home as part of the family," says Zacharias. "There was a lot of discovery for me," notes Chaudhary.
Kochi is also a cultural center for art, different from New Delhi or Mumbai, which are India's commercial hubs for art and design, Zacharias explains, as she mentions their visit to the Kochi-Muziris Biennale. But ultimately, Chaudhary's favorite part of the journey was having coconut water four times a day, fresh from a tree in the backyard. "It is incredibly sweet and tender, so different from what I've had up north," he explains. After a brief weekend excursion to the scenic hill station of Kodaikanal, the pair trekked north to New Delhi, where they had 24 hours to visit their favorite shops, restaurants, and friends' art studios before ending their trip in Amritsar for another friend's wedding, managing to squeeze in a brief visit to the Golden Temple before heading home.
8 a.m.: Arrive in Kochi
For our anniversary, we traveled from San Francisco, where we live, back home to India. We took a Qatar Airways flight from SFO to Bangalore, where we started our India trip, and after a week in Bangalore, we took a short 50-minute Indigo flight from Bangalore Airport to Kochi, my hometown and where we got married last year. My parents, sisters, and brother-in-law picked us up at the airport, and we spent the car ride planning Palaash's first non-wedding-related trip here, excited for him to have the full Kerala experience. We arrived at my mom's house in Vaikom, a tiny fishing village near the backwaters. Kerala literally means "land of coconut trees," and we aptly began the day getting fresh tender coconuts from our trees, drinking coconut water, and snacking on the white fleshy stuff inside. As for hotels in the area, I'd recommend Brunton Boatyard (1/498, Calvetty Road, Fort Kochi), Old Harbor Hotel (1/328, Tower Rd, Fort Nagar), or an Airbnb by the backwaters in Vaikom. (My mom also rents out her house by the water sometimes; you can email her at jabeenzacharias@gmail.com.)
10 a.m.: Explore Vembanad Lake by vallam
My favorite thing about Kochi are the backwaters, and the best way to experience this is on these narrow wooden canoes called vallams. We borrowed a set of vallams from my mom's neighbors, but your best bet is to ask a local fisherman to rent you his boat, or you can rent them at the Vaikom Boat Jetty (Hospital Road, Vaikom). We set out into the Vembanad Lake and took rounds around the lush little islands. We even taught Palaash some Malayalam boat songs.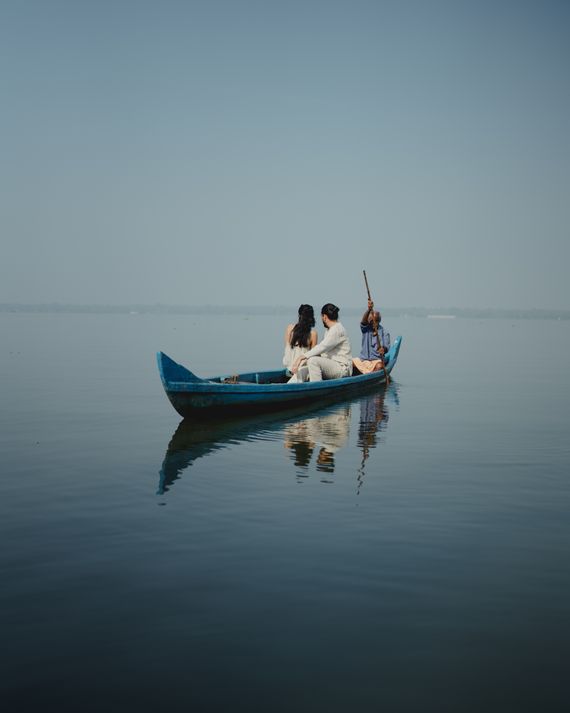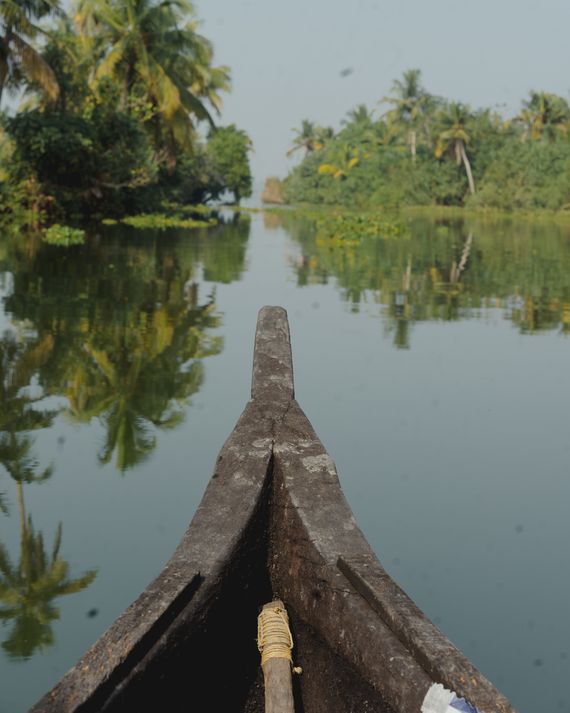 3 p.m.: Eat a home-cooked lunch at Grandma's
Back at the house after a long and sunny time out on the boats, we were ready for some food. My grandma made us a Mallu specialty: Meen pollichathu, which is fish spiced and steamed inside banana leaves. You can also find it nearby at Kalathil Lake Resort (Chemmanakary Road, Vaikom). Predictably, we overate, then took a nap on coir mats on the veranda, waking up just in time to see the sunset.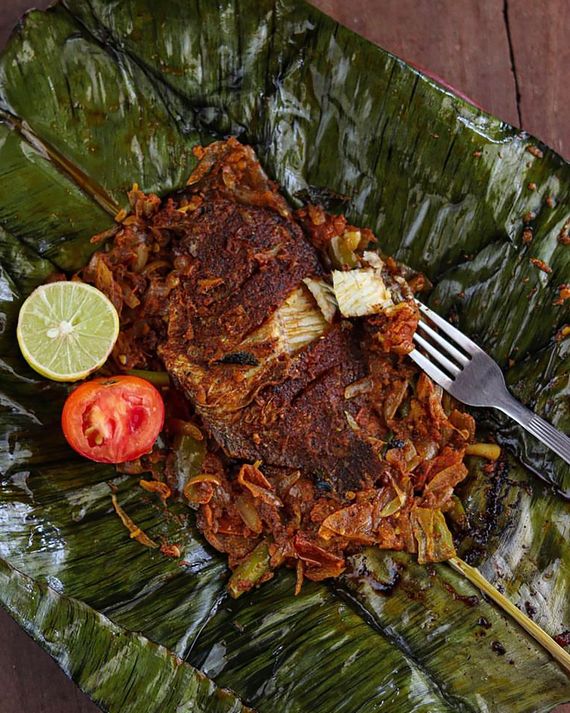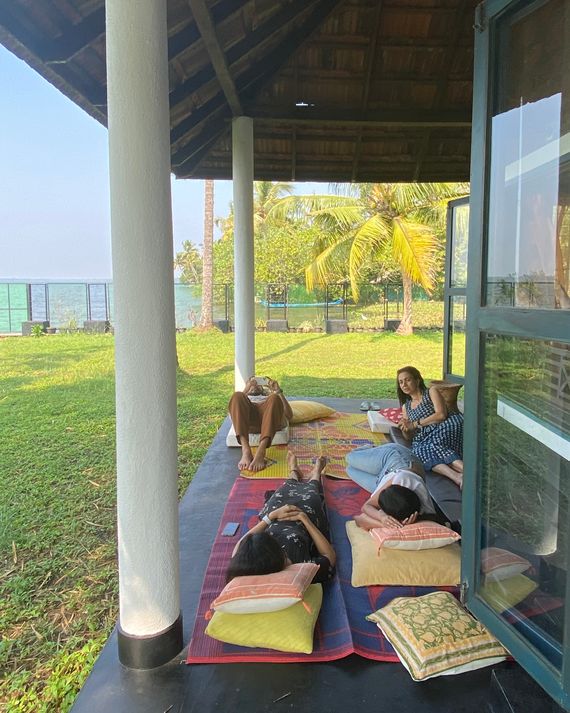 8 a.m.: Order breakfast dosas, then head to the Kochi-Muziris Biennale
We woke up early the next day, grabbed a quick dosa breakfast at BTH Sarovaram (NH 47 Kannadikadu Road, Maradu), and headed to our trip highlight: the Kochi-Muziris Biennale (Aspinwall, River Road, Fort Nagar, Fort Kochi). The Biennale was created in 2011 by the local government in collaboration with local artists, curators, and businesses. With tickets priced at less than $2, the exhibition is completely enmeshed in the city and community, and there is a lot of local pride in the project. The art on view is daring, political, and deep and features international, national, and local artists. It is beautifully integrated into the restored heritage architecture of Fort Kochi, but the experience is unpretentious.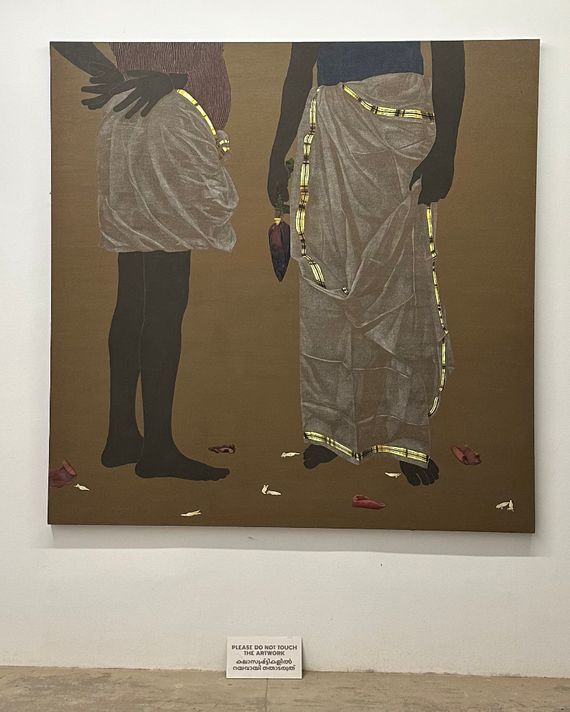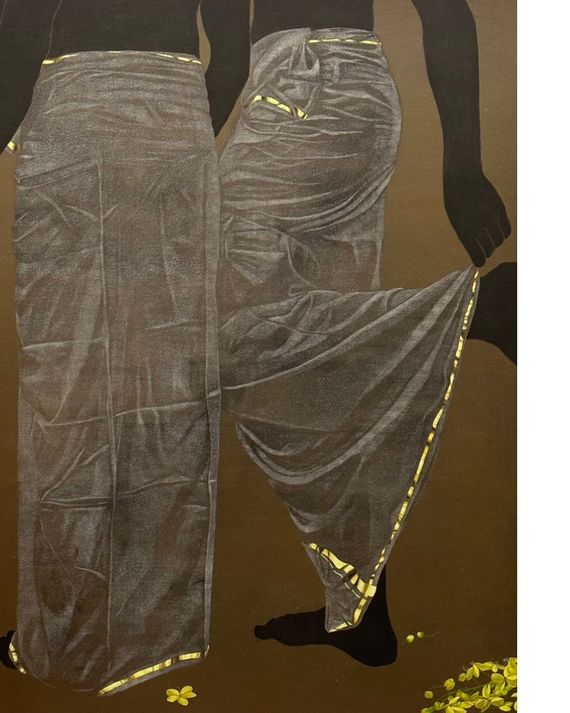 Now in its fifth edition, the Kochi Biennale takes place in the Old Dutch Colonial architecture of Fort Kochi. We walked through to view paintings, installations, and films sprawled through the rickety old rooms, wood staircases, and godowns at the iconic heritage buildings of AspinWall and Pepper House. It was a thoughtfully curated, beautiful exhibition and yet remained approachable as ever, raw and charming, with no layers of museum tape. Devi Seetharam's "Brothers, Fathers, and Uncles" series and Tenzing Dakpa's photography exhibition were some of our favorites.
4 p.m.: Have a late lunch in a hotel garden
We lost track of time at the Biennale. Afterward, we walked over to the nearby Old Harbour Hotel (1/328, Tower Road, Fort Nagar) for some food and beer. We were too hungry to click photos when the food came, but the restaurant is charming and opens into a lush garden. We had Kingfisher Ultra beers, fried prawns in crispy curry leaves, and chicken in some kind of lime-chutney wraps, and shared a cardamom panna cotta for dessert.
6 p.m.: Go antique shopping in old Mattancherry
As a last stop before our feet gave out, we went to Mattancherry (cherry roughly translates to "street" in Malayalam), a locale in Kochi famous for its spice trade, Dutch and Portuguese architecture — and for having the oldest synagogue in India. We drove here from neighboring Fort Kochi, but you can take the ferry from Fort Kochi Ferry Boat Jetty for a more picturesque- less trafficked route. We then went to my favorite antiques store, Crafter's (7/603, Jew Town Road). It's a true treasure trove of everything you can imagine — from gothic cabinetry and Pierre Jeanneret chairs to limitless brass urlis, thalis, and more — and despite our exhaustion, we shopped.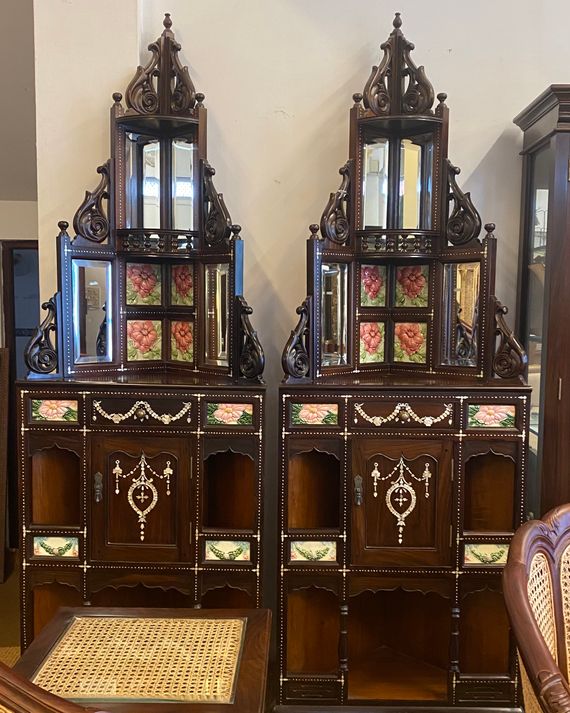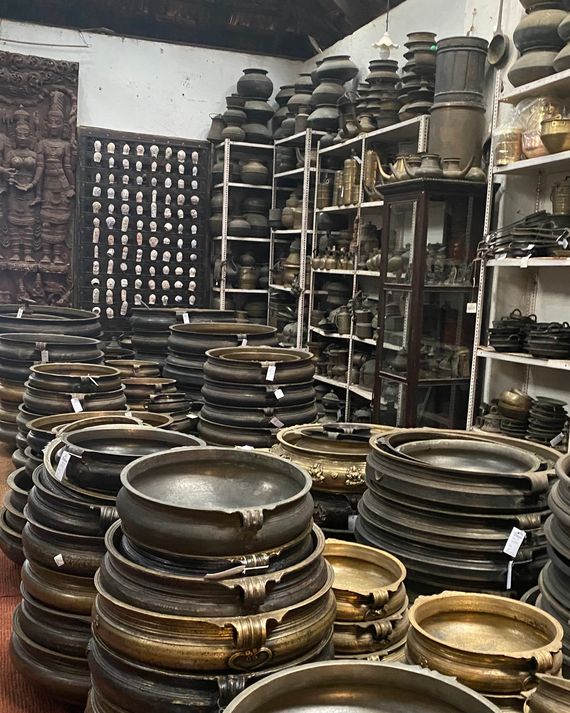 9 a.m.: Visit nearby hill station town of Kodaikanal
Over the weekend, we drove to Kodaikanal (Kodai for short), a scenic hill station around a lake in the western ghats. After the long, seven-hour drive there (you can take a train, but we chose to drive because it's a really beautiful route and for the convenience of having the car to explore Kodai once we got there), we checked into the Tamara Kodai (#22, La Providence, St Mary's Road) and spent the afternoon exploring the resort, playing the traditional tabletop game of carrom, and taking in the pretty views.
4 p.m.: Sip a hot toddy at a resort bar
We ordered a hot toddy at the resort bar: a warm bourbon, lemon, honey, cinnamon, and clove mix that packs a punch and cures a cold. The bar, called Bistro 1845 (#22, La Providence, St Mary's Road), is a French-style resto-bar with a wine-cellar-like entrance where wine casks have been stacked on top of one another. The bar is housed inside an original part of the building, which was previously owned by a British judge in 1840 and later became a retreat for priests.
11 a.m.: Eat a hillside brunch
The next day, we began at a cute local restaurant, Altafs Cafe (Dolphin Nose Road, Vattakanal). We had a leisurely brunch on a table cantilevered on a deck with a spectacular view of the hills. The menu was an Indian-street take on everything from Middle Eastern to burgers to Italian. We had a falafel platter, hummus and pita, a very cheesy pasta, and lime sodas; it was all very tasty.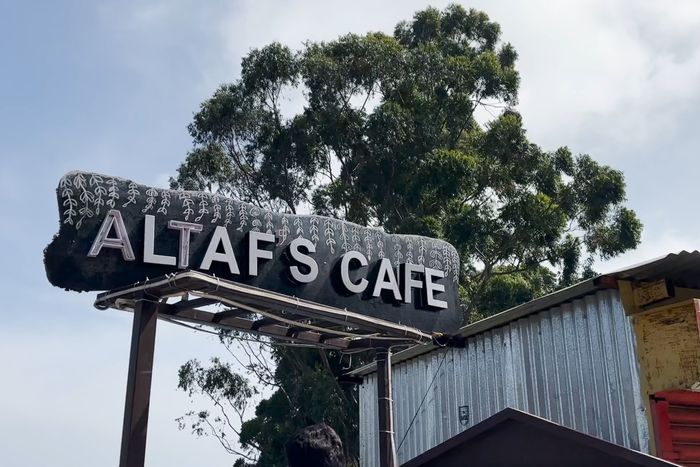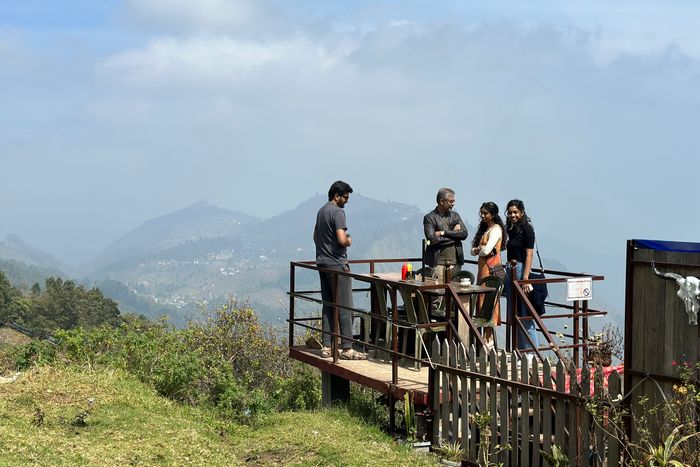 1 p.m.: Bike around Kodai Lake
Kodaikanal Lake is the center of Kodaikanal, where rowing boats and bikes can be rented, and hikers and cyclists can follow the path around the shore. We rented bikes at one of the many lakeside rental shacks near the lake and spent the afternoon doing a 5km bike loop around the lake, stopping for street corn, maggi noodles, and cotton candy along the way.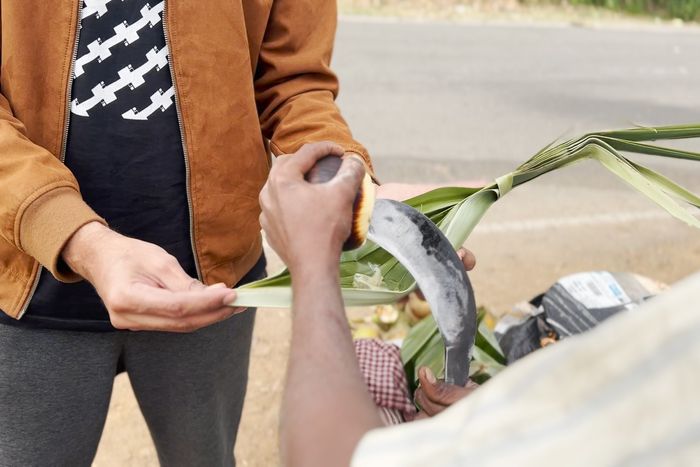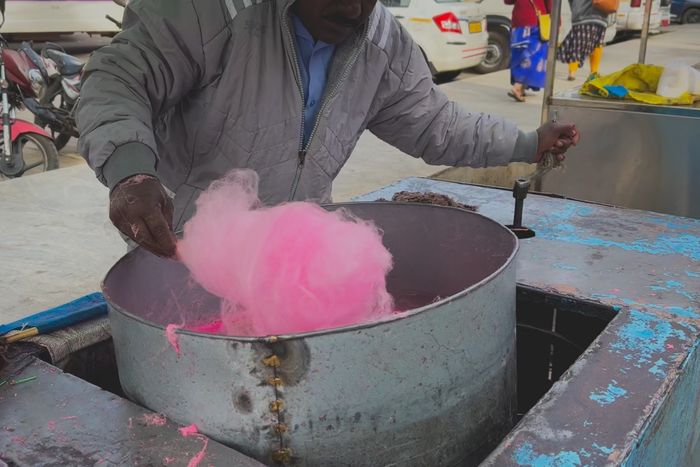 2 p.m.: Browse the local markets of Kodai
Afterward, we drove up the hills to the local markets at Pillar Rocks, a popular viewpoint with cool pillar-shaped rocks and a bustling street of food, tea, and flower stalls. We shopped for homemade chocolates, eucalyptus oil, carrots, chilies (all Kodai specialties), and flowers. We drove back from Kodaikanal to Kochi via Kumily, the longer, winding route through the hills — still breathtakingly beautiful as we passed through tea, cardamom, and rubber plantations. This was a first for both of us, and we stopped many times along the way, although a few times were because we got carsick from all the turns!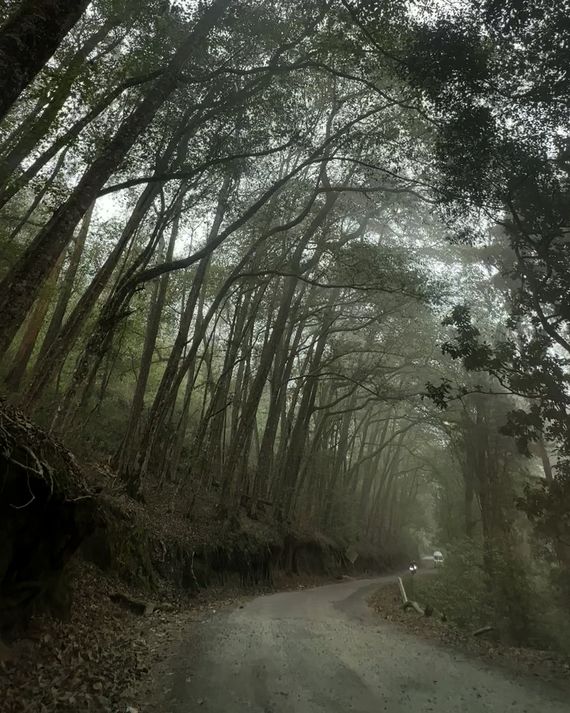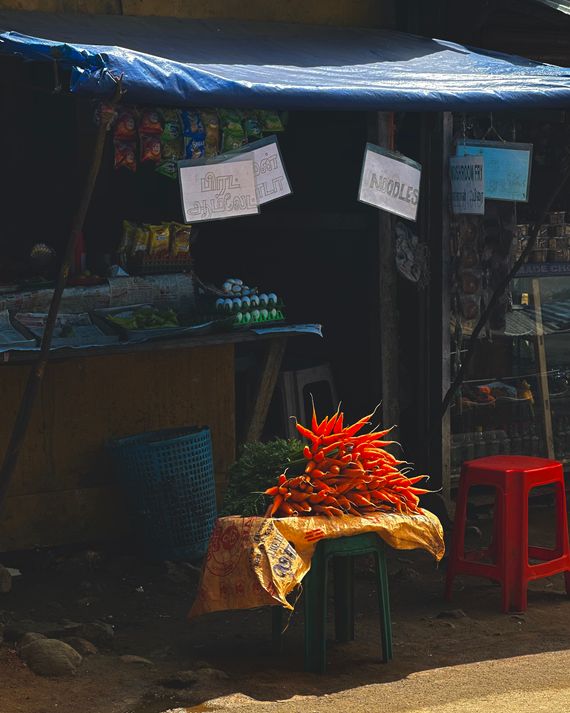 11 a.m.: Stroll the grounds of a former palace
Back in Kochi from Kodai, I took Palaash to Bolgatty Palace (NH966A, Mulavukad), an architectural gem. The palace was built by a Dutch merchant in 1744 and served as the official residence of the Dutch governor. It has been renovated to a state-run heritage hotel, and we spent the morning walking through the property, admiring its remarkable woodwork, and picnicking on the palace grounds. For lunch at the Bolgatty restaurant, we had a traditional sadya, a vegetarian Kerala feast consisting of boiled rice in the center, accompanied by 10 to 15 small savory and sweet side dishes spread out on a plantain leaf.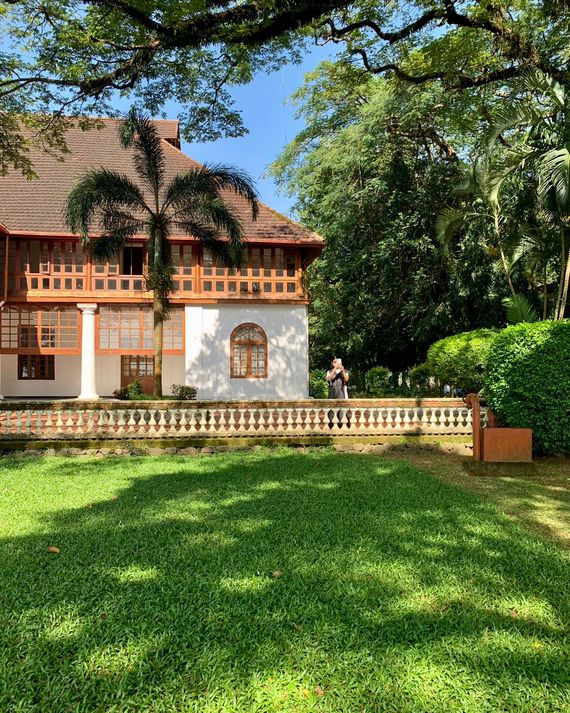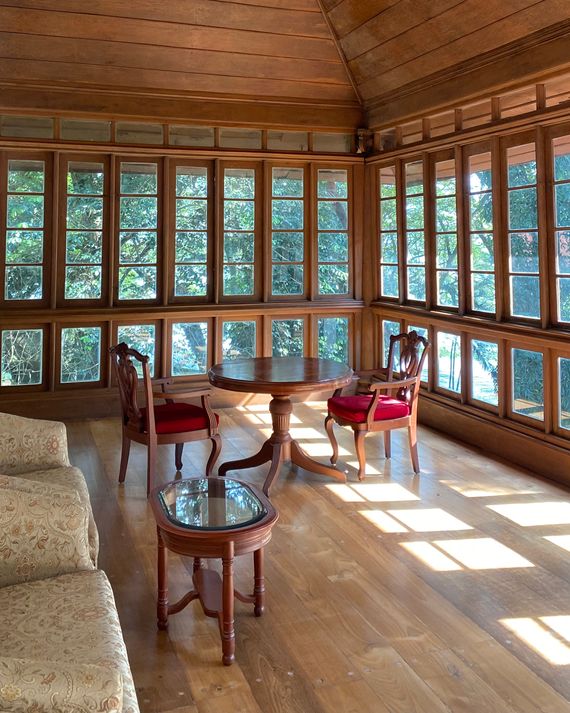 3 p.m.: Go sari shopping 
I never let an India trip go by without sari shopping, despite having so few opportunities to wear one. We went to Kalyan Silks (Hospital Road, Marine Drive), my preferred silk sari destination, among the many options in the city, to buy our mothers kancheepuram saris, a heavy silk woven with gold thread.
5 p.m.: Visit a hidden palace in Kochi
For our last night in Kochi, we headed to Chittoor Kottaram (opposite SBOA School, behind Chittoor Temple, South Chittoor), an absolute hidden gem and our second palace of the day. Tucked deep behind a deceiving gate is the 18th-century summer palace of the then Kochi king. A humble singular mansion with only three rooms — opening to a lush garden on one side and the backwaters on the other — the property is now a heritage hotel. It's where we got married almost exactly a year ago.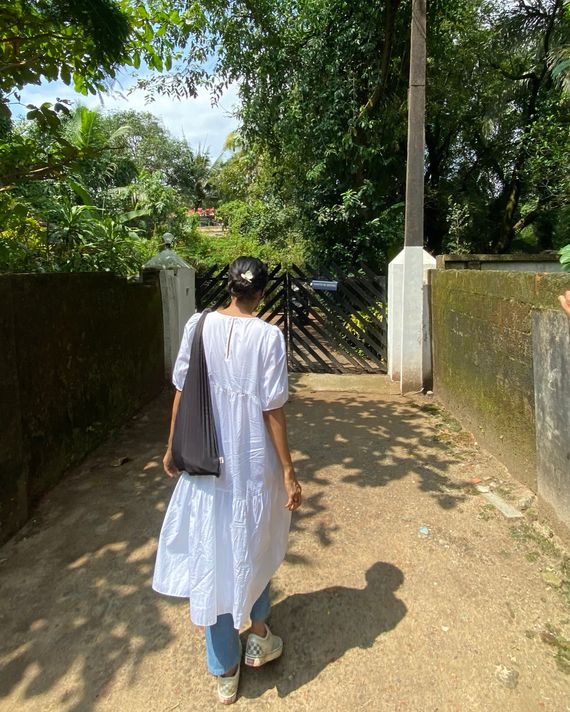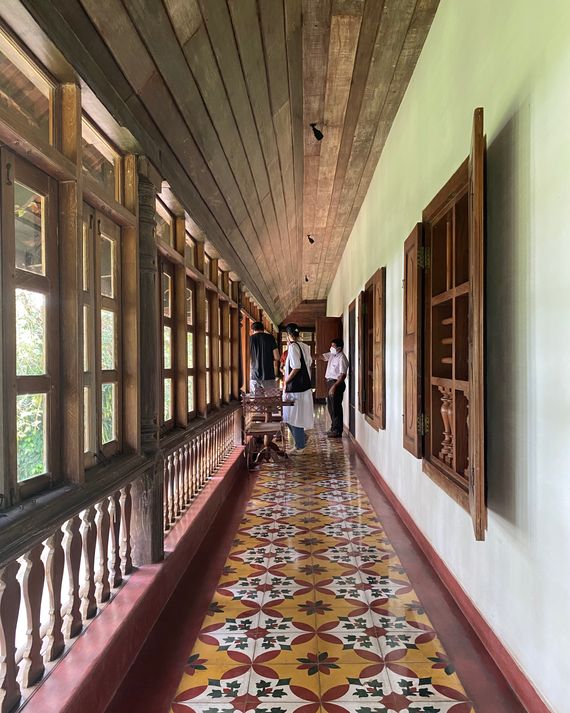 8 a.m.: Book a houseboat ride
Before leaving, we woke up and sat at the spot where we got married and happily relived our wedding day. It was a nice way to round up our anniversary. We even caught a houseboat, crossing the narrow stream that led to the backwaters. A houseboat ride or stay is highly recommended. You can rent one from a boat house on Marine Drive (KTDC Building, Door No. 19, Ground, Complex, Shanmugham Road) or book one online.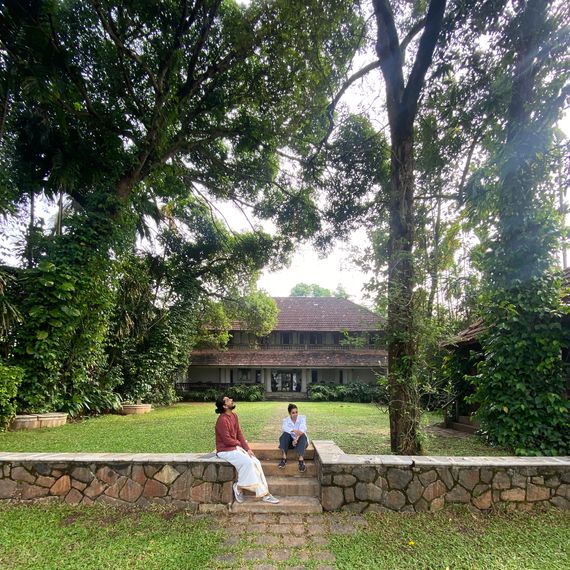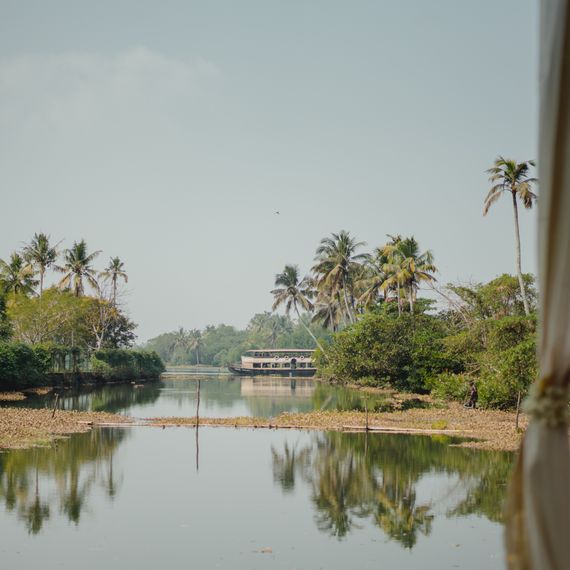 Noon: Spend 24 hours in Delhi
We said our good-byes to Kochi and took a Vistara flight from Cochin International Airport to New Delhi, where we had less than 24 hours. We started with a fantastic late lunch at Coast Cafe in Hauz Khas Village (above OGAAN,H2, Hauz Khas). Funny that our first stop after Kerala was a Kerala restaurant in Delhi, but it was very worth it. The fish moilee was to die for, and the teas deserve special mention as well.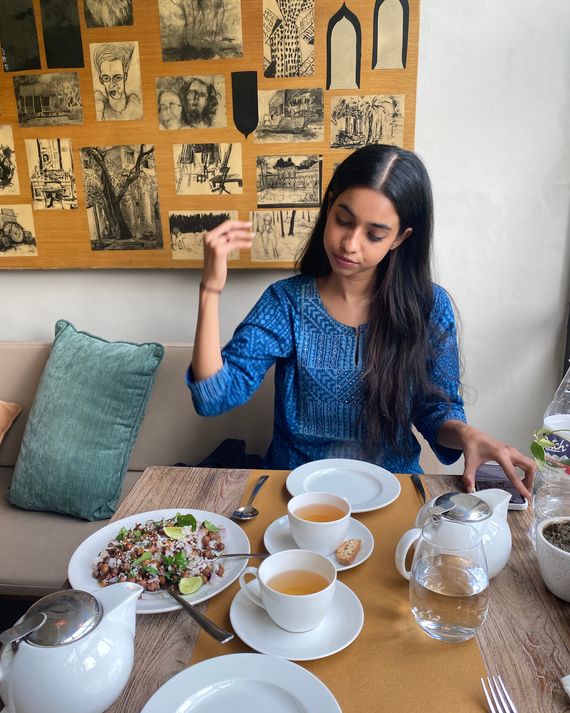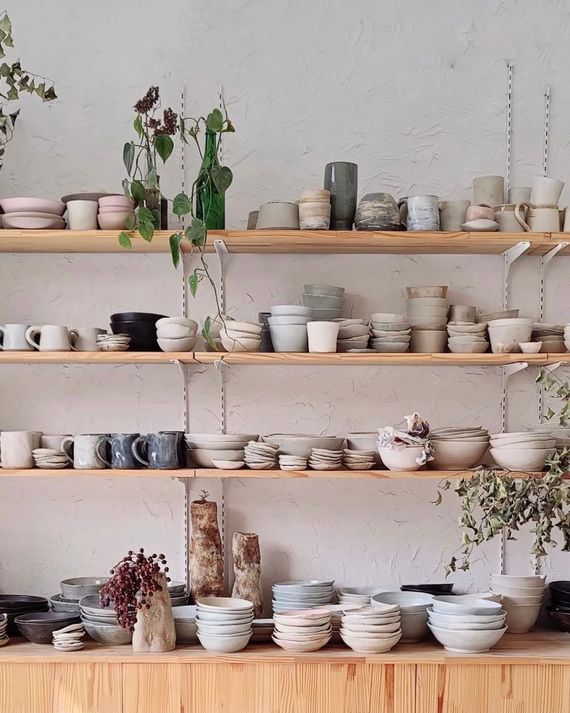 2 p.m.: Check out local ceramics
After roaming around Hauz Khas village, our next stop was at our friend Anumita Jain's ceramic studio, A Clay Story, a beautifully sunlit workshop full of handmade dinnerware with organic, nature-inspired glazes and forms. The workshop is open to visitors by appointment only; you can direct message on Instagram to book one.
4 p.m.: Shop for handwoven textiles 
Rushed to our favorite store before closing: Raw Mango (31, Block 8, Lodi Colony, Market), a design house that makes contemporary Indian handwoven textiles using traditional techniques. The architectural and interior details are as much a masterpiece as the craftsmanship of the clothes. I tried on Banarasi lehengas (long skirts handwoven with gold thread), dupattas (long stoles), hand-embroidered blouses, and more.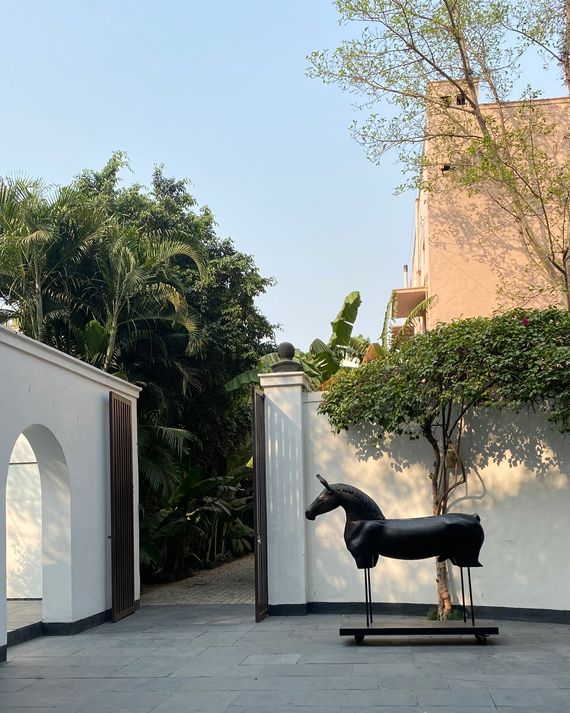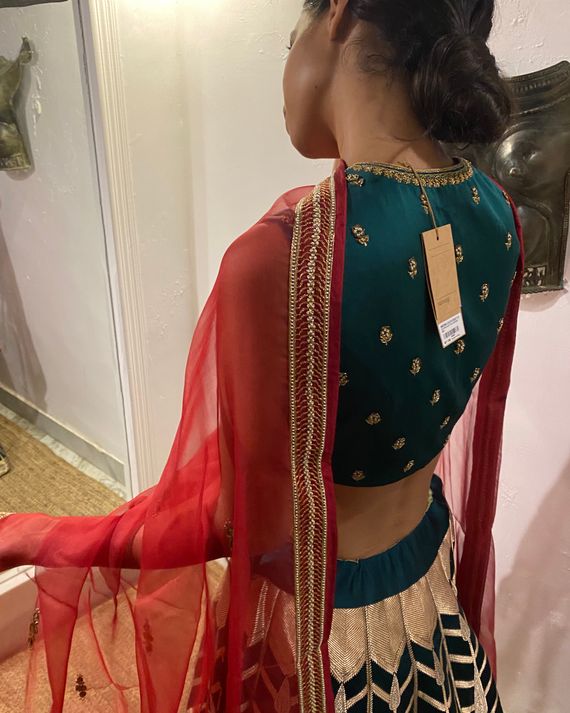 6 p.m.: Explore the streets of Delhi
We finished out Delhi by walking the narrow lanes in Shahpur Jat, lined with fashion and lifestyle stores, tailors, little restaurants, and street food. We used to be regulars in the area a decade ago when we both attended college at NIFT (National Institute of Fashion Technology). We walked, bought a silk kurta (tunic) for Palaash from Anam (5c, ground floor, Dada Jungi House Lane) and a nose ring for me from Preeti Mohan Jewelry (5K, 1, Dada Jungi House Lane), and ate street chaat (savory street snacks, usually with fried potatoes, onions, samosas, and more) and momos (Tibetan steamed dumplings) for old time's sake.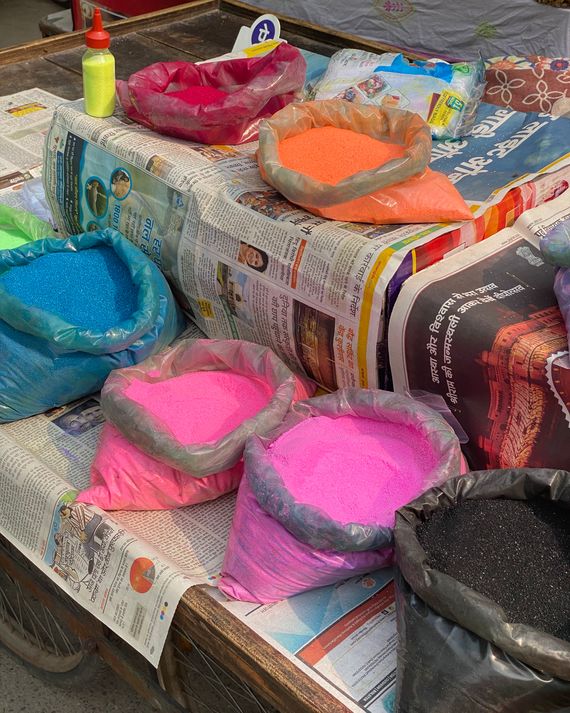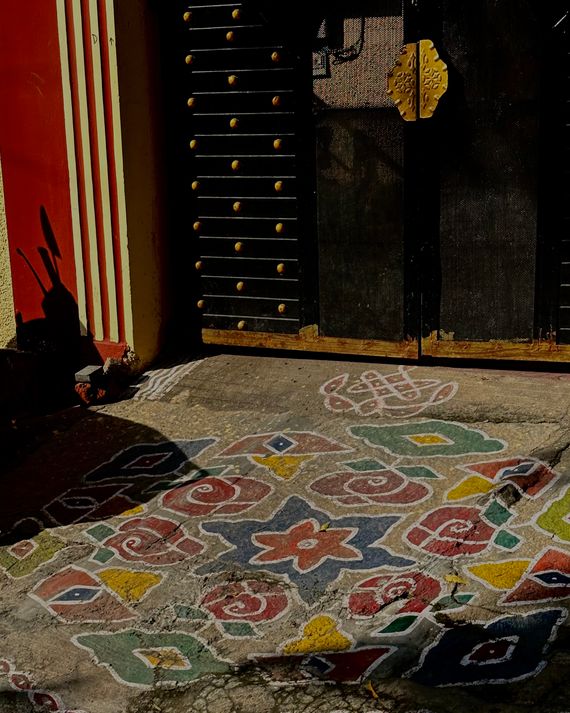 7 a.m.: Board a train to Amritsar
We took an early-morning train called the Shatabdi from New Delhi to Amritsar for our friend's wedding. The next three days were a blur of Punjabi food, music, booze, and dancing, but we did squeeze out a visit to the Golden Temple (Golden Temple Road, Atta Mandi, Katra Ahluwalia), the most sacred Sikh place of worship, surrounded by a lake and made with marble covered in pure gold foil.
Utharaa
and
Palaash's
India
packing
list
These are great as loungewear or for casual outings. The flax is breathable and cool — perfect for hot/humid Kochi weather, and we love our matching set.
[Editor's note: Saphed lists all prices in Indian rupees, so the price shown above is an approximate conversion to U.S. dollars.]
Unseen is the only sunscreen we can share; it is not tacky, dries instantly, and works nicely under makeup. Glowscreen, the other Supergoop sunscreen, can give more sweaty than glowy in India!
This is my current favorite brown-girl nude that doesn't make my lips disappear.
Every trip needs a tote. We got this one from our favorite store on our last trip to Paris. It's square, big, purple, and just easy.
[Editor's note: Merci lists all prices in euros, so the price shown here is an approximate conversion to U.S. dollars.]
The Strategist is designed to surface the most useful, expert recommendations for things to buy across the vast e-commerce landscape. Some of our latest conquests include the best acne treatments, rolling luggage, pillows for side sleepers, natural anxiety remedies, and bath towels. We update links when possible, but note that deals can expire and all prices are subject to change.