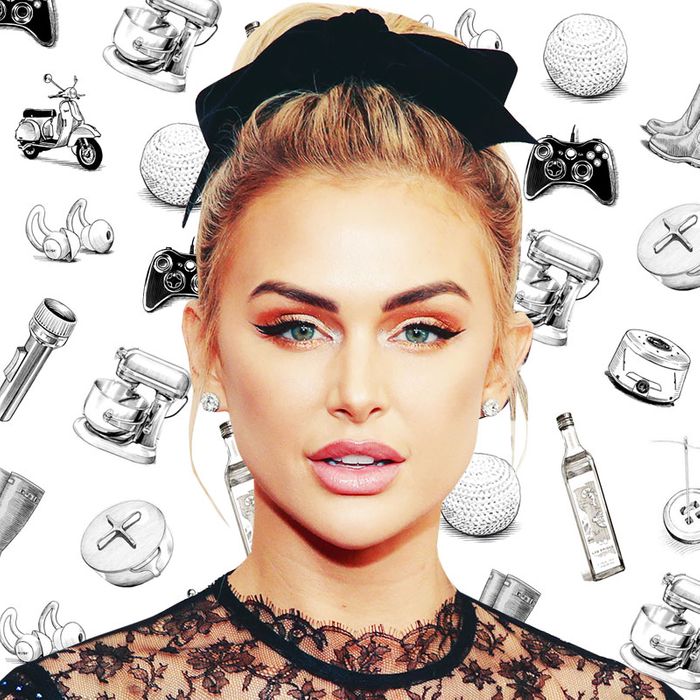 Photo-Illustration: The Strategist; Photo: Getty
If you're like us, you've probably wondered what famous people add to their carts. Not the JAR brooch and Louis XV chair but the hair spray and the electric toothbrush. We asked Lala Kent of Vanderpump Rules — who has her own beauty line, Give Them Lala — about her generational secret for fighting off crow's-feet and the one kitchen appliance her family used to make almost all of their Thanksgiving dinner.
I'm so boring. I don't like any flavor with my Perrier. I just want regular old original Perrier with zero flavor. I've been obsessed with Perrier for over three years — ever since I got sober — and I've tried every single sparkling water known to man. This is just my go-to. I love that it doesn't have any sodium in it. That was a huge sell for me. I'm so embarrassed to say this, but I go through, like, a ten-pack a day. So, yes, I drink a lot of them.
Any time a friend or my assistant comes over, they ask if I want them to grab coffee from a shop. Every time, I'm like, "I have a Keurig. No, I don't need you to grab me anything." I love Keurig coffee. I used to just drink coffee in the morning, and that was my wake-me-up. But now that I'm a mom and I'm tired during the day, the Keurig is being used around the clock. I usually buy the Starbucks hazelnut pods or Peet's regular coffee. And then this is where I get naughty: I use Coffee mate French-vanilla creamer and I'm in heaven. When I have my Keurig coffee with my Coffee mate creamer, we are starting the day like rock stars.
My mom bought a Cosori air fryer during the pandemic, and, I kid you not, the obsession that she and my brother had with it was borderline insane. There was never a phone call that didn't mention the air fryer. She ended up getting me one for Christmas, and it is a game changer. We were just obsessing about it this morning. My little brother is here with his friend, and he was like, "You're making a waffle in the air fryer?" I told him, "You make everything in the air fryer!" We even made a full Thanksgiving meal this year in the air fryer because something was wrong with the oven. We cooked our green beans and my grandmother's famous sweet potatoes that have a really yummy crunchy top with pecans and cornflakes on it. And by the way, this year I felt like the sweet potatoes were better than ever, which I didn't know was possible. We even put the pie in the air fryer. Everything but the turkey went into it. The air fryer is a savior. I even leave it out on the counter because we use it so much on a daily basis.
People that come from Utah have the prettiest teeth and the best mouths ever. I don't know what it is about Utah, but every single kid at the ripe age of, like, the fifth grade was in full braces or was being taken out of school to get their laser teeth whitening done. So, being from Utah, I'm very into my mouth and teeth, but I had never owned an electric toothbrush before. I actually discovered this one on Beau Clark's Instagram two summers ago. It was during the pandemic, so I thought, I'm not doing anything else. I might as well buy an electric toothbrush. I became completely obsessed. It comes with three different heads and this blue light that kills all the bacteria after you use the toothbrush, which I'm a huge fan of. I love killing bacteria. I have it in rose gold, and it's so chic. I usually hate toothbrushes on the countertop, but this is so sleek that I leave it out. I cannot live without this toothbrush, and even though it doesn't come with a carrying case, I do pack it when I travel.
This is a game changer. When I was about 20 years old and having skin issues, a friend told me Lisa Vanderpump uses this drying lotion. This was before I was even on the show, and so I thought, If Lisa Vanderpump from The Real Housewives of Beverly Hills uses it, I'm putting it on my face. I've literally been obsessed with it ever since. I just stick a Q-tip in, apply it on my blemish, and it dries it out completely. I don't even freak out if I have a blemish anymore because of this. I just had an event this past Saturday, and, of course, I got a blemish right before, after however many years of not breaking out. But this drying lotion completely saved me. It just zaps the blemish. I'm completely obsessed. I'm so obsessed that I will walk outside and go to the grocery store with it on my face. I have no shame.
I go through bottles of this a month. I saw Malika Haqq, Khloé Kardashian's friend, use it when she got pregnant, so I ventured into it. I was like, What is this? What else is it just for? Is it just for stretch marks? And I found out there are a plethora of ways to use Bio-Oil. I started using it on my face, neck, chest, and hands. I think people get afraid of putting oil on their face, but do not be afraid of this. It literally hydrates my skin like nothing else. Also, I got a lot of melasma when I was pregnant, and I've noticed that since I started using this, it actually has started to fade above my lip and on my forehead. I've noticed it even calms breakouts. Sometimes I'll put Bio-Oil on and then the Mario Badescu right on the blemish over it, and I wake up looking like a freaking supermodel. I'm kidding. I also love that the scent is pretty faint. Since I use this before bed, I don't want to smell like a perfume bottle. Just thinking about the smell of this and I'm like, Oh, time for bed. It gives me that sense of calm. The second I put it on, I am ready to lie in bed and watch Friends and get fabulous skin.
Anyone who hasn't tried this scrub needs to try it. This is the best exfoliating scrub I have ever tried in my life. It's a very fine scrub, so you don't feel like it's shredding your skin, and it gives you the perfect glow. I use it when I need a little zhuzh from it, when my skin's looking like a snake that needs to shed its skin. I discovered this at Bloomingdale's or something when a lady was like, "This is a must-have." And she was absolutely right. I've never tried anything like it, and I will never give it up. It also helps with fine lines. Yeah, I'm only 31, but I look in a close-up mirror and go, Okay, like, we're seeing some stuff. So between exfoliating with this and then using the Bio-Oil, it's just a perfect combination. It's also actually pretty inexpensive, especially for how long it lasts. I've had my one tub for a couple of months. Usually I'm all about getting stuff at Target, or grocery-store brands, but this is reasonably priced and does the damn thing — that is for sure.
Vaseline is also all over my house. My great-grandmother, my grandmother, and my mom used it. Growing up, I'd watch my mom use it around her eyes and thought, That looks fun. I want to do that as well. I started putting Vaseline around my eyes when I was literally 5 or 6 years old. My mom taught me this was to prevent crow's-feet, so I've known about crow's-feet since I was, like, in elementary school. Who knows if that's a good or bad thing? So I still use that around my eyes, and sometimes I'll put an actual eye cream on and let that soak in, but always Vaseline on top because I'm terrified of fine lines and wrinkles. My grandmother and my great-grandmother, who I've seen pictures of, both aged beautifully, and they did not have crow's-feet. So I swear by Vaseline. I even use it to remove eye makeup. It takes off mascara like a champion, and it's not as rough as other makeup removers. I also use it on my lips, on my baby's diaper area. I feel like it should be a staple for anyone's house.
I formulated and created this lip mask on my own. With the cold weather in Utah, everyone around me would have the driest lips ever. Once I created the product, I sent it back home to my friends and my little brother, and they were like, "This is a must-have. You have to make it." Now I literally have one in every part of the house. I keep one in my car. I have one in all my purses. I have one in the bathroom. It really does hydrate your lips, and it just smells amazing and tastes good, too. I don't wear makeup every single day, so the coconut lip mask is something that I use around the clock instead. It gives you the cutest little pucker look. It is a lip mask, but I use it for the aesthetic as well — I'm hydrating while feeling cute.
The Strategist is designed to surface the most useful, expert recommendations for things to buy across the vast e-commerce landscape. Some of our latest conquests include the best acne treatments, rolling luggage, pillows for side sleepers, natural anxiety remedies, and bath towels. We update links when possible, but note that deals can expire and all prices are subject to change.