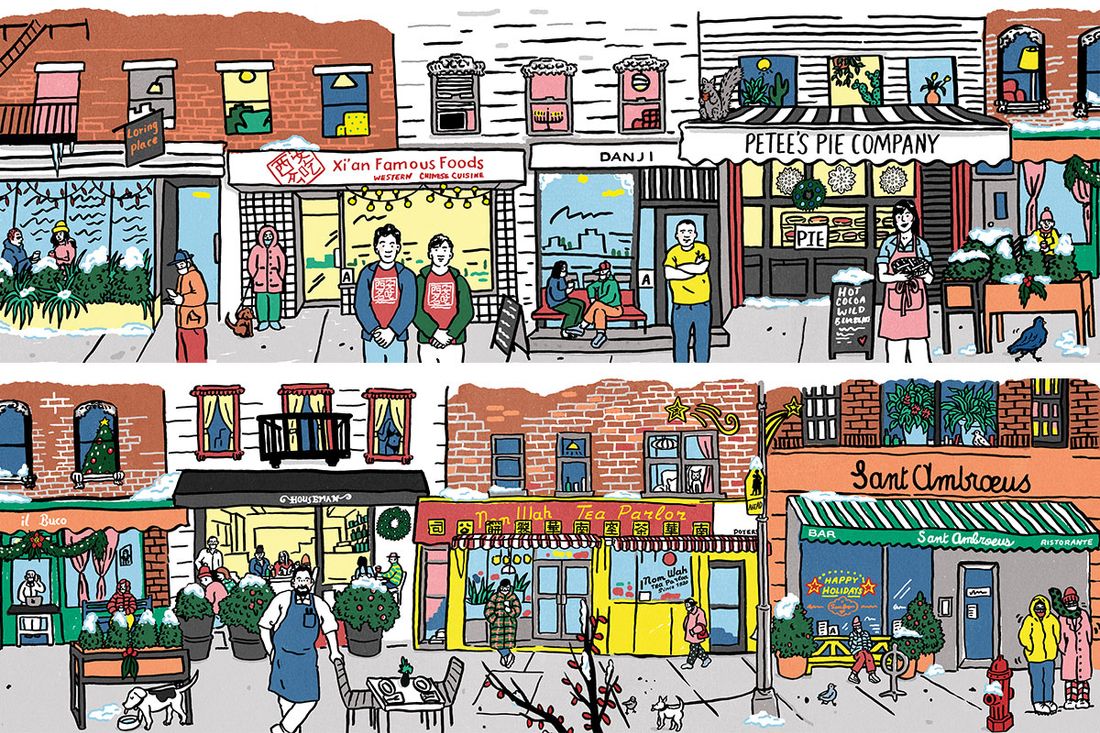 Illustration: Clara Kirkpatrick
This post originally appeared on Grub Street.
Restaurants may be in flux, but cookbooks are a constant. These eight debuts from New York chefs and restaurateurs function as quarantine-kitchen inspiration and souvenirs of a pre-social-distancing past. They make great gifts, especially when purchased at one of the city's essential indie bookstores.
Photo: Courtesy of Publisher
Loring Place's Dan Kluger is an inveterate Greenmarketer and a master of textures both purée-smooth and crunchy-granola. His modular, multicomponent recipes may seem intimidating, but they spare the reader the indignity of the dreaded buried subrecipe, and his "takeaway" tips make persuasive arguments for adding vodka to tempura batter, roasting vegetables on a wire rack, and spritzing crudités with kombu-orange mist. His first book reveals the secrets of house signatures like the winter-chicories salad (grill the dates) and grandma pizza (fry the garlic).
Restaurant report: Currently open for indoor and outdoor dining, delivery.
Photo: Courtesy of Publisher
Part cookbook, part memoir, Jason Wang's lively chronicle of his family's winding journey from Northwest China to a New York restaurant empire is a tale as personal as it is universal. Wang reveals the backstories of the blockbuster hits his fans know by menu number — A1 (liang pi "cold skin noodles"), B1 (stewed pork burger), N1 (spicy cumin lamb hand-ripped noodles) — and describes the cultural collisions, pangs of homesickness, and endless tinkering by his "impulsive hothead" of a father that spawned them.
Restaurant report: XFF branches are gradually reopening for dine-in service, delivery, national noodle-kit shipping.
Photo: Courtesy of Publisher
The Korean-pantry section alone would be worth the price of admission; ditto the stories that Seoul-born, New York–raised Hooni Kim tells about finding his cooking voice. (Spoiler: Kim had never cooked Korean food until he started making the staff meal at Masa where his colleagues assumed he knew what he was doing; half of those dishes ended up on the menu of his first restaurant, Danji.) The ultimate reason to buy this book, though, is the infectious spirit of Kim's guiding philosophy, i.e., cooking with jung sung, which, as any Korean grandma can tell you, is to cook with heart and devotion.
Restaurant report: Danji is open for takeout and outdoor dining. Kim's other restaurant, Hanjan, is delivering heat-and-eat meal kits.
Photo: Courtesy of Publisher
It's too late to preorder Thanksgiving pies from New York's No. 1 pie shop, Petee's Pie Company. But you can read all about them in Petra "Petee" Paredez's new book and — why not? — make one yourself. In it, the former special-education teacher traces her path to piedom (when her hippie parents' Virginia farm went bust, they pivoted to pies), waxes poetic on butter crusts, demystifies pumpkin pie (it's actually French), and delves deep into the history of Nesselrode. Then there are the recipes: fruit pies, chess pies, cream pies, custard pies — even pre-pie meat pies.
Shop report: Both New York locations have been open for takeout and delivery throughout the pandemic. Thanksgiving pies are available for walk-ins on a first-come-first-served basis.
Photo: Courtesy of Publisher
Self-described accidental restaurateur Donna Lennard recounts the tale of the rough-hewn Noho antiques shop that evolved over a quarter-century into a lifestyle brand with an outpost on Ibiza and a celebrity clientele, many of whom can be found in this book's index. More interesting are the up-and-coming chefs who passed through the kitchen en route to their own stardom, making marks on the menu with dishes like radishes in bagna cauda (Jody Williams, 1998), porchetta alla romana (Sara Jenkins, 2000), and primordial kale salad (Ignacio Mattos, 2005).
Restaurant report: Indoor and outdoor dining, delivery.
Photo: Courtesy of Publisher
The premise of Houseman chef-owner Ned Baldwin's debut cookbook is simple but persuasive: First, master a "basic" recipe (he guides you through 20), then let your imagination run wild. Each "basic," be it broccoli or beef tongue, is followed by several riffs on the theme, which you're encouraged to riff on yourself. Baldwin once worked at Prune, and he shares his old boss Gabrielle Hamilton's tasteful sensibility and penchant for strong opinions. Some of his: Roast your chicken on the oven floor, pot-roast your beets, and never sear your hanger steak.
Restaurant report: Dine-in service, pickup and delivery, meal kits.
Photo: Courtesy of Publisher
The hundred-year-old landmark and frequent Law & Order set was on its last legs when disgruntled financial analyst Wilson Tang took it over, determined to propel it into the future by preserving its atmospheric past. Here, he shares recipes ranging from the "OG egg rolls" to a Chinese chopped-cheese dumpling collab with Adidas. But what resonates most is the celebration of Chinatown's family-run shops, its cultural institutions, and the characters who make the neighborhood an enduring source of pride and inspiration.
Restaurant report: Indoor and outdoor dining, large-format-platter delivery.
Photo: Courtesy of Publisher
As equally cherished as the bar at Bemelmans is the one across Madison Avenue at Sant Ambroeus, where Upper East Siders have squeezed in since 1982 to sip morning cappuccinos, nibble lunchtime tramezzini, swig post-work Negronis, and generally revel in the wondrous ecosystem that is the Italian coffee bar. Here are the story and the secrets, from what makes a good espresso (expert baristas can tell by sight) to what's in the biscotti al burro (hard-boiled egg yolks). Restaurant report: All four New York branches are up and running, and a fifth just opened at Brookfield Place.
Four Independent-Bookshop People on Their Top Cookbook Gifts
Photo: Courtesy of Publisher
Matt Sartwell, managing partner at Kitchen Arts & Letters, 1435 Lexington Ave.: "The Flavor Equation, by Nik Sharma. It rewards on every page. There's always some new piece of information, some new perspective, some new idea. The recipes don't feel like the same old, same old."