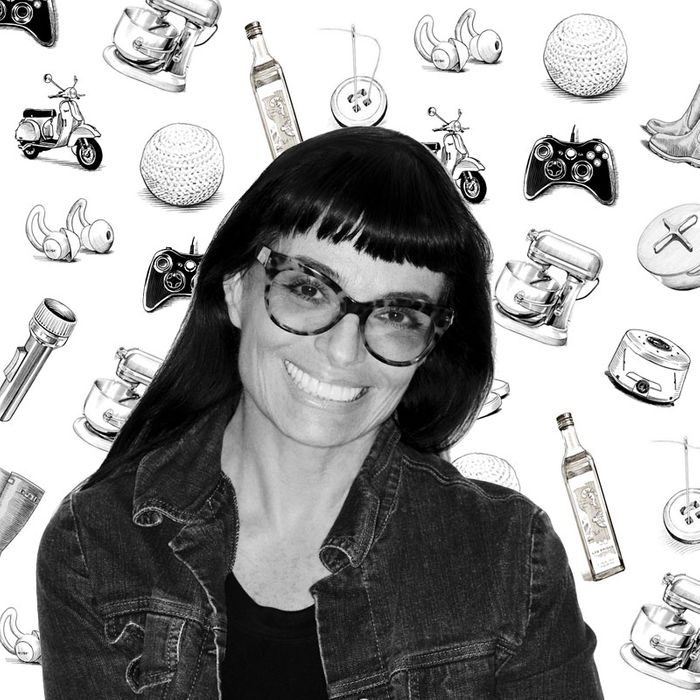 Photo-Illustration: The Strategist; Photo: Courtesy of the subject
If you're like us, you've probably wondered what famous people add to their carts. Not the JAR brooch and Louis XV chair but the hair spray and the electric toothbrush. We asked designer Norma Kamali, who recently launched a virtual wellness cafe, about the basketball, frozen blueberries, and wooden pillow she can't live without.
We just bought a house at the beach to get us through COVID, and I decided that everything in the house had to be good for our well-being. So in the media room, which is the place where everybody gathers and just hangs out, I had a karaoke machine installed right next to a big-screen TV. And we teach everybody how to download their songs on their phone. I must say, I enjoy lots of hours pretending I'm Etta James or whoever. I love singing. It doesn't mean I'm a good singer, but I feel so good when I sing. And a lot of studies show that singing, dancing, laughing, are the best medicines on earth. I have a lot of go-to songs. I love blues. I'm a big Gregg Allman fan. I have a lot of favorites. I love Lil Nas X. He's so great. I love his new work. He has Dolly Parton's Jolene on it. He has a Miley Cyrus on it. He's so talented, so brilliant.
I have never been to a basketball game, and I don't even know how to play basketball. But I realized when I was staying with a friend in the country who had a basketball hoop — many, many, many years ago — I was able to get the ball in the hoop, and I could keep doing it and doing it. People started to say, "We just counted 30 balls in a row." And I realized that it relaxed me. I think focusing and hand-eye coordination is something that I'm able to do. I mean, I'm a New York City girl, I didn't go to a college where there was a basketball team or a football team — I was studying fashion. But two weekends ago, I did 50 in a row and I missed two. Everybody wants proof, so I'm trying to figure out how to get my iPhone in the right position, because only people who've seen me do it in person actually believe me. I have my basketball hoop out on the street at the beach, and I leave the ball there and everybody uses it, and they always put the ball back. It's a very communal place. I go out there and just go right into another zone, it feels so good. I give myself a goal of how many each time I go out. I love this ball, which glows in the dark, because one of my favorite times to shoot baskets is at twilight. One of the people who also uses the basketball hoop got it for me as a gift.
I'm a big believer in flash freezing. Whenever I see fruit and vegetables laid out in some of our favorite grocery stores and supermarkets, I look at them as if I'm looking at a fruit and vegetable graveyard. They're dying in front of us. I believe that when you flash-freeze them when they're picked, you lock in all the nutrients. Frozen blueberries are my go-to for treats, they're so delicious. As a fruit, it's very low glycemic. I get bags of organic frozen blueberries, and at night, when I'm just relaxing after the day, it's the last thing I'm going to eat. I cut open the bag and put some blueberries in a cup. It's like little blueberry ices. Of course I have purple lips and teeth every night, and you have to do a lot of flossing and waterpiking to get your mouth clean, but I love it. And of course the nutritional value of dark fruit is spectacular, and it's just high on the list of the best foods to eat for anyone, especially women. Walnuts, too, which are my other treat. Blueberries and walnuts together are a fantastic combination for breast health. I recommend blueberries to everyone in any form, but if you want the best nutrients, get those flash frozen. It's so crunchy and delicious, you're really missing out. You don't need anything on it. Occasionally I'll have a little square of dark chocolate with it. That's a good combo.
Well, obviously the Waterpik has to be my best friend if I'm having blueberries every night. And I think for a lot of reasons, taking care of our teeth is super, super important. It's good for overall health. Everything that goes through our mouths goes through our bodies. There is good bacteria, bad bacteria, but in your mouth, it's really important to keep it clean. I use a charcoal toothpaste that I really like a lot, but the Waterpik really, to me, feels like my gums are getting a little stimulation, cleaning all that blueberry out of my mouth. I do floss as well, but I tend to really like the Waterpik better. I like the water going through my mouth and rinsing it out. It just feels better.
So I used to do a workout with this Korean group and it was a very interesting workout. And they had a store where they sold wellness things from Korea. And there was this wooden pillow and it literally looked like somebody took a log, cut it in half, and then carved out a little bit from the bottom. And I thought, Pillow? I don't think so. And then they did a very interesting sort of restorative-yoga session with the pillow. You can use it everywhere, but where it's truly extraordinary is when you put it right under the back curve of your skull and where the top of your shoulders are, and then slowly turn your head and breathe while you do it. It's just so amazing. It's the weight of your head against the wood and the movement. The weight of your head is giving you the most extraordinary release. I find it fantastic. Whenever I bring it somewhere, everybody is like, "What is that? What's that for?" Again, it's an old thing that centuries of Koreans have been using, so when something has been working this long, I'm going to give it a try, and I understand why it works.
I was introduced to these lentil crackers easily 15 years ago. They are very thin crackers and probably six inches wide. They're made out of lentils and rice, and they're sprinkled with sesame, or sort of like an everything bagel seasoning, and it's really light and tasty. And it just does the trick when you want a quick snack. It's just a really fun kind of treat that's not going to take you down.
Soft is a formula that I discovered many, many years ago. In the olive orchards, there is a liniment that's created from the lime water that rinses the olives and the olive oil. One is very acidic, and one is very oily. When you put them together, chemistry happens and this third magical thing happens, and Soft is a result of that. I learned that the women at the olive orchards use it — not only to moisturize but also to protect themselves from the sun, bedsores, babies' diaper rash. I started using it because I was going to the olive orchards all the time, getting olive oil and things for the wellness cafe. I became such a fan that I started using it on my face and body every day and I decided that this was going to be my moisturizer. Years and years ago, when I decided that I wanted to produce it and make it a part of my life, everybody would say to me, "You can't do this. This is a very old-fashioned formula. People don't like these old-fashioned formulas because you have to shake it. Nobody wants to shake anything anymore." And I said, "I don't care." Because this is so pure, so perfect, from the land. I love it. I would not want to use anything else, and I've been using it every day. You put it on your feet with a pair of socks, magic. You can think of a million uses for it. I had it approved for 3-year-olds and up and had all of my approvals and testing done in the E.U., which has the highest, most demanding testing. As far as texture goes, it's extremely absorbent. No stickiness, it goes right into your skin and it changes the texture of your skin immediately. And you only need a pea size for your entire face, or your hands. Talk about sustainable. It lasts. It's good for everybody in the family, any age, any skin type, and it does everything. To me, it's that universal everything cream. It's democratic and inclusive. It's for everyone.
The Strategist is designed to surface the most useful, expert recommendations for things to buy across the vast e-commerce landscape. Some of our latest conquests include the best acne treatments, rolling luggage, pillows for side sleepers, natural anxiety remedies, and bath towels. We update links when possible, but note that deals can expire and all prices are subject to change.