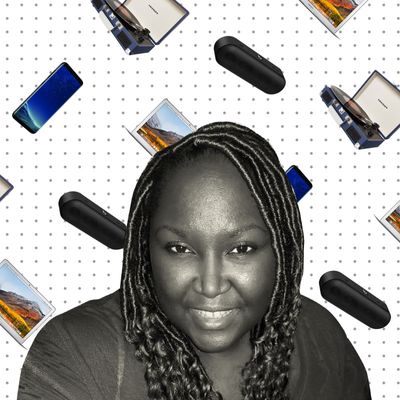 Overwhelmed by the many options one has for headphones and speakers and streaming devices and laptops, we decided to drill people who work in technology about what they use in their own lives — their gadget diets, if you will. Today, we're asking about the gizmos of Alisha Bland, program manager of hardware product packaging at Square.
I actually have these headphones around my neck right now; I always have them with me. Once you pop these suckers in, they're amazing. I take the train sometimes, the BART here in the Bay Area, and it's pretty noisy on that train, especially going through our tunnels, and it blocks it out perfectly. The charge lasts so long, I can get through a long flight. I've actually gone almost all the way to Hong Kong with one charge, and they charge super quickly. They're my favorite. The actual earpieces themselves, where the B logos are at, they have a magnet in them, so they connect together to close around your neck.
My best friend has the Echo, and I spent some time with her over the holidays, and I thought that was really cool, I should look into it. She recommended that I get Google instead because of some of the limitations Amazon had, and she knew I was a very ardent Google user for all my devices, so it would just be the easiest one for me to connect to. A lot of my starred places and the regular places I go to are in Google Maps, the regular people I call, everything I do sort of works through Google, which is perfect. It makes it easier to just tell Google to call certain people or give me directions to certain places or calculate things that are part of my day in and day out. It wakes me up every morning with a very lovely voice: "Good morning, Alisha." [Laughs.] And it gives me the weather breakdown in the morning, and it knows my normal time to leave, so it gives me a heads-up to what traffic is looking like around that time. And then it also breaks down my schedule for the day, so it tells me what meetings I have throughout the day, when I have a break.
When I was at Belkin, I made the switch over to Mac, just because it was a company thing. I just had to get used to it; it was fine. But I had a 15-inch for about four years, and after a while, especially commuting back and forth to Asia, [I realized] it's a heavy laptop. I just needed something lighter, and the 13-inch Air came out around that time, and when I switched to that, it was a world of difference. I throw it in my tote bag instead of a backpack. So now it's a requirement for the purses that I buy; they have to be able to fit my 13-inch, which is actually pretty easy to do.
Photo: JASON WARE/©2015 Jason Ware Imagery, LLC
The latest version of the Beats Pill is a little heavier, but it's because they put four speakers in there as opposed to two they originally had, and I know that because I worked there. [Laughs.] But the speakers are front and back, which is amazing, so the sound carries better. It is just a hit. That's the main music device in my house, and I think my favorite part about it is connecting to my phone. I answer my calls and take a lot of my calls on there, and people don't even notice they're talking with me through my speaker, which is great. So my work-from-home days, I'll set up office at home, and have my speakers for my conference calls, my video calls. Then I switch back to my music when my call's over and go about my day.
I get really passionate when I talk about my phone, only because I live in a world of Apple users, and I have been a Samsung user for a very long time. I didn't have any actual issues with Apple, but I felt so limited by the one button, and I moved into Android pretty early on. I've probably been using Samsung for about eight years now, and the Galaxy has been my favorite of their phones. This S8, I got it last year. I love that they moved the fingerprint to the back because that's really how you hold your phone anyway. And I use my phone for the camera all the time. I'm a big picture-taker, and I used to actually have a separate camera, [but] now, it's just easier for me to have the one device. The camera on this phone is, by far, the best I've seen. It has the suite of Google apps that I use, so it's just easy for me to have all my apps on here.
They [also] have an app called Samsung Health, which I just started using maybe six months ago. It actually monitors my sleep, so it knows when I stop doing activity on my phone, and it goes into a sleep mode, unless I tell it that I was charging. But when I go completely idle, it starts to monitor the times I'm going to sleep and the times I'm waking up, so it tells me, "You've achieved your sleep goal," or "You should get more sleep." It told me that this week, that I need more sleep. I was like, "You're right." [Laughs.] This phone has ultra–saving mode, too, and I'm usually in that, so it keeps my battery up.
My family is really apprehensive about using apps, especially when it comes to moving money around, but when I describe Square Cash to them, and it was so easy for them to set up, they love it. Even the most technologically unadvanced person, my mother, knows how to use this very well, which is great. So I like Cash app. I think what annoyed me about Venmo was how you could see who your friends are paying and all that stuff, and you don't get that on Cash, which is amazing, because I just think that's so intrusive. I don't need you to tell everybody who I'm sending money to. In Cash, I can see what I'm doing, and that's it.
Now, you can order the Cash card through the Cash app, and this has been a great tool with some of my younger cousins that are in college now. Helping to keep them motivated, I'm sending them money back and forth through the app, and sometimes, I'll treat them to a weekend out with their friends. So they have their Cash card, and they're able to access the funds that I sent them in the app with the card. And the card's really cute. It's a black card, and they can kind of customize their signature on there. It kind of gives you that, "Oh, I have a black card."
It took a lot of research [to find a TV], I was actually stressing myself out about it. But I researched quite a bit online, I talked with some people that have different devices, and I went into Best Buy and really sat and used a lot of them. This TV didn't really require a soundbar where a lot of them did, so I was happy about that. Mainly, my biggest thing was the fact that it came with all the streaming apps already in the TV itself. All the ones that I regularly use, like Netflix and Hulu, Amazon and even YouTube, were already loaded on there, so I don't have to buy all these supplemental streaming devices. I can just go straight to my TV and just open up my account.
I use my phone [with the TV], as well. So if I'm looking at something on my phone and people are around, I'm like, "Oh, let me just throw this to the TV." It'll mirror it over to my TV, and we can all watch it together, so that's been great, as well. My home church in L.A. goes live on Facebook, so now I can pull it up on my phone and throw it to my TV, and I can just watch the service and feel like I'm there.
The wireless chargers are my favorite things. I don't like wires and cables. I just toss my phone on the charger and don't worry about it. I'm a little clumsy. It's just easier for me, especially because I move back and forth from my desk so much, and remembering to plug something in and out all the time, I forget. So if I don't plug it in, and my phone's down to 4 percent, I'm like, "Oh, crap." You literally just set it down, and you see the phone light up, and you're like, "Great. It's charging." It depends on how many things are running on your phone, but for me, typically, if I leave it there for about 15, 20 minutes, I'm increasing by 25 to 30 percent, which will last me a good four hours.
When I was a kid, one of my dad's old record players was in my room at some point. So I knew what these records were; he taught me how to use them and place the needle down properly, so as I got older, I kind of wanted to go back to that. I knew when I relocated here, I would have more space, and I wanted to really get a good record player and start collecting vinyls. So I was in Urban Outfitters one day, and they have this really cool record player that looks like a briefcase. It just looked and sounded really good. It's been great. I do travel a lot and I'm on late-night call, so on the weekends, I try not to do anything. I usually don't leave my house if I don't have to, so I start my Saturday mornings — I'll put on a record, and I have a good view of the Bay, so I just kind of relax. And this particular record player has an audio out, so I can actually plug it into my Beats Pill if I want a louder sound, if I want to.
If I don't have a laptop with me, I have my wristlet or my clutch because I don't like to carry a lot of things on me. And so I had a little bitty charger in there that I would sometimes lose, and my friend said she had a device that she got from a client, and she didn't want to use it because she's a purse user. So I was like, "Okay, I'll use it." You just charge it up at night, the [battery] stays fully charged, and when you're out and about and you get kind of low on your phone, they have a little zipper at the bottom of the clutch. You pull out this cable, you plug your phone in, you put your phone right into that clutch while it's charging, and you just walk around like normal.
It's great for one full charge, but I think that's amazing for when you're gone all day. Especially when you're on vacation and you're traveling. And they have so many different ones. It's not just the clutch, they have totes and all types of different purses, and it's just an awesome thing. I hadn't really heard of it, so I was really glad to look it up and find it. I'll start small with the clutches and move onto the big ones.
The Strategist is designed to surface the most useful, expert recommendations for things to buy across the vast e-commerce landscape. Some of our latest conquests include the best women's jeans, rolling luggage, pillows for side sleepers, ultra-flattering pants, and bath towels. We update links when possible, but note that deals can expire and all prices are subject to change.
Every editorial product is independently selected. If you buy something through our links, New York may earn an affiliate commission.