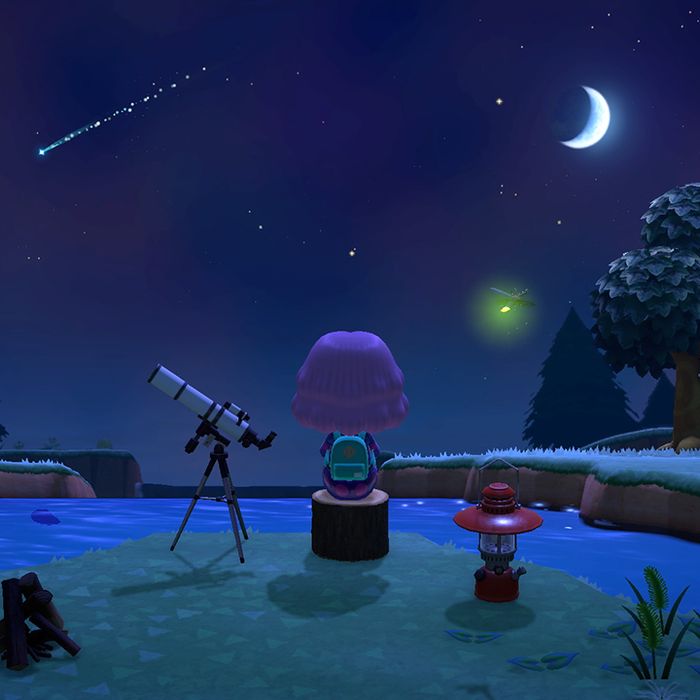 The first quarantine purchase I made — besides a plane ticket back home to California and a gallon of hand sanitizer — was a copy of Animal Crossing: New Horizons for Nintendo Switch. I've been playing one Animal Crossing title or another since 2003 to survive my summers as a kid, which were long and hot and mostly boring in middle-of-nowhere California. By 2020, I thought I had outgrown it, but the monotony of each day in self-isolation — trapped in my childhood bedroom, no less — felt eerily similar. After two weeks, $50 started to feel like a small price to pay for my own private (and COVID-free) island to share with friends.
If you've only heard about Animal Crossing on Twitter, or need a refresher, the concept is simple: In all versions of the game, you move into a town or campsite or island full of anthropomorphic animals who are now your new neighbors, buy a house, and establish a life. You can spend your days reeling in rainbow trout, planting azaleas, digging holes. The game is synced to the clock on your device, so seasons and holidays pass in real time. It's time-consuming, meditative, and oftentimes ridiculous. (Refrigerators can mysteriously fit into your pocket, as can a king salmon.)
What makes New Horizons different from earlier versions of the game is that you're flown to a deserted island to build your community from scratch. The geography of the island, including the cliffs and waterways, can be molded to your desert-island vision, and the villagers, who range from jockish horses to snooty cats, offer positive comments about your island's progress. And I've found it to be the most soothing of all the previous iterations of the game. It's the first title to ever be released in HD, so all of the graphics, down to each blade of grass, are visually stunning. At sunset, the sky turns a mix of water-colored hues, and in the summer, fireflies flutter near the rivers. Now that it's fall, the leaves have turned a coppery red, and Monarch butterflies fly through the fruit trees. Perhaps best of all, the sun still sets just before 6 p.m. — daylight saving be damned — bathing the island in golden light.
And thanks to the power of Wi-Fi, friends can fly to your island so that the two of you can collect sea shells and catch cerulean carp together, as friends do. You can send each other letters and presents, like funky, flower-shaped umbrellas and upholstered dining chairs. On one particularly hot summer day, when a friend's island had become overgrown with weeds, I offered to spend the afternoon landscaping, in exchange for an antique furniture set, and we were able to chat together, in real time, directly from the game. Three hours later, antique furniture set in pocket, I was able to finally remodel my kitchen before I set down my Switch.
Animal Crossing: New Horizons has been as close to an island getaway as I've been able to experience this year, and like any good vacation, I've spent as much time there as possible: over 240 hours, which works out to just over an hour a day for the past nine months. During all these months indoors, I've been able to build a world of my own, catch fish, and run around with loved ones, all things I wanted to be doing but couldn't because of the pandemic (and because I don't own a fishing rod).
Shamelessly, I also purchased a Nintendo Switch Lite for the sole purpose of playing Animal Crossing: New Horizons (though there are lots of other video games to play on it). Since I'm not a serious gamer, I went with the Lite rather than the regular Nintendo Switch, as it's cheaper, smaller, and more portable. But after Cyber Monday, it also seems to be the only type of Nintendo Switch that's still in stock. I have this one, which gives my Animal Crossing island a cheery sunshine-yellow frame. I can't help but smile whenever I turn it on.
And to protect it, an Animal Crossing–edition carrying case that's made its way onto my own Christmas list.