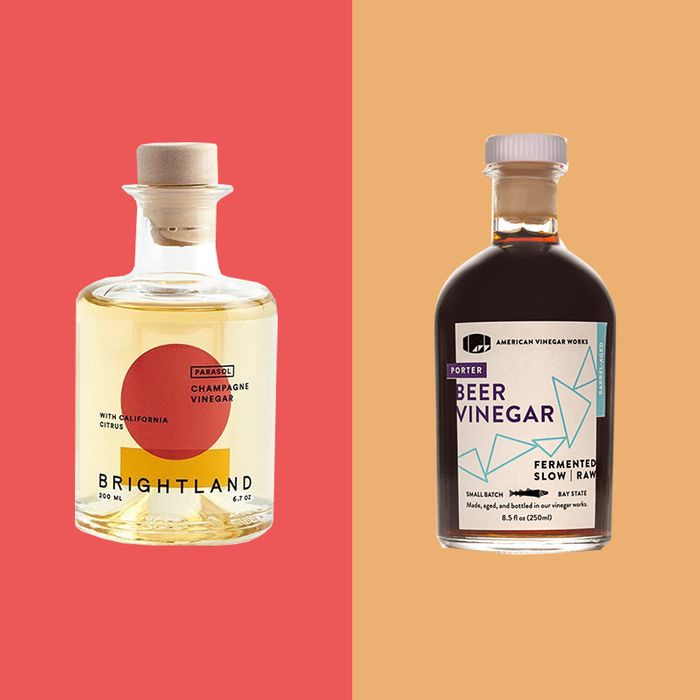 The first inkling I got that vinegar might be the next "it" pantry item arrived last year just before the holidays, when I first laid eyes on Pineapple Collaborative's The Apple Cider Vinegar, made with "organic Gravenstein, Red Rome Beauty, Golden Delicious, and Pink Pearl apples" and hand-harvested by California farmer Joanne Krueger. Bragg's this was not — it's about four times the price for half the volume. And it's currently on backorder until mid-August.
I reached out to Atara Bernstein, a Pineapple Collaborative cofounder, to figure why anyone would challenge America's most beloved apple cider vinegar. "Bragg's is definitely a heritage brand, but we felt there was room to innovate in the apple cider vinegar space. We were just really excited by the idea of taking something that felt very ordinary and making it really special and showing people that pantry staples are products of agriculture." And judging on the overwhelming response, they succeeded.
"I think it's so good that you could actually drink it," she adds.
Bernstein also believes the popularity of their vinegar might have something to do with the supposed health benefits, saying that they're getting a lot of wholesale interest from beauty and wellness shops. But there's probably something to be said about the look of the vinegar as well. The ACV — and a lot of new vinegar brands — come in a squat bottle with rounded shoulders, a wood-topped rubber cork, and attractive white lettering. In other words, aesthetic-driven millennial bait. This same bottle design appears in the new line of vinegars from Brightland — makers of perhaps the world's most attractive bottles of olive oil "consciously made in California" — which recently launched Parasol and Rapture, code names for small-batch champagne and balsamic vinegars, also made in California. They retail for $22 for 200mL, the equivalent of a quarter of a bottle of Bragg's. These are vinegar bottles you want to keep out on your counter.
"Vinegar doesn't need to be protected from light the way that olive oil does," explains Brightland founder Aishwarya Iyer. "And I think now more than ever, everyone is home and looking at what's around them. If these very essential products are sitting outside your cabinet all day long, maybe there's something nice about finding some kind of charm and delight in that product."
I became so preoccupied with the rise of beautiful bottles of vinegar that two weeks ago, I started conducting research. In just a few hours, I turned up no fewer than five new vinegar brands, all launched in the last 18 months. There's American Vinegar Works, a Massachusetts-based company that specializes in vinegars made with rice wine, beer malt, rosé, and other alcohols. There's New York City-based Ramp Up, creators of what I'm calling "spice rack" vinegars, including turmeric, ramp, white miso, and black garlic. There's Canada's food scientist-run Acid League, makers of experimental fusion vinegars, like mango jalapeño, Meyer lemon honey, and apple cider maple. There's artizn, a New York–based brand that produces Korean-influenced "craft vinegars tonics" in flavors like pomegranate ginger hibiscus and plum yuzu. While writing this very article, I was informed that Greek olive oil brand Kosterina, founded by Greek-American venture capitalist Katina Moutanos, recently added a dark chocolate balsamic to its brand new line of vinegars, launched in March.
This begs the question: Why vinegar? Well, for one, the vinegar space is ripe for culinary upgrades. Many of the vinegars you find on store shelves are imported from Europe or come in a limited set of flavors, like red wine, malt, balsamic, and that old workhorse, white distilled. Secondly, the entry point is incredibly low. All it takes to make a basic vinegar is alcohol, sugar, a mother (not so dissimilar from a kombucha SCOBY), and time. And, best of all, it's a relatively risk-free process.
"Vinegar is food safety perfection," says Christina Crawford, the Brooklyn-based founder of TART Vinegar, which produces vinegars in flavors like rose hibiscus, lavender, and celery, which she most enjoys poured over raw fish for ceviche. "No one's gonna get food poisoning from vinegar because it's shelf-stable. It's not like cheese, where if you have a batch go bad, you've lost $1,000."
And as she points out, there's literally no limit to what you can vinegar-ize. "I just went with the flavors I was craving most in food," Crawford says, adding that she wants to launch a vinegar kit down the line. "Wherever you live, there are ingredients that are specific to that climate that can be turned into vinegar." While we're waiting for Crawford's DIY kit, here are the vinegars making a, well, splash on the market.
Photo: retailer
Atara Bernstein of Pineapple Collaborative says the idea for an apple cider vinegar was created after the company looked into the pantries of more than a hundred women for a series. "Olive oil and apple cider vinegar were the two staples that kept creeping up," she says, adding that Pineapple Collaborative's version, created by California farmer and producer Joanne Krueger, is the first she's had "really tastes like apples."
There are two things Brightland stans have been begging for, according to Aishwarya Iyer: A spout for pouring and a line of vinegars. "We tried dozens and dozens of types of vinegars and producers and purveyors of all sizes and ultimately, we went with a husband and wife team," says Iyer. "They have blackberries on their farm which they use to double ferment their balsamic and they get citrus from a nearby farm for the Champagne vinegar."
Photo: Gina Esposito
After working in restaurants for nearly two decades and making vinegar along the way, Christina Crawford decided to get into vinegar-making full-time, because it was infinitely less stressful while allowing her to continue gushing over beautiful produce. "I couldn't work in restaurants anymore, but I still had this passion for sourcing," she says. She makes her celery vinegar using raw, finely processed, organic celery with a little sugar. But her most popular vinegar is rose hibiscus. "People use it as a facial toner," Crawford says.
Photo: retailer
American Vinegar Works mostly specializes in vinegars made with alcohols, including two beer malt vinegars made using brews produced right in New England. Afterwards, they're aged in rye whiskey barrels for added sharpness.
Photo: retailer
Ramp Up calls vinegar "the ultimate kitchen condiment" — which is debatable, but, even so, people seem especially taken with their umami-rich black garlic vinegar (itself a type of aged garlic), which the company recommends pouring over meat you plan on grilling or your favorite pizza.
Acid League, run by food scientists, seems to be cut from the exact same cloth that produced the legendary NOMA fermentation lab. The Canadian-born brand specializes in fancy grocery aisle vinegars (coming soon to Whole Foods) as well as small-run experimental vinegars that come in flavors like orange marmalade and honeydew melon and start at $14.
Photo: retailer
If you enjoy shrubs, or drinking vinegars, then you'll probably like Artizn. The brand comes from Frederic Naayem, who made the leap from retail into beverages two years ago. Artizn starts with a rice wine vinegar base produced in Ganghwa Island, South Korea. From there, it's flavored, in this case, with plum vinegar, plum juice, yuzu juice, and coconut nectar.
Photo: retailer
Despite specializing in importing Greek olive oil, even the folks at Kosterina can admit that the best balsamic comes from Italy. Their sticky, thick line of balsamic vinegars are produced using Trebbiano and Lambrusco grapes in Modena, and then shipped nationwide from Connecticut. The question isn't really what you'll put it on, but what won't you put it on?
The Strategist is designed to surface the most useful, expert recommendations for things to buy across the vast e-commerce landscape. Some of our latest conquests include the best acne treatments, rolling luggage, pillows for side sleepers, natural anxiety remedies, and bath towels. We update links when possible, but note that deals can expire and all prices are subject to change.