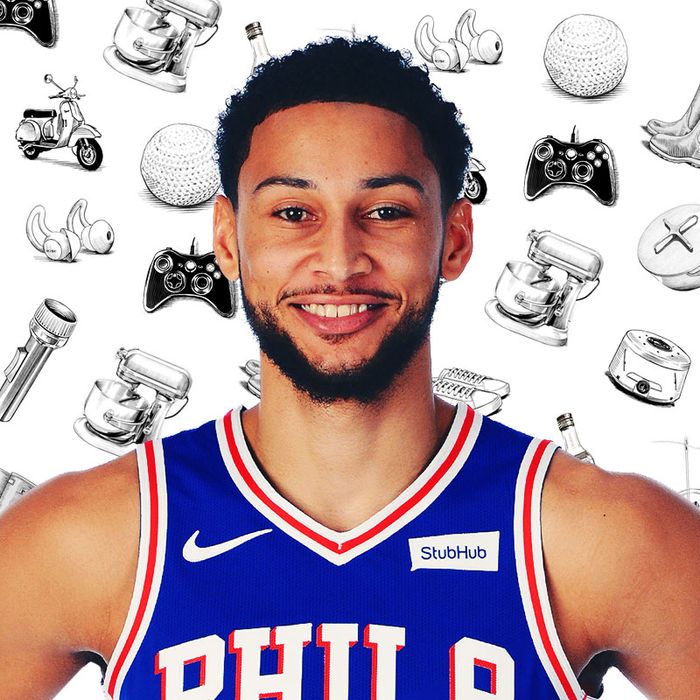 Photo-Illustration: Getty
If you're like us, you've probably wondered what famous people add to their carts. Not the JAR brooch and Louis XV chair but the hair spray and the electric toothbrush. We asked Philadelphia 76ers player Ben Simmons — who has partnered with vintner Penfolds for the launch of its California Collection — about the leave-in conditioner, chocolate, and decanter he can't live without.
I've been using this leave-in conditioner since I've been in Philly. My barber Kenny Duncan recommended it when he started cutting my hair. I get it cut once a week, and this helps keep my hair moisturized and looking fresh, instead of like I just woke up and got out of bed.
I enjoy drinking wine, but I can't go too crazy. I try not to drink it every night, but I'll have a glass or two when I have a day off or I go to dinner after a game. Letting wine breathe a little before drinking it does make a difference. You should definitely, definitely decant wine. This is a nice decanter. It's a good size and looks great on a table or a counter.
I used to have a really fancy one that paired to an app and had sensors, but I had to downgrade because I lose toothbrushes too often on the road. So I went back to a basic Sonicare. I brush my teeth often: as soon as I wake up and after I eat or drink something. I'm very diligent about it because I want my teeth to look good and I don't want my breath to smell, especially if I'm going to be around other people. This does a good job. My mouth always feels fresh after.
I have a huge sweet tooth, so I like to keep sweets on me. If I'm running around a lot, this chocolate can help keep me going. I've loved Cadbury milk chocolate since I was a kid. It's my favorite and one of the few things I've consistently loved my whole life. It's not superrich, but it still tastes good. The perfect happy medium.
I have five dogs: two cane corsos, two Dobermans, and one Newfoundland that's less than a year old. I don't know who likes the Kong more: me or them. My dogs all have pretty sharp teeth that can easily destroy things. They're well trained, so they won't destroy my shoes or the couch, but they do destroy their beds and toys often and make a mess. One thing they can't rip up is the Kong. It keeps them busy when I'm gone and is really good for my puppy, who is teething. You can fill the toy with peanut butter or put treats in it. I give the dogs Kongs before I leave the house, and they spend the day getting whatever is inside of each toy out.
I love Todd Snyder's style — everything is clean-looking and fresh. I own a bunch of jackets and sweaters and sweatshirts from him. I wear this hoodie every week. I like the look of it, and the sizing is more comfortable for me. Some clothes fit weird because I'm tall, but Todd Snyder's fit me really well.
I'm a tea and coffee person. I have coffee every morning to start my day and tea at night when I go to sleep. This kettle is really easy to use when I make tea. I like how it looks, but I appreciate it more for the convenience. There are some electric kettles that have all these buttons and options. This one is as simple as pouring water in, closing it, and hitting a button at the bottom to turn it on. That's it. It boils water quickly, too.