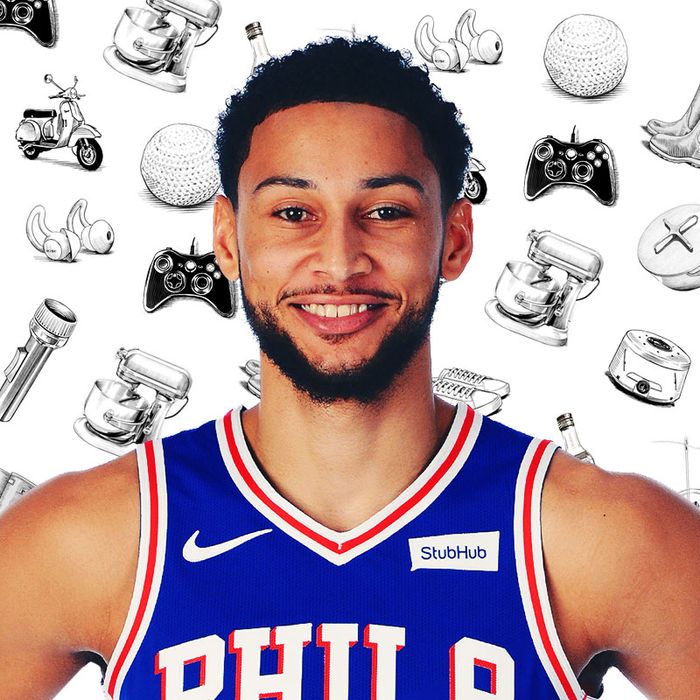 Photo-Illustration: Getty
If you're like us, you've probably wondered what famous people add to their carts. Not the JAR brooch and Louis XV chair but the hair spray and the electric toothbrush. We asked Philadelphia 76ers player Ben Simmons — who has partnered with vintner Penfolds for the launch of its California Collection — about the leave-in conditioner, chocolate, and decanter he can't live without.
I've been using this leave-in conditioner since I've been in Philly. My barber Kenny Duncan recommended it when he started cutting my hair. I get it cut once a week, and this helps keep my hair moisturized and looking fresh, instead of like I just woke up and got out of bed.
I enjoy drinking wine, but I can't go too crazy. I try not to drink it every night, but I'll have a glass or two when I have a day off or I go to dinner after a game. Letting wine breathe a little before drinking it does make a difference. You should definitely, definitely decant wine. This is a nice decanter. It's a good size and looks great on a table or a counter.
I used to have a really fancy one that paired to an app and had sensors, but I had to downgrade because I lose toothbrushes too often on the road. So I went back to a basic Sonicare. I brush my teeth often: as soon as I wake up and after I eat or drink something. I'm very diligent about it because I want my teeth to look good and I don't want my breath to smell, especially if I'm going to be around other people. This does a good job. My mouth always feels fresh after.