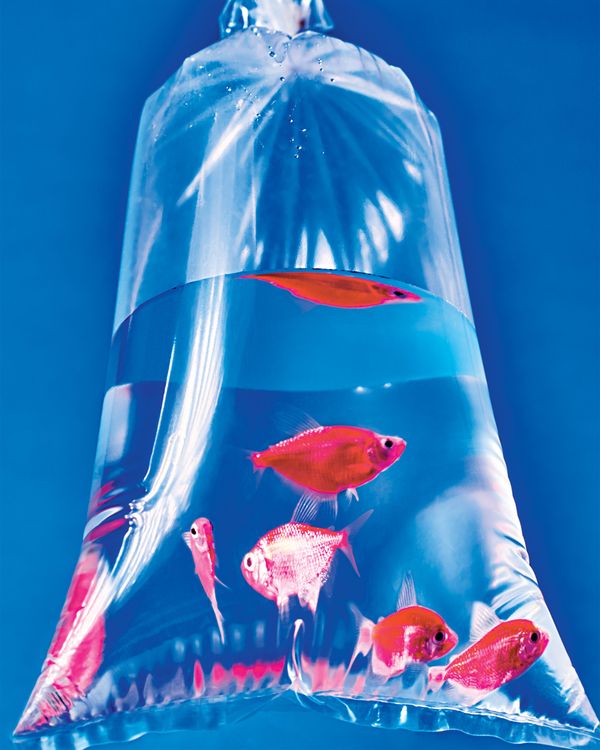 When Danny Bowien opened the first New York location of Mission Chinese in 2012, Angela Dimayuga, his head chef at the time, asked if she could install a fish tank in the dining room. She'd grown up going to Cantonese restaurants, she says, and felt it would be an easy way to reference them. Plus, the whole place felt very '80s already; sticking a tank — which she filled with Glofish tetras (seen above, $8 at theifishstore.com) and Chen Chen & Kai Williams–designed acrylic pedestals — between the cream-colored banquettes made sense. In the seven years since Mission opened, there's been an uptick in fish-tank installations across the city, according to Emily Kamelhar of Okeanos Aquascaping, the company responsible for the installation of a "skylight pond" in the recently reopened Brant Foundation. Seawitch, a nautical-inspired dive in Greenwood Heights, built a 120-gallon tank filled with blue-green chromis and yellow tangs; Blue + Black, a Carroll Gardens barbershop, installed a naturalistic, Japanese-inspired aquarium. Last fall, the Playboy Club reopened with a 450-gallon tank, and across town, La Mer at Saks Fifth Avenue recently unveiled a slightly more subdued L-shaped version. Below, all the parts to build a Reagan-era style at-home tank, from gaudy cherry-red beads to LEDs that simulate the moon.
Necessities
Photo: Courtesy of vendor
The Aqueon aquarium is 20 gallons and comes with a filter, a preset heater, and a net.
Photo: Courtesy of vendor
This AquaIllumination Prime LED light — the best, according to expert Noel Rose — simulates the moon.
Décor
Photo: Courtesy of vendor
Coral is expensive and difficult to maintain, so the Playboy Club went with colorful fakes.
Photo: Courtesy of vendor
For lower-key fish keepers: Jardin pale faux coral.
Photo: Courtesy of vendor
At Mission Chinese, the décor is all fake plants like this bright-pink one.
Photo: Courtesy of vendor
A real-looking but artificial plant that holds up well to aggressive fish.
Photo: Courtesy of vendor
Dimayuga used to keep these velvety living Japanese moss balls in her home aquarium.
Photo: Courtesy of vendor
Keeping real barnacles alive in a tank is tricky. These, conveniently, are glass.
Photo: Courtesy of vendor
Search "resin seashells" on Etsy — there are enough to fill 100 tanks.
Photo: Courtesy of vendor
A pair of very '80s, fish-tank-safe terrazzo dice, by Jonathan Adler.
Photo: Courtesy of vendor
This acrylic pill would nicely match a red fish.