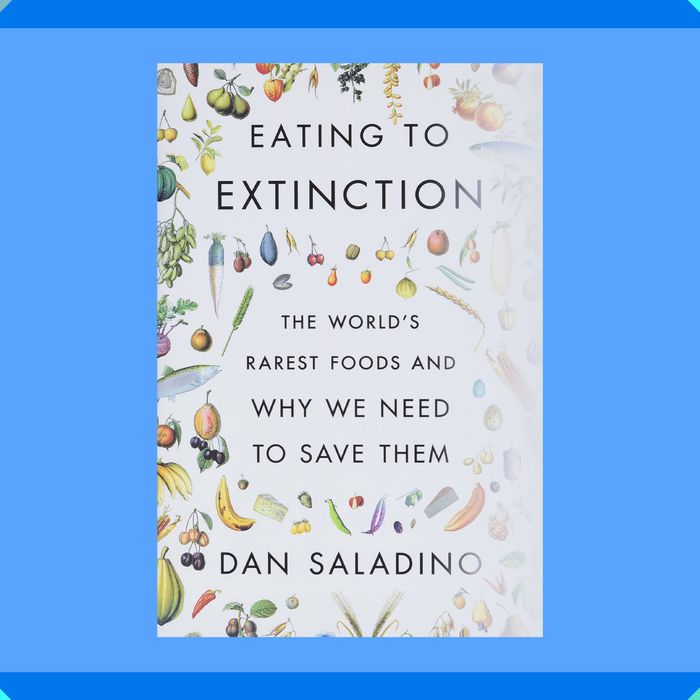 Photo-Illustration: The Strategist; Photo: Retailer
The phrase dad book may bring to mind any number of 500-plus-page World War II history tomes, but true dad lit is of course as varied as the many kinds of dads out there. Is he an environmentalist dad who emails you the latest on climate change every week? Did he start watching My Brilliant Friend with you in quarantine and now has late-onset Ferrante fever? Does he go straight for the poetry section at the bookstore? Or is he like my dad, who has asked me to watch Andor no less than five times? To find the best books to give (and one he probably doesn't already have), we perused the fiction and nonfiction releases from the past year and found a book for many multitudes of dads.
For the dad who's on his fifth watch of David Attenborough's Life in Color
Science writer Ed Yong is known for his pandemic coverage, but he writes about other things too. Like animal senses and their unique ways of seeing the world. The book was also mentioned by senior editor Winnie Yang in July's edition of Strategist staffer purchases, where she described Yong's work as a "delight to read because of the curiosity, wonder, and sense of humor he trains upon his subjects."
For the dad who was an early iPhone adopter
Photo: Publisher
In The Candy House, Jennifer Egan resurrects some of the characters from her Pulitzer-winning A Visit From The Goon Squad but with a slightly dystopian, near-future spin. In this world, there's a technology called Own Your Unconscious, and users can upload their memories to the cloud. Murders are solved, families reconnected, but like all technology, there are downsides, too — like the fact that even people who don't want to be included in the world's collective consciousness are implicated by virtue of being beside the people who do. It's a trippy yet masterful ride and will be like candy for the dad who's convinced that technology is taking over our lives.
For the gamer dad
He doesn't need to play video games to enjoy Tomorrow, and Tomorrow, and Tomorrow, but it'll certainly make it more fun. The book follows Sadie and Sam — college friends turned business partners — and their journey making video games and building a company from the ground up. It might not sound riveting at first glance, but it's one of the best books I've read this year (if not the past few years) and has been a hit with everyone I've recommended it to.
For the dad who's a music head
Photo: Courtesy of the publisher
He'll appreciate this biography of J Dilla, one of the most important producers of our time. His fingerprints are everywhere in popular music — from Janet Jackson's Got Til' It's Gone to Common's iconic Like Water for Chocolate, where, in addition to producing, he sings on the track "Nag Champa." In addition to tracking his rise to Grammy-nominated fame, it's also a story about a gifted kid from Detroit and his battle with Lupus, which ultimately claimed his life.
For the dad who's a hip-hop head
Photo: Courtesy of the publisher
DJ Screw invented chopped and screwed music in the basement of his Houston home. The signature sound involves slowing down a record and also adding in new beats. It would go on to influence music both in Houston (it's a trademark of the area) and hip-hop worldwide. This book is an oral history of his life and includes interviews with collaborators, rap titans, and childhood friends who knew him best.
For the chef dad
A book of traditionalish Italian dishes inspired by the menu at Via Carota. With over 140 recipes — including an insalata verde they recommend you eat with your hands — there's plenty for him to cook (and possibly for you to eat).
For the chef dad who recently went plant-based
For Ghetto Gastro's first book, the Bronx food collective has assembled over 70 mostly plant-based recipes, many of which take inspiration from the Bronx and the wider diaspora. Recipes run the gamut from Amerikkkan apple pie to red drank — a Juneteenth and cookout staple that shares cultural ties with Jamaican sorrel, Senegalese bissap, and Mexican agua de Jamaica.
For the foodie dad
Photo: The Strategist; Photo: Retailer
This book acts as both a guide and a warning: If we don't protect and honor food diversity and the people protecting it, we're at risk of losing it for good. BBC food journalist Dan Saladino takes us from East Africa to the Sea Islands to Sierra Leone, from wild honey to Geechee red peas to coffee-producing trees, showcasing the best and rarest of what the world has to offer in the hopes that knowledge will spark curiosity and, maybe, action.
For the dad who frequents Basel
In case you can't afford a Tunji Adeniyi-Jones original, this book will serve as a welcome consolation prize. African Art Now (which made our most giftable coffee table book roundup) offers a brief yet thorough overview of the 50 most prolific and influential artists working today, including major artists like Amoako Boafo and emerging talent.
For the dad who attended the Million Man March
He'll appreciate a biography of Constance Baker Motley, whose achievements are a laundry list of firsts. She was the first Black woman to argue a case in front of the Supreme Court, the first Black woman elected to the New York State Senate, the first woman to be Manhattan borough president, and the first Black woman appointed to the federal judiciary. This book lays out all of her accolades while also painting a picture of the life she lived.
For the dad who's seen every episode of Grey's Anatomy
Photo: The Strategist; Photo: Retailer
Part fast-paced workplace memoir and part reflection on our health-care system as a whole, The Emergency takes readers into Dr. Thomas Fisher's ER, a place where the waits are long and he has just three minutes to see patients on what is often the worst day of their lives. It's a gripping, emotional coaster and will keep him occupied while waiting for the final episodes of Grey's to drop.
For the dad who loves a war story
Photo: Publisher
NoViolet Bulawayo's second novel is about the fall of a fictional dictator and is inspired by the coup that unseated the longtime leader of Zimbabwe Robert G. Mugabe. This novel stays focused on the people living through the upheaval but is told from the perspective of a goat that comes back to witness the revolution. It's a fascinating story of a country in flux and the women pulling the strings behind the scenes.
For the dad who can't get enough WWII history
Photo: The Strategist; Photo: Retailer
In Half American, civil-rights expert and Dartmouth history professor Matthew Delmont tells the history of World War II from the Black perspective. It details the crucial contributions of Black soldiers during the war along with the disparate treatment they received when they returned home.
For the dad who can't get enough American history
Photo: The Strategist; Photo: Retailer
This book places Samuel Adams at the heart of the American Revolution and documents his role as an architect of key moments in the war, like the Boston Tea Party and his mobilization of the colonies. It's written by Stacy Schiff, a Pulitzer Prize–winning author whose book Vera brought Vladimir Nabokov and Vera Nabokov's relationship to life. It's likely this biography will bring a similar humanity to Adams's story.
For the dad who's a Samuel Delany fan
Photo: Publisher
The setting of Tochi Onyebuchi's Goliath is a near-future, barely hospitable Earth populated by people who weren't rich enough to escape to space colonies. It's a bleak but fruitful novelistic landscape told from the perspective of different characters from varying classes: laborers, journalists, and a space-dweller who's considering moving back to Earth.
For the bookish dad
Photo: The Strategist; Photo: Retailer
If his idea of a good time is a turn at Dreyer's Stet!, he'll enjoy this history of the index, that sometimes lengthy section at the back of a book that reveals the inner workings of the author's mind.
For the dad who's seen every episode of Actors on Actors
Photo: The Strategist; Photo: Retailer
If he's the type to regale you with tales of actors prepping for roles — like DeNiro's twelve-hour cabbie shifts in preparation for Taxi Driver — he'll likely find this book about the history of the Method fascinating. This book demystifies Method acting and goes beyond the headline-making practices actors undergo (like Leonardo DiCaprio sleeping inside an actual animal carcass for The Revenant) to really get into a role. It takes the reader behind the curtain on inventor Konstantin Stanislavski's method, as well as how Stella Adler, Lee Strasberg, and many others have made it their own.
For the dad who looks forward to Obama's summer reading list
Photo: Publisher
The former president recommended this novel by Antoine Wilson earlier this year. It tells the story of an art dealer's rise to fame as recounted to an old classmate in an airport. It's like your worst JFK nightmare come to life — except this story (at least according to Obama, Time, and NPR) is actually interesting.
For the dad who follows Imani Perry on Twitter
Photo: Publisher
Buy him her latest book, South to America, in which she returns to her home state of Alabama. It's both a book about journeying home and a reimagining of the South in the American imagination.
For the dad who heads straight to the poetry section
Photo: The Strategist; Photo: Retailer
After receiving a terminal cancer diagnosis, writer Jay Hopler started writing Still Life, a darkly funny book of poems that confront and theorize about the meaning of life in the midst of it coming to an end.
For the dad who's had a New York Times Book Review subscription for decades
Photo: Publisher
It's not hyperbole to say that Stay True was one of the most anticipated books of the year. The novel is centered around the author Hua Hsu's relationship with his friend Ken, who was violently murdered. The book ruminates on that relationship but also offers a snapshot of what it was like for Hsu to grow up Asian in California in the '80s, obsessed with Kurt Cobain and eventually underground rap. It's beautifully told — so much so that the New York Times named it one of the best books of the year.
For the dad who likes books about books
In Last Resort, Lipstein draws back the curtain on publishing a book. Or rather the literary culture of publishing. It's the latest in a litany of novels about authorship, credit, and writing about writing (see: the forthcoming Yellowface by R.F. Kuang, The Plot by Jean Hanff Korelitz and Identitti by Mithu Sanyal). Here, the main character, Caleb Horowitz, steals the real-life story of a college friend turned literary agent who finds out and then strikes a bargain with the main character to make things right. Strategist assistant editor Louis Cheslaw is a fan: "This is really a brilliant morality tale about what happens when a person refuses to learn from their mistakes, all the way down to the final scene, which had me laughing out loud and punching the air, even if it was at Caleb's expense."
The Strategist is designed to surface the most useful, expert recommendations for things to buy across the vast e-commerce landscape. Some of our latest conquests include the best acne treatments, rolling luggage, pillows for side sleepers, natural anxiety remedies, and bath towels. We update links when possible, but note that deals can expire and all prices are subject to change.