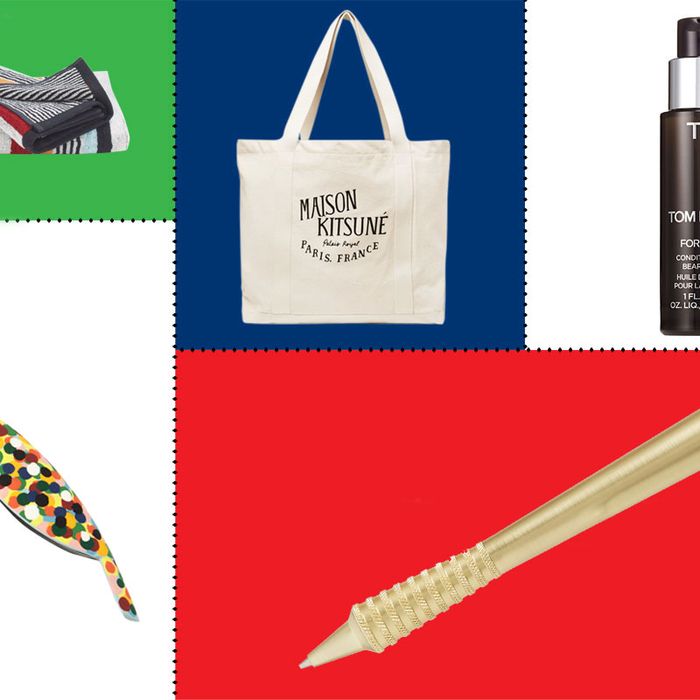 Most realtors would tell you it's a better idea to buy the cheapest house in the best neighborhood than the most expensive in the worst. Same goes with gifts — better to get the well-made, affordable thing from an expensive brand than the top-of-the-line item from a no-name maker. We went and found the nicest, cheapest gifts from the most expensive brands for Father's Day (bearing in mind that cheap is a relative term, and that your dad would actually want to receive all of these). And look, not a single tie in sight.
These stemless wine glasses from venerated Austrian brand Riedel are specific to grape varietals, and are even stackable, too.
The Japanese brand is known for serums containing the skin-boosting effects of saccharides — if dad's worried about aging, he'll feel the difference after just one mask.
Italian design brand Alessi's known for its sleek steel objects; this is the rare piece that's brightly colored — and at a very affordable price.
Dad will think of you every morning when he drinks coffee out of a tumbler by Danish home-accessories brand Eva Solo. Note: You're buying only one, but there are two colors to choose from.
The stainless-steel and oak-wood salt and pepper shakers by Georg Jensen are almost little pieces of sculpture for the dining table.
A striped set of hand and bath towels with a masculine bent by the Italian masterminds at Missoni Home.
American luggage maker Briggs & Riley knows that the best kind of Dopp kit is the kind that saves counter space by hanging from the door.
If you can't afford Tom Ford cologne (or even eau de toilette), try some whisker-softening beard oil with the same luxurious scent.
For the man who has everything, a Baccarat wine-bottle coaster perhaps?
Upgrade the Dial soap your dad keeps by the sink with a hand wash seen in every happening lower Manhattan restaurant.
Okay, so it's kind of a nutso amount to be spending on a key chain, but it's Thom Browne.
Fragrance nuts go wild over Frederic Malle's scents; this bodywash is much more exciting than a candle, and yet so much cheaper than a cologne.
Four supersharp steak knives from German precision brand Wüsthof would be welcome by any carnivore.
This superluxurious face towel by Matouk uses no-twist Egyptian cotton for an extra buttery weave.