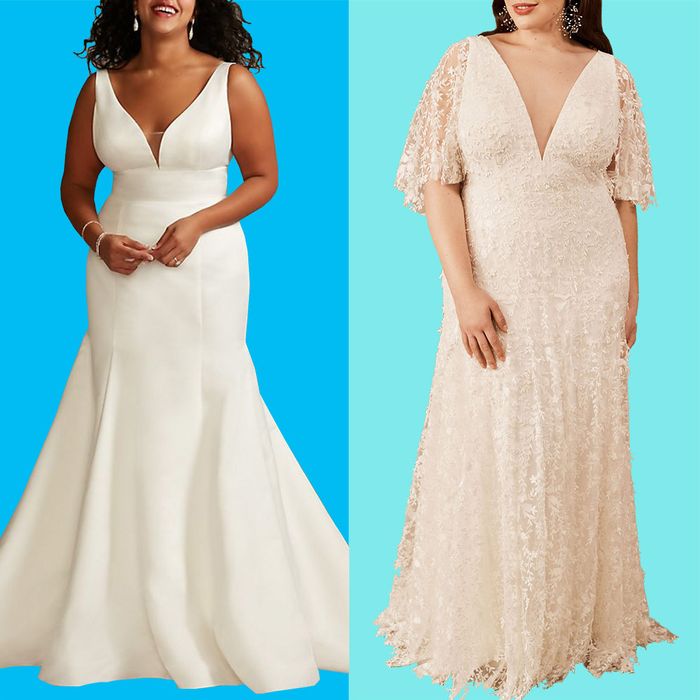 Photo-Illustration: The Strategist; Photos: Retailers
Whether you've been building a secret Pinterest board for years or couldn't care less what you're wearing down the aisle, wedding-dress shopping is inevitably a whole to-do. There's money, time, body-image issues, indecisiveness, and strong opinions (solicited and otherwise) at stake — and if you're plus-size, it's even more complicated. I'm getting married next year, so I'm in the process of figuring out what to wear on my body that fluctuates between size 14, 16, and occasionally 18. As a longtime retail reporter, I was optimistic that the bridal industry would offer plenty for size 14 and above (which is, after all, 68 percent of American women). Categories like swim, activewear, denim, and RTW have evolved so much — surely bridal has, too?
Unfortunately, that's simply not the case, as I've learned over the last few months. In traditional brick-and-mortar bridal boutiques, it's a successful visit if I can try two or three dresses that are vaguely my size; even rarer is being able to zip up all the way, since in-store samples usually max out at size 10 or 12. And this is bridal sizing we're talking about, which is anywhere from two to four sizes smaller than regular sizing.
Because of all that — not to mention the ongoing pandemic — shopping for my wedding dress online rather than in person has become increasingly appealing. Another advantage of e-commerce, I've gleaned, is that there's no body- or budget-shaming. When Sarah Chiwaya, a plus-size brand consultant and the founder of Curvily, got married in 2012, she told me her dress-shopping experience was nothing short of traumatic. "I was body-shamed left and right and treated like my $2,500 budget was nothing," Chiwaya recalls. Salespeople made it clear that being a size 14/16 meant she "should be grateful for any dresses I could try, and that I should get whatever fits," she says.
But online wedding-dress shopping is not without its own challenges. For starters, it's an especially tricky thing to shop for virtually. Bridalwear is generally very expensive and final sale (or exchangeable, if you're lucky). It's also difficult to assess fabric and fit quality before feeling or seeing in person, and because these aren't everyday materials or silhouettes for most people, the vocabulary can be confusing. You probably don't know how a mermaid gown compares to a fit and flare, or how different duchesse and mikado satin will look in photos. Details like beading and lace can look and feel very different in person than online, too; a lace might have a metallic sheen you're not a fan of, sequins that look glamorous onscreen may look like a cheap Halloween costume, and beading could feel too scratchy and heavy on your skin. Add to that the fact that the bridal industry remains quite old-school, so lots of brands don't sell direct to customers and are only available from the boutiques that carry them.
With that in mind, I spoke to a handful of experts and, combined with months spent wedding shopping myself, unearthed some standout brands and retailers for sourcing extended sizing wedding attire online, from plus-only, non-bridal options to traditional bridal stores.
Though a few specialty plus-size bridal brick-and-mortar stores do exist, such as Bombshell Bridal Boutique in Michigan and Refined Bridal Boutique in Alabama, you can't shop them online. So if you don't live near any of these spots or feel safer shopping virtually, I'd recommend starting with the bigger, multi-brand retailers in the bridal space.
When fashion blogger and brand consultant Liz Black was getting married a decade ago, David's Bridal was one of the first places that came to mind to shop for a wedding dress "because I knew they definitely carried my size, and that they would have my size in stock, so I could try things on." And while they had a limited selection back then, Black is even more impressed with their on-trend offerings these days. They're also relatively easy on the budget, she points out. "Personally, if I was getting married at this point, [David's Bridal] would be most likely the place I would buy my dress because they are the most affordable out there," she says.
They also offer perhaps the largest variety online, with more than 400 wedding dresses currently available in sizes 16W to 30W. Black also likes that they do collaborations "with so many different designers out there that would maybe not be affordable for someone," like Vera Wang White, their diffusion collection with the luxury bridal designer.
Chiwaya is also impressed with the mass retailer's offerings — like this Oleg Cassini gown — and she's found that their dresses run pretty true to size. Chiwaya advises seeking out video reviews, not just photos or written reviews, which will give you a better grasp on how a dress will look and feel. (Chiwaya feels so passionate about this, in fact, she launched an Instagram series called #inthefittingroom to share insights on how a brand's sizing suits her measurements and compares to her typical sizing, and how the clothes actually feel on her body.)
Chiwaya also likes BHLDN, the Anthropologie-owned bridal chain, which she says expanded their sizing last year to size 26. "I was really impressed with the quality — very luxe-boho, very on-brand," she says. "When I was getting married, I would've loved their stuff and been head over heels, so I'm really excited that they have plus sizes now." While not every gown is available in the extended 16W to 26W range, there's a decent range of 40 or so styles currently on offer. She recommends their at-home styling appointments, which she tried last year. "The stylists' knowledge is really in-depth. They've tried on every dress that they offer, they know all the materials, they can tell you about the fit, like, 'If you're bustier, this dress might not work, or you might want to size up in it and we can help you figure out exactly what your size is and any considerations or concerns you have,'" she says.
Both BHLDN and David's Bridal offer free shipping and returns, a rarity for bridal and really helpful for trying on multiple styles at home. "A lot of times you have an idea in your head — I had an idea of what I wanted for my dress, and then when I put it on my body, I was like, 'No, this is not for me,'" says Robina S, a Chicago-based plus-fit model. "Even if you have an idea of what you want, try on different silhouettes."
Keeping an open mind about silhouettes and materials while wedding-dress shopping is advice I've gotten at every in-person appointment. Obvious as it may seem, it's helped me reconsider ideas I'd written off preemptively, like one-shouldered anything or hip-hugging fit-and-flare dresses. But it's also reaffirmed what I definitely do not want, like sequins and beading, ultrashiny satin, or lace-up corseting that reminds me of Renaissance fairs; unfortunately, there's a lot of all that to sift through when looking at dresses in larger sizes.
Plus
and
size–inclusive
retailers
Retailers specializing in expanded sizes are more likely to feature photos and videos on actual size 14-plus bodies that look like yours, which really makes a difference when buying a wedding dress online.
I've found 11 Honoré is the best place online for plus-size designer pieces, some of which might be fancy and special-feeling enough to get married in, with beautiful gowns and chic separates in extended sizing exclusively available on the site. "They do have actual designer labels and beautiful pieces in the 10 to 26 size range, so if you're looking for nontraditional bridal, 11 Honoré could be a good option," Chiwaya says, calling the site "similar to Net-a-Porter, but in actual plus sizes," with brands like Carolina Herrera, Brandon Maxwell, Jason Wu, Christopher Kane, and more.
Black also praises 11 Honoré's selection, though notes it's "obviously at a higher price point, if that's something that you're comfortable with." Selection isn't huge at any given time, but they often have a dozen options or so that could be nice for a more nontraditional or casual wedding.
I've found a few other online retailers focused on plus fashion and inclusive sizing that, while not expressly bridalwear, are worth browsing. CoEdition is one such retailer that came recommended by both Black and Chiwaya. It offers a virtual try-on feature for some dresses, including bridal styles, that lets you see the same dress on ten different models (or you can upload a photo of your own body). It also has size charts, plus a video instructing how to measure yourself at home for those size charts.
This month, CoEdition will have even more weddingwear when it starts stocking the relaunched Ella & Oak, one of the only, if not the only, plus-size online bridal retailers. Up until the pandemic, Ella & Oak carried exclusive styles with bridal designers like Rebecca Schoneveld, Love Lives Here, Blue Willow, and Anne Barge, but it'll soon be pivoting to private-label, made-to-order dresses under $1,000 available via CoEdition. Until then, you can shop a handful of Ella & Oak's samples at deeply discounted prices.
Chiwaya also suggests checking out Eloquii. While it doesn't have a dedicated bridal collection, it does have pieces that would suit a casual wedding or civil ceremony.