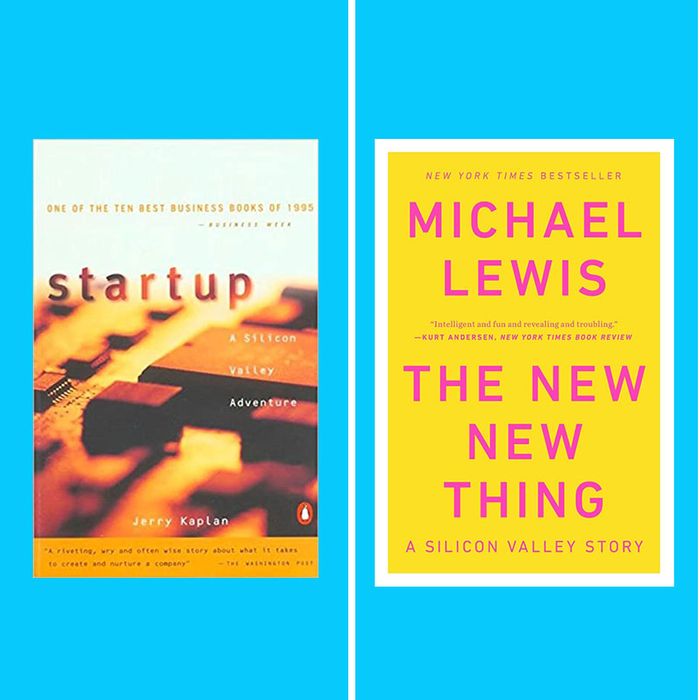 Photo-Illustration: retailers
If there's one thing popular culture can't seem to look away from, it's the over-funded antics of Silicon Valley CEOs. As their staffs make minute algorithm adjustments that change all of our daily lives, the honchos themselves are testifying to Congress in front of cable-news cameras, serving as the focus of award-winning documentaries and feature films, and appearing as tabloid fodder for walking barefoot around New York City or smoking weed with Joe Rogan. Looking at best-seller lists from the last two years suggests the appetite for such stories is bottomless: From Bad Blood (about the unraveling of Elizabeth Holmes's Theranos), to Super Pumped (about the rise and fall of Uber's bro-y CEO), to Billion Dollar Loser (New York Magazine contributing editor Reeves Wiedeman's new book about WeWork's messianic founder, Adam Neumann), readers can't seem to get enough of these juicy tales set in Silicon Valley.
But you could say that, just like there's a Juno (RIP) for every Uber, so too are there lesser-known Silicon Valley–set books that are just as gripping as the more buzzed-about titles. To find the best Silicon Valley sagas, we spoke to a panel of ten industry insiders, including Wiedeman, former Time editor and CNN CEO Walter Isaacson, Stanford University computer science professor Keith Winstein, Maccast podcast host Adam Christianson, author and Cult of Mac editor Leander Kahney, author and Fortune magazine contributing technology editor Adam Lashinsky, author and journalist Carlye Adler, 9to5Mac editor Michael Steeber, author and journalist Ashlee Vance, and author Gina Keating.
Like in our other reading lists, all of their 11 recommendations below came up at least twice — some are ubiquitous titles that are now classics of the genre, others are less prevalent stories that our experts say are just as captivating. Somewhat interestingly, the books tend to fall into two different eras: Stories of how Silicon Valley all began, when Jobs and Gates were working out of garages, and stories about our present moment, when valuations are skyrocketing and a new crop of founders are modeling themselves after those guys. So whether you (or the Silicon Valley–obsessed person in your life) are interested in the originators or the imitators, there's surely a title to turn to next.
Photo: retailer
Books about Steve Jobs and Apple dominate the titles on this list, which perhaps isn't much of a surprise given that Jobs remains responsible for the devices most folks use every day and was the first tech titan to develop a following outside of the industry. While the Jobs-related books we heard about cover different periods of his life, Christianson and Adler both recommend starting with this official biography that Jobs specifically requested be written by Isaacson, the only author to have two books on this list (and a Strategist contributor). Adler calls Isaacson a brave writer who, despite knowing Jobs, doesn't shy away from his less-flattering moments, like "the whole episode yelling at Andy Cunningham about her ugly suit." She says that the book is "still good and important," even as buzzier releases have followed it, adding that it's "a terrific biography of Jobs and the culture of his companies."
Photo: retailer
Just as Isaacson's Steve Jobs was adapted for the silver screen, so too was this book about Theranos's Elizabeth Holmes, which two of our panelists also recommend. Adler says it's a must-read for anyone interested in the "dark side of Silicon Valley," and both she and Wiedeman, who also recommends it, say there's so much in the book that the popular HBO miniseries didn't cover. One example, Wiedeman explains, is "the flip that takes place midway through, when Carreyou and his reporting become a part of the story he's telling." It's a moment that Wiedeman says deftly shows "the ways start-ups and their founders attempt to control the narratives surrounding their companies — and what can happen when reality catches up." The book, he concludes, is the title "by which all others in the genre will be judged for as long as there are Silicon Valley founders trying to sell us on little more than a dream."
Photo: retailer
If you'd rather read about young people who succeeded, this doubly recommended "funny, irreverent history of Silicon Valley from '78–'96 is told as a series of stories focusing on tech industry personalities like Steve Jobs, Bill Gates, Mitch Kapor, and others," explains Kahney. "It's a shame it was written before Jobs returned to Apple and saved the company," he adds, "because it's merciless about Jobs's early — and misguided — management practices." Lashinsky is its second fan, describing the book as a "seminal work from a time when today's giants were young."
Photo: retailer
Silicon Valley's biggest names appear in the pages of this book, too, but from a slightly different angle. Startup, explains Lashinsky, "is an inside account by the founder of a failed start-up." (Author Jerry Kaplan founded Go Corporation, which was one of the best-funded startups in the Valley before it burned through $75 million of investor cash and shut down.) What makes it gripping, Lashinsky adds, is how Kaplan tells the story of his business imploding while "some of the biggest names of Silicon Valley" were succeeding. Adler, another fan, describes the book as a classic tale about what it is like to fail epically in the Valley.
Photo: retailer
"Most books about the Valley look at the view from the top," says Wiedeman. "They're about the founders and funders who run the place from on high." Wiener's new(ish) memoir, however, offers "the funniest, darkest, sharpest, and most human view from the ground, among the worker bees building the platforms taking over our lives," he explains. While the author never wanted or expected to work in tech, Wiedeman says her book shows how "we've all been sucked in by these companies, in one way or another, and what it's like on the inside." Winstein, who also recommends the book, calls it a "too-real personal history of being here."
Photo: retailer
If you're looking for more of a sweeping history than a personal story, Isaacson (whose next book, The Code Breaker, hits shelves early next year) says to check out Steven Levy's Hackers, a "classic and colorful tale" that profiles the rise of creative computer hackers (including Bill Gates) in the late '70s and early '80s. It "goes back to the roots of the revolution," he explains, "beginning with the MIT Tech Model Railroad Club and The Homebrew Computer Club." Winstein also recommends Levy's book, telling us it "describes well how playful disruptors see themselves."
Photo: retailer
Christianson and Kahney both told us about this book written by Andy Hertzfeld, one of the programmers that helped create the original Macintosh computer with Jobs. The book, Kahney explains, "gathers the recollections of many on that team." Describing it as "more of an oral history," he adds that Hertzfeld is a "good storyteller" who includes "plenty of great stories from his fellow Apple engineers." It's these engineers' stories that Christianson says give the book its focus. "It tells the human stories around the technology," he says.
Photo: retailer
If you'd rather learn about how the iPhone was created, Kahney tells us that this is "another great book about how Apple works, told by one of the rank-and-file programmers who helped develop the original iPhone operating system." In its pages, readers will get a very thorough look at "how Apple develops software" that, according to Kahney, "not only shows how the iPhone was made, but also imparts important lessons about how Apple is so consistently creative and innovative." Steeber also suggests this book, telling us it offers a "rare, detailed look inside" a notoriously secretive corporation.
Photo: retailer
Margaret O' Mara worked in the Clinton White House, giving her a front row seat to the growing influence that companies headquartered in Silicon Valley had in Washington. Isaacson and Vance say this uniquely positioned her to write this story, which connects "technology to politics to American culture," in Isaacson's words. Vance adds the book is a "well-researched, thorough" explainer of how our country got to a place where the founders of Facebook and Twitter are frequently summoned to testify in Washington (as they did again this very week) about their power in our elections.
Photo: retailer
You don't have to like reading to enjoy Michael Lewis's work: The Big Short, Moneyball, and The Blind Side are all books of his that became big-screen epics. But you do have to like reading to enjoy this (yet-to-be optioned) book he wrote about a guy who founded three separate billion-dollar companies in Silicon Valley in the 1990s. Vance and Lashinsky call it a must-read, with the former describing it as "an entertaining romp through a booming moment in the Valley's History" and the latter calling it "the definitive book about the antagonism between entrepreneurs and venture capitalists."
Photo: retailer
This, the second Isaacson title on our list, chronicles how various advances in algorithms and technology led to the creation of computers and the internet. It begins in the 1840s with Lord Byron's daughter Ada Lovelace, who has since been recognized as a programming pioneer, and continues to the era of Jobs, Gates, and Google co-founder Larry Page. Kahney calls it "the best general history I've read about Silicon Valley and the development of computing," adding that, despite the author's extensive subject matter, his writing is "light, breezy, and doesn't get bogged down." Steeber, another fan, says the book basically covers every name (and story) that paved the way for the Valley as we know it today.
The Strategist is designed to surface the most useful, expert recommendations for things to buy across the vast e-commerce landscape. Some of our latest conquests include the best acne treatments, rolling luggage, pillows for side sleepers, natural anxiety remedies, and bath towels. We update links when possible, but note that deals can expire and all prices are subject to change.