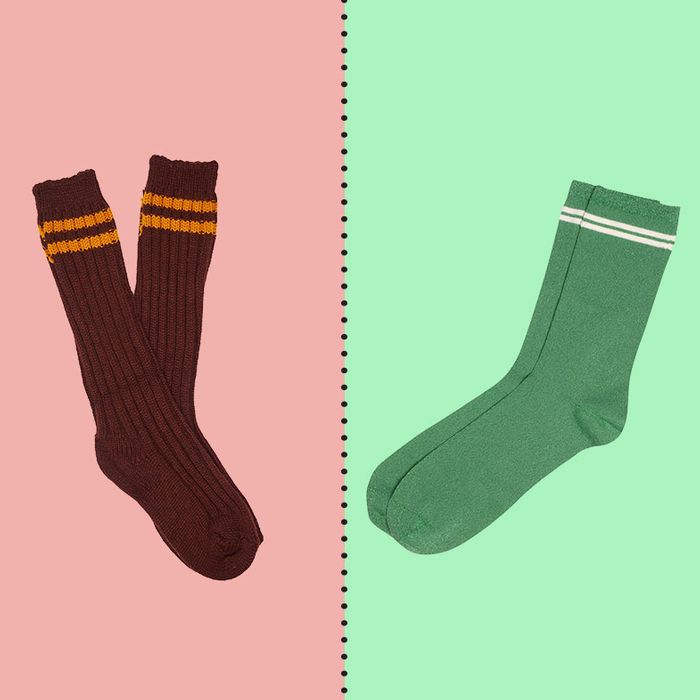 Tube socks — or gym socks — have been a sporty staple for many years. Farrah Fawcett wore them. 1970s basketball players wore them. The Red Hot Chili Peppers … wore them. And in the past couple years, you may have noticed the classic, chunky white socks with bright-colored stripes on the ankles of Bella Hadid, Justin Bieber, and Instagram models aplenty. Like other '80s and '90s favorites — including hair clips, scrunchies, and flip-flops — the socks have been having a moment.
Recently, though, we've been noticing new takes on the gym-class favorite. The latest tube socks come in subdued shades, sheer nylons, and shimmery Lurex blends that you could just as easily wear with a pair of dressy pants to work as you could with sneakers or heels. We noticed chunky multicolor iterations at Prada's Resort 2020 show, and some thick bright ones in Versace's Fall 2019 collection. They've been popping up on the "Socks and Tights" page of plenty of sites, from Need Supply to Totakealo. And earlier this week, we scrolled past a gray and yellow pair styled with heels on Rachel Comey's Instagram. So to ease the pain of putting away all things open-toe, we've rounded up some of our favorites — including ones that you could wear with summer sandals to make them a little more fall-feeling. Here are our picks.
This three-pack of very '70s tube socks from Italian hosiery brand Calzitaly seems like a good starter pack for getting into the look.
This two-pack comes with a red-striped pair and a black-striped pair — perfect for when you go on that inevitable upstate hike with friends this fall.
If you want to go full-on varsity (or Gossip Girl-esque school uniform, as the product images suggest) you could try these, which come in about a gazillion different colors.
Other Stories has a bunch of fun varsity ankle socks right now, including these sheer ones, with a citrusy stripe combo.
They also have a polka-dot glitter pair.
Photo: Reid, Hilary
And an even more glittery pair that's a twist on classic white tube socks with colorful stripes.
Madewell has a pair of tube socks in a nice, autumnal deep marigold shade.
The second stripe on these is sheer, and we think they'd make a good pair to wear in the early days of fall when it's still pretty hot.
Urban Outfitters has plenty of striped socks on offer recently, and this multipack would be a perfect way to refresh your everyday socks while still getting in on the trend.
It wouldn't be a round up of gym socks, without some Adidas ones. We especially like that burgundy pair.
Photo: Retailer
If you're looking for something more neutral, try this taupe Stüssy pair.