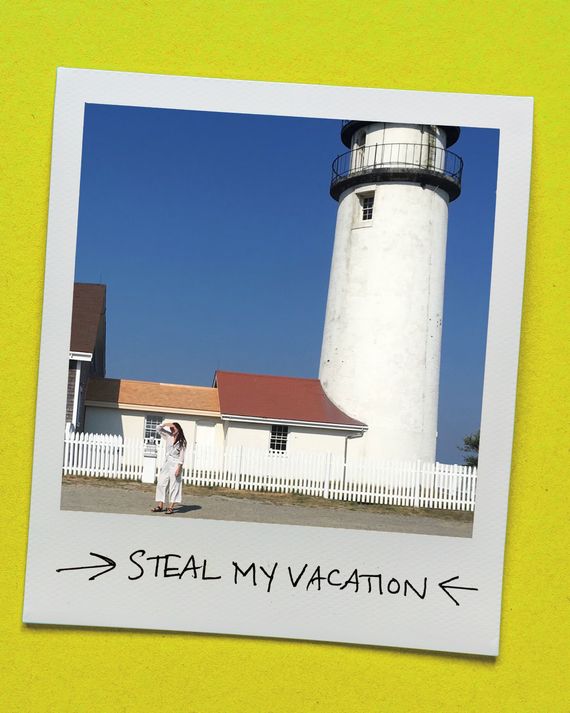 Photo-Illustration: The Strategist; Photo: Emily Bode
This article was featured in One Great Story, New York's reading recommendation newsletter. Sign up here to get it nightly
Everyone knows that person who spends weeks sniffing around travel blogs, going deep down into TripAdvisor rabbit holes, collecting Google Docs from friends of friends, and creating A Beautiful Mind–style spreadsheets to come up with the best vacations/itineraries possible. In this recurring series, we find those people who've done all the work for you and have them walk us through a particularly wonderful, especially well-thought-out vacation they took that you can actually steal.
New York designer Emily Bode grew up spending summers with her aunt and uncle in Truro, Cape Cod, which inspired one of her earliest collections. Now she returns every year to pick wild blueberries, antique for vintage jewelry, and host lobster bakes out on the porch. Bode shares her tips on what makes a good rental, the best place to catch "Cape Light," and the sunny days–cool nights essentials she packs every time.
6 a.m.: Leave New York first thing
July is nice because although the Cape is busy all summer, it's not at its busiest then, like it is in August. So you can still have the quaintness of the Cape, especially if you're an early riser — and you can usually pick blueberries in July. It's best to drive to the Cape because car services are slim. It's not the easiest to get around without a car. The drive from New York to Truro takes about five and a half hours. I like to leave by 6 a.m. and get there by lunchtime. I don't stop until I'm there. My mom grew up going to a nearby town called East Dennis. With both of my parents being from Massachusetts, they were very familiar with the Cape, but we ended up in and around Truro because of my aunt and uncle.
12 p.m.: Check in to your rental (ideally on the bay side)
There aren't many hotels in Truro, so you need to rent a house. Often, it's better to go the old-school route of calling a rental company versus booking through major websites because there's usually more available. My friends always have the best luck finding great homes by calling local agencies. They will email you photos of the houses so you can choose. The best homes to get are Cape Cod moderns or early-19th-century homes. I recommend having a porch, and, if you're lucky enough, try to be on the bay side, where you have amazing sunsets. The ocean side has amazing sunrises. I would look for a house with an ample dining room or porch to host a lobster bake. Depending on the house, I prefer to bring my own sheets and towels. If your house doesn't have deeded beach access, the only way you can go to the beaches in Truro (between June 19 and September 6) is with a beach sticker from the town ($75). You can fill out a form online and have the sticker mailed to you before your trip, or you can pick it up in town from Truro Beach Office (36 Shore Rd.) the day you arrive.
1 p.m.: Pick up lobster-bake supplies for tonight
On the way into town, stop at Hillside Farmstand (300 US-6). You can buy fruits, veggies, snacks, breakfast ingredients, and all that you would need to make a sandwich for lunch. While you're there, go next door to Cape Tip Seafood (300 US-6) and put your order in to have a to-go lobster bake or clambake ready that night. Steamers ($6.95/lb) are my favorite, and I love the "Wicked Good" crab dip. Pick up your order any time before 6 p.m. Then get your set of keys at the rental office in town and make lunch when you get to your house. Here, you need to check if you have the proper utensils, like lobster crackers, for your bake. If you don't, you can buy them from Cape Tip Seafood when you pick up your food later.
2 p.m.: Head to the beach
After you unpack, go to the beach. I pack quite light. Bring a blanket, a hat, and water, because once you're there and find your spot, you won't want to leave. If your house is not on the beach and you're looking for more of an ocean experience where you can be in the waves surfing or boogie boarding, Ballston Beach (the end of S. Pamet Rd.) is the best, or Longnook (toward the end of Long Nook Rd.). The ocean side is colder and the waves are stronger, and to get to the beach, you have to traverse a dune. The bay side is much calmer for wading, swimming, looking for shells and hermit crabs, and watching the sunset. For that, I like to go to Corn Hill Beach (Corn Hill Rd.). You can park and walk right onto the beach. Afterward, have your lobster bake for dinner. You literally just pick it up. Enjoy the sounds of the Cape and eat on the porch if you're able.