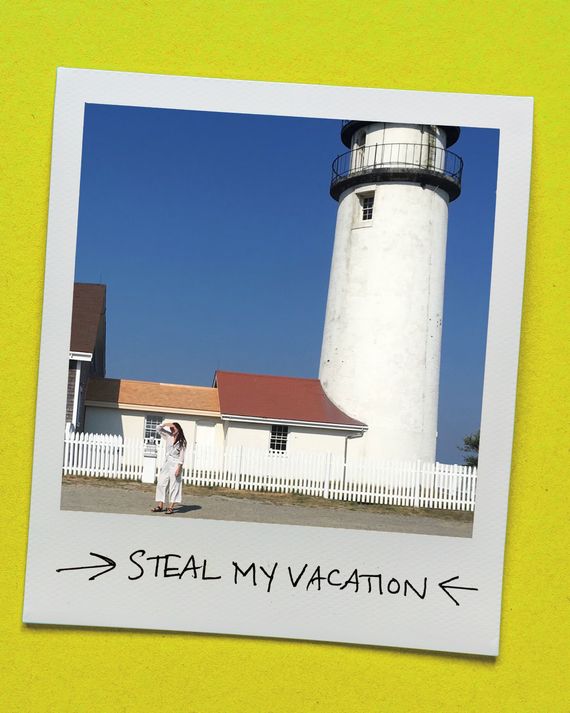 Photo-Illustration: The Strategist; Photo: Emily Bode
This article was featured in One Great Story, New York's reading recommendation newsletter. Sign up here to get it nightly
Everyone knows that person who spends weeks sniffing around travel blogs, going deep down into TripAdvisor rabbit holes, collecting Google Docs from friends of friends, and creating A Beautiful Mind–style spreadsheets to come up with the best vacations/itineraries possible. In this recurring series, we find those people who've done all the work for you and have them walk us through a particularly wonderful, especially well-thought-out vacation they took that you can actually steal.
New York designer Emily Bode grew up spending summers with her aunt and uncle in Truro, Cape Cod, which inspired one of her earliest collections. Now she returns every year to pick wild blueberries, antique for vintage jewelry, and host lobster bakes out on the porch. Bode shares her tips on what makes a good rental, the best place to catch "Cape Light," and the sunny days–cool nights essentials she packs every time.
6 a.m.: Leave New York first thing
July is nice because although the Cape is busy all summer, it's not at its busiest then, like it is in August. So you can still have the quaintness of the Cape, especially if you're an early riser — and you can usually pick blueberries in July. It's best to drive to the Cape because car services are slim. It's not the easiest to get around without a car. The drive from New York to Truro takes about five and a half hours. I like to leave by 6 a.m. and get there by lunchtime. I don't stop until I'm there. My mom grew up going to a nearby town called East Dennis. With both of my parents being from Massachusetts, they were very familiar with the Cape, but we ended up in and around Truro because of my aunt and uncle.
12 p.m.: Check in to your rental (ideally on the bay side)
There aren't many hotels in Truro, so you need to rent a house. Often, it's better to go the old-school route of calling a rental company versus booking through major websites because there's usually more available. My friends always have the best luck finding great homes by calling local agencies. They will email you photos of the houses so you can choose. The best homes to get are Cape Cod moderns or early-19th-century homes. I recommend having a porch, and, if you're lucky enough, try to be on the bay side, where you have amazing sunsets. The ocean side has amazing sunrises. I would look for a house with an ample dining room or porch to host a lobster bake. Depending on the house, I prefer to bring my own sheets and towels. If your house doesn't have deeded beach access, the only way you can go to the beaches in Truro (between June 19 and September 6) is with a beach sticker from the town ($75). You can fill out a form online and have the sticker mailed to you before your trip, or you can pick it up in town from Truro Beach Office (36 Shore Rd.) the day you arrive.
1 p.m.: Pick up lobster-bake supplies for tonight
On the way into town, stop at Hillside Farmstand (300 US-6). You can buy fruits, veggies, snacks, breakfast ingredients, and all that you would need to make a sandwich for lunch. While you're there, go next door to Cape Tip Seafood (300 US-6) and put your order in to have a to-go lobster bake or clambake ready that night. Steamers ($6.95/lb) are my favorite, and I love the "Wicked Good" crab dip. Pick up your order any time before 6 p.m. Then get your set of keys at the rental office in town and make lunch when you get to your house. Here, you need to check if you have the proper utensils, like lobster crackers, for your bake. If you don't, you can buy them from Cape Tip Seafood when you pick up your food later.
2 p.m.: Head to the beach
After you unpack, go to the beach. I pack quite light. Bring a blanket, a hat, and water, because once you're there and find your spot, you won't want to leave. If your house is not on the beach and you're looking for more of an ocean experience where you can be in the waves surfing or boogie boarding, Ballston Beach (the end of S. Pamet Rd.) is the best, or Longnook (toward the end of Long Nook Rd.). The ocean side is colder and the waves are stronger, and to get to the beach, you have to traverse a dune. The bay side is much calmer for wading, swimming, looking for shells and hermit crabs, and watching the sunset. For that, I like to go to Corn Hill Beach (Corn Hill Rd.). You can park and walk right onto the beach. Afterward, have your lobster bake for dinner. You literally just pick it up. Enjoy the sounds of the Cape and eat on the porch if you're able.
8 a.m.: Rummage around the flea market for antique textiles
I pack a book, cards, and chess for the beach later, then I go to Jams Truro (14 Truro Center Rd.). It's known for pastries. It's extremely artisanal and on the pricier end, but great for coffee, tea, baked goods, and breakfast sandwiches, things like that. From there, go straight to the Wellfleet Flea Market (51 US-6), a 20-minute drive. I'm usually the first one there at 8 a.m. Like any flea market, it's really hit or miss, but it has great vintage jewelry and antique textiles. By lunchtime, I'm usually done. Grab a sandwich at Jams and go straight to the beach.
4 p.m.: Cool off at the Kettle Ponds
By 4 or 5, I would go to the Kettle Ponds. They're all over Truro and Wellfleet. These ponds were formed by glaciers 10,000 years ago and are a peaceful retreat from the hot, busy beaches. Early mornings are usually for solo swimmers, and by midday, the ponds are packed with families. My favorite time to go is for a quick dip after the beach, when it's very quiet and meditative. Look for the ponds on the ocean side of Route 6 (a 15-minute drive). They're all great, but you need to look on Google Maps. Some are more accessible than others; some are deeper in the woods, and you'll have to drive down a dirt road for 10 minutes. It's best to pack light: Just bring yourself and water shoes. Music and beach gear is not welcome here. Stay until 6. It's brackish water, so you can bring a change of clothes and go straight to dinner at Mac's Shack in Wellfleet (91 Commercial St.). It's one of the better restaurants in the outer Cape. Call ahead to make a reservation (508-349-6333).
7 p.m.: Order fried clams at Mac's Shack
Mac's Shack is primarily a raw bar and sushi bar. I like to eat outside because you get the whole Cape Cod feeling: You're eating on the seashell driveway right next to the raw bar. It has great cocktails and wine. We always get the raw oysters ($14) and the fried clams ($19). The restaurant serves a homemade clam chowder ($6) that's really good. The sushi and fish tacos ($20) are amazing.
9 a.m.: Pick blueberries on the National Seashore
Make a quick breakfast at home with eggs or whatever you picked up from Hillside Farmstand. Go wild-blueberry picking along the National Seashore (a seven-minute drive). Bring a bucket or two and be prepared to be in the sun for a while, even if you enter through the woods. I always park on North Pamet Road near the Pamet Cranberry Bog House. There are paths to the National Seashore for a pretty easy hour-long hike. The blueberries grow right along the paths.
2:30 p.m.: Get a Truro history lesson
Pick up a wrap at Box Lunch (300 US-6). They do a lobster wrap (MP) instead of a lobster roll. Go to your beach of choice and eat your lunch. Spend an hour or two there and go home to get ready for the night, leaving yourself enough time to spend a few hours at the Highland House Museum (6 Highland Light Rd.), which usually closes at 4:30 p.m. It's such a cool old museum. The building is from the 1910s, and it highlights old industries like fish netting, so there are old examples of fishnet bags and fishnets for fishing. It's set up like an inn, but each of the bedrooms represent different eras and different industries. The ground floor usually has an exhibit around something to do with the history of Cape Cod, whether it's shipwrecks or settlers. Because you're high up on a dune, you get the sun coming in from the bay side. For a really short amount of time at golden hour, there's a very specific glow called Cape Light. Take pictures — it's really beautiful before the sun dips below the tree line.
8 p.m.: Catch a double feature at the Wellfleet Drive-in
Then drive straight to the drive-in theater in Wellfleet (51 US-6). It's been around since 1957, in the same lot as the flea market. Get there a little early so you're not in the back of the lot. When I was a kid, my family and I would load a mattress into the bed of my uncle's truck and park backwards to catch both features. Bring lots of pillows, blankets, and bug spray. Eat the old-school concessions they have there: hot dogs, nachos, that kind of thing.
9 a.m.: Leave early
Drive home first thing in the morning the next day to avoid the morning rush. If you don't leave before 11 a.m., you might as well wait until the evening and leave after dinner at 7 p.m.
Emily
Bode's
Truro
Packing
List
Sweater for Chilly Nights
"I'd pack a lightweight sweater, like our Victoria Pullover, for evening. I'd also bring our Rugby Shorts, which have a classic, timeless boyish shape perfect for men and women. And then our classic House Shoe, because it's a dressier silhouette but can be worn with anything."
Linen Sheets for the Rental
"Depending on the house," Bode likes to bring her "own linen sheets and vintage 1960s and '70s towels." This set from Cultiver is woven from European flax and has been prewashed for a soft vintage feel.
Water Shoes
Bode recommends bringing "some kind of water shoe for the Kettle Ponds." These are made from a breathable diving material that dries quickly.
Sun Protection
"I wear my Village Vanguard ballcap for protection along with a sunscreen with SPF 40 or higher."
After-Sun Hydration
Bode "always brings face oil for after the beach" to rehydrate her skin. This one from Mutha has tons of antioxidants and omega fatty acids to protect and hydrate.
The Strategist is designed to surface the most useful, expert recommendations for things to buy across the vast e-commerce landscape. Some of our latest conquests include the best acne treatments, rolling luggage, pillows for side sleepers, natural anxiety remedies, and bath towels. We update links when possible, but note that deals can expire and all prices are subject to change.
The COVID situation there: Truro — like the rest of Massachusetts — lifted all of its COVID restrictions on May 29. The state still suggests that anyone who is not fully vaccinated get a negative COVID test before traveling or quarantine for 10 days upon arrival, but neither are required.
Check Truro Properties, Vacation Cape Cod, and Cape Cod Oceanview Realty. A four-bedroom cottage with views of the National Seashore starts from $1,800/week; a modern, shingled four-bedroom with private bay access and multiple decks starts from $6,500/week.
Open from 9 a.m. to 5 p.m. everyday
Open from 10 a.m. to 5:30 p.m. everyday
The store is only allowing five people into the store at once. If you're worried about a line, you can also place an order in advance to do curbside pickup or home delivery.
The restaurant requests you call to order ahead.
Opening around July 7; "Wampanoag Nation: People of the First Light" will be the first featured exhibit this summer.
They ask you buy advance tickets.