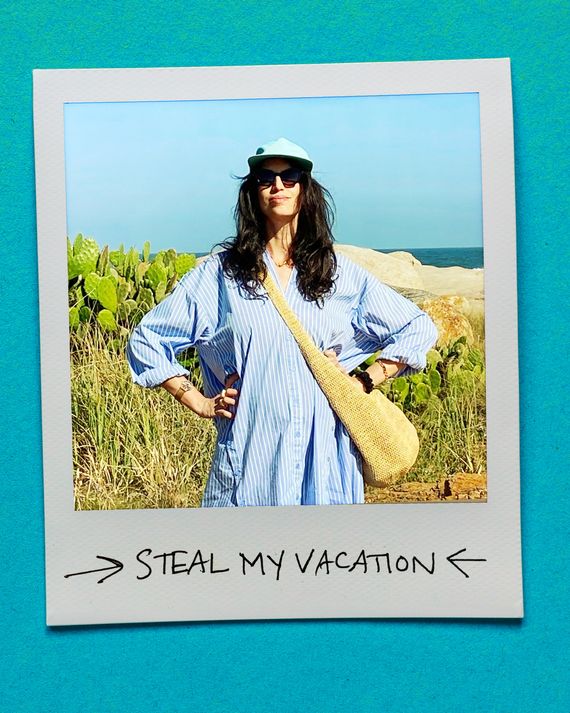 Photo-Illustration: The Strategist; Photo: Anna Polonsky
Everyone knows that person who spends weeks sniffing around travel blogs, going deep into Tripadvisor rabbit holes, collecting Google docs from friends of friends, and creating A Beautiful Mind–style spreadsheets to come up with the best vacations/itineraries possible. In this recurring series, we find those people who've done all the work for you and have them walk us through a particularly wonderful, especially well-thought-out vacation they took that you can actually steal.
Every other year, after visiting family in the Andes, Argentina, Anna Polonsky and her husband, Fernando Aciar, head to Uruguay, specifically to José Ignacio and Garzón, two nearby villages situated along the country's southeastern coast, for what she describes as the perfect blend of beach, country, culture, and food. "I call it the Provence of South America," says Polonsky, a food-focused entrepreneur and creative director who runs the branding and design studio Polonsky & Friends and recently co-founded the Deligram, a platform promoting independent food-makers of New York City. "You drive by miles and miles of raw land, with wild horses and sheep running in the wild, and then you stumble upon supercool, bustling restaurants from some of Argentina and Uruguay's top chefs, serving the most delicious food, alongside interesting people from around the world."
This year was a particularly special visit, as her husband, an artist, was invited by longtime friend and Argentine chef Francis Mallmann to do a ceramics residency in Garzón for the month of January. In addition to his hotel and restaurant, Mallmann runs a wood workshop in Garzón as well as a ceramics studio, where he invites artists to come stay and work against the backdrop of Uruguay's inspiring landscape and culture. "Obviously I crashed the trip," jokes Polonsky. Here, she shares her favorite moments (and meals) from her week in José Ignacio and Garzón.
2 p.m.: Settle into the casita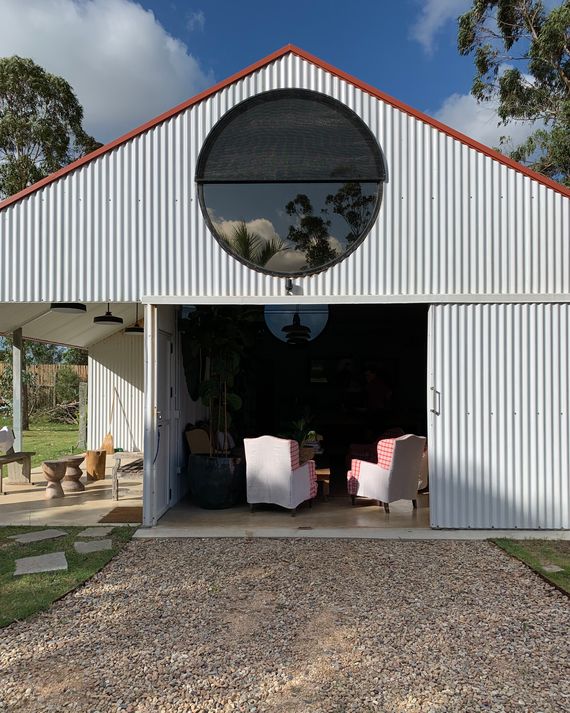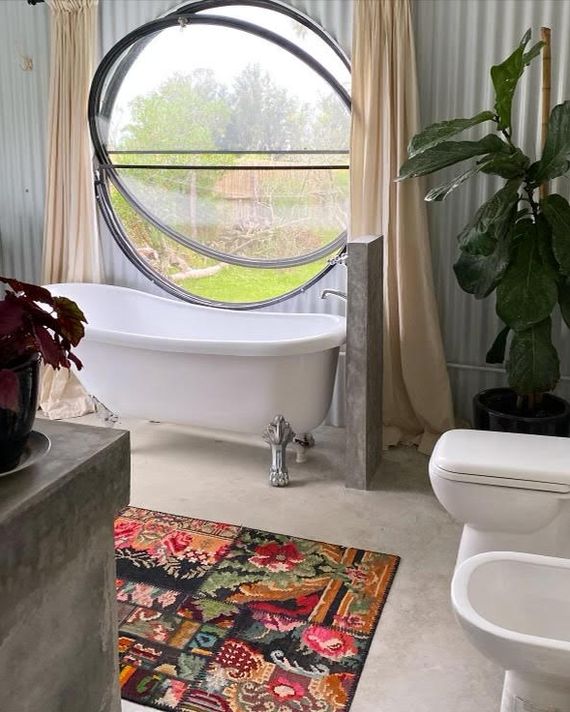 We flew American Airlines from JFK to Buenos Aires and spent some time there before heading to Uruguay. We then took an Aerolíneas flight to Montevideo, rented a car at the airport, and drove two hours to Garzón. Upon arriving, we settled into our casita, which included the beautiful private ceramics studio — the whole place was surrounded by roaming horses. (Otherwise, I recommend staying at Posada del Faro or Camino.) Francis Mallmann built and designed the house himself, and it's as romantic as anything he creates. We took a stroll around the village that afternoon, checking out the current art on show at Piero Atchugarry gallery (Cam. a Sierras de Garzón 5) and visiting the studio of our new artist friend Eva Claessens.
7 p.m.: Explore the natural beauty of Garzón
Before heading to dinner, Francis showed us the countryside surrounding the village of Garzón. We were in awe of the vastness and natural beauty there. I can't imagine people visiting José Ignacio and missing all these landscapes only 30 minutes away. It's truly a part of the experience for us.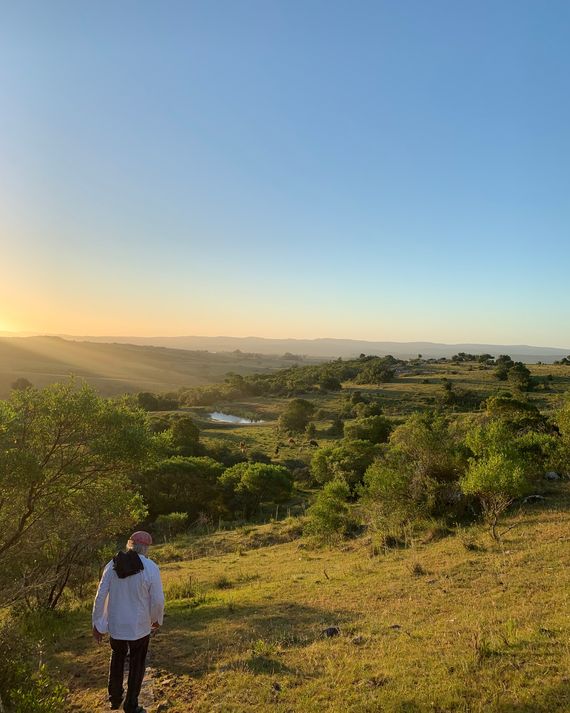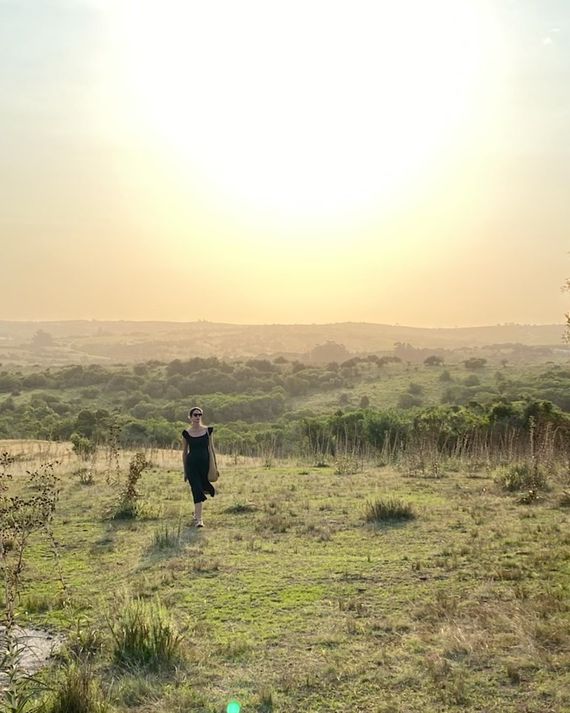 8 p.m.: Eat dinner the Francis Mallmann way
Dinner was at Francis's historic restaurant, Hotel Garzón (Costa José Ignacio y), with his wife, chef Vanina Chimeno, and their adorable daughters. Just like our casita, the place is divinely designed and feels like stepping into another time. In Mallmann tradition, everything there is cooked in the fire; the cuisine is unpretentious yet impeccable, requiring extreme technique but feeling approachable and generous. Some of the menu highlights include empanadas salteñas (some of the best I've ever had), thick Milanesa, and the cult "pancake de dulce de leche." The restaurant mostly serves wines from the nearby Bodega Garzón (9 km. 175), where Francis runs another restaurant open to the public.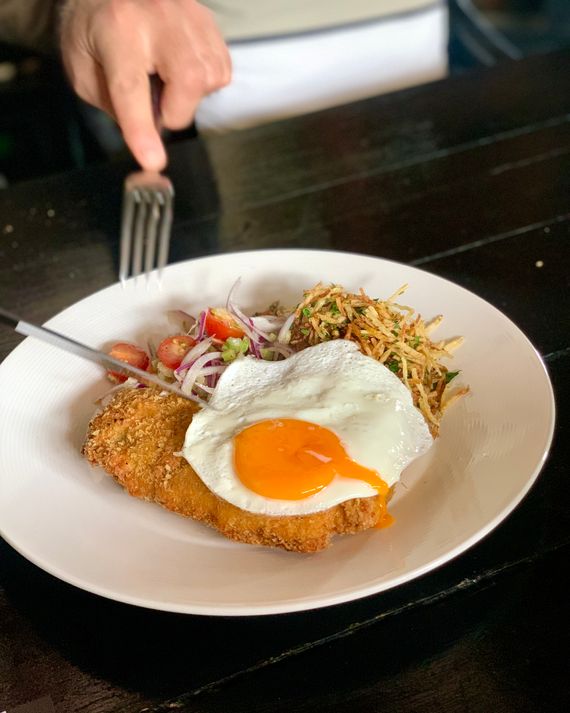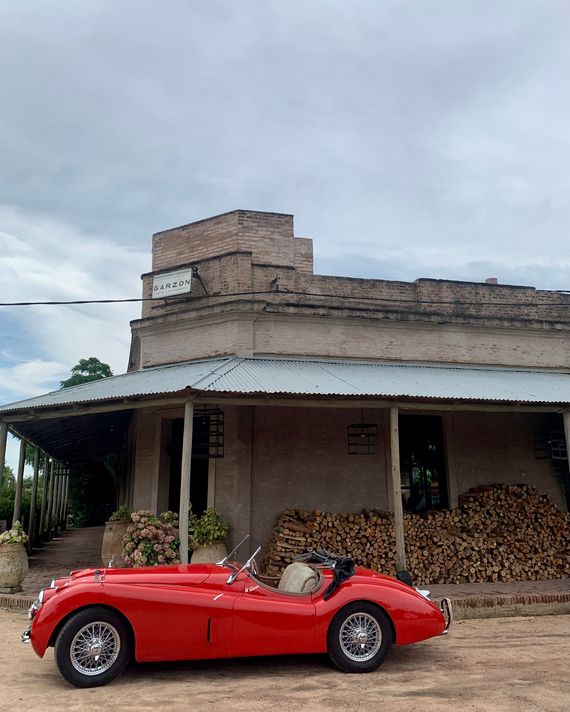 10 a.m.: Grab pastries before heading to the beach
We drove to José Ignacio for a quiet day. On the way, we stopped at La Panadería (10, 20402 José Ignacio), a nice bakery that recently opened at the entrance of the town. We got a croissant (which is excellent, partly because local butter — and any dairy for that matter — is amazing in Uruguay) and a chipa, a classic Argentine/Uruguayan cheese bun that is currently being reinvented by all contemporary bakers around. We set off for Playa del Faro to see José Ignacio's picturesque lighthouse.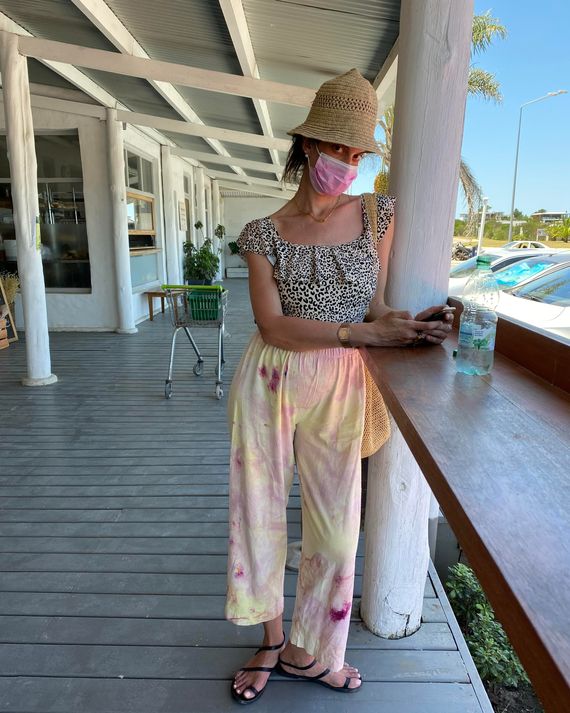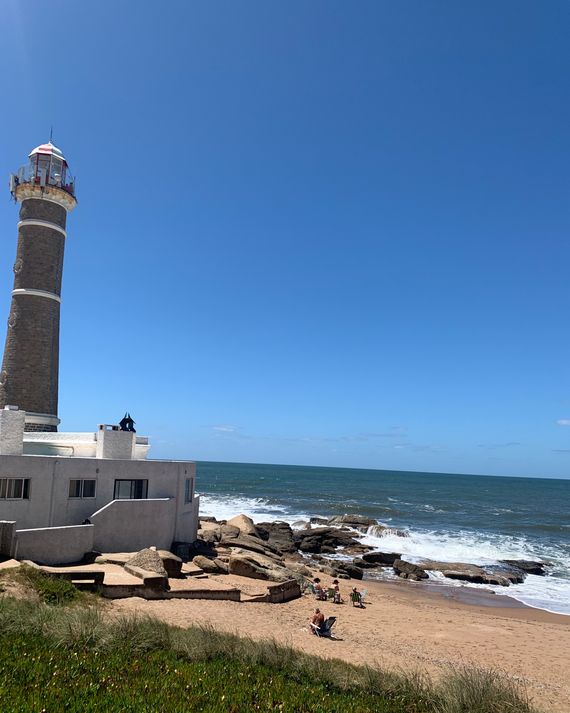 1 p.m.: Order chivito for lunch
After the beach, we had lunch at Popei (esq. Los Tordos, C. Las Garzas), one of the simplest and oldest spots in town, which feels like a fisherman's tavern. I ordered a chivito, Uruguay's national beef sandwich — now or never!
3 p.m.: Pick up local knitwear in town
Before leaving town for the day, I stopped by Paula Martini's Bajo El Alma Taller (C. Las Garzas 10), my favorite store in town. Her clothes are made between Uruguay and Argentina, and she's the only one who can convince me to buy beachwear. It's an investment, but the pieces are so stunning that they also work as regular dresses in an urban setting. Don't overlook the knits, too — I scored a gigantic knitted scarf there a few years back, and it saves me during NYC winters.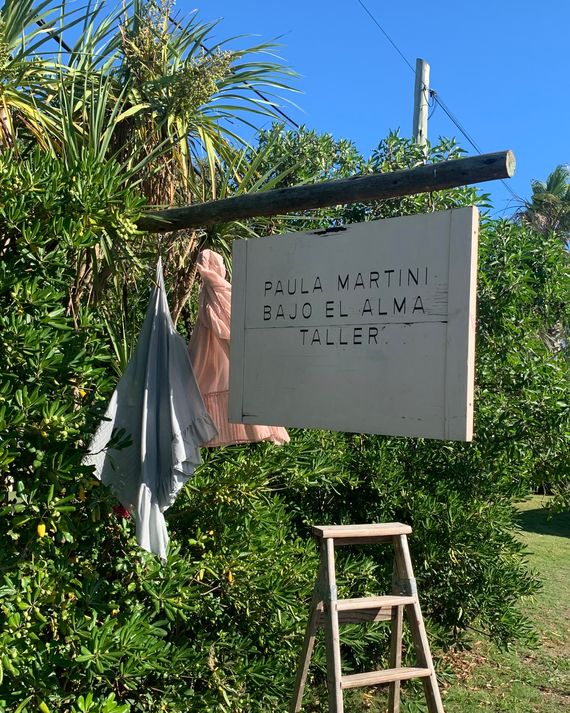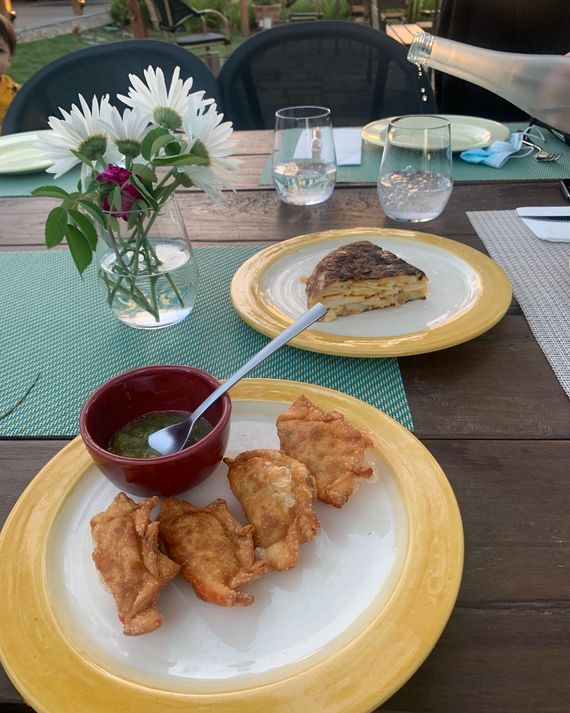 7 p.m.: Get local wine and shrimp empanadas for dinner
We had dinner at Compañía Uruguaya de Vinos de Mar (3 3, 20400 Garzón), a new bodega (winery–tasting room–shop) that opened this year in Garzón and carries the company's locally harvested wines. Agustina Gagliardi is the chef there, and her daily selection of tapas was a perfect match to the winery's delicious Pinot Noir. Get her shrimp empanadas if they are on the menu.
2 p.m.: Visit a José Ignacio favorite for salad and pastries 
We had a long lunch at Santa Teresita (Calle Las Garzas y Los Tordos), my (and everyone's) daytime must in José Ignacio. Chef Fernando Trocca and his team put out wholesome, scrumptious, freshly made food every day nonstop from 10 a.m. The pastry and salad counter is what dreams are made of. This year, I went crazy over their chocolate-mousse cake, Pavlova, and lemonade, and Fernando insists that the burgers cooked on fire (a Saturday special only) are unforgettable.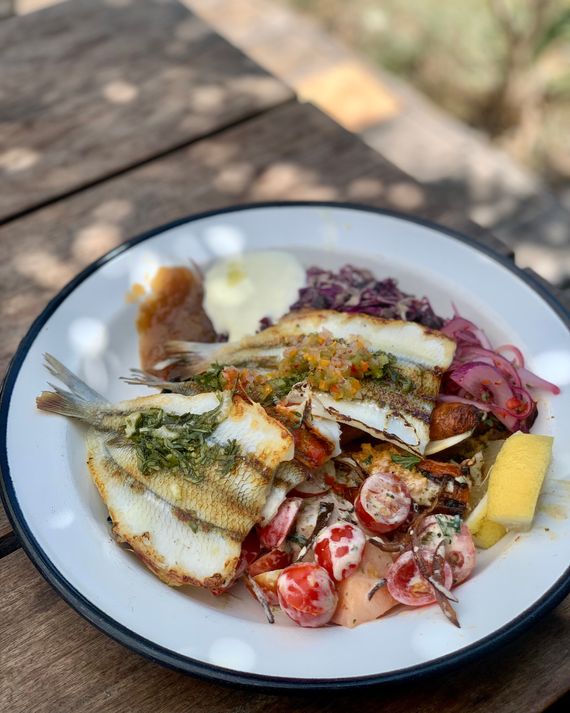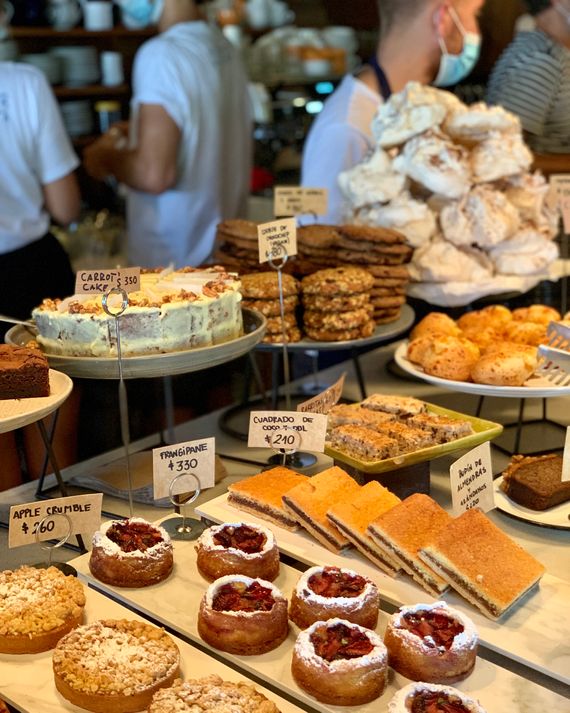 4 p.m.: Shop for leather goods in town 
A block away from Santa Teresita, I checked out Matute's home-goods and accessories selection. Among other things, they sell leather goods from Nimes, a timeless brand I adore from Buenos Aires. Then I headed to Las Rocas for a more quiet, rocky spot looking at the sea. There, I stopped by El Canuto (C. de Los Cisnes), a store that has been around for ages and offers a well-curated mix of quality clothing and accessories (including very chic hats) from small designers.
8 p.m.: Stop by Marismo for an open-fire dinner 
We excitedly went to Marismo (10 km. 185, 20402 Arenas de José Ignacio), a truly magical spot at night. Chef Fede Desseno used to work for Francis Mallmann; most of his food is cooked on fire, and he and his life-work partner Nati's restaurant is a real staple in José Ignacio. The empanadas are great there, too. I always order their shrimp and the memorable provoleta: a provolone-style, semi-hard cheese that is made super-crispy outside in the brick oven.
12 p.m.: Explore the quiet beach towns outside José Ignacio
Today, we ventured out a bit. There are nice beaches on the coast if you have a car. I hear Piriápolis is incredible, but we opted for a closer and more humble beach town: La Paloma. The seafront is beautiful — definitely quieter than José Ignacio in high season during the week. We stopped by a little almacén [store] by the beach and bought kilos of alfajores (traditional cookies) from the Uruguayan brand Sierras de Minas. I admit cautiously that Uruguayan alfajores are my favorite (I may be making a lot of enemies in Argentina admitting that!).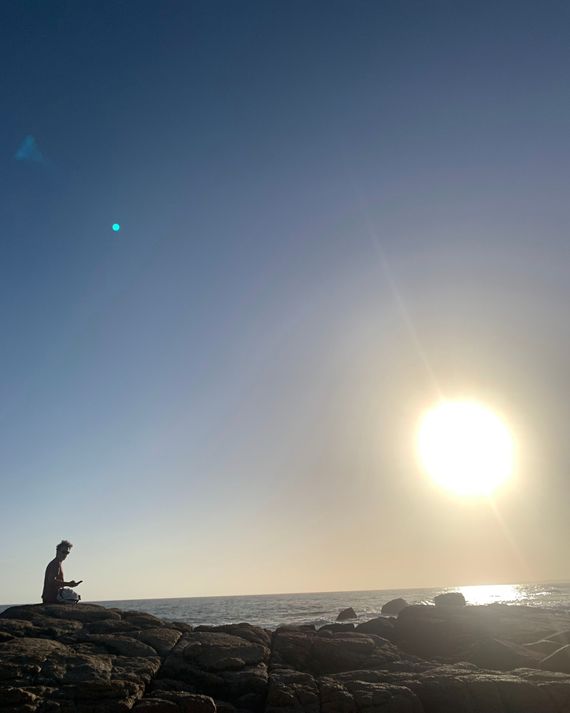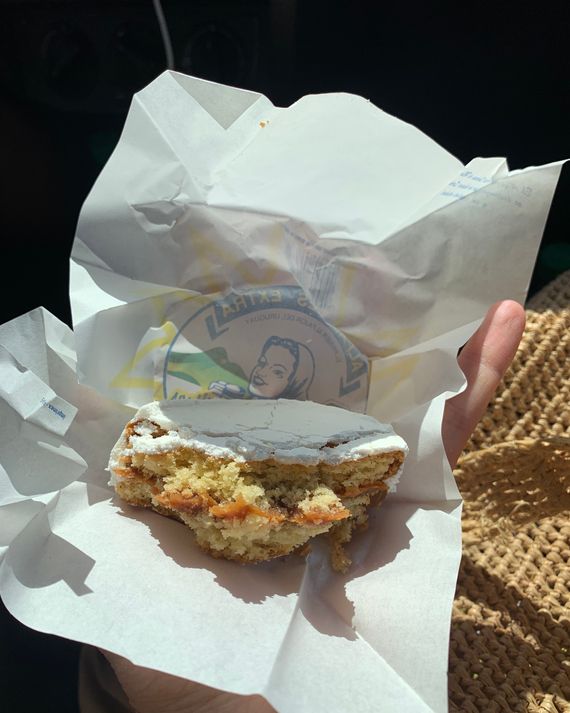 8 p.m.: Eat langoustines and grilled fish at José Ignacio's most well-known restaurant
We met our dear friend chef Lucia Soria for drinks and bites at La Huella (C. de Los Cisnes), probably José Ignacio's most legendary restaurant, on Playa Brava. The place is both gigantic and incredibly cozy at the same time, with lighting and a playlist that are always on point. If you sit in the restaurant, get simple things — their langoustines are the best I've ever had, and a simply grilled fish is always a success. That night, though, we sat at the sushi counter and enjoyed an omakase of mostly local fishes. Quite incredible. For dessert, the popular volcano de dulce de leche (a delicacy in Uruguay!) does not disappoint.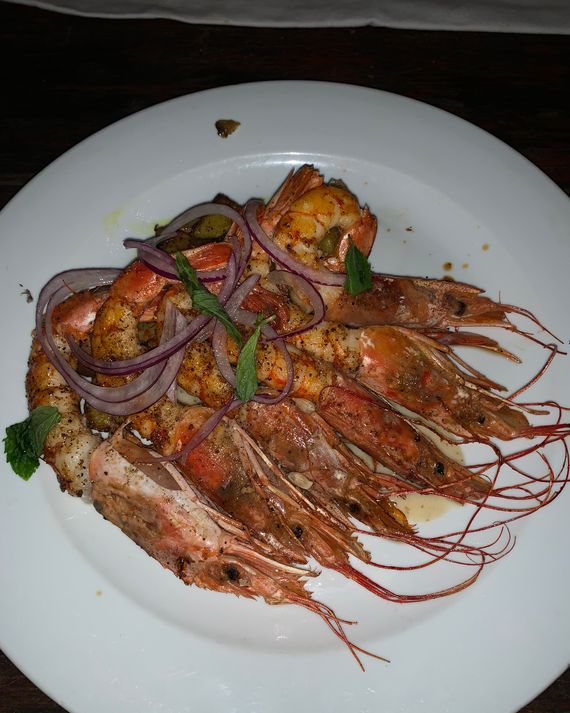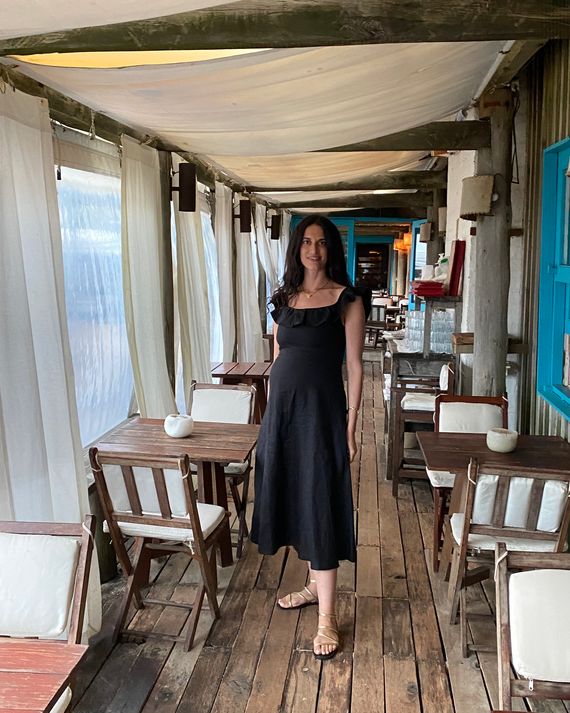 2 p.m.: Visit Francis Mallmann's new beachside restaurant
We went to lunch on the beach at Chiringuito (Ruta 10 km 185.5, 20402 José Ignacio), Francis Mallmann's latest restaurant in Costa Garzón, a quieter beach in José Ignacio. The open-fire kitchen, the simple beach tents made out of beautiful fabric, a glass of chilled rosé, more empanadas salteñas, and a humongous bowl of dulce de leche ice cream was to die for.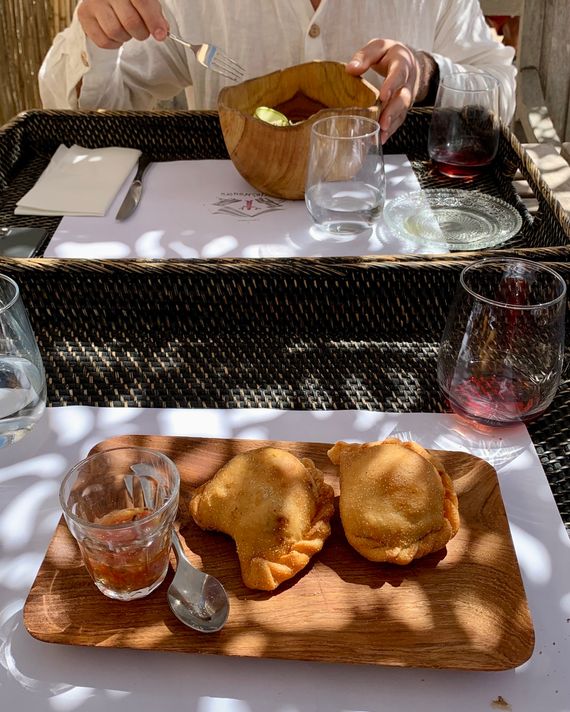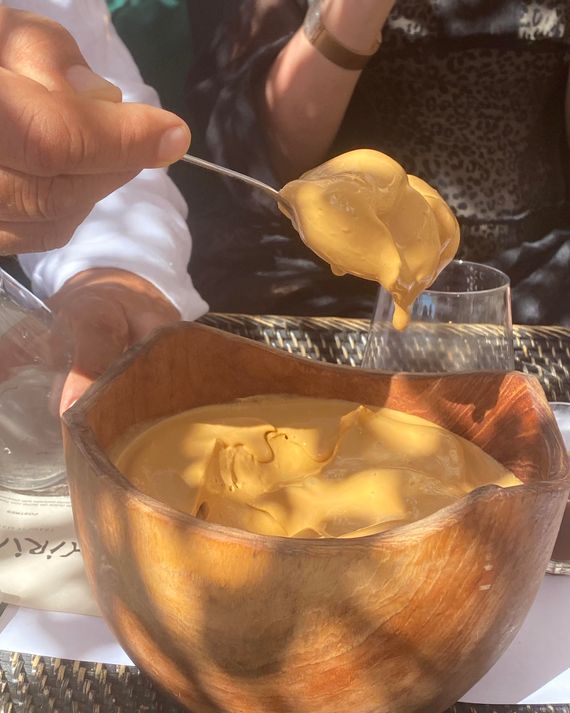 7 p.m.: Check out the new James Turrell Skyspace 
We walked by the new James Turrell installation at the hotel Posada Ayana (Del Marinero). Reservations are mandatory to get inside (for non–hotel guests), and the light show in there, a play with the sunset and sunrise outside, are apparently a must.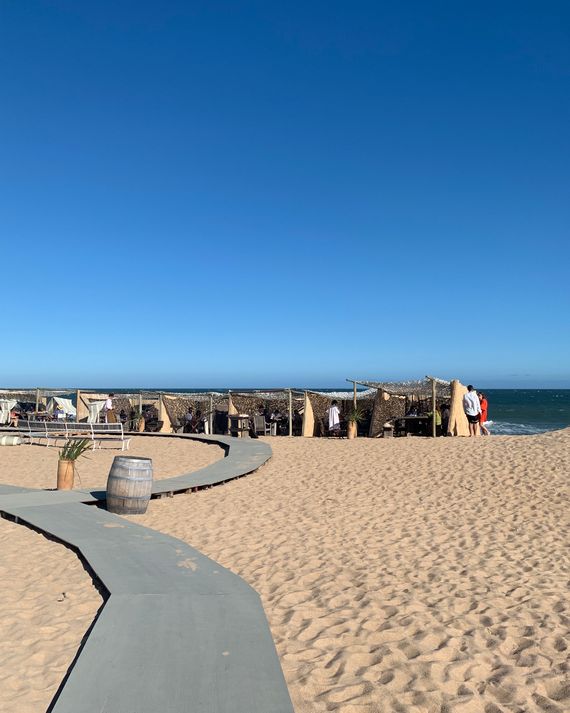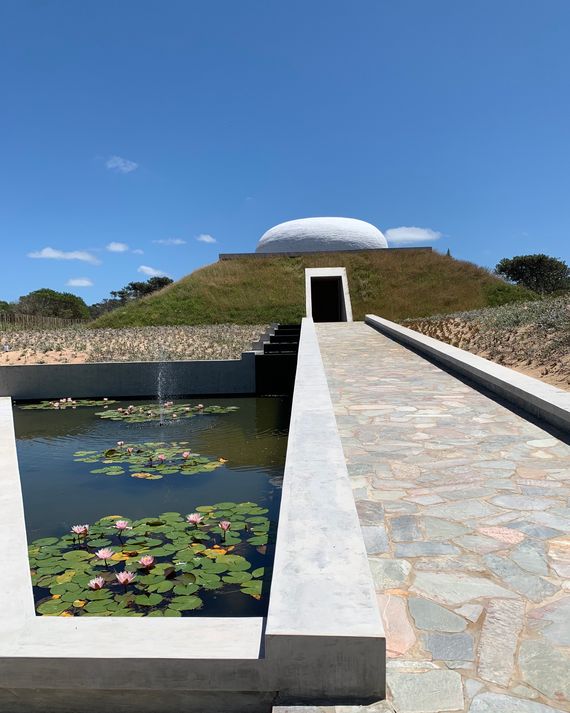 8 p.m.: Eat dinner at a pop-up restaurant
Posada Ayana welcomes chef pop-ups during the season, and this time, my friends Stephane and Sabrina's Paris-based restaurant, Carbón, were running the show. A feast!
10 a.m.: Eat breakfast at a bookstore
We went to Rizoma (Calle Los Lobos between Calle José Ignacio and Calle) for breakfast, a gorgeous bookstore, ceramics studio, hotel, and café-restaurant open under the trees in the La Juanita area. The food is a lot better than you would expect in a bookstore. Their homemade pastries and locally sourced yogurt are great in the morning, and any lunch special is worth the detour too. Plus their book selection from all over the world is impressive.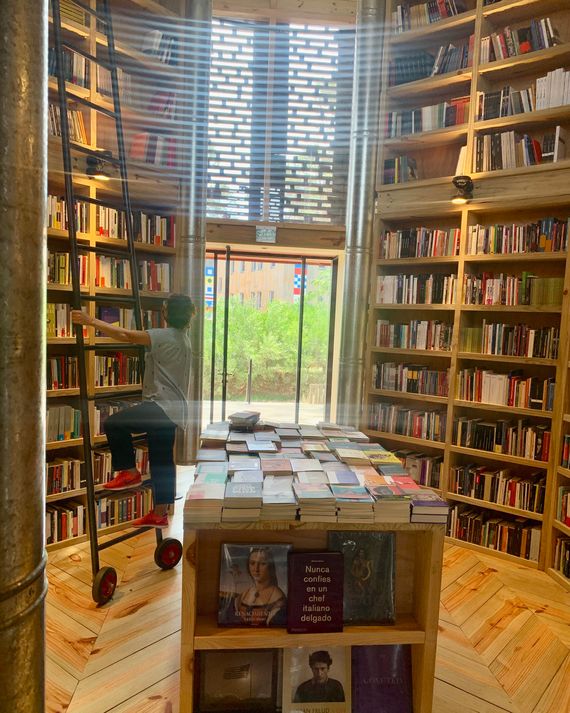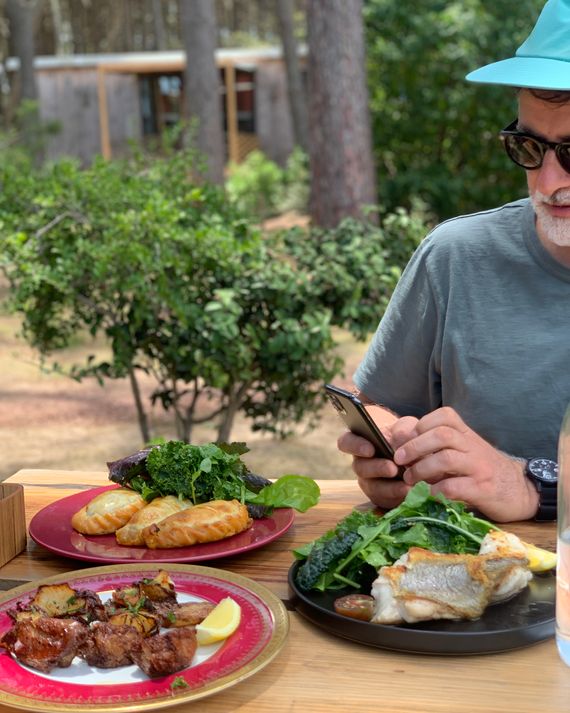 12 p.m.: Eat squid and sip lemonade by the beach
We went to La Susana for an early lunch and beach hang, inside of Bahia Vik hotel (Route 10, 20402 José Ignacio). Chef Marcelo Betancourt's (who also owns the cool Picniquería bakery in Punta del Este) menu is great for a sunny day. We ordered liters of freshly squeezed lemonade and enjoyed a panzanella salad, fresh squid with smoked paprika, gambas cooked on fire, and homemade fries.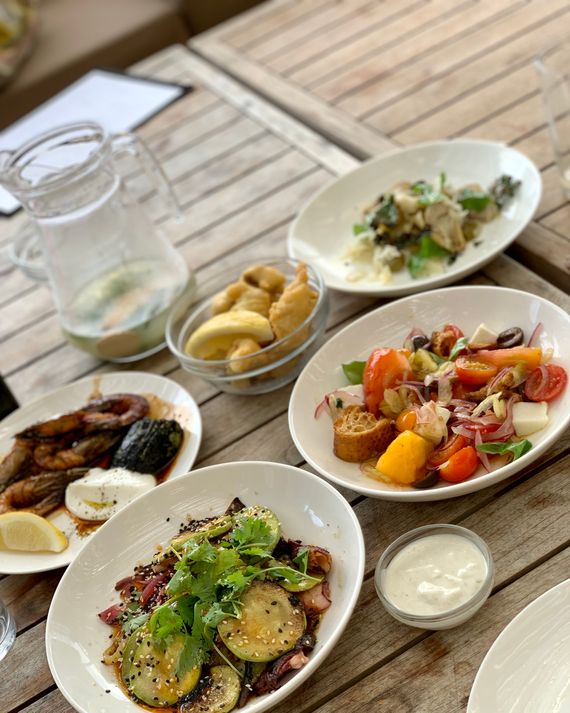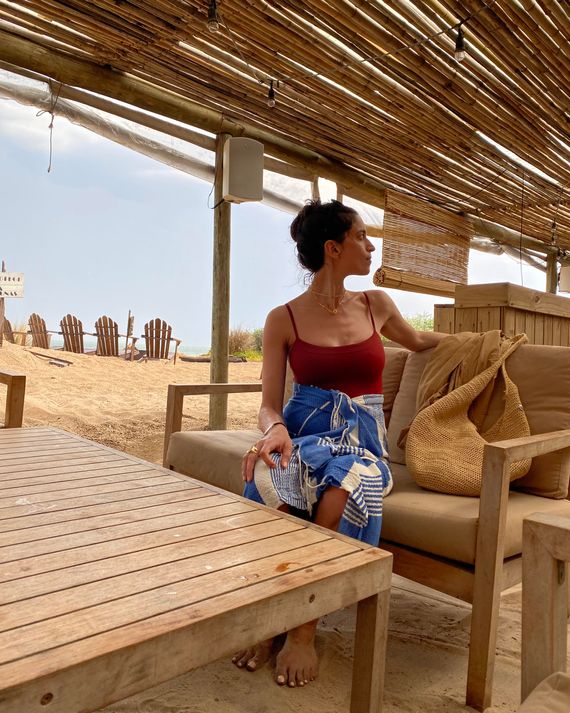 4 p.m.: See a Christo before heading home
We finally checked out MACA, the new contemporary museum founded by the Achtugarry, which opened earlier this month a little outside of José Ignacio. The museum itself is not 100 percent finished, so we were a little disappointed, but there's an interesting Christo exhibition up, and the landscaping outside is really beautiful. A nice walk among the sculpture garden is worth it if you're in the area.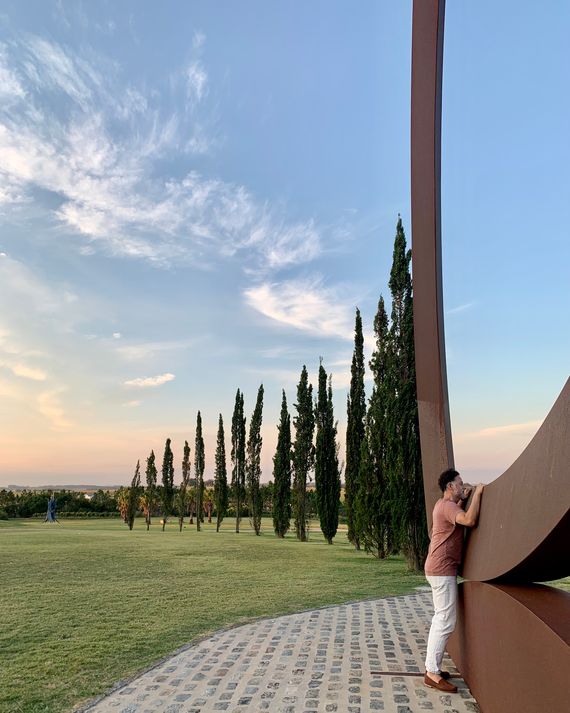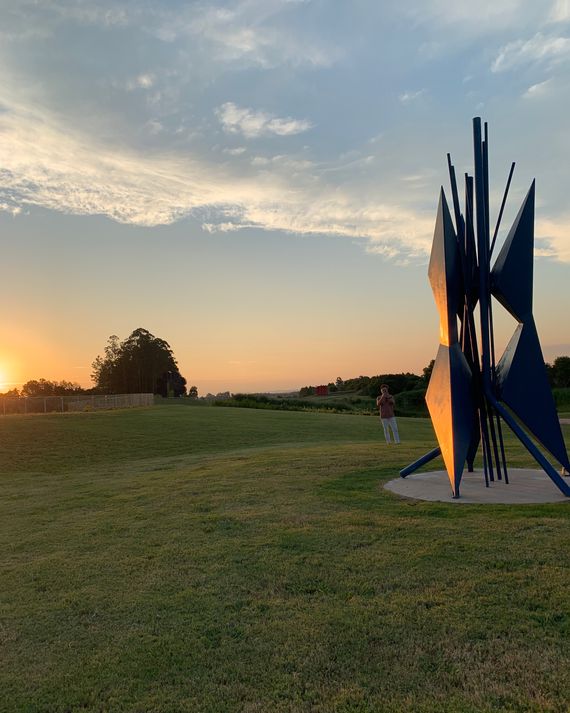 Anna
Polonsky's
Uruguay
packing
list
A bucket bag
I've had this bag for a while now, and it's my absolute go-to when I travel. It's casual and wide enough that I can wear it during the day while sightseeing but also stylish enough to make for a nice statement at night. It's also discreet and super-practical when schlepping around with the shoulder strap.
Leisure pants
These dyed raw-silk, high-waisted elastic pants are described as a pajama on the brand's site, but I wore them nonstop during the trip. They are ideal when you need something comfortable on the plane that is more chic than joggings, when you need something to take off and put back on quickly after a swim at the beach, and they still make you look chic at night with a white shirt or an elegant top when pregnant.
Face cream
This natural, nourishing face cream is sold at this nice flower-driven restaurant I like in the Flatiron District. They recently expanded their offerings to include flower-driven products (this one is based on nasturtium). It's travel-friendly, and it feels like a little luxury when my skin dries out after a day filled with sun and sea-salt water.
Turkish bath towel
Photo: Harold de Puymorin
Fernando and I always pack a towel for each of us when we travel — even if we stay at hotels or furnished houses. It allows us to be spontaneous. We keep them in the car and can stop anywhere for an improvised sunbathing session, swim, or picnic.
The Strategist is designed to surface the most useful, expert recommendations for things to buy across the vast e-commerce landscape. Some of our latest conquests include the best acne treatments, rolling luggage, pillows for side sleepers, natural anxiety remedies, and bath towels. We update links when possible, but note that deals can expire and all prices are subject to change.
The Covid situation there: Since December 6, 2021, anyone flying to the United States ages two years and older, regardless of vaccination status or citizenship, must provide a negative COVID-19 viral test taken within one calendar day of travel. U.S. citizens are permitted to enter Uruguay as foreign visitors. Masks are still required in indoor public spaces and public transportation.