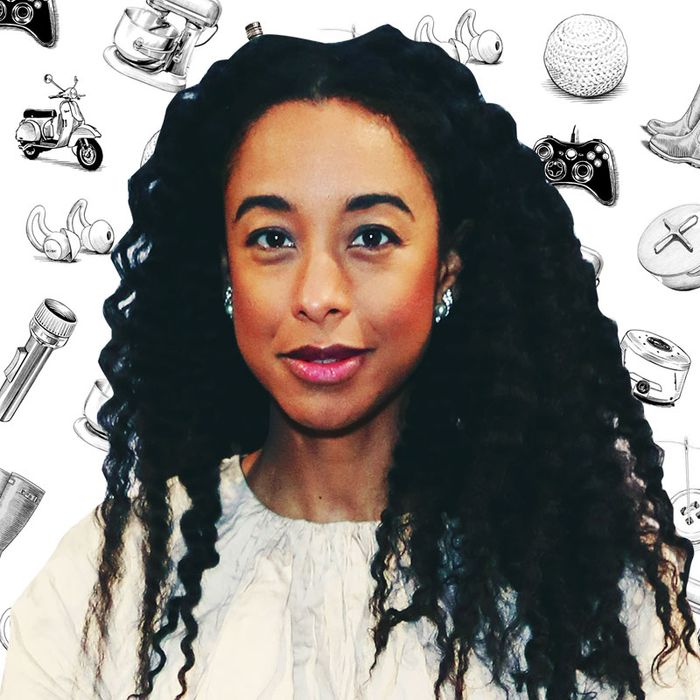 Photo-Illustration: The Strategist; Photo:Getty
If you're like us, you've probably wondered what famous people add to their carts. Not the JAR brooch and Louis XV chair but the hair spray and the electric toothbrush. Ahead of her 2022 tour with Joss Stone that starts this month, Corinne Bailey Rae spoke with us about the magazine she reads to unwind, the vocal remedy recommended by Chris Martin's voice coach, and the perfume that actually made her like perfume.
I've had about three singing lessons in my life, but the most useful thing this one coach, who is actually also Chris Martin's voice coach, said to me was "It's not the gig that's an hour and a half. It's talking beforehand. It's talking to the journalists afterwards. It's being at the party and talking to everyone and wearing your voice out." It's so true! Instead, she told me, "When you go to the party, you nod and you smile, and you drink your manuka, and you go to bed early." It's not very rock and roll, but it means your gig is going to actually happen and be good the next day. Manuka honey is known for being anti-inflammatory, which is cool. It also tastes nice. It's kind of magic for your voice. I buy whatever brand I can find, so I'm not picky. You just have to make sure it's actually manuka honey and not just honey.
I drink this whenever I have a cold, and I swear it works. You have to get the one with the mother, which is all these proteins and enzymes and whatnot so it's cloudy on the bottom. That one is the best one. If I'm sick, I'll drink a capful of that, but I also put it on salads. I love these old remedies. I believe it's effective but also partly psychosomatic. I feel something coming on and I grab my honey, vinegar, garlic, and turmeric and just ride it out.
I buy these ceramics from this shop in town near me called Colors May Vary. It has a lovely curation of magazines and books and wrapping paper and things for kids. Every time I go there, I'm drawn to these ceramics. I think the brand is based in Copenhagen. It's actually really affordable; art doesn't have to cost lots and lots of money. For 30 pounds, you can get something that's completely unique and glazed in a beautiful way. They have this drippy glaze that's so tactile and satisfying — you can see the contrast between the unglazed pot, which is smooth and beige and pristine, and the gorgeous, multicolored glaze dripping like ice cream. I love all the different colors, and they have all these funny characters, like ones with googly eyes. They're not so precious that I'm afraid to use them every day and only put them out for special occasions. I keep pencils, flowers, food, whatever I want in them. I have loads of pieces from here. I have a little forest of them going in my home. They make great presents, too.
I got into this magazine because of Tim Walker, one of my favorite fashion photographers. He said his guilty pleasure is The World of Interiors. I picked it up to read for myself and instantly fell in love. I joke that there's all this awful, awful stuff going on in the world, but instead of learning about that, I've been reading about Italian marble and this old piggery that's been made into a beautiful home. As much as it is a celebration of gorgeous photos, it's the journalism that is truly spectacular. Reading about these different ways of living and decorating is fascinating. I draw a bath, then dedicate two hours to reading these magazines. It's a small pleasure of mine.
Anoushka Shankar, who is a brilliant sitar player and singer, showed me this store Le Labo and told me we had to go in. Everything there is gorgeous. I'm not good with perfumes, usually. I hate that bit in the airport where you have to run through all those perfume vendors and stores. It gives me a headache, and I hate all those ads with airbrushed 25-year-olds in fields with a massive bottle of perfume. It's never been for me. But this Le Labo scent is human and natural. I love the scent of jasmine, and this smells like loads of jasmine flowers crushed down in some oil. I dab it behind my ears and on my wrists. I even put it in my hair. It's the perfect size, too, because I know I'll use it all, instead of it just sitting on a shelf for five years barely touched. I pop this in my bag and travel with it.
I'm a bit of a creature of comfort. Nag Champa is very centering to me. Similar to the jasmine, it makes me feel protected and brings a sense of familiarity when I'm away from home. It feels luxurious in a less luxurious setting, like a drafty dressing room backstage, and it's the scent of being calm and creative. It smells like letting your hair down.
I've always had small boobs, which I really like. Often, though, when I buy underwire bras, I think, That looks gorgeous. I should try that. But the cups feel too big, or it just feels wrong. Putting on the wrong bra size makes me feel weirdly unfeminine or like I'm trying on my mom's clothes when I'm 10 years old. I found this brand, I think, on Net-a-Porter. Each bra is gorgeous and comes in all different colors, but you don't need to have massive boobs to make you feel feminine and empowered. I'm breastfeeding right now, and I still wear them. They get ruined a little bit faster, but as soon as one starts to look a bit worse for wear, I order more. I remember doing a photo shoot with my good friend Caroline Esa as the stylist. I took off my blouse, and she was like, "Yasmine Eslami!" She ripped open her shirt, and she was wearing one too. It's this little secret for women with small boobs.
Tumi is great because it has a warranty. As long as it's within warranty, you can take your suitcase into the shop and be like, "Hey, this got beat up. Can you help me?" They swap it out for another if it's really in bad shape, which is amazing, or they send it away to be fixed. But truthfully, none of my Tumi luggage has actually gotten badly messed up. I've sat my kids on it while walking through the airport or the train station, and it's been thrown on lots of conveyor belts all over the world but it always comes back to me in one piece. I like how it has two halves with all sorts of zippy compartments. I put my shoes and performance stuff in one half, then I put my other life stuff, like toiletries and pajamas, in the other half. Nothing ever leaks or breaks. It's soft and light, but at the same time, it's hard so it doesn't really get punctured by anything.
I bring my spiky ball with me if I'm doing a photo shoot or video, if I'm on tour or doing a show — anything, really. It's weird that one little thing can make such a massive difference. It's my answer to everything. It helps me keep the alignment and balance in my body I get from Pilates class. I roll my feet on it. I tap it on my neck and shoulders to release tension. I put it under my chin and hang my head over it. If my body is aligned, my voice will sound better because my posture is better. And I look better.
My daughters are almost 2 and 4. A lot of the day feels hectic, and it's hard for me to take time for myself. But when they finally go to sleep, I grab The World of Interiors, make a really hot bath, and submerge myself in this massive thing of water. It melts away the day. I add a handful of Neal's Yard bath salts, which are just salt and lavender oil, into it. I can't remember the last time I got to a spa, but when you're in the steam there, there are all these incredible scents. This feels like my own little spa. Neal's Yard was one of the first brands to do organic products in the U.K.
This shampoo and conditioner are amazing. My hair can feel all frazzled and dry, then this stuff really brings it to life. Sometimes I'll squeeze out the shampoo and I'll be like, Oh, is this the conditioner? And it's not! The shampoo feels just as hydrating and non-stripping as the conditioner. When you have curly hair, it can be frustrating to find the right products that will give you the results you want. This stuff works for me.
I love the scent of this. It's all organic, but I think Tata Harper understands and knows the science as well. I notice a major difference when I'm wearing this moisturizer; my skin looks more shiny and radiant. I think I found the brand through Goop. I do go on Goop, and obviously, some of it is very tongue in cheek. But honestly, I think they have really good content sometimes. They kept raving about this brand, and I loved the packaging — it's all recyclable, too — so I decided to try it out. It's very magical.
I love vinyl. It makes you slow down and contemplate the music. You listen to the whole side, then consciously have to turn it over. I enjoy the sound quality of it as well. I've been to DJ nights before where I listen to records, and it's so different from someone who's just turned up with a pen drive. It's basically the difference between organic and factory farmed. I have loads of record players, but I really like this one from Vestax. It's a portable record player and has a plastic case. It's really lightweight, which is the great thing about it. I've gone on camper-van and car trips and brought this with me. I always bring it with me on tour because I buy records on tour and just prefer the listening experience. It's really easy to stash in someone's bunk. The record is slightly bigger than the turntable, too, so you can see it wobbling around.
The Strategist is designed to surface the most useful, expert recommendations for things to buy across the vast e-commerce landscape. Some of our latest conquests include the best acne treatments, rolling luggage, pillows for side sleepers, natural anxiety remedies, and bath towels. We update links when possible, but note that deals can expire and all prices are subject to change.