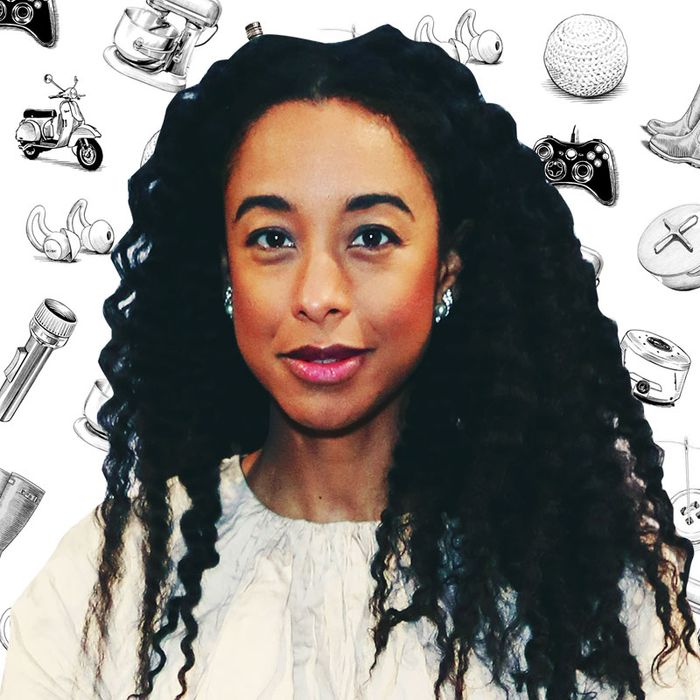 Photo-Illustration: The Strategist; Photo:Getty
If you're like us, you've probably wondered what famous people add to their carts. Not the JAR brooch and Louis XV chair but the hair spray and the electric toothbrush. Ahead of her 2022 tour with Joss Stone that starts this month, Corinne Bailey Rae spoke with us about the magazine she reads to unwind, the vocal remedy recommended by Chris Martin's voice coach, and the perfume that actually made her like perfume.
I've had about three singing lessons in my life, but the most useful thing this one coach, who is actually also Chris Martin's voice coach, said to me was "It's not the gig that's an hour and a half. It's talking beforehand. It's talking to the journalists afterwards. It's being at the party and talking to everyone and wearing your voice out." It's so true! Instead, she told me, "When you go to the party, you nod and you smile, and you drink your manuka, and you go to bed early." It's not very rock and roll, but it means your gig is going to actually happen and be good the next day. Manuka honey is known for being anti-inflammatory, which is cool. It also tastes nice. It's kind of magic for your voice. I buy whatever brand I can find, so I'm not picky. You just have to make sure it's actually manuka honey and not just honey.
I drink this whenever I have a cold, and I swear it works. You have to get the one with the mother, which is all these proteins and enzymes and whatnot so it's cloudy on the bottom. That one is the best one. If I'm sick, I'll drink a capful of that, but I also put it on salads. I love these old remedies. I believe it's effective but also partly psychosomatic. I feel something coming on and I grab my honey, vinegar, garlic, and turmeric and just ride it out.
I buy these ceramics from this shop in town near me called Colors May Vary. It has a lovely curation of magazines and books and wrapping paper and things for kids. Every time I go there, I'm drawn to these ceramics. I think the brand is based in Copenhagen. It's actually really affordable; art doesn't have to cost lots and lots of money. For 30 pounds, you can get something that's completely unique and glazed in a beautiful way. They have this drippy glaze that's so tactile and satisfying — you can see the contrast between the unglazed pot, which is smooth and beige and pristine, and the gorgeous, multicolored glaze dripping like ice cream. I love all the different colors, and they have all these funny characters, like ones with googly eyes. They're not so precious that I'm afraid to use them every day and only put them out for special occasions. I keep pencils, flowers, food, whatever I want in them. I have loads of pieces from here. I have a little forest of them going in my home. They make great presents, too.
I got into this magazine because of Tim Walker, one of my favorite fashion photographers. He said his guilty pleasure is The World of Interiors. I picked it up to read for myself and instantly fell in love. I joke that there's all this awful, awful stuff going on in the world, but instead of learning about that, I've been reading about Italian marble and this old piggery that's been made into a beautiful home. As much as it is a celebration of gorgeous photos, it's the journalism that is truly spectacular. Reading about these different ways of living and decorating is fascinating. I draw a bath, then dedicate two hours to reading these magazines. It's a small pleasure of mine.