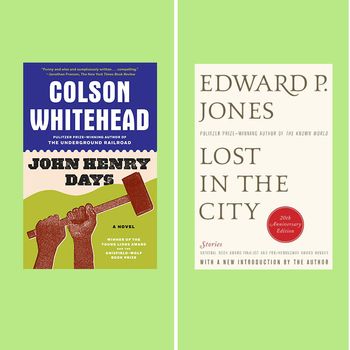 When I read a book, I always find myself wondering what books the author read while they were writing it. I've long imagined, for instance, that Alice Walker thought fondly of Zora Neale Hurston while writing The Color Purple, or Nicole Dennis-Benn called on Toni Morrison while crafting Here Comes the Sun. Those ruminations led to this series, in which I actually ask the authors of recently released novels, biographies, and nonfiction just that: what books they read while they wrote, and what books they feel their book is in conversation with.
For this third installment I spoke with Danielle Evans, author of Office of Historical Corrections, her first book in a decade. The novella and short-story collection follows a diverse cast of characters — from a passively racist white girl who doesn't realize she's wearing a Confederate flag bikini to an unmoored 20-something who sort of kidnaps a toddler on a bus. These five short stories set the stage for the novella, Office of Historical Corrections, which follows a young woman who works in an office dedicated to correcting inaccurate statements about historical events.
I first read Evans's work in 2015 and felt seen in a way that only happens when you've spent a lifetime reading books about people who approximate you but aren't you. That collection of short stories, Before You Suffocate Your Own Fool Self (2010) launched my obsession with books by Black women about Black women, and in some ways, led me here to this column. It also cured my aversion to short stories, which was rooted in never wanting a good thing to end. Her second book is even better than her first (or perhaps I'm a better reader). It's subversive, a little surreal, and rooted in the kind of realism that makes me want to go back and read it all again. I found myself gasping reading "Boys Go to Jupiter," and never wanting "The Office of Historical Corrections," to end (seriously, if someone at HBO reads this, I need a miniseries on that yesterday!).
Below, the books Evans read while writing her own — from Colson Whitehead's second novel to a not-yet-released short-story collection set in the cities and suburbs of Florida that dips into the lives of ordinary people at a moment of deep personal reckoning.
Initially, Evans thought she was writing a book about history, so she read a lot of books that investigate the way history is recorded, preserved, and retold along with what it means to inherit that history. "I was reading a lot of these books for structure and it ended up being not super useful for structure because I ended up writing something different," she says. Those books did, however, get her thinking about the questions they posed. One of those books is John Henry Days by Colson Whitehead, a layered novel that's simultaneously a retelling of the legend of John Henry and a story about the journalist who's covering the first festival in his name. The novel's themes and some of its structure, like using a past story to tell a new one, are present in Evans's work, specifically in the novella. "If I was ever put on the spot and had to declare something the Great American Novel, this is probably what I would go with," she says. "It's this sort of fragmented origin story and everyone's so confident in their version of the story, and then it ends up being this really gorgeous book about place and history and inheritance, and how it can be both a legacy and a burden."
She also name-checked this book by Min Jin Lee, which follows one family across generations, starting with early-1900s Korea. "One of the things [Pachinko] does brilliantly is move between the structural and the personal. On the one hand, it's this engaging story about multiple generations of the family, and on the other, it's got all this history." Evans also pointed to the first line of the book, "History has failed us, but no matter," which she says sets the stage for the way the book deals with memory, inheritance, and trauma. "It has to work in the expected gaps and erasures, and traumas," she says, a storytelling device that's echoed in Evans's work.
"Jazz is my favorite Toni Morrison novel," says Evans, who has been rereading the book once a year since she started writing The Office of Historical Corrections. "As many times as I've read it, I find it hard to tell you exactly how it's working because so much of it shouldn't, but I think it beautifully captures the sense of being both intimidating and fractured." The novel takes place in 1920s Harlem and goes back and forth in time to tell the stories of a cast of characters, one of them being Joe Trace, a middle-aged salesman who shoots his teenage lover and kills her. The book takes the perspective of a few different characters, and though it takes place in New York, stretches back to the South through the individual stories which weave together to contextualize a tragedy. "It's Morrison at her best at capturing Black life in America."
"I like to read Mrs. Dalloway in conversation with Jazz," says Evans of the classic Virginia Woolf novel. "Like a lot of the books that I was reading, it's really interested in the question of gender and agency, gender and performance, and how having agency as a woman often requires a kind of performance." The book follows Clarissa Dalloway, a high-society woman living in post-World War I England. "It seamlessly contains both personal and collective trauma in the wake of a war that's still going on for some people."
Evans also read poetry. One of her go-tos was The Collected Poems of Lucille Clifton, which combines all of Clifton's published collections. "It finds a kind of hope that doesn't feel dishonest. It's understanding that there's some victory in surviving even just a particular day." The sentiment comes through in The Office of Historical Corrections, where the characters experience pivotal moments in nuanced ways. In one story, a woman deals with happening upon a baby that isn't hers, and even though it seems strange, there's a tenderness and joy in a tragedy that makes it seem almost normal.
Once Evans realized she wasn't writing a novel, she returned to short-story collections she describes as perfectly assembled. "Ideally a story collection should feel like all the stories are in conversation, but not quite saying the same thing," she says. One such collection is Lost in the City by Edward P. Jones, a collection of short stories about Black life in Washington, D.C. I've read a few stories from the collection and the parallels between the works are evident, particularly in the way they deal with time. It's clear for both Jones and Evans that the characters have lives before and after the moment we encounter them, which is really special to read. "He's such a genius with time," she says, recalling the first line of "The First Day," which opens with a child describing a day before they were ashamed of their mother. "He's so good at small moments like that, bringing the whole weight of time into something."
Evans also mentioned a book that isn't out just yet, Milk Blood Heat, written by her former student Dantiel W. Moniz. This book, she says, was helpful for thinking about how realism and speculative fiction could work in conversation. "There's something about this book that excites me, about the possibility of form and collections that take on different modes while still feeling cohesive."
The Strategist is designed to surface the most useful, expert recommendations for things to buy across the vast e-commerce landscape. Some of our latest conquests include the best acne treatments, rolling luggage, pillows for side sleepers, natural anxiety remedies, and bath towels. We update links when possible, but note that deals can expire and all prices are subject to change.