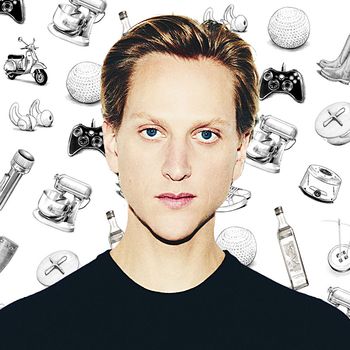 Photo-Illustration: The Strategist; Photo: Pierre Toussaint; Illustration: Joe McKendry
If you're like us, you've probably wondered what famous people add to their carts. Not the JAR brooch and Louis XV chair but the hair spray and the electric toothbrush. David Hallberg, a former principal dancer for American Ballet Theatre and the Bolshoi Ballet, became the artistic director of the Australian Ballet this year. Here, he spoke with us about the stove-top coffee maker he's traveled with for seven years, the luxury candle gifted to him by Architectural Digest's Amy Astley, and the chocolate cookie he calls an "Australian initiation."
Tomoko Dunbar, the head of wardrobe at ABT, used these pens. Because they were tested and used by an expert, I decided I should try them. They have the finest point for writing, but they're not fragile. And the ink is not erratic; it's very consistent. I've used these pens for a really long time, specifically the dark-blue color. I write a lot now for work, jotting notes down and stuff, and I feel like blue is just so much more soothing for the eye. I don't like to write with black ink, and people who write in red are clearly angry.
I've worked in Italy and France and New York, but nowhere makes better coffee than Melbourne. When the Italians came down after World War II, they started a community here, and through the years, a huge café culture formed that Australians have made their own. I get bags of coffee from my café across the street called Three Bags Full. It's a medium roast with chocolatey, caramel flavors. I always start my day with coffee made from my Bialetti moka pot. It makes pretty strong coffee. I've traveled around the world with my Bialetti. I would stay in apartments because I got tired of constantly staying in hotels, so I'd literally pack it in my suitcase just so I knew I could always get a good cup of coffee in the morning. I've had the same one for seven years, maybe more.
I have gone to the dark side and begun to enjoy Vegemite, which really is an acquired taste. But listen, peanut butter is my end all be all. My go-to snack is peanut butter and saltines. I prefer Trader Joe's creamy salted peanut butter, and I grew up on saltines, so it's more or less a comfort food. The white flour, the density, the flakiness, and the saltiness all together make it just the perfect cracker.
When I first came to Australia in 2010, I was given Tim Tams, and it's almost like an Australian initiation in a way. They're a staple here. Tim Tams have just started to appear on Amazon, so I don't know if you can get a double coat yet in the U.S., but double coats have more filling inside. A lot of people like to compare Tim Tams to Kit Kats, but Tim Tams have more weight to them. They're more like a cookie instead of a wafer. You just have to be careful not to eat the whole packet in one sitting because it's super easy to do. There's also this thing called the Tim Tam slam. You bite two corners diagonally, submerge one end in hot tea or coffee, then suck the filling out. It melts in your mouth, and it's amazing.
I use this on my face after I shave. It's like a really stringent, strong alcohol, but it's not perfumed. It's really hard-core and burns your skin after you shave, but it's really the only thing I've found around the world that saves me from razor burn. It's hard to find in Australia, so I stock up when I'm in the States. Jeffrey Golladay, a friend of mine in American Ballet Theatre, was really into taking care of skin. He gave this to me to try one day when he saw I had a lot of razor burn, and I never looked back.
When I get out of a stressful meeting and I need a little pick-me-up, a little resurgence, I'll go for some Sour Patch Kids. I grew up on them — well, sugar in general. I'm very American in that way. I would go to the movies in suburbia and buy a big Coke and some Sour Patch Kids. They remind me of home.
This candle reminds me of New York. It was a gift from Amy Astley, who is the editor of Architectural Digest. She's a huge ballet lover and a great friend. I went into her office one day for a meeting. She was burning this candle, and I was like, "What is that scent?" She's such a sweet person, so in true Amy form, she sent two candles to my home, and I've been hooked ever since. Most candles are too floral and soapy, but this one smells musky. And it comes in this beautiful dark-green glass. It's very subtle through and through. I keep them in my office at the Australian Ballet because Amy kept them in her office at Architectural Digest. I don't believe she knows that, though.
This whisky got me through quarantine. I was coming from London, and I bought a bottle of this. I didn't really know what it was, but I'm a huge whiskey drinker, so I love trying new things. I hate to say it, but the label attracted me to it. It's very different in terms of the writing on it. And I like the region it comes from. The first time I drank it, I was like, "Oh, this is just delicious." Quarantine was very challenging, especially in Australia. We were not allowed out at all. Every evening I would have a nip of this whiskey, and I just fell in love with it. It surprisingly doesn't remind me of quarantine. It reminds me of the comforts and enjoyment of sitting down, having a scotch, and appreciating the moment.
I never biked before moving to Australia, so this is completely a post-dancing-career thing. I used to be so honed in on my physicality and how my body was maintained. I would never get on a bike because I felt it built up the quads too much, but now I don't care. Just like I start my day with coffee, I always start my day off with this bike. I do 30 to 45 minutes, and it's become this go-to to get me sweating and awake. I used to just use the one we have at work, but I finally decided to buy myself one. I'm so glad I did. I can hop on the bike without having to crawl into work at the wee hours to get a bike in before meetings. I use the Peloton app. It just started in Australia recently. Olivia Amato is my favorite instructor so far. She's a total badass. She reminds me of my ballet teacher when I was a kid who was like a drill sergeant. She takes no prisoners and no bullshit. She tells people to just get over your feelings and peddle.
The Strategist is designed to surface the most useful, expert recommendations for things to buy across the vast e-commerce landscape. Some of our latest conquests include the best acne treatments, rolling luggage, pillows for side sleepers, natural anxiety remedies, and bath towels. We update links when possible, but note that deals can expire and all prices are subject to change.