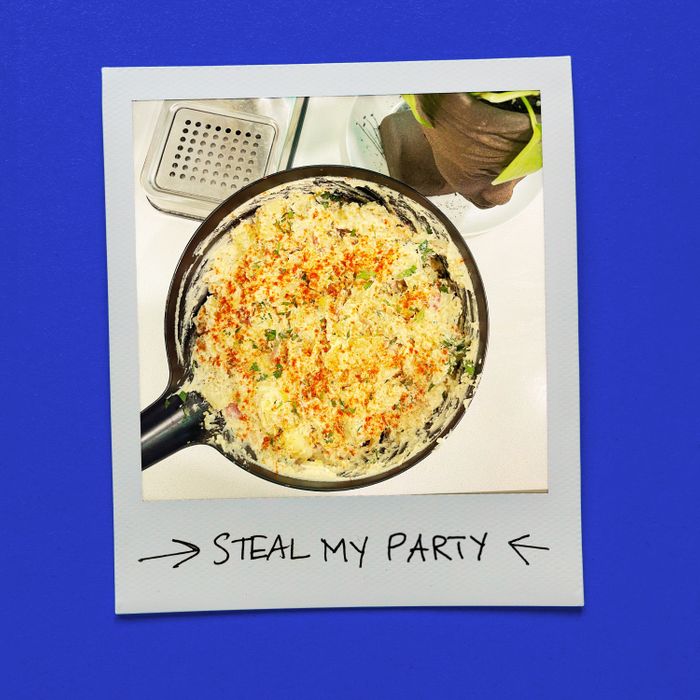 Photo-Illustration: The Strategist; Photo: Nicole A. Taylor!
Hosting can be a lot, especially when part of the game is having the soirée you put together look effortless. In this series, veteran party-throwers tell us how they pull off their highly specific, flawlessly executed gatherings (well beyond the holidays). This installment comes from Nicole A. Taylor, a Brooklyn-based cookbook author, who shares how she hosts family and friends for Juneteenth, which marks when enslaved people in Galveston, Texas, were informed they were free — an event that came more than two years after Abraham Lincoln signed the Emancipation Proclamation. It has been celebrated for years in Texas and all over the United States but became a federal holiday in 2021.
Nicole A. Taylor has been celebrating Juneteenth for over a decade, gathering her loved ones in both her fourth-floor walk-up with a tiny kitchen in Brooklyn and her home in Athens, Georgia, that she refers to as her "creative retreat."
There are lots of ways to celebrate the holiday, but most include gathering with loved ones to enjoy each other's company and relax. For Taylor, a typical Juneteenth celebration is essentially a standard Black American cookout, with barbecued food, a potato salad, and at least one play of Frankie Beverly and Maze's "Before I Let Go." "Every year, I cook for about 20 to 25 people. After that number, my kitchen and my brain can't handle it," she says. A natural planner, she begins planning for Juneteenth a week before, plotting out her grocery list along with any decorations she'll need for the day. "You will always see a bit of Black culture peeking out — on the table, in the music, in the art, in the dance, and the conversation," says Taylor.
I like to use Knock Knock pads to keep track of how many people are showing up, what I'm going to make, the signature cocktail, the red drink. I also start thinking about what we're putting on the grill. That's when I have a conversation with my husband. I micromanage the grill because fire is a very particular thing, like, "Check the temperature on the peach-and-molasses chicken thighs" or "Don't overcook the chicken burgers!" I also buy some hot-dog holders from Family Dollar. I like to use melamine trays. I have a few from Anthropologie I really like. I also like the melamine plates from Sheila Bridges with the Harlem toile pattern she's known for.
Editor's Note: Taylor's exact plates and platters are sold out, but here's an in-stock platter from her preferred retailer, Anthropologie.
I'm not a one-stop shopper. I always start at the farmers' market and I get there early, like 8 a.m., especially if I want to get my fancy mushrooms like lion's mane, maitake, or king's trumpet. I gotta have the mushrooms for the vegan folks, otherwise they ain't going to have nothing to eat. If I'm in New York, I'll be at Grand Army Plaza farmers' market or Fort Greene. I'm obsessed with fresh fruits and vegetables. I get berries and any seasonal fruits like peaches, plums, and apricots. I also make sure to buy salad greens, like broccoli rabe and carrots. If I go to Fort Greene's farmers' market, I always visit Hector, who runs Conuco Farm in Hudson Valley. I've been shopping with him for almost 15 years. At Union Square market, I'll stop by Rising Roots. They're one of the only Black-owned farms at the New York City Greenmarket. I buy my fava greens from them. If I'm in Athens, Georgia, I hit up Caribe United Farmers, also Black farmers. She's a Spanish teacher in the local Athens school, but she's also a farmer with her husband. She has the best eggs ever. I get her duck eggs and her regular eggs. I usually get two or three dozen. You ain't had an egg until you've had Caribe United Farms eggs.
After the farmers' market, I'll go to the regular grocery store because you can't get everything at the farmers' market. I like Carib Food Mart on the corner of Nostrand and Fulton in Bed-Stuy because I can walk in and buy southern and Caribbean ingredients easily. If I'm in Georgia, I like a lo-fi family grocery store like Bell's or Supermarket El Camino Real. It gives you Bed-Stuy bodega vibes. I can get my fresh ginger, muscadine, cilantro, hibiscus, whole cinnamon, and peppers — no problem.
I'm always thinking about quality meat, so I tend to splurge. The only thing I won't spend a lot of money on is hot dogs. A hot dog is a hot dog. I buy Nathan's. If I'm doing beef and pork ribs, I tend to splurge and buy them from somewhere like Greene Grape or Heritage Foods USA. They taste better. I also do chicken burgers. Ground chicken is actually a hard thing to find. I start buying it a month before and put it in the freezer because I need several pounds. I don't want it super-lean. You don't want ground chicken breast. It's dry. I approach my chicken burger like I do meat loaf.
For liquor, I go to Bed Vyne Wine and Spirits. They have a big selection of wine. They have a lot of Black-owned spirits like Uncle Nearest. I also buy High Wire Distilling (not Black-owned) — I love their gin and apple brandy. I also always keep Ten to One Rum. It's great for when you want to make a cocktail or mix something. And people also bring stuff.
8 p.m.: Prep the food
I make my salads the night before, the dessert, and prep my meat. I make a radish-ginger pound cake, and I start that before anything else. I also do a devil's food icebox cake, and that needs a while to set. I wash my hot dogs off and put them in a Ziploc bag. I season all the chicken burgers with chicken salt. I make it myself and I keep it on hand. I also clean and season the ribs. Also the potato salad. Some people like for their potatoes to sit up a day before. With my recipe, you definitely need time for the potatoes to cool.
I also make sure all my speakers are charged up. I'm a Sonos person. And then I bug my husband about the playlist. All that starts the night before. Summertime classics like DJ Jazzy Jeff's "Summertime," Solange's latest album, Big K.R.I.T., Maze, and Frankie Beverly. Right now, I'm into Summer Walker's new EP, Clear 2. It's nice and moody, good for prepping.
6 a.m.: Cook a big breakfast
I always start a Juneteenth morning or day with a big breakfast and an Alice Coltrane album. I love breakfast. You need to have a solid foundation in the morning. Maybe I'm making a big pot of buttery, peppery grits, which are a special-occasion thing for me. Then I'll go into my fridge and see what's in my vegetable bin, like bok choy, fancy mushrooms, or collard-green stems, that I can cook up to make a grit bowl. I always keep a bunch of onions and garlic around, so definitely that. I also pull my juicer out. I always keep a pineapple, so I'll juice that and fresh ginger along with vitamin D drops and mushroom powder and cacao nibs. I also always set the table. I have my cloth napkins out, my very colorful plateware. The sparkling water, the flat water, the fruit bowl, and loose chili powder. I always figure out how to make the holiday special for myself or whoever I'm hosting. If it's a holiday weekend, especially a Juneteenth weekend, I always have a houseguest.
I love the W&P Porter bowls. They're perfect for a fruit salad or fruit bowl. I also like a clean white plate. I get mine from Fishs Eddy. I have so much glassware. I'm very particular about it. If it's breakfast, I want to use a juice glass. I love Crate & Barrel's classic juice glass. They're super-small and look nice on the table.
8 a.m.: Finish prepping the food
After breakfast, I start cooking. Everything that's going to be eaten around 2:30, I start doing it at nine o'clock. If I haven't prepped everything from the night before, I'll also do that now, like the salad dressing or seasoning the catfish. I lay out the glassware. If I have platters, I'll go ahead and put them out and put a sign on it saying "catfish platter" or "bowl for potato salad."
12 p.m.: Coffee (and FaceTime) break
The holidays, especially when you have this kind of lingering time, is a good day to FaceTime and call people because people are just kind of chilling and you have their full attention, so I'll try to squeeze in a phone call or FaceTime with someone. I'll also have a second coffee. After that first one, I gotta have another around noon. I use a Nespresso. We just got this new watermelon-spritzer pod called Juicy Watermelon over ice. It tastes amazing. You might be thinking, What? Watermelon espresso? But it's so good. I bought another pack to serve at Juneteenth.
2 p.m.: Guests start to arrive
I usually try to have something before we eat, like my crab-and-egg salad or a cheese plate, because I'm never ready by the time the first person arrives. I get my cheese from Green Grape or Saxelby Cheesemongers, and then I'll add peanuts or pecans. There's always a nod to southernness. It's not even intentional; it's just who I am.
You have to look good for your Juneteenth celebration; you can't just wear a T-shirt, unless that T-shirt is from Blk Mkt Vintage. This year, I'll probably wear a skirt from Parron Allen, a designer I've been working with. He recently sent me a pattern called the "culture collage print," and it's very Black.
2:30 p.m.: Start grilling and frying
Old-school Black folks feel like you need to barbecue early in the morning, but I don't like the idea of grilling all the food before. Hamburgers and hot dogs take ten to 15 minutes. Catfish doesn't take that long either, so that's not going to hit the fryer until 2:30. This year, I'm using my Ooni to grill.
Yes, it's a pizza oven. But you can put burgers and steaks inside them. It's wood-fired, and there's a gas function too. I have a multifunctional one that can do both. I also have a classic Weber, but lately I've been using the Ooni over the grill.
3 p.m.: A moment for reverence
We can't take the reverence out of Juneteenth, so I always start my party off with grace or a toast to acknowledge why we're gathering. You have to ground your Juneteenth celebration, no matter who you are. If you decide to honor Black people's contributions on Juneteenth, you need to say, out loud, what June 19, 1865, represents. We can do a lot of partying and that's cool, but we're talking about enslaved people finding out they were free two years after Abraham Lincoln signed the Emancipation Proclamation. Let that sink in.
Then we'll hang out. People stay until midnight. Juneteenth is all about reconnecting with friends that I haven't connected with in a real way that's unabashed and not worried about anything.
12 a.m.: Whip up a post-party snack
There's always someone who stays really late — midnight. I'm putting my scarf and nighttime moisturizer on, and somebody is still there. That's when I want a hot dog or piece of rib eye. I'll make a quick tostada: something to soak up that last bit of alcohol.
The Strategist is designed to surface the most useful, expert recommendations for things to buy across the vast e-commerce landscape. Some of our latest conquests include the best acne treatments, rolling luggage, pillows for side sleepers, natural anxiety remedies, and bath towels. We update links when possible, but note that deals can expire and all prices are subject to change.