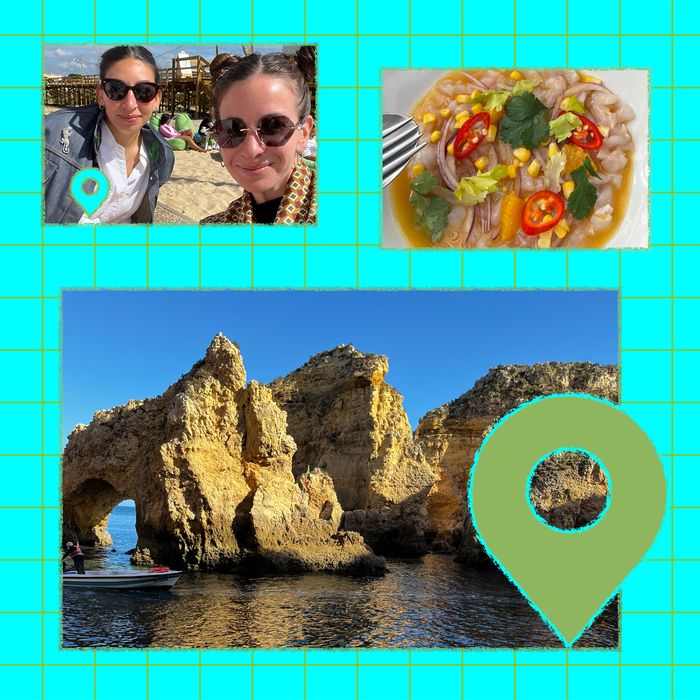 Photo-Illustration: The Strategist; Photos: Ariel Arce
Everyone knows that person who spends weeks sniffing around travel blogs, going deep into Tripadvisor rabbit holes, collecting Google docs from friends of friends, and creating A Beautiful Mind–style spreadsheets to come up with the best vacations and itineraries possible. In this recurring series, we find those people who've done all the work for you and have them walk us through a particularly wonderful, especially well-thought-out vacation they took that you can actually steal.
Ariel Arce, owner of Tokyo Record Bar and Niche Niche, prefers to visit southern Europe during the off-season. She and her best friend (and partner in the founding of CaviAIR), Michelle Double, like to take easygoing road trips through seaside towns when they're not mobbed by tourists. This past March, the pair headed to Portugal, during which they slowly meandered from Lisbon to the southern reaches of the country. Arce admits that her vacations "end up being these crazy drudges" of nonstop activities — filled with cave exploring, cliffside rock scrambling, and scootering around — which is why she highly recommends renting a boat for a day in the Algarve.
11 a.m.: Scoot around Lisbon
We flew on a red-eye from New York and upon landing in Lisbon headed straight to the Hertz counter to pick up our car rental for the week: a gunmetal Mercedes convertible. Michelle and I love driving. Give us a fast luxury car, throw us the keys, and see ya! But because it was still quite early in the day, we decided to explore Lisbon for a few hours before our drive south. We hit up the legendary seafood restaurant Ramiro (Av. Alm. Reis 1 H, 1150-007) and ordered a massive plate of prawns, some crusty bread to dip into the garlicky sauce they're cooked in, and a couple of beers.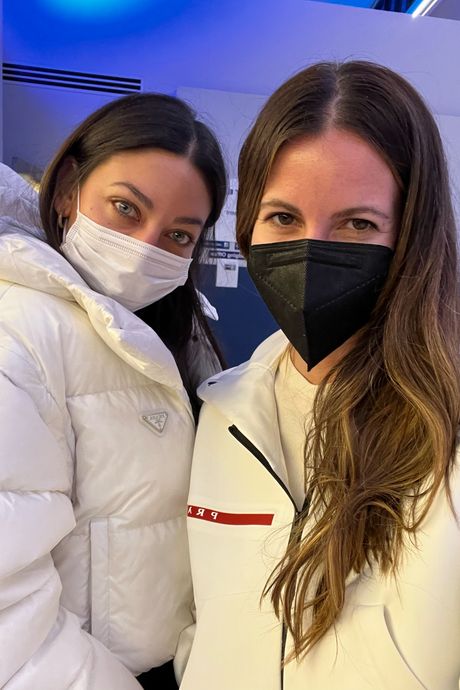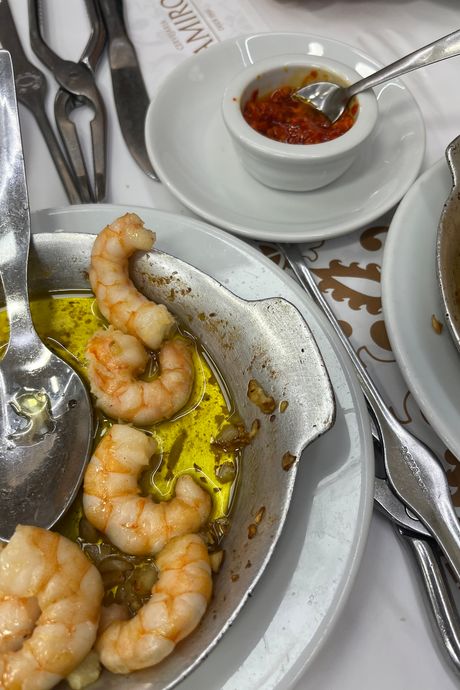 We wanted to work off the beer so we rented scooters from the Uber app and giggled our way around Lisbon. We toured along the water promenade all the way out to the western district of Alcantara to check out LxFactory (R. Rodrigues de Faria 103, 1300-501), a modern outdoor food and shopping complex under one of the city's many bridges. And then for absolutely conflicting vibes, we zoomed our way back into downtown Lisbon and up the steep cobblestone streets of Alfama, where we grabbed a caffeine pick-me-up at Copenhagen Coffee Lab (Escolas Gerais 34, 1100-213).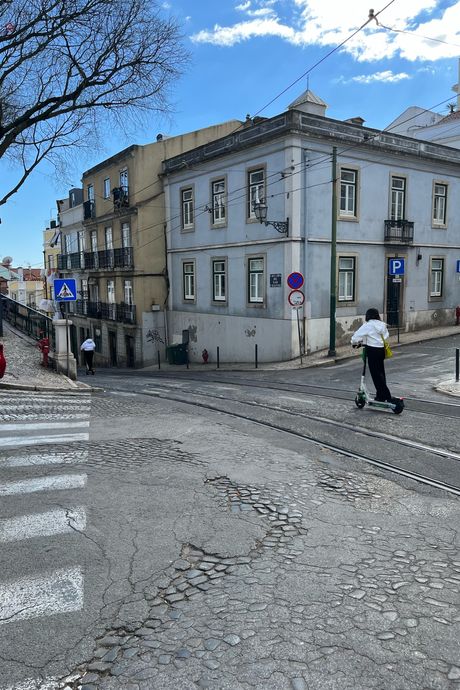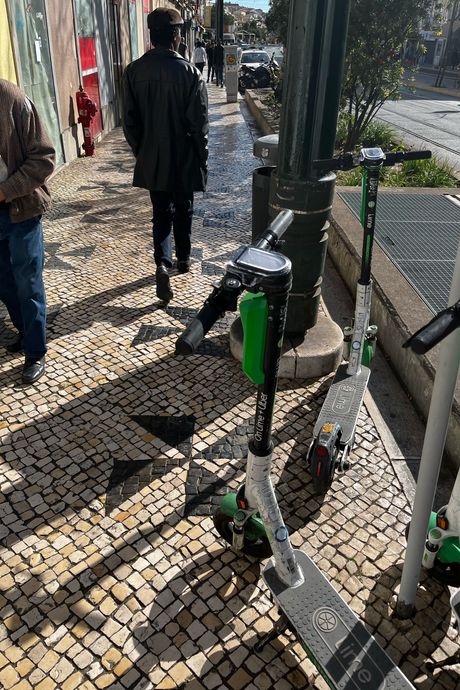 5 p.m.: Settle into your eco villa and order pizza
By the time we reached our hotel for the night, it had been a long day so we decided to take it easy, and Villa Epicurea (R. do Casalinho 5A, 2970-052) — a 45-minute drive south of Lisbon — was the ideal place to do that. The property is tucked away into a forest that overlooks the water, and we stayed in one of their minimally decorated one-bedroom houses. We aren't really "shared space" gals, but it was nice to see like-minded travelers at the pool or in the main house where you can cook a meal together. If you don't want to make your own food (we didn't), what's cool about the Villa Epicurea is they have a board filled with places you can get delivery from. We ordered two pies from a local pizza place: Both had a super crispy thin crust, but one was a margherita and the other was a white pie with arugula and pistachio, which was pretty incredible.
12 p.m.: Eat ceviche at a beach club in Comporta
Before we set off for the Algarve, we stopped by Comporta, a chic little beach town with waterfront restaurants and hotels, and an adorable downtown. It's got a rustic vibe, too, because of the rice fields that surround all the development.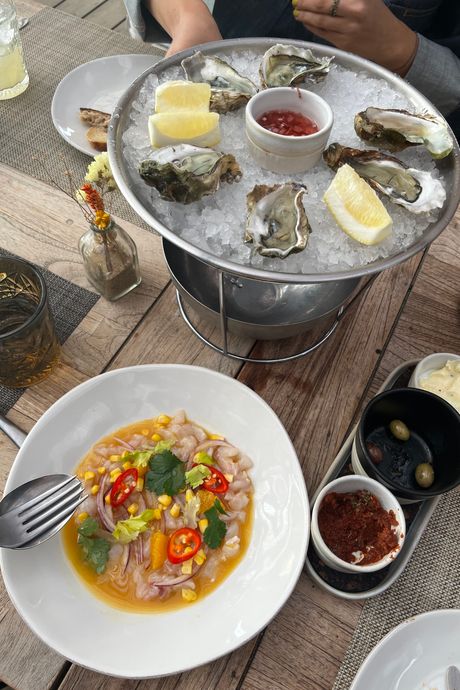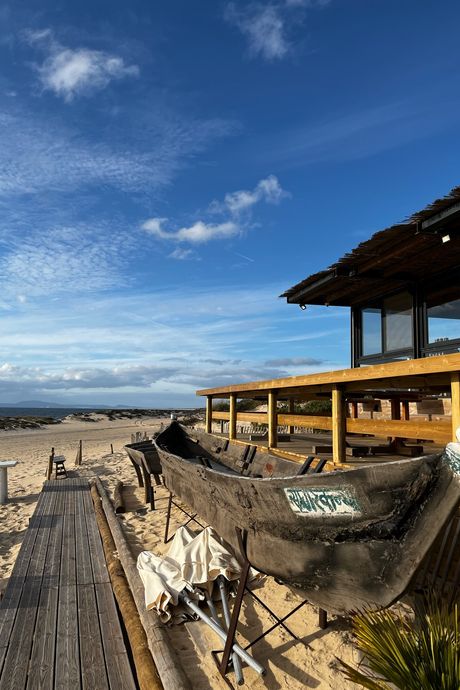 We had lunch at Sublime Comporta Beach Club (Praia do Carvalhal, 7570-782). The seafood on the menu was just exquisite. We gorged ourselves on ruby red tiger shrimp, oysters, and whatever ceviche they were serving at the time (with fish sourced from the Azores). In between dishes, we would walk around the sand and dip our toes in the water. (It was cold Atlantic water, but a few moments doesn't hurt.) Everyone here is an angel. As soon as our waiter found out that I love spicy things, I had three different hot sauces in front of me, including the chef's personal stash from Nepal.
3 p.m.: Take coastal routes to the Algarve
The drive down to our resort in the Algarve should have taken about two hours if we stuck to the most straightforward route per Google Maps, but we tried to take as many coastal roads as possible, avoiding highways whenever we could so it took closer to three hours. But we also found ourselves driving through these stunning, dense forest roads that feel the way islands do when they're by the water; there's lots of sand, very tropical-esque foliage, and a quickly changing terrain. Everything looked wild and beautiful. It was definitely more of a casual drive. We were in no rush.
6 p.m.: Check into a massive resort
Vila Vita Parc Resort & Spa (R. Anneliese Pohl, 8400-450) is a sprawling compound centered around a private beach, pools, a few restaurants, sports complexes, and a wellness center. For girls from a big city, a resort vacation wasn't what we came for, but frankly, we didn't want to leave. It was pretty stunning. We booked an apartment-style condo, which is a bit farther away from the main hub of the resort. This was the first time on our trip — after flying, driving, exploring — when we really started to relax.
To close out the day, we didn't want to have a crazy dinner, but we did go to the main bar of the resort to indulge in a few too many gin-and-tonics by the fireplace.
12 p.m.: Explore the seaside towns of the Algarve
We had a late start to the day, but that's just the vibe down here in the Algarve, which isn't very big so you can accomplish a lot of sightseeing in a short amount of time. Our first stop was Sagres, which is stuffed into the southwest corner of Portugal. It's a very windy area and known for some of the best surfing in the world. We drove to Fortaleza de Sagres, which really feels like the end of the earth. All you see is water. We walked the coastline watching a bunch of people hit the waves.
There is a killer restaurant on the ocean called Boia Bar (R. dos Pescadores 101, 8650-199), in the tiny town of Budens, which is just 15 minutes east of Sagres. We ordered a massive bowl of razor clams and their famed Portuguese shrimp, cooked in chili, garlic, and olive oil galore (kind of like a piri-piri sauce).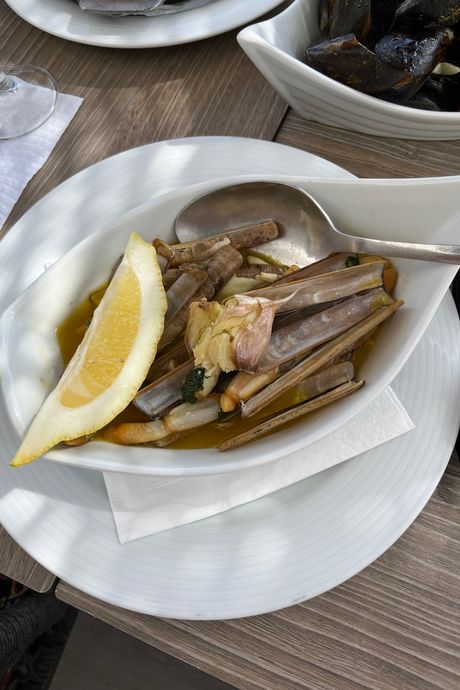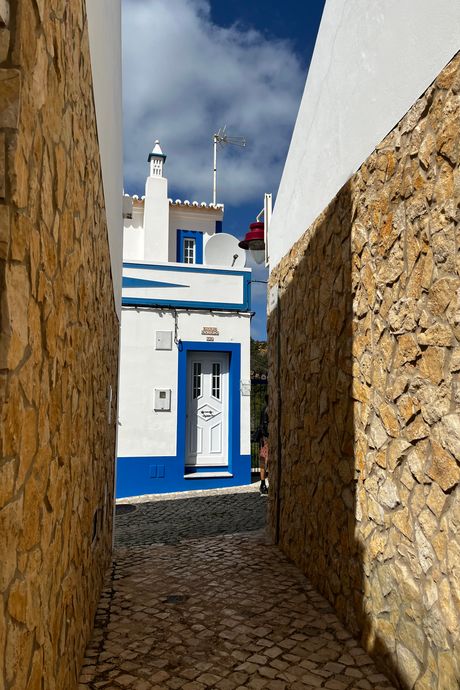 3 p.m.: Pick up ceramics and straw bags in Lagos
Lagos is one of the larger small towns and is far less sleepy than most of the other spots we hit on this adventure. It was great to walk around and get a taste for the colorful tile buildings that you won't ever tire of when you're in Portugal.
There's some shopping to be had, too, and I ended up getting seduced into buying what looked like Ugg knockoffs at this cute store called Tamar (R. António Barbosa Viana 14 16, 8600-677), which stocks a ton of locally made merch like straw bags and ceramic housewares. Then, our next stop was just outside town: Ponta de Piedade, these golden rock formations jutting out of the water. We did attempt to scamper around some of them. It got a bit wild so I would suggest wearing sturdy, comfortable shoes.
If you don't want to stay at a big resort like we did, I would recommend the stylish Casa Māe (R. do Jogo da Bola 41, 8600-712) here in Lagos.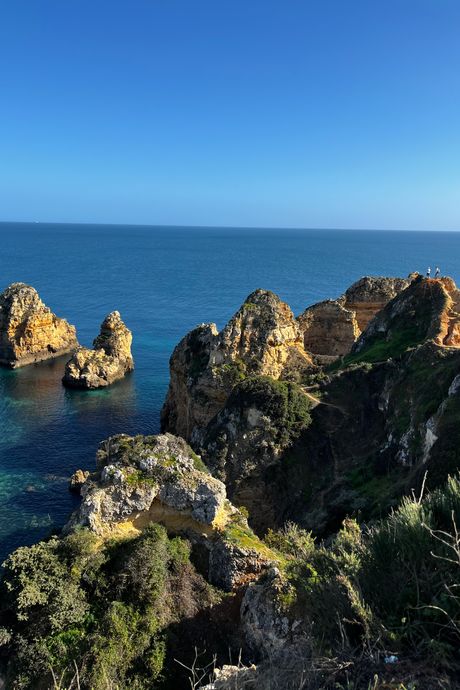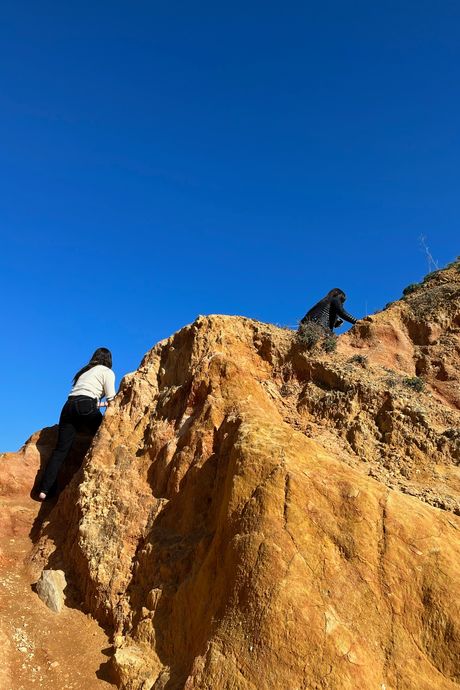 8 p.m.: Order a local fish platter
Vila Vita's Japanese restaurant had a platter of different types of local fish, most of it was white fish, but they also had salmon and tuna that were sourced from the Azores. The chef even showed us the tags of the fish. We tossed these back with vodka martinis.
10 a.m.: Sail around the Algarve
When we were figuring out what we wanted to do on this trip, we knew we really wanted to rent a boat, and that's one of the main reasons we booked Vila Vita; they have a yacht. The rate is around $1,000 for a full day, and you can have up to 8 people on the boat.
Our captains were spectacular. They've been doing this for 30 years. But in addition to all that experience, they had such a great sense of humor. They were telling us all these crazy stories about the people they've taken on tours — including some pretty famous names. We had a couple of bottles of white wine, some grilled veggies, and, of course, pasteis de nata, the iconic egg custards. And then for several hours, we sailed around the coast visiting some of the Algarve's most jaw-dropping spots.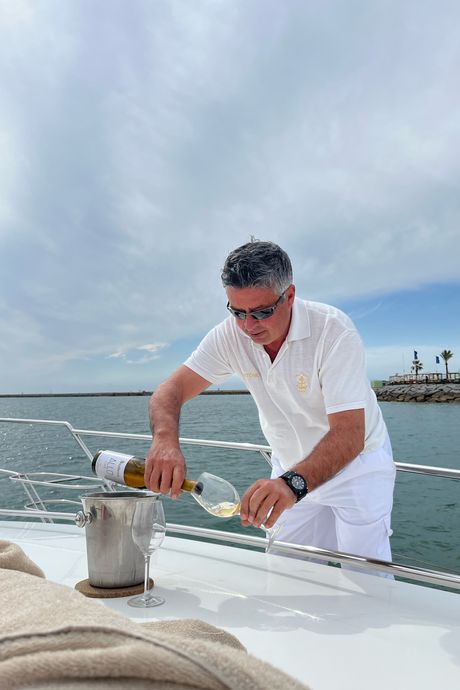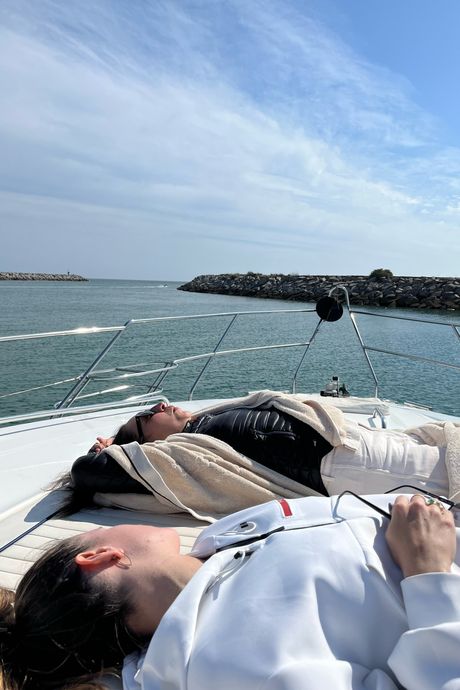 We stopped at a bunch of different places: Praia de Carvoeiro, Marinha Beach, Arco Natural. But the best part was touring the 50-odd caves that are just outside the fishing village of Benagil. Our captains threw us into this dingy, and from there we just went exploring. It was kind of intense to see them maneuver this little thing in and out of tiny spaces as the tide was coming up and down, and you really think you're going to run into these caves. And some of the caves would be totally pitch black while others would be bright and blue and there was one with a giant hole that looked up to the sky.
You can drive to all these different sights, of course, but the perspective you get from the water is just unbelievable. It was one of the highlights of our trip. I'll never forget it.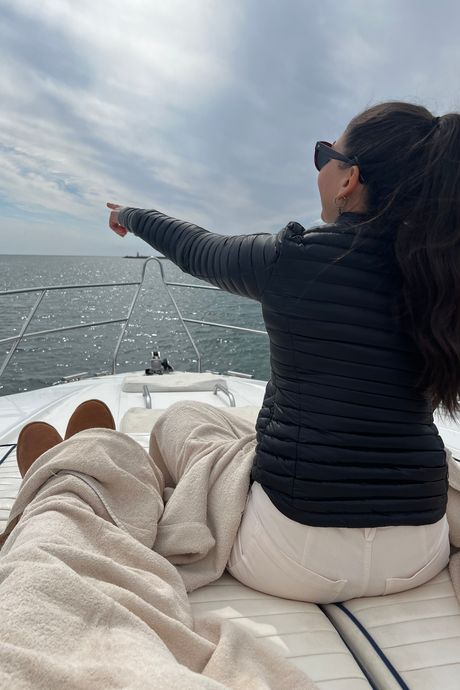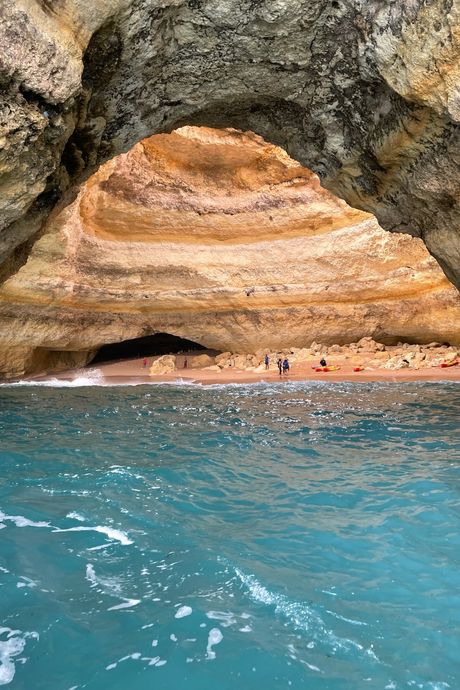 5 p.m.: Arrive at a fancy farm hotel
After a full day out at sea, we couldn't wait to retreat to our next hotel, Vila Monte Farm House (Calicos Site, 8700-069), which is located in the eastern half of the Algarve. Very close to the border with Spain, this part of the country is entirely less manicured than the western side, which is where a lot of the big luxury resorts are. But Vila Monte is just fabulous. The property, which is surrounded by fragrant olive groves, citrus trees, and the shocking pink of bougainvillea, is mostly white with these stunning pops of blues and greens. It's very serene and rustic-chic. The pools were beautiful, too. It really looked like it was plucked out of Ojai.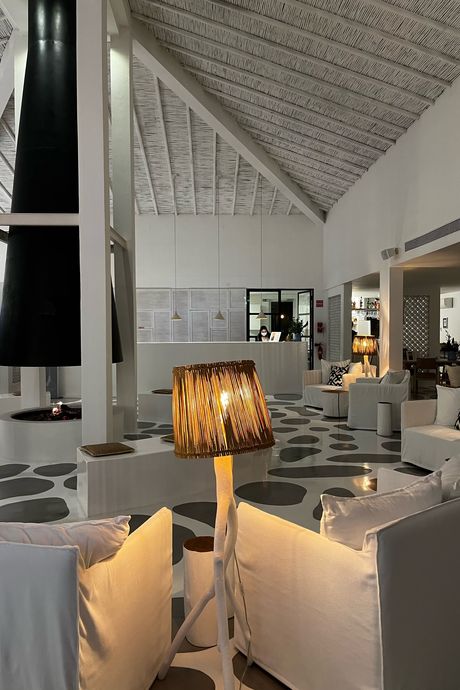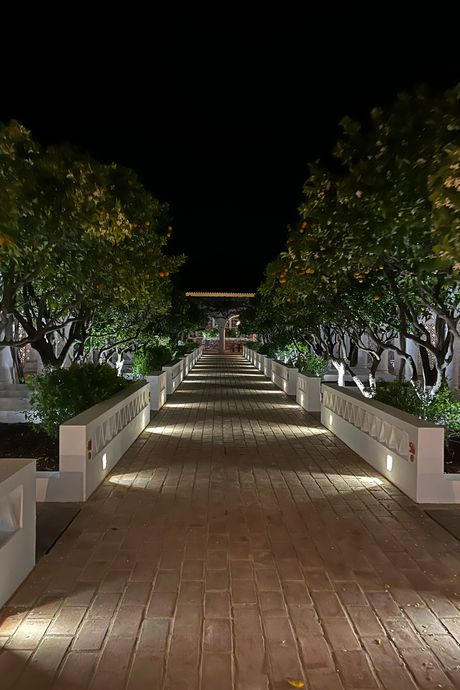 For dinner, we decided to stay at the hotel. We ordered some beautifully grilled fish, and they also had fantastic pizza. Plus, you can drink your cocktails out on the lawn — paradise for two New Yorkers.
9 a.m.: Stretch before breakfast
The hotel offers a lot of daily activities. So we woke up early to take Pilates and then enjoyed a lovely breakfast of local Portuguese fruits, charcuterie, some fantastic bread, and every nut milk you can imagine.
1 p.m.: People-watch in the plaza
It takes less than two hours to drive the entire width of Portugal's southern coast, but there are so many adorable places to visit. We started as far east as possible in Vila Real de Santo António, which is right on the border of Spain. It's designed like a mini Lisbon and has this beautiful plaza that's perfect for people-watching. We strolled around, marveling at the collection of buildings covered in gorgeous tiles of blues and greens. We popped into A Loja da Maria (Rua Jornal do Algarve 63), a home decor shop where we found ceramics that looked almost spotted in a cool tie-dye way. Then we drove to Altura, which reminded us a bit of a sleepy Jersey Shore town: It's a very chill place, great for walking along the beach picking up seashells along the way.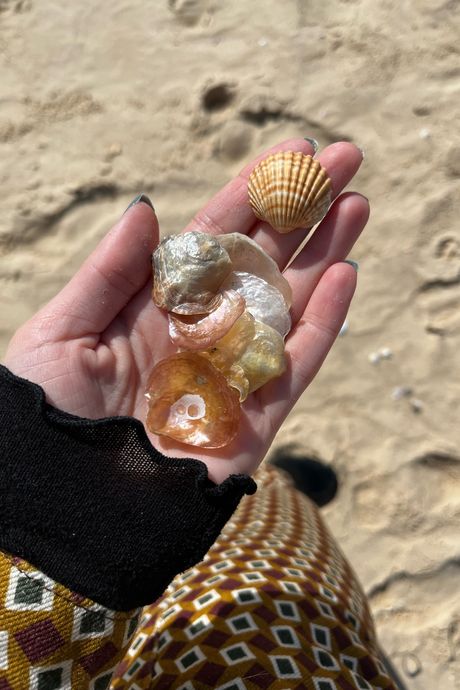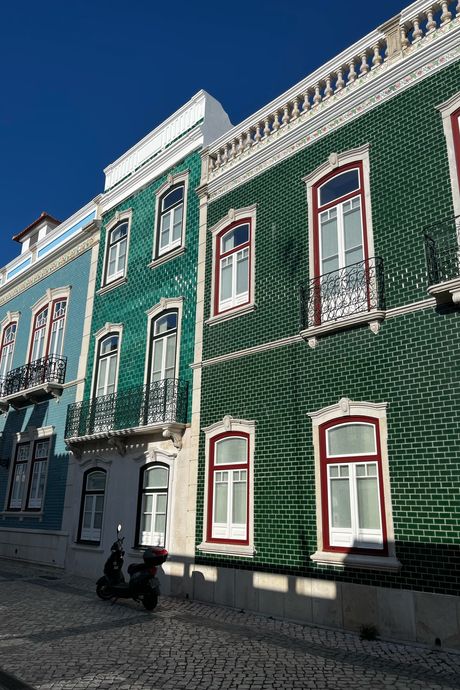 4 p.m.: Snack on French cheese and Portuguese wine
Our last stop was Tavira, which is one of the more popular towns in eastern Algarve. The waterside promenade and beautifully manicured gardens make Tavira stand out from neighboring towns; they make it feel bigger, grander than a beach town, like you're in a small-but-historic European city.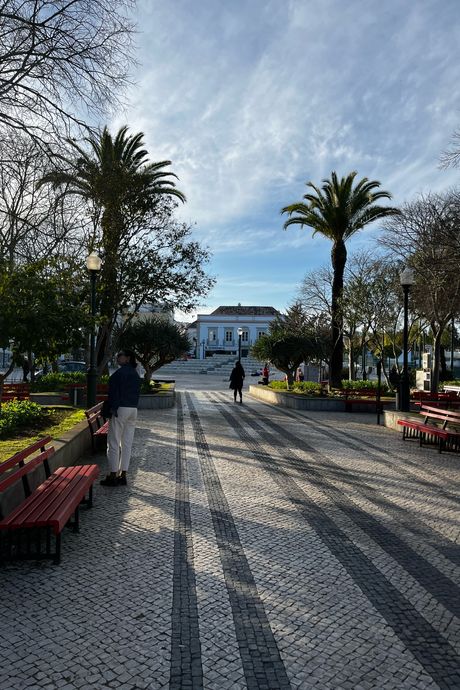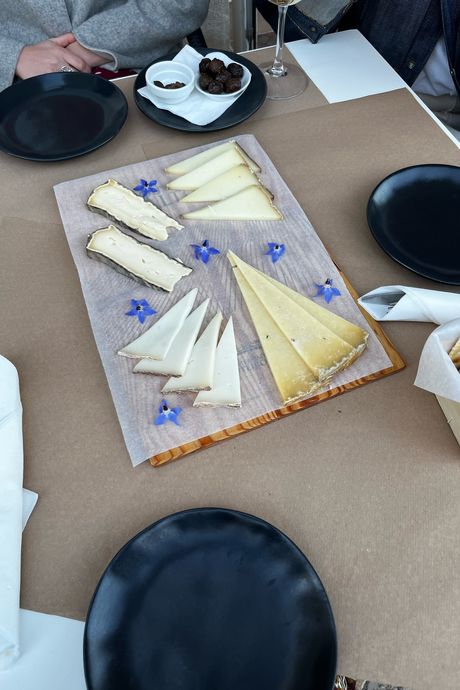 We were just scoping out the scene on foot, and Tchin-Cheese (R. da Liberdade 24, 8800-329) caught our eye. It's a cute little wine-and-cheese shop (maybe four tables) from a French expat. It felt so different from any other restaurant that we had eaten at in Portugal up to that point. We got to chatting with the owner, who picked out a cheese platter and some natural local wines for us to try. Yes, a cheese-and-wine pairing is so trite, but it's my favorite thing in the world, and we really vibed with the owner, whose taste is out of this world. We sat with him outside for longer than we expected. But when he recommended O Tonel (R. Dr. Augusto da Silva Carvalho 6, 8800-650) for a dinner of simply prepared octopus and more Portuguese white wine, we happily obliged.
Ariel's Portugal packing list
Photo: Retailer/
Even though the day we went out on the boat was overcast and a cool 60 degrees, we could still have gotten sunburned. It's better to be safe than sorry. Supergoop's Unseen Sunscreen is so weightless that you don't even know you're wearing it.
In this modern day, you can wear a pair of white Air Force 1s to dinner or when you're out scaling rock formations in southern Portugal. And if you get them dirty, just wash them when you get home. I never travel without a pair.
A lightly scented deodorant does wonders when out exploring all day. Or when you don't feel like taking a shower after taking a Pilates class.
You never know what the weather will be like during the off-season. My lightweight puffer jacket from Bacon came in handy the night we were in Tavira. It was a gorgeous day but as the sun set, and it got chilly, I just pulled it out of my bag. It rolls up without wrinkling.
Some rolling luggage we've written about
The Strategist is designed to surface the most useful, expert recommendations for things to buy across the vast e-commerce landscape. Some of our latest conquests include the best acne treatments, rolling luggage, pillows for side sleepers, natural anxiety remedies, and bath towels. We update links when possible, but note that deals can expire and all prices are subject to change.