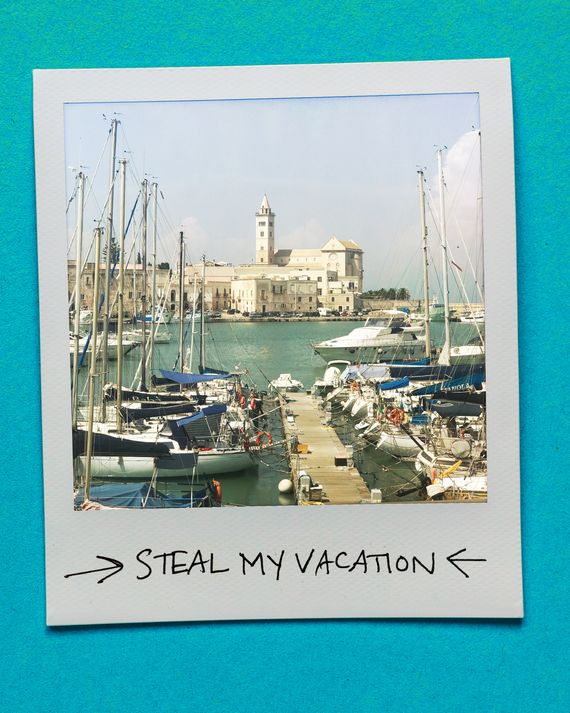 Photo-Illustration: The Strategist; Photo: Daniel Soares
Everyone knows that person who spends weeks sniffing around travel blogs, going deep down into Tripadvisor rabbit holes, collecting Google Docs from friends of friends, and creating A Beautiful Mind–style spreadsheets to come up with the best vacations/itineraries possible. In this recurring series, we find those people who've done all the work for you, and have them walk us through a particularly wonderful, especially well-thought-out vacation they took, that you can actually steal.
Daniel Soares is a fourth-generation New York grocer and owner of Essex Market produce stand Alimentari Flâneur. His family is from Puglia — two cousins even own an olive grove — and Soares often visits during the summer. He shares his favorite masserias, why should you always rent a vintage convertible, and the leather Bottega loafers he would never leave home without.
11 a.m.: Pick up your vintage Alfa Romeo rental car
Alitalia runs the most flights, and ideally you'll fly overnight to Rome and then connect to Bari, the capital of Puglia, which is in the south of Italy, but on the Adriatic Sea side. According to my cousins, Alessandro and Pina, who live there, the COVID situation is better now. Restaurants are open, lots of people are around, and the tourists are coming back.
I worship being impractical, so once I arrive I set the tone for the trip by renting a vintage convertible car. You can't do this at the airport, but you can reserve one through Puglia Auto Classica and they'll bring it to Bari for €100. Old cars are always a gamble, but even if it breaks down, it'll be on some seaside road and it'll be romantic.
12:30 p.m.: Visit the nonnas
Traverse the old town, Citta Vecchia. Make your way to Strada delle Orecchiette, and you'll see the famous nonnas sitting outside making orecchiette, a quintessential Puglian pasta shape that you roll out with your thumbs. Buy a pound of orecchiette for about two euros, and the nonnas will beckon you to stay, to have olive oil and bread and espresso. They don't speak much English, but they'll ask you why you're not married yet. If you don't eat there, you'll see little coffee shops dotting that street where you can find a brioche sandwich with a little piece of mortadella.
6 p.m.: Stay at your first masseria
Hit the road around 5 p.m. and drive 50 minutes along the coast to a town called Corato. Stay at your first masseria, Hotel Montegusto (S.s. 170, Km 1,850, Castel Del Monte), a gorgeous stone farmhouse that overlooks the Alta Murgia National Park. It's small, like eight rooms (from $116 a night), and the owner lives on the property. To me, a really good masseria is defined by its owner, who should either live there or be at the property every day — there's that sense of hospitality and skin in the game. Have dinner at the masseria, which is usually very simple: panzanella, and some meal of tomatoes, basil, olive oil, and toasted bread. Watch the sunset, which will be this kaleidoscope of orange and purple and red, and you'll feel very connected to the land. Drink whatever Pugliese wine they pour for you — you don't exactly go to Puglia and ask for natural wines.
10 a.m.: Bike to a 13th-century castle
Breakfast is a pastry, coffee, and a glass of juice at the masseria. There are no eggs for breakfast in Italy. You'll want to enjoy the natural park, so rent a bike from the masseria. It's a gorgeous ride, up this winding road on a hillside where you'll see Italian cyclists in their kits. The ride can take anywhere from 30 minutes to three hours, depending on how Italian you're feeling. The castle is closed for tours right now, but it's still beautiful. I think it traded hands between the Spanish and Italian, in the 13th century, maybe for a marriage.
5 p.m.: Grab a pre-dinner gelato 
Cycle back to the masseria, shower, and get dressed for evening in town. I believe you should have dessert before dinner, so go to Mokambo Gelateria (Via Nello Rosselli, 29), which is adorned in this beautiful rustic wood with a mahogany bar. I had saffron gelato, which is such an example of how everything is connected. Saffron comes from India, it's revered in Italy and Spain, and traded throughout the Iberian peninsula. This gelato totally expanded my world.
6 p.m.: Wander around Corato
My family is from Corato, and if you come see me at Alimentari Flâneur in New York before you leave for Puglia, I'll make it my business to ensure my cousins show you around. Have dinner with them; they took me to Posta Mangieri (Str. Esterna Piede Piccolo), a restaurant where I had some of the best burrata and anchovies of my life. After dinner, they'll show you around town and tell you stories about the cobblestoned streets and the history of Corato. Then you can leave the night up to what I call the goddess of spontaneity. Maybe you'll go to my cousins' house and have Grappa Aromatizzata, a grappa drink prepared with seasonal fruits, herbs, and spices. When I visited it was a fig and rosemary grappa, with a touch of cloves.
10 a.m.: Shop for Pugliese ceramics
You'll want to see Alberobello, the commune town that's home to the trulli, the whitewashed limestone dome-shaped huts. It's extremely touristic, so go early. Pack up at the masseria, have a macchiato, thank the owners — because you're going to a new masseria tonight — and hit the road by 9 a.m. It's about a one hour drive. Some of the huts have been converted into bakeries or wine shops. Walk and see what catches your eye, but look out for il Tempo Ritrovato di Panaro Francesca (Via Monte S. Michele, 8-10, Alberobello), a shop that sells beautiful Pugliese ceramics; that's where I bought bottles for olive oil.
1:30 p.m.: Check into your next masseria 
Leave by 1 p.m., when the crowds start to surge. Drive the 30 minutes south to Fasano, and check into Masseriola Antiche Fogge (Via Giardinelli, 2, Fasano BR; from $110 a night), owned by Alessandro, one of the best-dressed men I've ever met in my life. He has long dark curly hair and is always wearing a suit with loafers and jeans. The masseria is very unassuming because it's on a weird suburban Italian side street, but then you pull in and it's an oasis: There's a gorgeous pool and fruit trees you can pick from, and the rooms are built with these gorgeous arches made of limestone. Relax by the pool, maybe take a nap.
7 p.m.: Dress up and order the octopus
For dinner, you'll drive to Grotta Palazzese (Via Narciso, 59, Polignano a Mare), a restaurant built into the cliffs looking over the beaches. This is one of the more luxurious experiences you'll have, and you'll definitely need a reservation. Get dressed up, have a truly romantic evening, eat the best octopus you'll ever have in your life. It's classic seaside Pugliese cuisine: an octopus appetizer, grilled with lemon and olive oil and salt, and linguine vongole.
Noon: Sunbathe on a pebbly beach
Spend the entire day on the beach. Little rocky beaches dot the coastline, and the most memorable one to me was Lama Monachile. You set your towel down on a rock, and dive into water that's shades of blue and green I don't even know how to describe. A wooden bridge connects to other sides of the rock so you can swim and climb around. There's an inexpensive bar and a restaurant on the beach. Get a piece of Italian bread toasted with salt and olive oil, with grilled octopus, for four euros. I'm not a big beer drinker, but I had a Pizzica on tap, and it was delicious.
8 p.m.: Sit down for a family-style dinner
Head back to have dinner at the masseria. You'll be tired, you've been driving, so just meet the other guests and have a party and keep it simple. Everything is outside at communal tables. The dinners are served buffet style, and they'll probably set out a table of orecchiette with broccoli rabe or dandelion, and maybe sausage. If they were to serve those, I'd have the dandelion.
1 p.m.: Snack on figs and sun-dried tomatoes
Wake up and drive to Polignano a Mare, an ancient town on the coast built into the cliffs. It's basically the Amalfi of Puglia: cobblestoned towns overlooking the sea, with beaches sandwiched between cliffs. I love that it's beautiful, but not as ornate and opulent as Amalfi or Capri. It feels ritzy without the expense. Head first to Terre di San Vito (70044 Polignano a Mare), a winery and orchard owned by the di Napoli family ten minutes outside of town. Francesco, the father, used to work at Benetton but then he sold his shares and opened this farm. Walk the grounds with his sons, Giaccomo and Giovanni, these two very handsome Italian men, and sample the olive oil, the wine, and eat this black carrot jam they make that's so delicious. Giaccomo will pull a fig off a tree and you'll eat it and fall in love with life. You'll see an olive tree that's 1,600 years old, and you'll see tomatoes literally out drying in the Pugliese sun. You're going to want to spend as much time there as possible, but you also want to leave in time to catch the sunset from Polignano proper.
10 p.m.: Head to the disco
For sunset in town, find your way to Balconata sul Mare (Vico Gualdella, Polignano a Mare), a spectacular vantage point in the old town, or Bar Clipper (Via Conversano, 30), which overlooks the water. This might be a good night to go to a disco. My cousin Gabriele likes Le Palme at Coccaro Beach (Contrada Pantanelli, 72, Capitolo), which is back in Fasano, about a 15-minute drive.
11:30 p.m.: Order an octopus burger
After you're sweaty and tired from dancing, eat more grilled octopus. Head to Pescaria (Piazza Aldo Moro, 6/8), which is actually back in Polignano a Mare, but so worth it: It's a fast food seafood restaurant that's open until midnight, and serves fried octopus on a bun — octopus burgers — for like three euros. Walk it off in town, and then get a panzerotti, a quintessential Pugliese dessert, from one of a million places on that drag, Via S. Vito. It's around now when you think to yourself, I might move here and not go back to New York. That's when you know the trip is good.
10 a.m.: Explore the ancient city of Matera
On the last day, before your evening flight, drive about an hour and a half to Matera. It's breathtaking, one of the oldest cities in the world. The entire city is a UNESCO heritage site now, but in the 1950s it was called "the scourge of Italy" by politicians because its residents were so impoverished. It's gone through many changes since then. Matera is like a maze, so we hired a tour guide to take us around and explain the history, which I would recommend. We toured with Laureanne, a French woman living in Matera, and a friend of my cousin Allessandro's. At the edge of Matera, there are these earthen caves where farmers used to live. You can actually stay in some of them through Airbnb (from $79 a night), which I would love to do on my next trip.
6 p.m.: Enjoy your last orecchiette
In the historic center of Matera, there are bronze Salvador Dalí sculptures installed, including this one of one of Dali's muses — she has one of the most beautiful butts I've ever seen. Go see those, and then get your last Pugliese meal. We went to La Lopa (Via Bruno Buozzi, 13), and had orecchiette di grano arso with dandelion and pane di matera con bruschetta. Burnt orecchiette is worth trying, as it harkens to the philosophy of the cuisine of the region: Waste nothing, making something out of anything. And that's your good-bye.
Daniel
Soares's
Puglia
Packing
List
Loafers to Loaf In
These are perfect for flânerie. My own pair are vintage and I've had them since 2019 when I found them at Hudson Antique Warehouse.
An Affordable Linen Dress Shirt
I bought mine at Massimo Dutti in Faro in the Algarve but this one from Todd Snyder is sublime. It's important that the shirt isn't too expensive — you want to feel good about wearing it at all hours, for myriad reasons.
A Good Pen for Letters (and More)
I'd probably pack my own collection of hotel and restaurant pens, from places like Cafe Altro Paradiso and Balthazar, or Hôtel Costes in Paris, to write love letters and jot down ideas on the road. If I had to buy a new pen I'd go to CW Pencil Enterprise on Orchard Street and be the guy who walks in and asks if they sell pens.
Another Button-Down
This shirt embodies sprezzatura. Effortless elegance with a touch of versatility. The Turkish ivory cotton is woven and spun by generational craftsmen in Italy. It's the shirt you throw on in a pinch, when the plane is boarding and your lover is waiting with a smile and freshly baked black garlic sourdough is in the oven.
The Strategist is designed to surface the most useful, expert recommendations for things to buy across the vast e-commerce landscape. Some of our latest conquests include the best acne treatments, rolling luggage, pillows for side sleepers, natural anxiety remedies, and bath towels. We update links when possible, but note that deals can expire and all prices are subject to change.
The COVID situation there: Italy, like all of the European Union, is open to vaccinated travelers from the United States. The country has no quarantine requirement on arrival as long as you travel on a dedicated Covid-tested flight (offered by Delta, American Airlines, and Alitalia to all travelers) and show a negative test result before boarding, and upon being tested on arrival. Currently, unvaccinated Americans cannot fly to Europe.
Alitalia (and all flights to Italy from the U.S.) still require a negative COVID test to board, but travelers are no longer required to quarantine on arrival.
The company is still doing airport pickups, but reserve in advance online at pugliautoclassica.com.
Go to terredisanvito.it to request a visit.