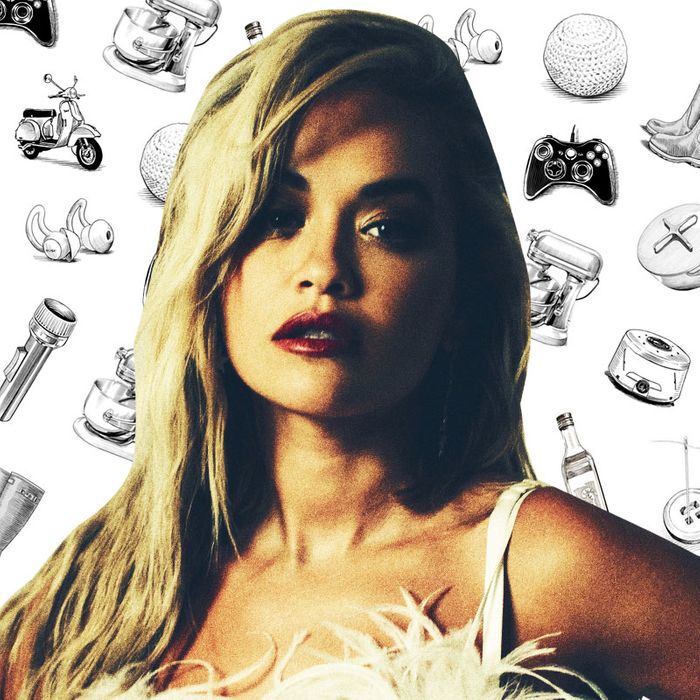 If you're like us, you've probably wondered what famous people add to their carts. Not the JAR brooch and Louis XV chair but the hairspray and the electric toothbrush. We asked Rita Ora — who recently collaborated with ShoeDazzle on a footwear collection — about the candle, hot sauce, and lip balm she can't live without.
I know a lot of people have it, but Santal 33 just suits me really well. I've basically been wearing it since I could afford it. It's just so fresh: It's got sandalwood and cedarwood in it. It's a bit musky and not too sweet — like a natural smell but with outdoor vibes.
I love hot sauce. To be honest, I can't eat anything without it, so I've tasted a lot of hot sauces and this one has never failed me. It's not crazy thick and it just goes with everything. You don't want a sauce that overtakes the taste of food and this one doesn't do that.
I had the original AirPods, but the noise-canceling Pros are just that much more amazing. I love not hearing anything, so sometimes I even use them as earplugs. The sound quality is good, too — I was actually really impressed. Lately I've been listening to Megan Thee Stallion and these DJs called Bicep, who are really cool. A lot of H.E.R. — I really love H.E.R. — and some WizKid and songs by this guy called Benny Sings, whom I love. I've been listening to some old stuff, too, because I'm a very old soul.
Photo: retailer
They don't taste too good, but I take these every day. It's a vitamin C supplement that I'm super-strict with, because vitamins really help keep me together. Especially with everything going on right now, I just really want to take things to protect my immune system.
My friends always say my house is like a greenhouse with candles because I have so many plants and candles. They're like, "It's a greenhouse you're going to set on fire," and I'm like, "Please can you not?!" But I love fragrances so I burn candles all the time. The Ambre scent is smoky and rich, but sweet. It's a really sexy smell.
Photo: retailer
When I was growing up, finding affordable beauty products that were also good was a struggle. Glossier has done such a great job — it's super affordable and just a really refreshing, youthful brand that has lovely colors and cool packaging. I really like the lip balm and all the different flavors it comes in. They all smell fantastic. It's the perfect lip balm.