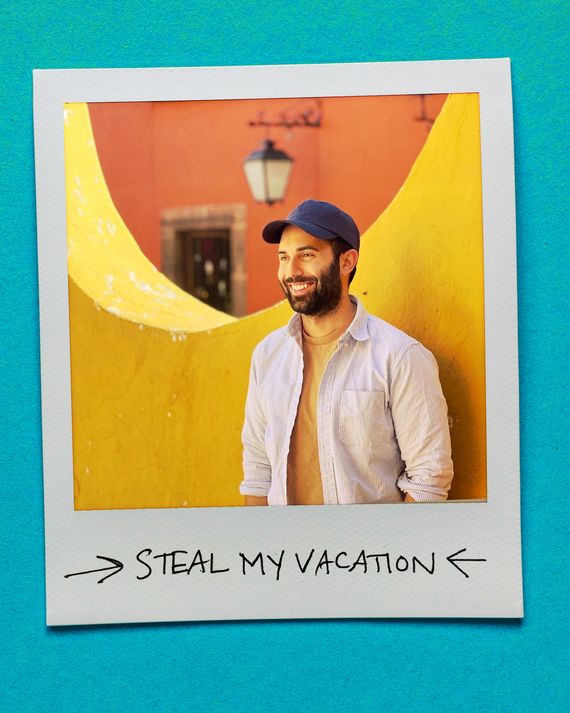 Photo-Illustration: The Strategist; Photo: Andy Baraghani
Everyone knows that person who spends weeks sniffing around travel blogs, going deep into Tripadvisor rabbit holes, collecting Google docs from friends of friends, and creating A Beautiful Mind–style spreadsheets to come up with the best vacations/itineraries possible. In this recurring series, we find those people who've done all the work for you and have them walk us through a particularly wonderful, especially well-thought-out vacation they took that you can actually steal.
Recipe developer and forthcoming cookbook author Andy Baraghani was supposed to spend Christmas in Paris and Strasbourg. But concerns over Omicron forced him and his boyfriend, Keith Pollock, to pivot to a warmer destination where they could spend more time outside. Baraghani isn't much for the beach ("I get really bored") and has been to Mexico City several times (his list of food recommendations there is 12 pages long), so the couple decided on San Miguel de Allende, booked flights, and left the next day. That the former Bon Appétit editor prioritizes food and drink on trips should come as no surprise — he had reservations booked far in advance for Paris — and San Miguel de Allende proved no different, even if it was spur-of-the-moment. Here, Baraghani shares what he and Pollock stumbled upon on their first trip to the colorful, colonial city, from the best ceviche tostadas to the café culture and mercados.
3 p.m. Check into a World of Interiors–level hotel
We stayed in Mexico City for a night before going to San Miguel, but you can fly to Querétaro Intercontinental Airport or León-Bajío International Airport, which are each about an hour away. We got in our rental car (we always find a rental spot in town instead of the airport which, while convenient, is also filled with surcharges) and drove three hours to San Miguel from Mexico City. We arrived in the early afternoon and checked in at Mesón Hidalgo (from $225), a manor house designed by Laura Kirar. We rarely stay in big hotels and would always rather go for a smaller place that's more intimate. Hidalgo is just minutes away from the city's main square and Jardin Allende (where the Parroquia de San Miguel Arcángel church can be seen), but it was so quiet. There are just three rooms, and we chose the Chana, which was grand with high ceilings and a fireplace; it felt like a page from World of Interiors.
4 p.m. Caffeinate, then head straight to the spa
We parked a few minutes away from the hotel and just walked everywhere the entire time. Our first stop after relaxing for a bit was La Cabra Illuminada (Hidalgo 13, Zona Centro) for a coffee, as we were in need of a pick-me-up and it was literally right next to where we were staying. The neutral, minimalistic interior made the experience feel almost ritualistic. Then we went to the spa at Dos Casas (Quebrada 101, Centro). There were bigger hotels and spas, but something about the way they described the experiences here got me, so I booked it online before we arrived. I'm a skin-care addict, but neither of us are really fancy spa people — I usually just want someone to beat the shit out of me. But the week leading up to our trip was hard and chaotic, so I knew this would be good to get on our itinerary. What appealed to me about this spa was that its approach felt very holistic. Our treatment started with a 15-minute meditation, which was so good for both of us, then you do a cleanse and then a steam, an intense head-to-toe scrub, then we washed off and got a massage. It was incredible.
7 p.m. Eat a fancy shrimp tostadas dinner
They were completely booked at this restaurant Ocre (Hidalgo 5, Zona Centro) on the main strip, but I wiggled us in for a table. The outdoor seating area was so nice; it had built-in banquettes and a more relaxed feel. Food was plated very intentionally, and it was a very good meal. We had shrimp tostadas with jicama, big pieces of tuna tartare drowned in salsa matcha, and steak with charred spring onion. It was perfect for our first night there to have a really nice dinner and then keep things more easy and casual the rest of the time.
10 p.m. Make a pit stop for churros
I grew up with a mother who would occasionally surprise me with churros, which was the greatest thing. When I see a line for them, and everybody is speaking Spanish, I will be getting in that line immediately and waiting, which is what happened at this place. The churros at Café y Churrería San Agustín (San Francisco 21, Zona Centro) were wonderful. We had them with condensed milk and a chocolate sauce heavy on the cardamom and cinnamon.
8 a.m. Wake up to a breakfast basket
At Mesón Hidalgo, you just mark up a little piece of paper at night and they will knock on your door in the morning with a breakfast basket. Ours was filled with yogurt and honeycomb, pastries, coffee, guava, and tiny bananas. We sat at the wrought-iron tables on their patio and ate there. Then we headed out, stopping for another coffee at Panio (Relox Num. 12, Zona Centro). There's a real café culture here (and I'm not just talking about them having good coffee and a range of alt milk) which I'm fascinated by. The interiors of the spaces, the beautiful glassware, the little sweets they serve with your coffee, it's all very intentional. People actually get a coffee and sit for a long period of time; maybe because I'm in New York, I don't see that as much.
11 a.m. Order juice and a torta at the mercado
The Mercado Ignacio Ramirez (Colegio s/n, Zona Centro) is San Miguel's main indoor-outdoor market. I always try to go to as many markets as I can when I'm traveling. This one is packed with amazing fruit and vegetable vendors and then tiny little food vendors selling juice and smoothies and tortas and ceviche. We both got our own juices with beet and ginger and then split a torta fully loaded with the works (lettuce and tomatoes and chilies and cheese). If I have a torta early in the day, I need to split it, otherwise it puts me to bed. Then we walked with our bellies full around the Centro Cultural and checked out these incredible murals by the Mexican painter David Alfaro Siqueiros.
3 p.m. Browse the textile galleries
There are so many spaces in San Miguel dedicated to showcasing the work of local artisans; these pavilions with different kinds of vendors and many weavers. La Fabrica Aurora (Calz de La Aurora s/n, Aurora), which Keith found, felt like the most beautifully curated one. It was an old textile factory converted into an art center, and you go from one gallery to the next. There have to be at least 20 artisans with shops in there. Keith and I are always on the hunt for something when we travel, but we also have this philosophy that if it's meant to be, we'll find it. There are a lot of textiles in San Miguel, but Los Bailes Remigius (Correo 6, Zona Centro) in town really stood out. Really beautiful colors and patterns and a lot of neutrals, which sounds dull, but it was very special.
7 p.m. Get street tacos for dinner
While there are plenty of street vendors, there aren't as many as in bigger cities like Mexico City, but I did hear about this place Taqueria San Francisco (San Francisco 17, Zona Centro) from searching on Instagram and having marked it on Google Maps before we even landed in Mexico. There was a long line, but I saw all the grease and the quick hands working and the meat getting carved and the tacos being topped with a scattering of onions and cilantro and pineapple, and I had to have it.
11 a.m. Go to a can't-miss green chilaquiles brunch
While we were there, I was posting a few pictures on Instagram, of course, and there were lovely people sending me DMs and saying, Oh, you have to go here or there. I heard from my friend Claudette Zepeda that I couldn't miss having Sunday brunch at Marsala Cocina con Acentos (Calle del Dr Ignacio Hernandez Macias 48, Zona Centro); Claudette was on Top Chef Mexico with the chef behind Marsala, Marcela Bolaño. The inside dining room has chandeliers and a fireplace, and we sat on the patio where each table was adorned with flowers and stacked with thick linen napkins. It all felt very intimate, and then it was such an elaborate brunch with seasonal fruit and yogurt, granola and honey, and a huge pastry cart that you chose from. There were these amazing biscuits made with lard and bacon and cheddar. And the green chilaquiles had crispy chicharrón with feta cheese and a fried egg that worked really well. And there was a waffle with duck confit and maple dijon butter. Her combinations felt very unique.
2 p.m. Walk off brunch with a stroll through town
San Miguel is the most vibrant town I've ever been to in Mexico. It's small and sweet and very intimate. The town is drowning in flowers, and there's a real scheme to the architecture, with beautiful ochres and tans and pinks and yellows. It's so nice to walk around and get lost in all the nooks and crannies of the city. I would usually divide a city up and make a route for each neighborhood, but San Miguel is so manageable that I mean it when I say we just got lost. I recommend climbing up all the hills, especially to watch the pink sunsets.
4 p.m. Chance upon one-of-a-kind antiques
We stumbled upon this store called Artefakto (Correo 46, Colonia Centro), and it was the chicest place we found on the whole trip. The owner gives off a real quiet Clint Eastwood vibe. There was a range of amazing artwork and ceramics and textiles from a few different regions of the country, including Hidalgo (which is where San Miguel is) and Oaxaca. Everything he carries there is just exquisite, and there's no website, so it feels like a very special find.
7:30 p.m. Order fish ceviche tostadas and lots of mezcal
The way I ideally like to eat is by sampling lots of different dishes, and El Manantial (Barranca 78, Zona Centro) felt like the perfect place for that because it's all small plates. It also is up in the hills a bit and doesn't feel touristy at all. There is also a hot daddy type who is the owner. We went there around 7:30, which is on the early side for us, but they don't take reservations, and I had a feeling it was going to get crowded. And by the 8:45 p.m. mark, the place was packed. We had fish pastor tacos and shrimp aguachile and these white-fish ceviche tostadas that I ordered over and over again; it was just like the perfect crispy, salty, corny tostada with thin slivers of perfectly cured fish and just the right amount of chili. Then I went from sipping mezcal (the list of local producers is a bit dizzying but they will guide you) to a mezcal margarita with grapefruit and spicy salt (there was also a tamarind one) and then back to sipping mezcal; Keith doesn't drink, so I drink for the both of us.
9 a.m. Try a new café, eat nopalitos for breakfast
Besides Panio, my other favorite café in San Miguel was Lavanda because I loved the relaxed vibe, so we woke up and went there for coffee first. Then we had an amazing breakfast at Garambullo Fonda Gourmet (Animas 46, Zona Centro), which is just slightly outside the city's main square. It's so easy to pass all these places and not notice them. I had it marked, and then I looked at their Instagram, and it ended up being easily one of our best meals. It was in a large industrial space with beautiful windows and plants everywhere, and there were two café cats that were clearly the bosses. We had nopalitos with poached eggs, enchiladas verde with chicken, chilaquiles with salsa rojo, and green juices.
11 a.m. Rummage for utensils and serving ware at an antique shop
On the outskirts of the city, we stopped last minute at this antique store called Bazar San Antonio Antiques (Ancha de San Antonio 11, Zona Centro). No one was there, and we waited for a few minutes until the owner showed up. Keith is a design expert, and he's been collecting for decades. I'm much more of a novice, but a novice with strong opinions. Something that I'm always drawn to, and especially since I started working on my cookbook, are utensils and serving ware. This place was a hoarder's paradise. It was narrow and stacked with stuff like brass objects and carved wood and ceramics. I like the hunt, and I'm a masochist at heart; I think I enjoy the struggle. And it was worth it because I got lucky and found this beautiful Mexican silver serving spoon with this unique etching on the handle.
1 p.m. Stop for a farewell meal of roadside barbacoa 
On our way back to Mexico City. we stopped at El Pato Barbacoa y Mixiotes (Calz. de la Estación 121, Zona Centro), which is very much a local favorite to grab lunch. It's an area covered in tarps with many food vendors, and if you're driving out of San Miguel, it's right off Route 51; you can't miss it. Barbacoa is on the list of food dishes that just consumes me. I think about it a lot, not because I even have it a lot, I just crave it. And this place delivers great barbacoa.
Andy's
San
Miguel
de
Allende
packing
list
Sunscreen
I love skin care, and after years of trying many, many different sunscreens I found my match with this one. I won't fully geek out, but I will say that it easily absorbs, smells great, and doesn't leave any white streaks behind, which is ideal for me since my beard is on the thicker side these days.
A lightweight backpack
For the last three years, I've been very into wearing a backpack. I spent maybe too long looking for this Battenwear one. It doesn't have too many bells and whistles. It's just a good, lightweight backpack that I can easily tote with me anywhere in the world.
Pestemals
I have a few from a while back when I spent a month traveling around Turkey, but you can easily order them online. Obviously, if you're staying at a hotel or an Airbnb, they'll have towels for you, but I still love packing my own, and these don't take up much space. Yes, you can use them to dry yourself, but they also make for a great picnic blanket when I get the urge to buy snacks somewhere and just lay out on the grass.
Fancy T-shirts
I have a lot of T-shirts, and I'm always on the lookout for more wherever I am in the world. Most are secondhand, but occasionally I splurge on really nice ones that I could dress up, and these John Elliott ones cannot be beat. They fit me perfectly, whether I've decided to work out that week or not, which to me makes them worth the price.
The Strategist is designed to surface the most useful, expert recommendations for things to buy across the vast e-commerce landscape. Some of our latest conquests include the best acne treatments, rolling luggage, pillows for side sleepers, natural anxiety remedies, and bath towels. We update links when possible, but note that deals can expire and all prices are subject to change.
The CPVOD-19 situation there: Mexico is open to travelers from the United States and is not currently requiring a negative test result or a quarantine. As of December 6, travelers heading back to the United States will need to show a negative COVID-19 test result taken within one day of the flight, regardless of vaccination status.