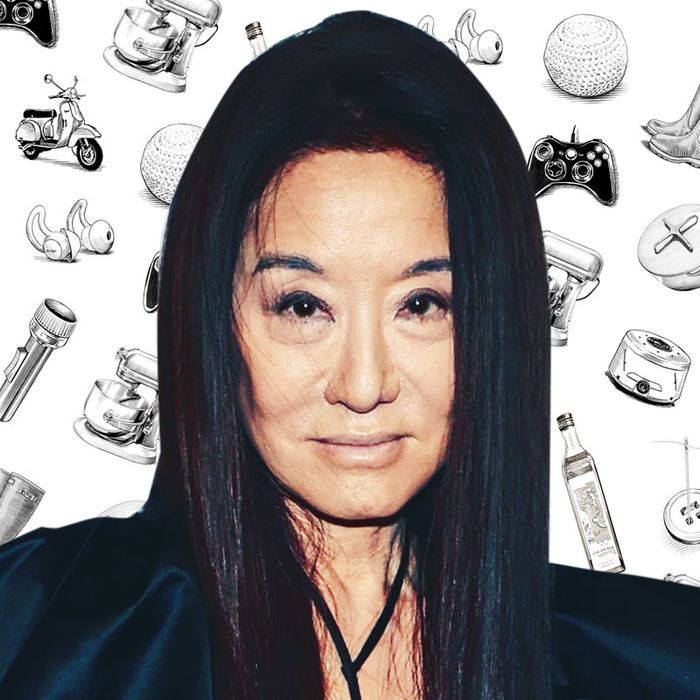 Photo-Illustration: The Strategist; Photo: Getty
If you're like us, you've probably wondered what famous people add to their carts. Not the JAR brooch and Louis XV chair but the hair spray and the electric toothbrush. Designer Vera Wang — amid creating numerous bridal, ready-to-wear, sunglasses, and active lines — recently launched her very own Prosecco called Vera Wang Party. She took a break from her busy schedule to chat with us about the glasses that are a highlight of her Elton John–level eyewear collection, the 12-year-old dog bag she calls her Pomeranian Lola's "apartment," and the sugary treats she buys by the six-pack.
Most Asian women and my Asian girlfriends don't worship the sun like I did when I was younger. I was a tennis player, a skier, a golfer, and lots more. I hated all the sunscreens available at the time. I thought Hawaiian Tropic, which was a popular one, was too reflective. But now I see my friends at 50, 60, 70, and they all have gorgeous skin. I'm late to making sunscreen part of my daily ritual, but it's an essential for me now. I choose my SPF usually based on where I am. If I'm in Miami or California, I'll go for something stronger, maybe SPF 55. But typically, I like SPF 30. I use RoC's moisturizer with SPF when I'm in New York because it's protecting my skin, and I'm not allergic to it. My skin has changed so much in recent years that now things I never used to react to irritate it.
I used to do all my sketches on fax paper because 30 years ago if you wanted to do an entire collection of, say, 40 to 60 looks or even 50 bridal dresses, the fax paper made it easy to categorize and sketch across the sheet, like a chart. I wound up with these little hieroglyphics. But as time went on and the nature of the business changed, I started working with fabric myself. My design director lives on an iPad, but I'm very into draping and seeing how the fabric falls on the body. Some things are not easy to sketch either. I have the idea in my head, and sometimes I just need to create it to explain it. My ideas change as I start draping and seeing how the fabric moves. We have live models, which is a big luxury to have. I put the fabric on them, use pins, and just start to create. It's very artisanal what we do.
I have a lot of allergies, so I'm careful with my products. People ask me what my beauty tricks are, especially brides. And I say, well, I have a great makeup artist for when I go out. All I can say is moisturizing and sunblock are the two most important things. When I was younger, I was always a shower person. But now I really do try to take a bath. It's very calming, and let's face it, our world today brings us a surprise every minute, so it's nice to unwind. I like to put Johnson's baby oil in the tub. I know that sounds silly, but it really works for moisturizing and nourishing your skin. And it's very soothing.
Lola is my 14th dog. I've had Chihuahuas, Pekingese, Yorkshires, and Pomeranians, which is what Lola is. She's 12 now, and she lost her sister about two years ago, right before the pandemic. Because I was staying home, I spent more time than ever with her, and now I include her in all my activities. She'll sit through a three-hour fitting and observe the whole process. She likes to roll around in fabric, too. She's our team mascot. She has this little doggie bag that I call her apartment. It's this little black nylon thing. She used to share it with her sister, and they would hide treats in the bag, so she'd have a reserve supply. We bought it when we brought her and her sister home. It's not my favorite thing. I think it's kind of ugly, but Lola loves it. I got my daughter's dog a Louis Vuitton carrier, and when I've tried to get Lola something else, she still just wants this nylon thing. I just want her to be happy, so if that's what she wants, whatever.
I have weak eyes from too many years of looking at my phone and computer and TV screens. I'm a sunglasses obsessive. I have a collection of more than 1,000 pairs that I've been adding to since I was the accessories editor at Vogue way back in, my God, 1973. It's been a long time! I collected them just as much as Elton John. And now I have many eyewear lines, which I love. But we don't make blue-light glasses yet. I think glasses made for protecting your eyes from television and computers are very, very important. Eyewear is not only decorative or ornamental or a creative expression, it's protective. You have to save your irises and pupils. And we're all staring at screens all day; we need to be mindful because the damage will catch up to us eventually.
I am a hosiery freak. I love a thigh-high and a knee-high. I love pantyhose. I want them all. I've made my own hosiery for ready-to-wear for about 28 years, and I own many pairs from Wolford, which I think offers phenomenal quality for basics and fishnets. But one of the greatest creators and influences on me since I was design director at Ralph Lauren has been Miuccia Prada. She was the focus of socks for 30-plus years. Whenever Prada puts out socks, I always buy them, because they're so well done. I think they're very cool to wear all year round. In midseason, you can still wear shorts and pair them with a thigh-high. Or you can do a really adorable mid-calf skirt with a boot and a little bit of a boy sock peeking out. Hosiery is one of the most eye-catching, creative things you can wear. Slip something on and it changes the whole look.
I eat a lot of McDonald's. You can ask my team. I get a single- or double-patty hamburger with pickles and ketchup and fries. The fries are the best. When I'm splurging, I'll add the Oreo McFlurry too. Also, the Chicken McNuggets is a nice meal to have. They come in a pack of four, and I'm never hungry afterward. I like those with a fountain Coke, too. It depends on the time of year for how often I'll get it. The last time we were shooting for days, I basically had McDonald's at lunch every day, because we were so busy I couldn't be bothered to look at menus. And before a show or the Oscars or dressing Nathan Chen for the Olympic trials this past weekend, food just wasn't a focus. I know people say it's all bad for you, but I don't think it is. It's not much worse than a lot of other stuff out there. And I balance it by having a really good dinner. I've always enjoyed McDonald's. When my kids were growing up, I would bring them Happy Meals, and all the other kids wanted to stay with me because they could have McDonald's, which they never got. A lot of mothers would be furious.
I like Dunkin' best of all the other doughnut chains because it has more cake. I love all the crazy flavors: the powdered sugar with cream instead of jelly inside, coconut anything, the crazy-terrible-chemical-pink-frosted one with sprinkles, chocolate-cream-filled, classic honey glaze, vanilla-frosted with sprinkles. I buy the six-packs with a variety of flavors. When I was 8 years old and a skater, I could put away 12 easily. But I'm 72 now, so I only buy six. I don't eat all of them at once. I want to be very clear. I cut them in half so I can taste them all. I only do this twice a month. I try to limit myself. Also, before we had a show, my design director's husband would bring in doughnuts the day before while we worked, and it became a sort of ritual because we were all superstitious.
I've been doing what I do for 33 years. I drink a fair amount. It's a very well-known fact about me. Although I'm beginning to think people might think I'm an alcoholic based on my Instagram. I never drank when I was young. After my second daughter, I started to have a cocktail at night. Raising two girls is challenging — there's a lot of drama. Now I'm 72, and I deserve it. I love champagne, but at weddings all anyone drinks is Prosecco. It's the No. 1 drink. That felt like a direct connection to my work. There's something so fresh and modern about Prosecco being used for weddings. It's a very happy drink, a happy alcohol. At weddings people are trying to celebrate, but I am offering them an option that won't break the bank if they want to have a good time. It's fancy enough where it can be celebratory, but not so fancy that you feel it has to be a special, special, special occasion in order to open a bottle. I love my Prosecco mixed with Aperol and a slice of orange. It's sort of like drinking a soda. And it's very colorful. It's beautiful.
The Strategist is designed to surface the most useful, expert recommendations for things to buy across the vast e-commerce landscape. Some of our latest conquests include the best acne treatments, rolling luggage, pillows for side sleepers, natural anxiety remedies, and bath towels. We update links when possible, but note that deals can expire and all prices are subject to change.