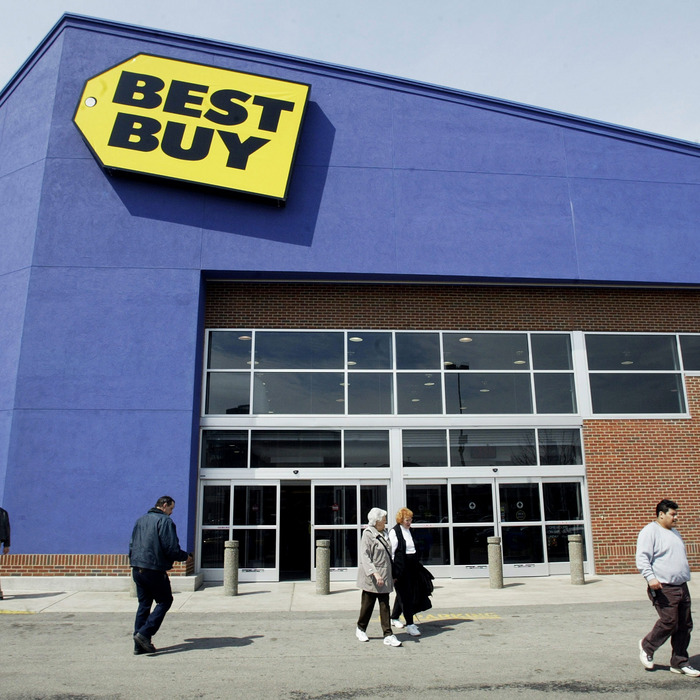 Our colleagues at the Verge are technology experts. So when they tell us that there are good Cyber Monday deals at Best Buy  — well, we look through those deals, add a few finds of our own, and bring the more-useful-to-the-average-non-technophile stuff to you.
There are substantial discounts to take advantage of, like an Ultimate Ears bluetooth speaker for $40, a MacBook Air for $200 off or an iPad for $80 off, a completely wireless pair of bluetooth earbuds for only $30, and a 65-inch LG OLED TV (which is seriously one of the best TVs we think you can buy). But act quickly, because things are selling out fast! Once an item's stock is low enough online, it becomes an in-store purchase only.
We should note that Best Buy is constantly updating its deals, and we're constantly watching. So check back here frequently for updates of sales on big-ticket appliances, vacuum cleaners, home security systems, smart speakers, and phones. Incidentally, for more early tech deals, check out our Cyber Monday coverage of the Amazon and Walmart sales.
Speakers
Earbuds and headphones
Jabra Elite 65t Wireless Earbuds
Sony WH-1000XM3 Wireless Noise Canceling Headphones
Appliances
Dyson Cyclone V10 Animal Pro Cordless Stick Vacuum
KitchenAid Professional 500 5QT, 450 Watt Bowl Lift Stand Mixer
This kitchen staple has never been cheaper. This model doesn't have a the typical tilting head, which means it is more powerful. (For more great gifts for bakers, click here.)
Samsung 28-Cu.-Ft. French Door Refrigerator
You deserve a bigger fridge. Or at least a better one. This full-depth French-door option from Samsung can fit all of your holiday meal prep. (The adjustable shelves will accommodate a Christmas Ham.) And it even has an ice-maker with a bin that's actually big enough to handle company.
Insignia 6-qt Multifunction Pressure Cooker
If you want an actual Instant Pot, you can expect to pay between $50 and $100 for it. Or you can get Best Buy's house-brand equivalent, which has nearly 2,000 reviews and a 4.7-star rating.
Video game systems and accessories
Laptops, desktops, tablets, and accessories
TVs and accessories
LG 55-inch C9 OLED TV
OLED TVs have the best picture available, with the highest contrast and darkest blacks. Since they don't need backlights, they're also the thinnest screens available. You're going to pay a premium for that compared to other types of TVs, but it can be worth it. This is the lowest price we've seen for the 55-inch C9. There are also sales on the 65-inch version and an enormous 77-inch model.
TCL 75" 4 Series 4k Smart TV with HDR
TCL provides an excellent balance between price and quality. And it has built-in Roku, which our expert called "one of the best interfaces." The 55-inch model might be the sweet spot for most buyers. It's only $280.
Google Chromecast Ultra
As opposed to other streaming devices, Chromecast doesn't need a separate remote. You can control everything from your phone. If you don't have a 4K TV (and thus don't need the ability to stream in 4K), the Google Chromecast is marked down to $25.
Tech toys
DJI Mavic 2 Pro Quadcopter with Remote Controller
Everybody loves a drone — kids, adults, people who say they hate drones but then try one. Although many companies make cheaper drones, no one makes them better than DJI. Plus bigger drones like this are much easier to fly, since they can hold themselves steady in the air.