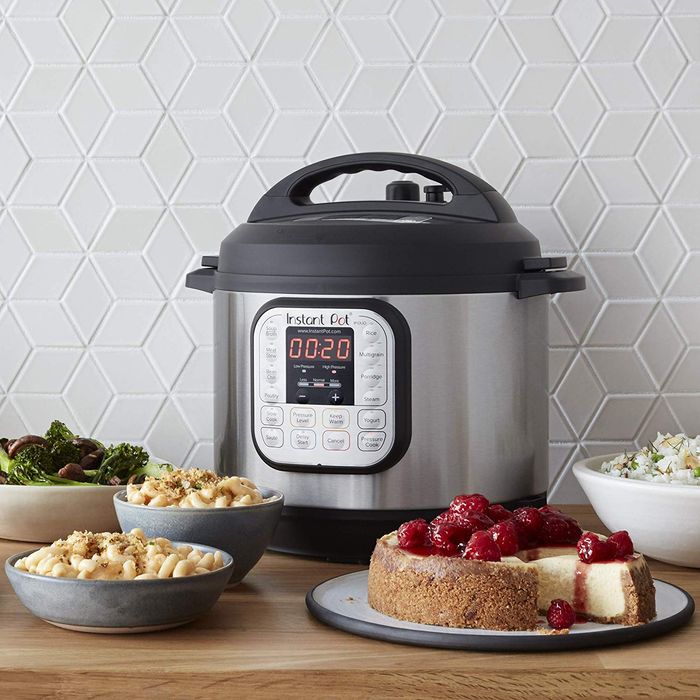 During all the major sales holidays — Black Friday and Cyber Monday among them — the Instant Pot goes on sale. By now, you're probably familiar (at least somewhat generally) with what it is — an appliance that combines the work of a rice cooker, slow cooker, pressure cooker, and yogurt-maker, among other functions, into one efficient little device.
But if you don't own one yet, and you're thinking about buying one for yourself or as a gift, the array of Instant Pot models can be daunting. Currently, Instant Pot sells 11 different kinds of Instant Pots in several sizes. Every Instant Pot model comes with the ability to pressure cook, but some also include the settings to sous-vide, bake cakes, pressure can, air-fry, or connect to your home Wi-Fi system. Plus, the models range from a sticker price of $65 to $200, though as we've noted before, they go on sale a lot. So how do you figure out which one you want, and what a good price for it is? Here, we've broken down the basic features of four Instant Pot models and the deals to be had for each.
The Best Model for Most People: Instant Pot Duo60 6-Quart
What It Does: With apologies to Raymond Carver, what we talk about when we talk about the Instant Pot is usually the Instant Pot Duo60 6-Quart model. It's the company's most popular model, and it offers all of the functions that made the Instant Pot into the must-have kitchen appliance of the mid-2010s without a lot of extra frills. The Duo offers seven functions: pressure cooker, slow cooker, rice cooker, steamer, yogurt-maker, warmer, and sauté. Most of what makes the Instant Pot convenient is in those functions. It's also the second-cheapest Instant Pot model, and the cheapest that offers both a high- and low-pressure option as part of the pressure-cooking function — the Lux, the oldest and cheapest model doesn't have that. The six-quart version is the model that most recipes for the Instant Pot are formatted for, but it comes in a three-quart model, if you're only cooking for one or two or looking for something that won't take up a lot of space, and an eight-quart one if you regularly cook for a big crowd.
The Deals to Be Had: The Instant Pot Duo 6-Quart retails for $100 on the Instant Pot site, but you can get it for much cheaper during sales on Amazon and at other big-box retailers. The lowest price it's been on Amazon is $50 in July, when Macy's and Kohl's were also selling the model for around $50 for their Black Friday in July sales, though it's also frequently gone for $69 or $60. A good sale for this Instant Pot is when the price dips around $60, and a really good sale is when it dips around the $50 mark.
It's still going for $79 at both Amazon and Walmart right now, which isn't the best price we've seen, so we'd say hold until Black Friday if you want the best price (though we don't know if or when it's going to be on sale).
If you want to buy this model right now, the best deal is at Macy's: The Duo 6-quart is $71.
The Best Model If You Want More Precision (That Can Also Sous-vide): Instant Pot Ultra
What It Does: If you use your Instant Pot a lot and are looking for a more sophisticated model, or if you're just the kind of cook who prefers a degree of precision that the Duo series doesn't offer, there's the Ultra. To the functions of the Instant Pot Duo, the Ultra adds a cake-maker, an egg cooker, and a sterilizer, but the real advantage of this model is the upgraded, larger control panel, which allows you to adjust the settings way more precisely. The Ultra has a dial that lets you set an exact temperature for the slow-cooking, sauté, and warm functions, rather than just "high" or "low" buttons, and it also has a function that adjusts cooking time according to your altitude, and a display that lets you see where in the cooking process the Pot is, from building pressure to keeping something warm. The ability to hold the pot at an exact temperature also means you can use this model to sous-vide food, and the button-operated steam release is a major bonus if you're afraid of the Duo's manually operated steam-release valve. It also comes in three-quart "mini" and eight-quart versions.
The Deals to Be Had: Like the Duo, the Ultra often gets deeply discounted. The Instant Pot website price for the Ultra 6-Quart is $150, but on Amazon, it often dips under the $100 mark, and the cheapest it's gone for on Amazon is $83.
A good sale on this model is anything under $90 — though it's just $99 at Amazon and Walmart right now, so it's not clear if you're going to do that much better if you wait a day or two.
The Best Model for Beginners or a Tight Budget: Instant Pot Lux
What It Does: The Lux is the oldest, simplest model of the Instant Pot, which means it's great if you're looking for a gift for a recent college grad or someone who's just figuring out the whole cooking thing. It still does everything the Duo does, minus the yogurt-maker and the ability to toggle between "low" and "high" pressure. You can do a lot of the same things as you can with the Duo, but you might have to get a little bit more creative because of the lack of built-in functions.
The Deals to Be Had: The real draw of the Lux is that it's the cheapest Instant Pot on the market. Instant Pot lists it for $80, but on Amazon it regularly hovers around $55, and on sale, it's been as cheap as $49 — but of course, if you have your eye out, you can just as easily grab a Duo for about that price.
It's still $55 at Amazon and at Walmart right now, so we'd recommend that you wait a bit.
The Best Model for Smart-Home Obsessives: Instant Pot Smart Wifi
What It Does: Whether an Instant Pot with built-in Wi-Fi appeals to you or not has everything to do with how you cook. If you're fine just pushing buttons, then this model is not for you. If you're a smart-home obsessive, or someone who wishes that more of their household appliances could be controlled from your couch, then the Instant Pot Smart Wifi might be for you. This model does everything that the Duo does, plus the cake-making setting of the Ultra, but the real appeal is that you can pair it with your phone to create custom cooking settings, and you can plug into the Instant Pot app that has more than 750 preprogrammed recipes, plus it'll give you a phone alert when your food is done. It'll also work with your Amazon Alexa or Google Home via voice commands.
The Deals to Be Had: Officially, the Instant Pot Smart Wifi is $150, but at its lowest price, you could grab it for as little as $90.
A good sale for this one is anything under $100 — and right now, it's $90 on Amazon, so we'd recommend that you buy now if you're interested, since the price is as good as we think it's going to get.
The Strategist is designed to surface the most useful, expert recommendations for things to buy across the vast e-commerce landscape. Some of our latest conquests include the best acne treatments, rolling luggage, pillows for side sleepers, natural anxiety remedies, and bath towels. We update links when possible, but note that deals can expire and all prices are subject to change.