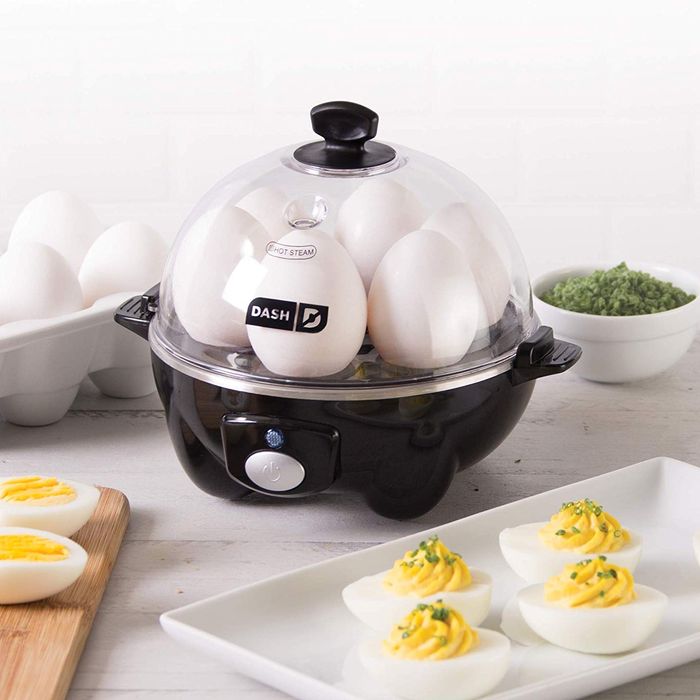 Photo: Courtesy of Retailer
Here at the Strategist, we like to think of ourselves as crazy (in the good way) about the stuff we buy, but as much as we'd like to, we can't try everything. Which is why we have ​People's Choice​, in which we find the best-reviewed products and single out the most convincing ones. (You can learn more about our rating system and how we pick each item ​here​.) 
While we've written a lot about breakfast — including the best waffle makers, the best crepe pans, and fancy egg cups — here, we've rounded up the best egg cookers, as praised by the most enthusiastic reviewers on Amazon.
Best-rated egg cooker
"Even though I am a fully functioning adult who has never had trouble cooking eggs before in my life, I knew I had to have it," says one reviewer of this egg cooker. And they weren't disappointed: "It makes especially lovely, perfectly round omelettes with minimal cleanup required. Hard and soft boiled eggs cook evenly and taste great. The poached eggs are tender and melt in your mouth over toast." More than 1,500 reviewers focused on how well the cooker makes hard-boiled eggs. They "peel so nice," says one. "No fuss no hassle and no loss of egg." Plus it's compact, "about half the size of my rice cooker — and takes up no counter space at all."
Best-rated (less expensive) egg cooker
This tool lets you make poached eggs, scrambled eggs, omelets, and egg muffins in the microwave. While at least one user admits "there are plenty of people out there (myself included!) who would steer away from microwave eggs," even they were converted by this cooker, which is especially useful if you don't have access to a full kitchen. "This product actually works and makes eggs at work very edible," they say. "Perfect for dorm room cooking," says another. "Of course, this unit is not going to cook an egg exactly like a regular pan will," another customer writes. "But for the kind of eggs it does make, along with the ease and amount of time it takes, this is totally worth the price."
And now for some micro-picks of every type of egg cooker you might be looking for.
Best egg makers for hard-boiled eggs
Never mind the word poacher in its name, if you want to hard-boil eggs, this is the egg cooker for you, according to the nearly 40 percent of reviewers who focus on that feature. "I used to hard boil eggs, which took over 15 minutes including the time to get the water to boil and then to cook eggs," one reviewer bemoans. "Then it was a 50/50 chance whether or not the shells would come off without taking half the egg with them. With this appliance, I can hard boil up to 7 eggs and am amazed at how easily the shells peel off every time." Although that reviewer doesn't tell you how long it takes to hard-boil, others aren't as withholding. "I think it typically takes about five minutes to do six or seven eggs," says one. If that sounds easy, more than a third of reviewers agree with you, no matter the type of eggs they cook.
"This has been an EGGcellent investment," says one reviewer, who was probably quite proud of themselves. "My kids love hard boiled eggs and when we would make them the traditional way on the stove we never knew if they would peel easily or if our egg would look like an acne-ridden 15-year-old with craters all over the place because the shell would not come off," they say before EGGnoyingly doubling down: "We have now used EGGceedingly awesome machine to make about 10 dozen hard boiled eggs and everyone single one has peeled perfectly." Reviewers also appreciate this machine's capacity. According to one, it "holds up to 12 whole eggs, any size, omelette pan, a 4 egg poacher and 3 egg poacher, so up to 7 at once if you choose."
Most consistent egg maker
More than 15 percent of reviewers say that this egg maker cooks their eggs perfectly "every time." One customer "used this to hard boil 60 eggs in a row and each egg was cooked absolutely perfectly and the shells slid right off." You get the same results on omelets, too. "All my omelets come out perfect," says one reviewer. You don't need any preparation to achieve these results, but several reviewers do recommend using distilled water, since "tap water/even bottled or filtered drinking water leaves a gross brown, white, burnt residue that does not clean up very well."
Easiest-to-clean egg cooker
More than 10 percent of reviewers mention just how easy this machine is to clean, regardless of the type of eggs you make in it. The poached eggs "glide out of the pan without any residue left or without having to nudge them out (like in the earlier days)." And the water basin needs only a simple "wipe down to clean." There was one flaw, however, pointed out by dozens of reviewers: "The tiny water measuring cup, as mentioned by others, is impossible to read."
Longest-lasting egg cooker
One reviewer, who couldn't believe an as-seen-on-TV product like this one actually works, found it to be "simple, effective and easy to operate without having to watch water boil LOL." Plus, according to dozens of reviews, it lasts for years. "I've had it for 4 years, the eggs are perfect every time and so much easier to peel," says one. But there are limits: "I've had my old one for over 10 years and decided to replace it because the eggs were no longer cooking to hard boiled status. I've had to replace more pricier appliances after a few years, so this was money well spent."