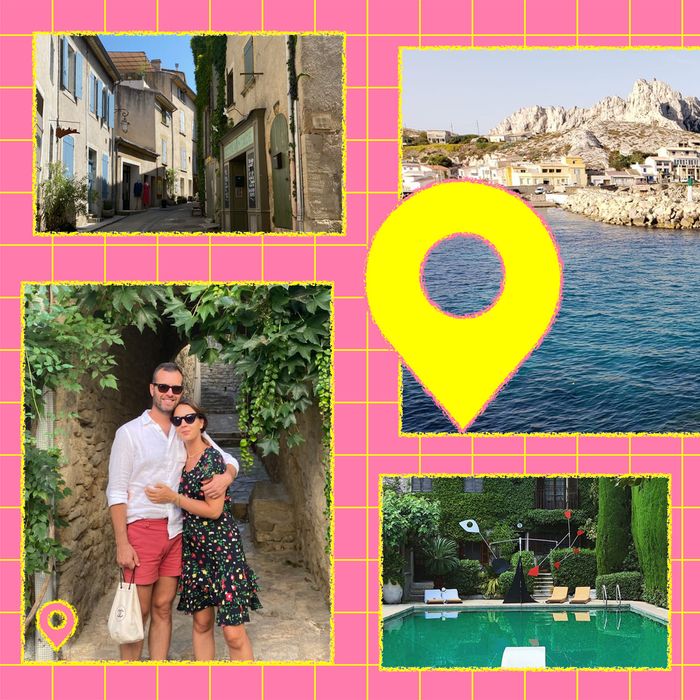 Photo-Illustration: The Strategist. Photos: Delphine Del Val
Everyone knows that person who spends weeks sniffing around travel blogs, going deep into Tripadvisor rabbit holes, collecting Google docs from friends of friends, and creating A Beautiful Mind–style spreadsheets to come up with the best vacations and itineraries possible. In this recurring series, we find those people who've done all the work for you and have them walk us through a particularly wonderful, especially well-thought-out vacation they took that you can actually steal.
When Delphine Del Val's father retired and moved from Paris to Provence, the talent agent and founder of Pool Creatives started visiting his home near Aix-en-Provence every summer, at first for one week, then two weeks, then when COVID arrived for a month at a time. "I love the climate," she says. "It's warm but dry — the nature is gorgeous." Del Val last traveled to Provence from New York this spring, and flew back with her husband for their seventh summer and 11th trip in late July. A Del Val–approved holiday meanders through the sun-washed villages and open-air markets with the hum of cicadas in the background. "You have to like the quiet," she says. "It's kind of magical."
11 a.m.: Land in Marseille, hit the road
I land at the Marseille airport, which is between Marseille and Aix-en-Provence, and then my dad picks me up and we drive about 45 minutes, depending on traffic, passing Aix-en-Provence to my dad's village, La Bastidonne. You can spot poppy fields (in late spring) or lavender fields (in summer).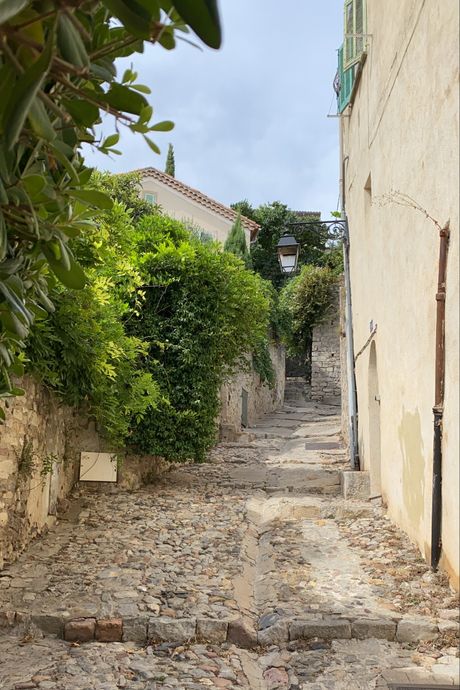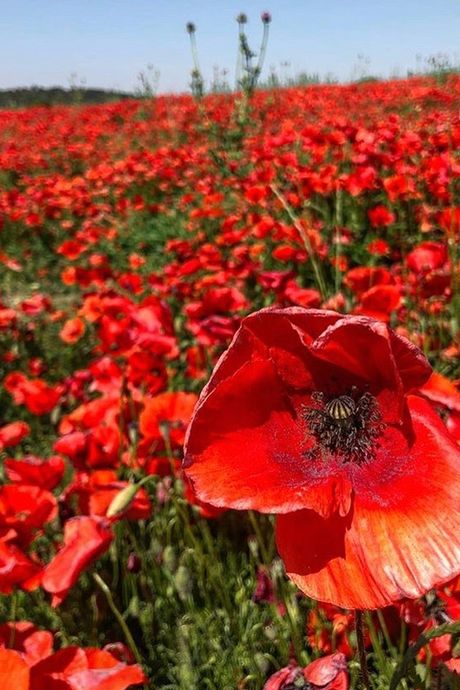 2 p.m.: Check into your hotel or Airbnb
The dream, for me, is Villa La Coste (2750 Route de la Cride, 13610 Le Puy-Sainte-Réparade), which is in the middle of Château La Coste, a 600-acre wine estate and art gallery. It's expensive but super-gorgeous.
Le Moulin de Lourmarin (Av. Raoul Dautry, 84160 Lourmarin) is in the most charming village; the hotel is in an old bastide, very typical of Provence and what you can see in movies. The food is incredible and the pool is a dream. I've been here for lunch a few times.
I'm a big proponent of Airbnb. My friends rent houses with pools. You want to have the chance to cook because the food is so incredible. It's a great option for a family or if you travel with friends.
3 p.m.: Grab a citron pressé, lounge by the pool
When I arrive at my dad's house, I go to my room and open the window. Then I put on a swimsuit and linen shirt and get a French lemonade, which is lemon and water or lemon and sparkling water. Next, I walk around the garden until I lie by the pool and listen to the sounds.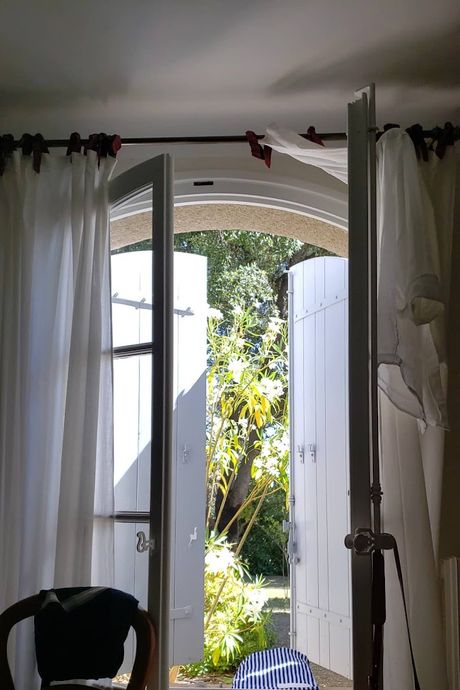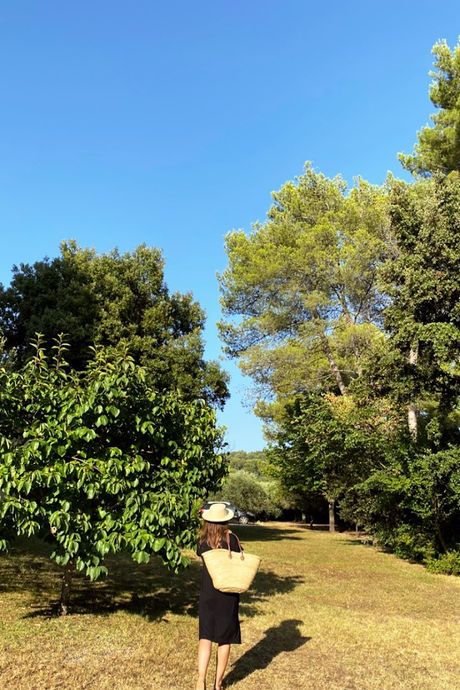 5 p.m.: Walk to the village
After hanging out at the house, I go into La Bastidonne, walk around, refamiliarize myself with the village, and take in the smells of the apricot and fig trees. It's about a 45-minute walk through fields of lavender.
6 a.m.: Hike the hills
I try to wake up early to stop the jet lag, and then go on a hike with my husband before it gets too hot. The trail ends at a church above the village with a view of the valley.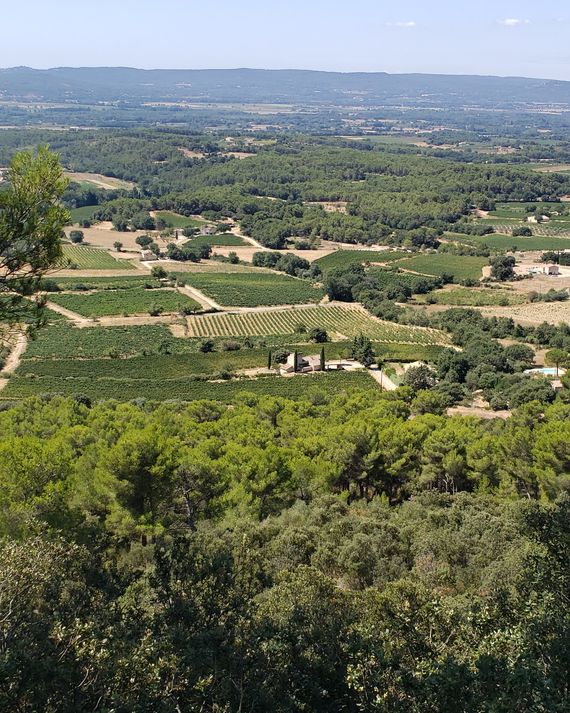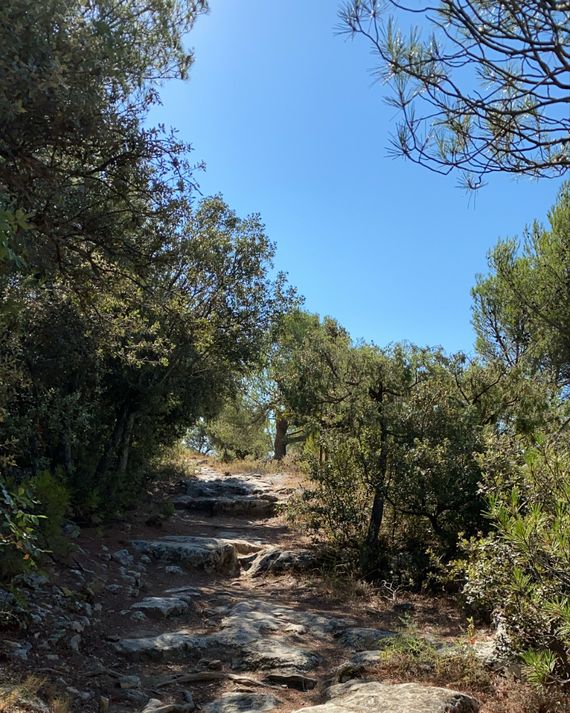 9 a.m.: Eat breakfast chez vous
We walk back down and have a beautiful breakfast. My dad goes to this famous bakery, Boulangerie du Griffoul (89 Rue du Lavoir, 84240 La Tour-d'Aigues), to get the best bread made with local ancient grains. We usually have toast with salted butter and jam that my dad makes from fruit from the garden.
11 a.m.: Pick up bouquets of basil and organic wine
Because my husband is American and loves French food, especially French cheeses, we go to the food co-op Le Luberon Paysan (176 Bd Saint-Roch, 84240 La Tour-d'Aigues), which sells local organic and raw goat and sheep cheeses. It also sells fruits and veggies and huge bouquets of basil. So we buy the food that we love. Then we head to Domaine des Jardinettes (635 Rte. de Pertuis, 84530 Villelaure) to pick up organic wines.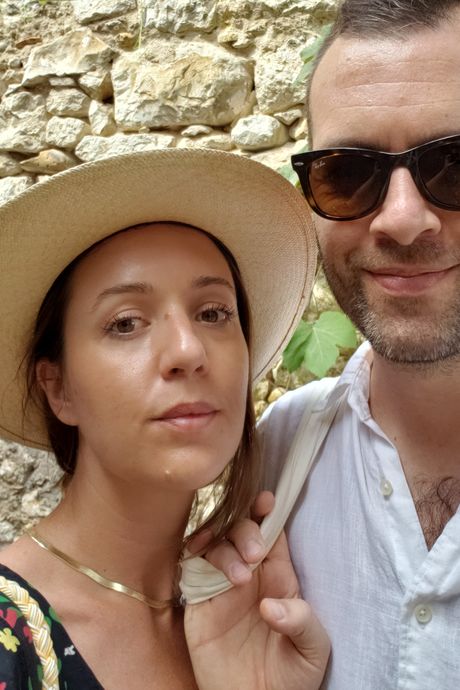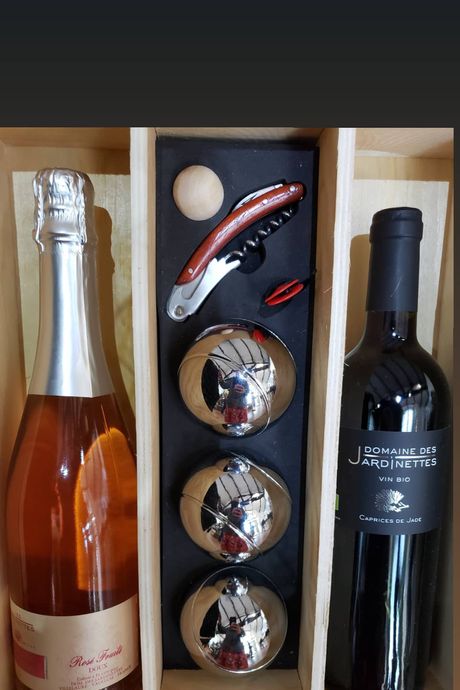 1:30 p.m.: Lounge by the pool
We read by the pool in the afternoon, and I listen to audiobooks.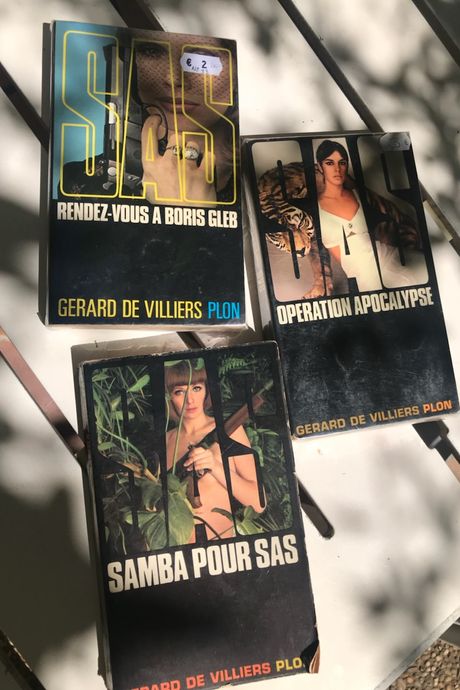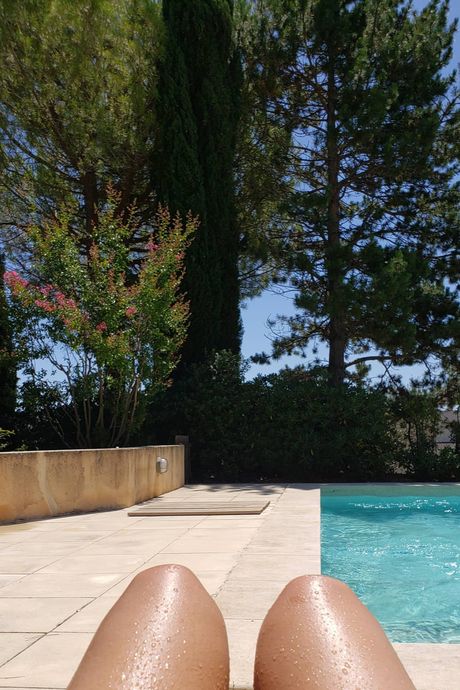 6 p.m.: Apéro time
In the evening, we cook together. All of my family meets at my dad's home: my sister and her husband and her kids, and my brother and his wife. First, we have apéro by the pool — the rosé we picked up earlier, local saucisson, chips, and olives from my dad's garden. We laugh, listen to music, and then head into the kitchen to make dinner. Once everything is ready, we set up at a big table in the garden, play cards, and drink a lot of rosé.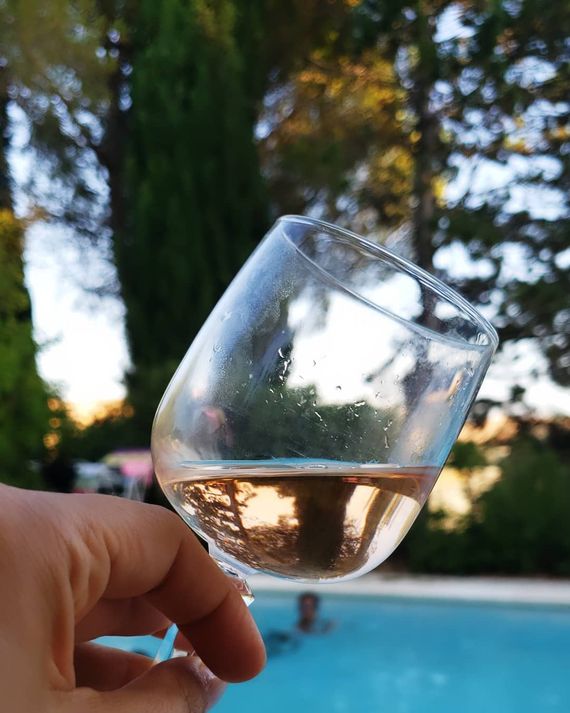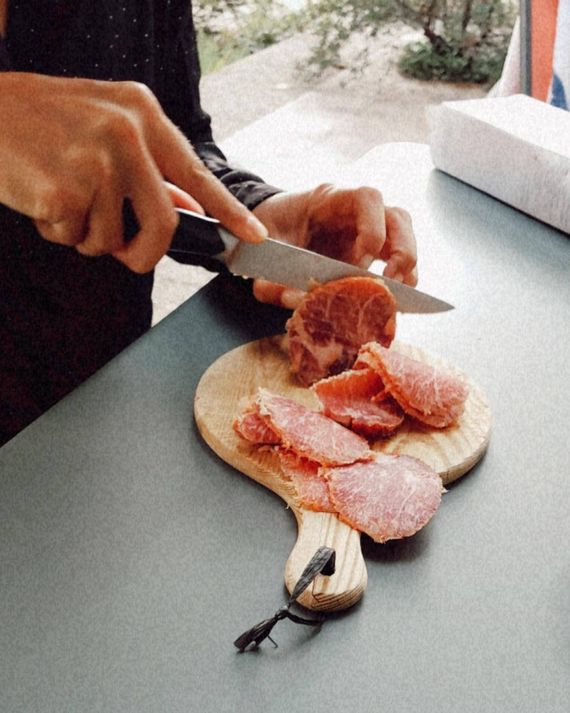 11 a.m.: Shop the open-air markets for straw bags and apricot scrubs
If it's a Tuesday, Thursday, or Saturday, we'll head to the Aix-en-Provence market (Pl. Richelme, 13100 Aix-en-Provence). On Friday mornings, we'll check out the fabulous selection at the Lourmarin market (2 Av. Philippe de Girard, 84160 Lourmarin). Most are somewhat alike — straw bags, soaps, lavender, produce, mixes of things you want to have even if you're not a tourist. I buy a new basket every year, which drives my husband crazy because he knows I have many, but I can't resist. And I found a mini version for my niece, who will turn 10 this year. The espadrilles and little flowery dresses are a must too. I buy soaps to use on the trip and take home, like fig tree–and–apricot scrub. Bring an empty suitcase for your souvenirs.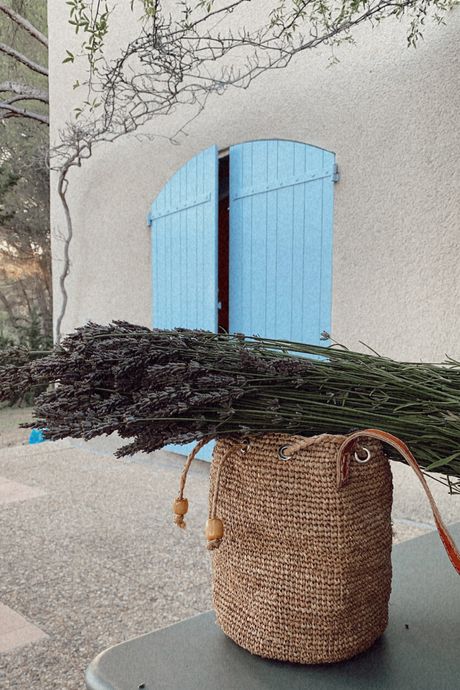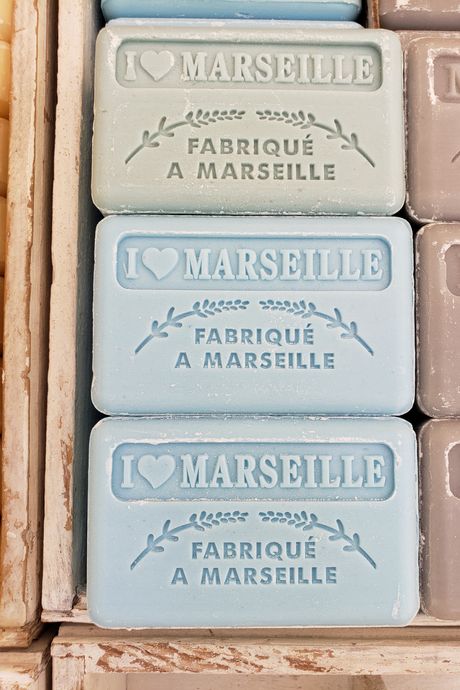 2 p.m.: Stop by Cezanne's studio
After shopping, we pick a little restaurant and walk around the streets. Usually, there's a great church to visit or an old castle that's still open, depending on where we are. In Aix-en-Provence, we'll walk on Cours Mirabeau, visit Atelier de Cezanne (9 Av. Paul Cézanne, 13100 Aix-en-Provence), and get ice cream. If we're in Lourmarin, it's beautiful to see and has nice (expensive) shopping, even if it's a bit manicured for the locals.
11 a.m.: Visit neighboring villages
We love visiting other local villages such as Bonnieux, Menerbes, Cucuron, and Ansouis. We wander around, get lunch, and pick up fresh produce like peaches, oranges, melons, apricots, and olive oil from local vendors.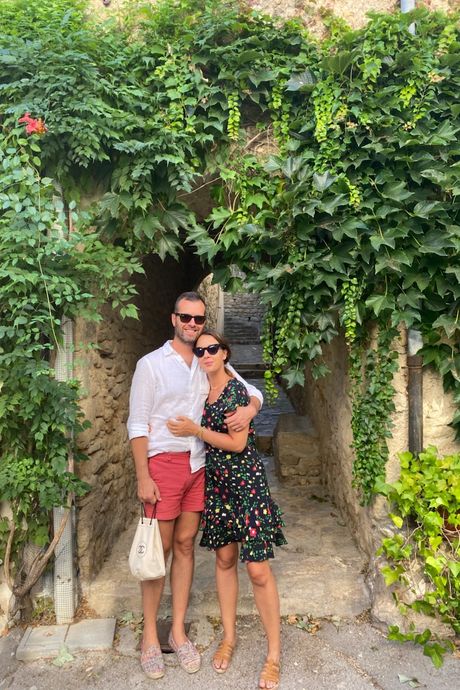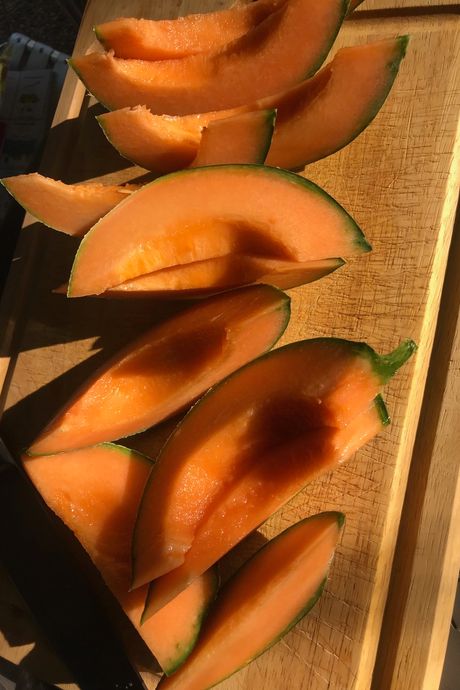 4 p.m.: Stroll the grounds at Château La Coste
Even if staying at Villa La Coste is a dream, my husband and I love to walk among the incredible art on the grounds of Château La Coste (2750 Route de la Cride, 13610 Le Puy-Sainte-Réparade). Get a coffee or aperitif at its more relaxed restaurant. Of course, La Coste's wine is fun to try too.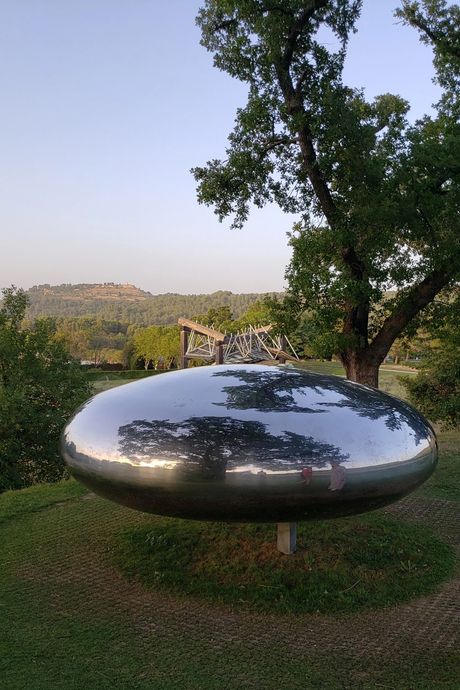 8 p.m.: Dine like a local
Michelin star La Petite Maison de Cucuron (Pl. de l'Étang, 84160 Cucuron) is located in a little house by a pond in the middle of the town with beautiful trees. The Provençale menu is a bit rich but delicious. We eat outside under the trees. It's one of those exceptional places where, even if you live in the region, you go once a year for a treat, a birthday, or something.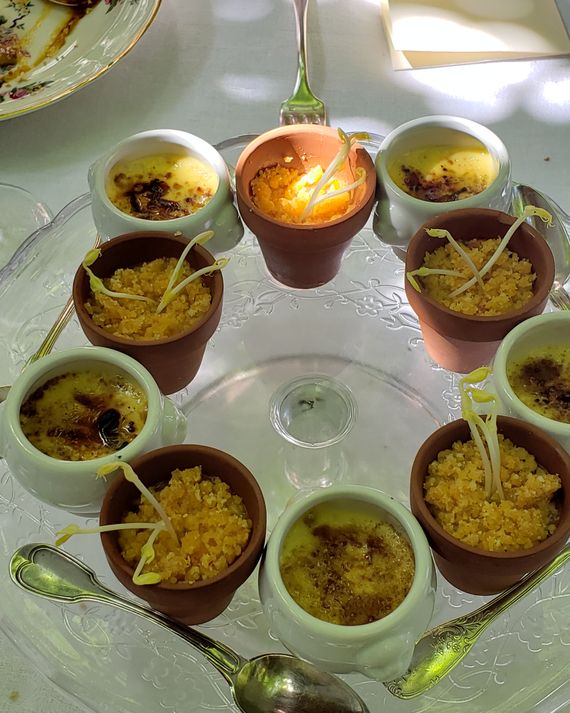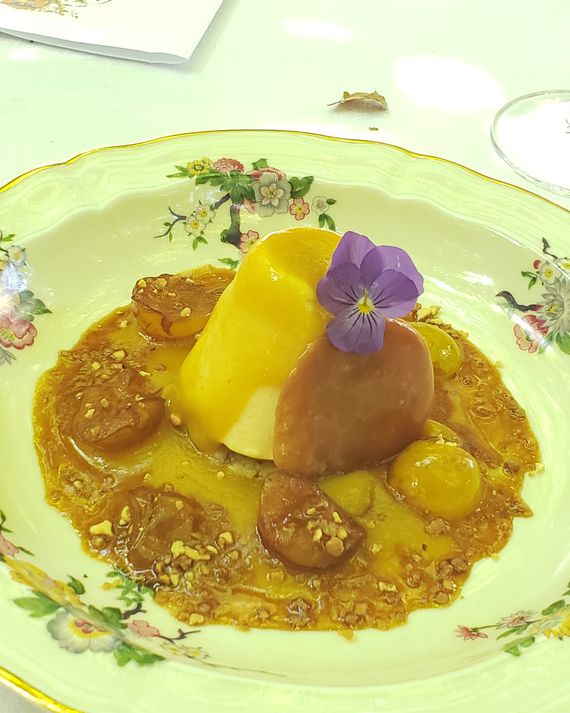 9 a.m.: Drive to Marseille, jump in the sea
We set off for Marseille to stay at Hotel Tuba (2 Bd Alexandre Delabre, 13008 Marseille) in the village of Les Goudes, which I love. The hotel is on the rocks. It's an old diving school. It's a simple building but nicely decorated inside with excellent choices. The menu is fun; the owner is fun; and there's a good crowd and a cool atmosphere in the evening. A lot of people go there just for lunch or just for dinner. We walk down the rocks and jump into the transparent navy blue sea. It's very secluded, almost secretive. If we had kids, we would probably take a little Airbnb house. And there are lots of little villages that have more and more options because Marseille is becoming trendy.
Noon: Settle in for a seaside lunch
We book lunch at La Baie des Singes (Cap Croisette, 13008 Marseille) in advance and then walk around the city of Marseille. I order St. Marcelin (a soft cheese) and figues salad, pan-fried gambas (shrimp), linguine aux palourdes (clams), and café gourmand (espresso that comes with three mini desserts).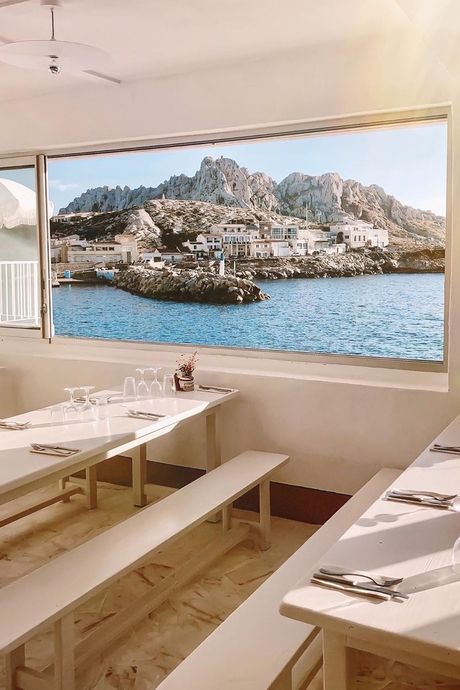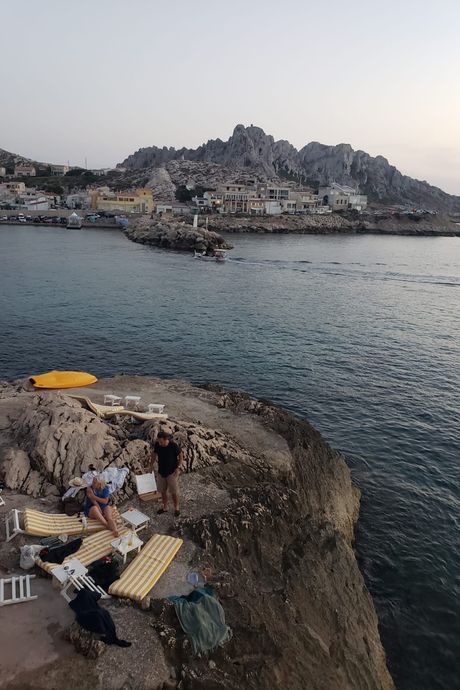 2 p.m.: Stroll the port
We walk along the port, view the Basilique Notre-Dame de la Garde (Rue Fort du Sanctuaire, 13006 Marseille), and check out the up-and-coming Le Panier neighborhood. Then we go over to Cité Radieuse (280 Bd Michelet, 13008 Marseille), designed by Le Corbusier. It's fantastic to see and walk into; we go to the open floors, and sometimes we meet a resident who agrees to show us their place.
5 p.m.: Pick up some items for the house
Maison Empereur (4 Rue des Récolettes, 13001 Marseille, France) has everything you can imagine for self and home like sheepskin slippers and enamel glasses. It's that store everybody goes to for anything you can imagine in a vintage vibe. I could spend half a day just looking at everything. They have the souvenirs, it's paradise! Well, at least for me, not for my husband, who then waits.
8 a.m.: Hike in Calanques
If we are in the mood for exploring, we head to Calanques National Park.
Noon: Order the bouillabaisse, take a nap
After spending time in nature, we head back to the village of Les Goudes and enjoy the bouillabaisse at Grand Bar des Goudes (28 Rue Désiré Pelaprat, 13008 Marseille). Then it's time for a nap.
9 a.m.: Drive to Saint-Paul-de-Vence
And before heading home, we drive from Marseille to Saint-Paul-de-Vence, which is about a two-hour drive. It's my special treat. Usually, we go for my birthday. It's one of the most famous villages in the south of France. It's on top of a cliff with a view of the Mediterranean Sea. It's touristy, but it's touristy for a reason. It's stunning.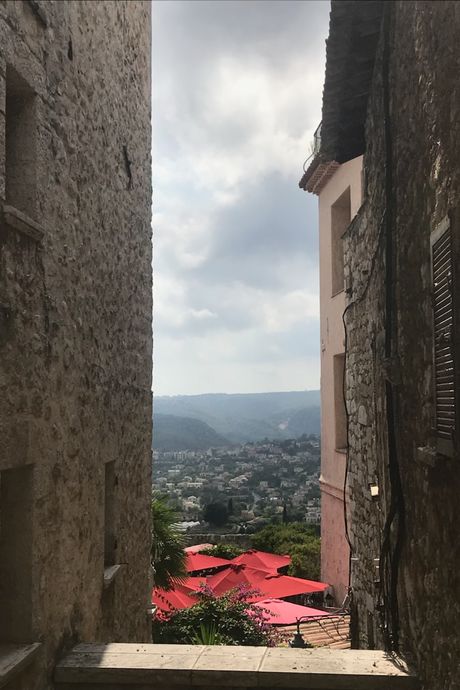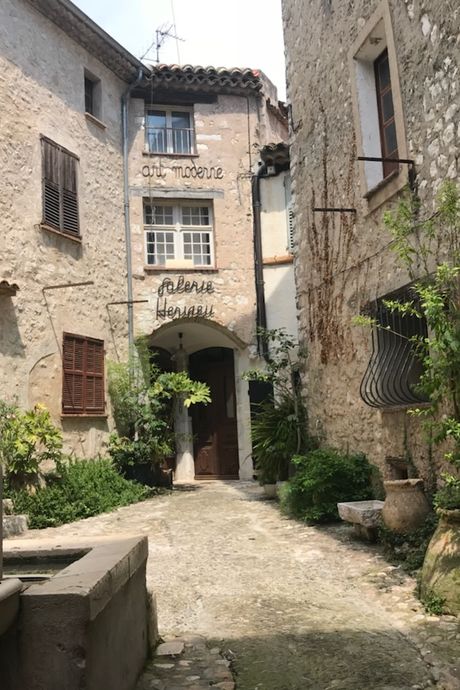 Noon: Lunch at La Colombe d'Or
We made a reservation for lunch at La Colombe d'Or (Place du Général de Gaulle, 06570 Saint-Paul-de-Vence, France) in advance. I order fresh figs and prosciutto, grilled sole, the summer salad with fresh lobster, and strawberries and Chantilly for dessert. The hotel and restaurant are as private as Chateau Marmont in Los Angeles but way more special. During WWII, a lot of artists moved in, and in exchange for their stay, they gave the owner a piece of art. So it has a really big art connection. There is a beautiful piece by Calder by the pool. There are some pieces by Picasso. And the pool is mythical and only accessible if you stay there.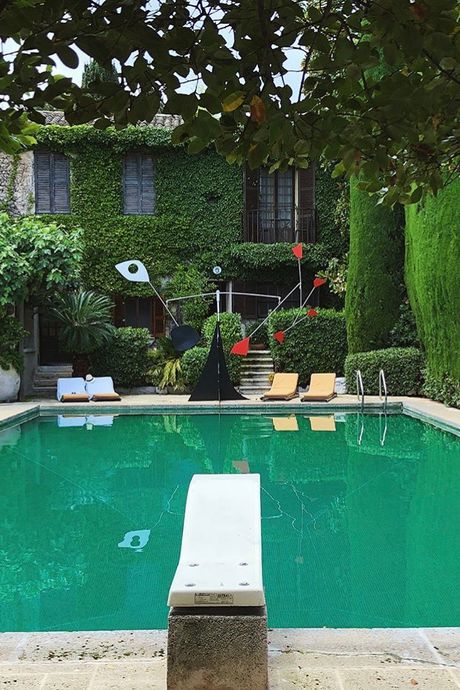 2 p.m.: Take in the Miró
After lunch, we walk across the street to the modern art museum Fondation Maeght (623 Chemin des Gardettes, 06570 Saint-Paul-de-Vence). It has art inside and outside and a lot of Joan Miró's work. Every year we see a different show. We selected one of its fabulous posters for home.
4 p.m.: Go to the chapel, don't take photos
And the last thing we do every year is see the chapel that Matisse designed, Chapelle du Rosaire (466 Avenue Henri Matisse, 06140 Vence). You can't take photos inside, otherwise you're in trouble. He hand-painted the windows; it's breathtaking.
Delphine's Provence packing list
Sundress
I love a flirty dress for nights out that can take you from a sunset aperó to dancing.
Printed swimsuit
A tiny swimsuit! Colors and prints are very welcome, especially if you rent a scooter to go from one calanque to the next.
Fast-drying towel
A great Turkish towel is still the best and lightest to travel with.
Lightweight cover-up
I love a white linen shirt for day and night; my favorite is from Uniqlo men's.
Easy hoops
A pair of gold hoops; Amazon has lots of choices, and you won't be worried about losing them!
Water shoes
Jelly shoes are cute; there are so many amazing rock beaches and rocky spots, so your feet will thank you.
[Editor's note: Meduse lists all prices in euros, so the price shown above is an approximate conversion to U.S. dollars.]
Some more water shoes we've written about
The Strategist is designed to surface the most useful, expert recommendations for things to buy across the vast e-commerce landscape. Some of our latest conquests include the best acne treatments, rolling luggage, pillows for side sleepers, natural anxiety remedies, and bath towels. We update links when possible, but note that deals can expire and all prices are subject to change.