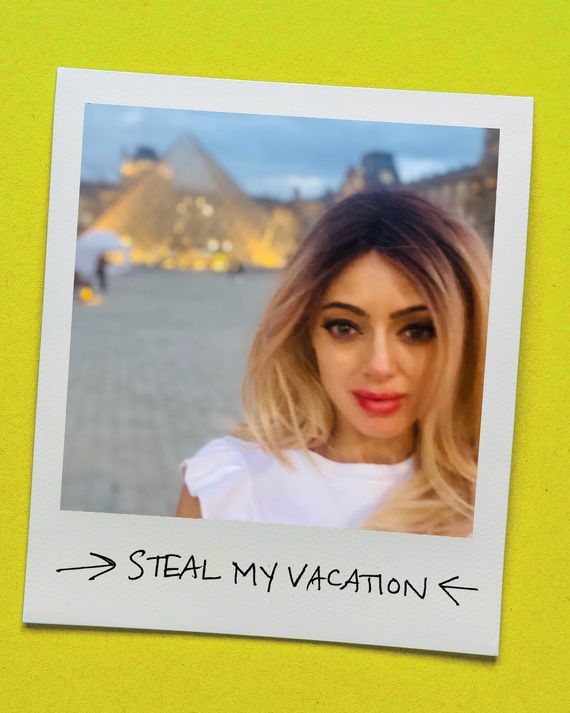 Photo-Illustration: Photo-Illustration: The Strategist; Photos: Courtesy Cat Marnell
Everyone knows that person who spends weeks sniffing around travel blogs, going deep into Tripadvisor rabbit holes, collecting Google docs from friends of friends, and creating A Beautiful Mind–style spreadsheets to come up with the best vacations/itineraries possible. In this recurring series, we find those people who've done all the work for you and have them walk us through a particularly wonderful, especially well-thought-out vacation they took that you can actually steal.
In September, How to Murder Your Life author Cat Marnell took a weeklong trip to Europe to celebrate her birthday, starting in London and ending in Paris. And though you may have seen her write about her European trip in her Patreon newsletter BEAUTYSHAMBLES, here Marnell shares the routes of her favorite nighttime walks in each city and the sights and street art to view along the way.
11 a.m.: Arrive at London Heathrow and travel to Hackney
You used to be able to fly on the cheap to London — for, like, $200 — on Norwegian Air. That airline ceased international flights during COVID, so now we're all stuck with full-fare one-way flights from JFK to Heathrow. I'd bought an American Airlines for $502, and it was fine. I always cop a window seat. (Be sure not to book on the plane wing, though! Rookie mistake. I Google the airplane model and "seat map" on nerdy airplane-aficionado websites if I have to.) Dinner was couscous and chicken. I had white wine and watched a CC Sabathia documentary.
I'd read about nightmarish multi-hour immigration lines at Heathrow — especially for those who fly British Airways, FYI — but I was lucky to breeze through "digital" immigration in under 15 minutes. Seriously! I've waited longer in lines at Forever 21.
You buy all your transport passes in one place: at the cluster of machines by the exit for trains. I took the Heathrow Express train to Paddington Station, then hopped on the Underground. I switched to the Overground at Highbury and Islington. Everywhere you go, you tap your OysterCard — which is like a MetroCard. Beep. Beep. Tap in, tap out.
2 p.m.: Check into your hotel
I stay at the decidedly non-magical Kip Hotel when I'm low on money, which is often. It's right on top of Hackney Central Station; you can hear the trains come and go. I think the hotel was a hospice before. The windows only crack open and there are weird lights and no-slip rails everywhere. I stayed in a full suite with a big kitchen for $119 a night. There are tiny rooms there for as low as $50. If you book one of those — call ahead and request a window.
3 p.m.: Grab a sandwich and go shopping
I always go straight to the Marks & Spencer at Hackney Central for the best premade cheap food: a Ploughman's sandwich (cheddar, chutney, lettuce, and tomato on malted whole-wheat bread), beautiful "veg" and fruit salads, and sticky toffee pudding.
Then I popped across to the Hackney Central TK Maxx — the U.K. equivalent of TJ Maxx. The front is full of amazing British beauty products for dirt cheap, like Tata Harper eye cream for $7.
At 7 p.m., I bought marijuana from a guy named George in Finsbury Park for 20 GBP … just to be cool. (I didn't wind up smoking any of it.)
9 p.m.: Go to sleep
I watched the BBC all night and did face masks. Rest is so important.
4 p.m.: Go for a "green" walk in Crystal Palace Park
I slept late and woke up needing a "green" walk, so I took the Overground to Crystal Palace Park. It's a wide-open space that once housed a famous exhibition building, which burned down in 1936. There are sphinxes, headless statues, colossal dinosaur sculptures on an island, and a maze. What more could you want?
10 p.m.: Go for a nighttime walk from Brick Lane to Shoreditch
Brick Lane is HQ for London's Bangladeshi community and a graffiti-and-street-art mecca. It's so visually stimulating: one of the best walks in town whether it's 1 p.m. or 1 a.m. If you go during the day, you can shop the vintage boutiques. My favorite is Serotonin (194 Brick Lane), where I once bought an early-2000s Roberto Cavalli minidress for 40 quid.
At the end of Brick Lane, you hit Shoreditch, the most popular neighborhood in East London. It's kind of like the Meatpacking District in New York — but covered in murals. I went to the graffiti spots, like the Nomadic Community Gardens and the party tunnel by the Box Park (where I saw a fox). I had a drink at the Ace Hotel and watched people huffing nitrous oxide out of balloons outside.
12 a.m.: Walk along Regents Canal
I cabbed east to Haggerston — ten minutes away — and went down the enchanted staircase to the Regents Canal at Kingsland Road. This is one of my favorite spots in the entire city. There are houseboats, tunnels, storybook-looking warehouse flats, and willow trees. It's incredibly cinematic.
I ended the night with a long, winding, half-lost walk home through ultracool Dalston (Alexa Chung lives there) and Hackney Downs (which is kinda the … McCarren Park of London). You can smell the foxes before you see them: They're a bit skunky.
2 p.m.: Drink a pint at the Hawley Arms
I started the day in Camden Town in Northwest London. It's like St. Marks Place on steroids: full of mohawked punks, smoke shops, Amy Winehouse pieces by English street artist Bambi, alternative clubs like KOKO, and a market built into horse stalls. The iconic Camden Town pub — and former Wino haunt — is the Hawley Arms (2 Castlehaven Road). Go have a pint there for her.
6 p.m.: Travel to South London
South London time! I hopped on the tube to Brixton, the edgy Afro Carribean cultural hub. There are winding market stalls, the famous Electric Avenue, clubs like the Ritzy, and wig shops galore.
I watched some street artists catch some tags while I photographed the "abandoned" basketball hoop at the Stockwell Hall Of Fame, the former children's athletic park turned legal-graffiti spot. It's a ten-minute walk from Brixton.
8 p.m.: See the (legal) graffiti at Leake Tunnel
I cabbed to nearby Waterloo to check out the Leake Tunnel. It's another legal graffiti "venue"; it's open 24 hours, and it's huge!
9 p.m.: Walk across the Thames to enjoy the (tourist-free) landmarks
I left the tunnel and walked along the South Bank of the Thames. The London Eye Ferris wheel was lit up magenta, and London Bridge was lit up neon, too. I crossed the river on foot on the Golden Jubilee Bridge; it was terribly glamorous.
On the other side of the river … it's madness! Electric London: Covent Garden, Piccadilly Circus — which has Times Square vibes — and Soho, which has gay clubs, winding streets, and a red-light district. There's even a Chinatown! It's gorgeous, and very clean. You don't need to do much in these neighborhoods at night except run around feeling enthralled and taking photos.
I drank wine in front of the glowing Tower of London to end the night. It felt like I had the whole place to myself (but for a few random lion sculptures) — the tourists were gone.
4 p.m.: View the exhibit at the Saatchi Gallery
There's always a good exhibit at the Saatchi Gallery, which belongs to that dude who choked out Nigella Lawson. This trip, it was a (subdued) show on the French street photographer JR.
I strolled Chelsea after. It was fun being on Kings Road, where all the punks used to hang out in the 1970s.
5 p.m.: Window-shop at Harrods
You know you're in affluent Knightsbridge when you start seeing, like, lime-green Ferraris and electric-violet Jaguars. The Daily Mail says that the flashy cars belong to "children of sheikhs and oligarchs," but who knows?
I went to Harrods for ten minutes. Since lion cubs are no longer sold there — as they were in the London Swinging '60s — just the food halls of the legendary department store are enough.
7 p.m.: Walk through Hyde Park and find the Serpentine Gallery
Next: Hyde Park. It's a lot like Central Park, except there's a skinny, squiggly lake called the Serpentine … snaking through it. And it's filled with swans. I walked along the Serpentine until I reached the trendy as f Serpentine Gallery — with the Zaha Hadid pavilion attached! The late "queen of the curve" is my favorite architect of all time, and her structure is otherworldly, like an oyster shell glowing in the dark.
9 p.m.: Eat dinner on an 118-year-old boat in Hackney Wick
I ended the trip in graffiti paradise: Hackney Wick. It's all hipsters in canoes and LED rafts and artists' studios and breweries and so many murals. I ate on an 118-year old boat — at a restaurant called Barge East — with sick views of an Anish Kapoor structure that's also a slide; omigod. You have to get tickets in advance.
12:30 p.m.: Take the Eurostar from London to Paris
I boarded the Eurostar at St. Pancras Station. I'd bought economy tickets a month in advance for $70. The train goes under the English Channel, so half of the time there's not even a view out the window. It's such a unique journey. I was in Paris in two and a half hours flat.
3:30 p.m.: Drink a café au lait near Gare du Nord
Once I arrive in Paris, I always have a café au lait at one of the cafés outside Gare du Nord. It's in an edgy area in the 10th Arrondissement, near one of the best-named streets in Paris: Boulevard Magenta. I ran into the legendary Bronx graffiti writer Cope2 at the café. He was having a show in France.
4:30 p.m.: Check into your hotel in Pigalle
I cabbed to our hotel in the 9th Arrondissement: Hotel Josephine by Happy Culture, in the sleazy-trendy Pigalle. I'd "birthday-splurged" on the Junior Suite — what a room! For $200 a night, there was a claw-foot bathtub with a window looking out over Paris rooftops … and the most fab terrace. You climb out the window to reach it — like something out of a fairy tale.
8:30 p.m.: Hike up Montmartre
Next, I hiked up to Montmartre, the large butte (hill) in the 18th Arrondissement. The views are sick, and you walk all the way down the winding streets like Rue Cortot, where Pierre-Auguste Renoir used to live. I bumped into some French graffiti writers; they were cute. And drunk.
10 p.m.: Stroll through the red-light district
Finally, it was late enough for sexy Pigalle! Pigalle is the red-light district. This means it's truly meant to be explored at night, when the neon lights come on. There are a few daytime destinations, like the "secret" Pigalle Duperré Basketball Court. It's built into an alley and famously multicolored and zany. But at night? The lights along the Boulevard de Clichy are seedy and dark Disney. Obsessed. The Moulin Rouge — with its rotating windmill — is the most famous spot in the hood, of course. Also, check out Andre Serrano's Amour Hotel.
I love just wandering in and out of the sex shops. The sleazy gowns are to die for, though quite overpriced. You can get the same lingerie way cheaper at the wholesale stalls at the (reliably awesome) St. Ouen flea market.
4 p.m.: See some contemporary art
Usually I go to ultrachic Palais de Tokyo for my Parisian contemporary-art fix — and to stock up on their signature five-euro tote bags. This trip, I went to Fondation Cartier in the 14th Arrondissement instead. Damien Hirst's "Cherry Blossoms" show was lovely; I should have bought a poster.
6 p.m.: Walk through the Jardin Luxembourg
I walked through the Jardin Luxembourg, admiring the statues. I actually don't love the exquisite and elegant Left Bank, but I think I'm the only one.
8 p.m.: Chill by the Louvre after hours
I crossed the Seine at lilac-colored dusk. I love chilling by the Louvre after hours. The illuminated pyramid is very … illuminaughty.
9 p.m.: Eat cheeseburgers in Le Marais
I took the Metro three stops — from Palais Royal to Hotel de Ville station — to twisty, windy, always-fun Le Marais. Like most "gay neighborhoods" around the world, it pops off. I had a cheeseburger al fresco at one of the zillion cafés there, Café Charlot on Rue de Bretagne — and watched the nightlife buzz build outside.
11 p.m.: See the best neighborhoods in Paris
After dinner, I hit the best arrondissement — the 11th — for a birthday walk through my three favorite Paris neighborhoods. How to describe this area? Imagine if the Lower East Side was built onto a friggin' mountain … and you had to hike for 25 minutes to get to Dr. Clark's. Like, all of the bars are on an incline. It's steep.
Start on Rue Oberkampf (my favorite street in the entire world) near the Perimeter Metro station and just head uphill — through beautiful, lush, gritty Belleville, and all the way up to kooky, street-art-covered Ménilmontant. It's a hike, really — but the views at the top are worth it. And the higher up you get, the more you feel the atmosphere change around you. You can stop for nine-euro vodka–Red Bulls at L'Entrepots at 2 Rue Sorbier; I didn't.
5:30 p.m.: Take the Canal Saint-Martin cruise (or just walk the route)
One of the most relaxing things you can do in Paris is the (very slow) 2.5-hour CANAUXRAMA Canal Saint-Martin cruise, which starts in an underground tunnel at Bastille and goes all the way up to Villette. It wasn't running while I was there this trip — so I walked the whole edgy, graffiti-"grilled" canal. The banks and baby bridges were packed with party people, drinking and smoking with their legs dangling down.
9 p.m.: Take a final dinner cruise on the Seine
My last meal in Paris was a two-hour, three-course "dinner cruise" on the River Seine. Oh, it was so fun. At the end, they take you by the Eiffel Tower right as it gets crackly and glittery, like a Fourth of July sparkler. They blast classical music and it's just hilarious. Loads of companies do Seine dinner cruises. I used ParisCityVision; it was $175 for an online voucher for two people.
12 a.m.: Take a night walk from the Pompidou Center to Notre-Dame
Last outing! I dragged myself to the Centre Pompidou. I love it there at night; it's like being on another planet. The building is an architectural marvel — with exterior escalators and all that. I visited murals by Shepard Fairey and Space Invader above the Stravinsky Fountain out back.
Then I walked through the wild party scene at nearby Les Halles. God, people were raging! I ended up back on the Seine, in front of under-reconstruction Notre-Dame.
Cat's
European
Packing
List
Ziploc bags
I don't use a toiletry bag or anything. I buy a box of Ziploc gallon freezer bags for my makeup and toiletries. Change, sunglasses, passport, money. Everything in Ziplocs. Thongs. You'll go through half the box of Ziplocs while you're packing. Then, take the rest with you, and keep them on you at all times. Trust me! For example, a true French pastry "for takeaway" — to go — is a disaster. Croissant butter will leak right through the beautiful little bag they give you at le patisserie in Paris; macarons will ooze and squish, and you'll get raspberry jam all over your iPhone. But if you take my Ziploc tip, you won't learn this the hard way.
Cookies Hoops tote bag
When my friends at the Cookies Hoops basketball podcast gave me these tote bags, I didn't know I'd be dependent on them for the rest of my life. I've never used bags like these. They are the highest-quality bags of all time. They never hurt my shoulders. I have moved dumbbells in them when I move apartments. They're the strongest bags I own. For travel, they're just so great. I take two to the airport — one for a purse, the other for a computer bag. Then I use them instead of heavy handbags abroad. I like the navy ones because they go with head-to-toe denim, which is my travel look. Anything NBA-related is automatically cool, so they pass anywhere. They look tidy. They are soft and sturdy and chic. All over the world, people tell me they like my bag! Because the NBA is universally glamorous. Oh, and they're machine-washable. Tote bags get so dirty when you live hard like moi.
Hard-shell suitcase
I only use Samsonite Aeris, a hard-shell suitcase with buckles. Never, ever zippers. Buckles. Zippers are for, like … garments. Delicate things. A suitcase is a utilitarian item. It should be so lightweight that when it's empty, you can easily lift it with one arm — and throw it across the room. The Aeris comes in bright primary colors, and they are magnificent. I buy them abroad off the street — my last two were from Amsterdam and Rome, respectively — and keep the MADE IN EUROPE sticker on them like a loser.
The Strategist is designed to surface the most useful, expert recommendations for things to buy across the vast e-commerce landscape. Some of our latest conquests include the best acne treatments, rolling luggage, pillows for side sleepers, natural anxiety remedies, and bath towels. We update links when possible, but note that deals can expire and all prices are subject to change.