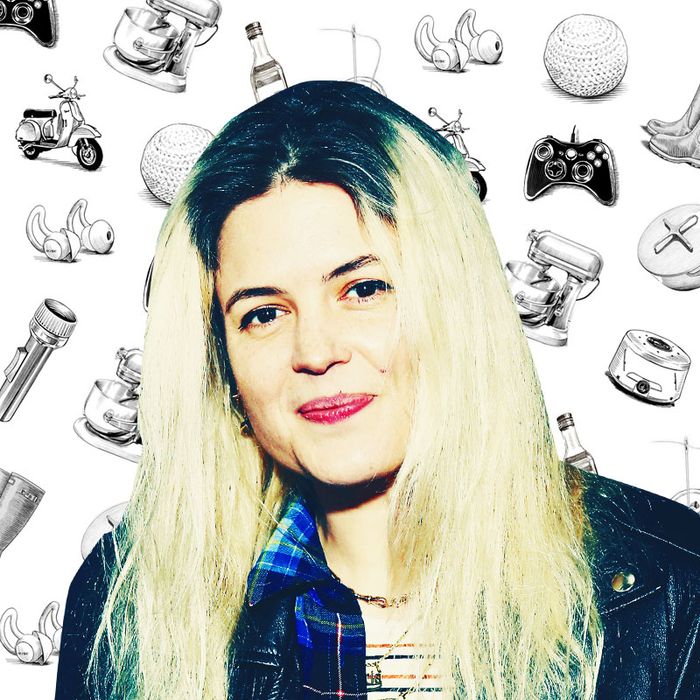 If you're like us, you've probably wondered what famous people add to their carts. Not the JAR brooch and Louis XV chair but the hair spray and the electric toothbrush. We asked musician Alison Mosshart — who this month releases her new book, Car Ma, and spoken-word album, Sound Wheel — about the candle, notebook, and film she can't live without.
Photo: retailer
I've been into photography since I took my first photo course, in sixth grade, about learning to print and develop in a darkroom. I love this film because you can shoot in low light. Say you're at a bar or one of those other places we all used to go — this film works great there. It has such a beautiful tone and texture. It's actually the very same stock that would be used in a 35-mm. film camera, and the images it produces remind me of how films used to look. In my opinion, it's the best camera film you can get right now. Because it's a little expensive, I try to reserve it for special occasions.
Photo: retailer
The smell of L.A.'s Chateau Marmont hotel drives me wild. This is the exact scent that hits you as you walk into the hotel, and it's in all the rooms too. I love going there because, when I leave, my clothes all smell like it, and I tell myself I'll never wash them again. I don't check out unless I've bought one of the candles to take with me. Living in Nashville and now unable to get to L.A., I'm burning them all the time. They make me feel better.
Photo: retailer
If you go to any studio, these headphones are what you'll use when you record. They're awesome, honest, completely standard headphones, and I've used a million pairs. They have curly cables, so they can stretch when I walk around or when I'm playing guitar. I always have a pair in my suitcase and two pairs in my studio. I know you can spend a lot of money on headphones, but I don't want to break them or leave them on a plane. These do the job.
Photo: retailer
These are my treat to myself. I lived in London for 16 years, which is how I came across Smythson. At this point, I probably have a hundred of the notebooks in all different colors. They look so good together. I can get my initials stamped on them, and they just get better and better as the year goes on, like a good leather jacket. The more you use one, the cooler it looks. Because I write down everything, from songs to personal notes, losing my notebook would be worse than losing my phone.