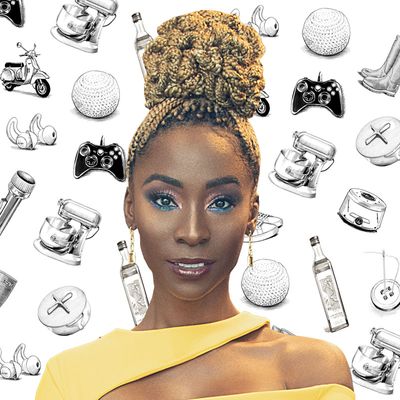 Photo-Illustration: The Strategist; Photo: James Anthony; Illustration: Joe McKendry
If you're like us, you've probably wondered what famous people add to their carts. Not the JAR brooch and Louis XV chair but the hair spray and the electric toothbrush. We asked actress Angelica Ross — whose company TransTech, which supports transgender people seeking to enter the tech field, is hosting its Trans Tech Summit from March 31 to April 3 — about the glow-inducing serum she loves, the roller skates she wears to walk her dogs, and the Porsche she bought when she was planning on a Fiat.  
I absolutely love these as a combo. I take a couple drops of the serum and the cream in my hand, blend them together, and put it on my face. It always feels like an aromatherapy facial. I also love the name "CEO Afterglow." My dad's nickname for me is his little CEO, and you know people call me Miss Ross the Boss, so to have a skin care that appeals to the CEO glow — it's something that feels custom made for me. Using these products, my skin looks more radiant, and it's not just something I feel in the moment; hours later, people are complimenting me on my glow.
Growing up, my mom used to always pop Orville Redenbacher, back when you had to pop it on the stove. She would pour it into a paper grocery bag and pour in salt, butter, and hot sauce — because we put hot sauce on our popcorn in this house. We love popcorn, and ever since the microwave version was created we don't pop it on the stove as much, so I do eat a lot of microwave Orville Redenbacher popcorn, but it still reminds me of my mom. I will definitely pop popcorn while I'm binging some of my shows or watching the Sex and the City reboot, but it's also my go-to snack throughout the day.
I've been roller skating since I was a kid. We would go to Skatetown in Racine, Wisconsin. I'd go to birthday parties and on the weekends with my friends. I actually hadn't roller skated since childhood until I filmed a scene for American Horror Story: 1984 at the Moonlight Rollerway rink in Los Angeles, and I felt all the nostalgia all over again. I actually bought these skates there. I wear them all the time. I have outside wheels on them so I don't have to wait for a roller rink. I walk the dogs in my roller skates sometimes.
I learned how to play piano by ear in the fourth grade. Music has been my refuge. It's been my self-care and therapy. I feel so grateful and blessed that I'm having this full-circle moment where I now live in a home with a grand piano, and I'm writing and releasing music. That's something the little child in me always dreamed of. I still have my digital piano in my home recording studio. The thing about playing the piano is it's not as mobile as carrying a guitar on your back, but that's why I love the Yamaha Arius piano. It has 88 weighted keys so I still get the feel of playing a weighted-key piano, but it comes right off the base so I can take it with me to a gig.
I don't usually have trouble sleeping, but sometimes I have guests over that snore, and my father is a heavy snorer, so when I visit, even being in another room might not protect me from the sonic waves of the snore. But the Bose headphones immediately transport me to a rainforest or to the clouds on an airplane, and instantly everything else is blocked out and I can get the rest I need. I saw Sterling K. Brown talking about these headphones one day, so I got them. They've honestly been one of my best purchases.
I started chanting in 2010 when I moved to Los Angeles, but I first learned about the practice from the movie What's Love Got to Do With It, about Tina Turner, who's also a Buddhist. I saw what it meant to be so distracted, to be so disconnected from yourself, to be so worn down by the challenges in your life that you can't see straight, and what finding this practice can do. There's a montage scene of her learning the practice where she starts chanting slowly, and then she starts picking up the pace and chanting fast, and all of a sudden she's taking responsibility for her life. Honestly, that has been the most concrete illustration of what this practice means to me as a Black trans woman. I am fighting for my life in a way that says I will not let my challengers beat me down. I will not be distracted by the chaos of this world. I will not only reach my fullest potential but I will in such a way that the world will benefit.
It's truly a deep love I have for India.Arie and her music, but specifically the SongVersation: Medicine album. I am getting goosebumps just thinking about it because I did not know it was the medicine I needed. I was in Thailand, having my gender-confirmation surgery, and it was a really difficult healing process. I spent over 40 days in Thailand healing from that surgery, but I would not have been able to do what I needed to do without a playlist I created of her music. I had to go through a routine of doctor-ordered exercises. I played her music, which helped me tap into the spiritual space of transitioning, because it's not just a physical thing. Transitioning is a spiritual calling, and so even though I was experiencing so much pain because it's a surgery, her music became the medicine that helped me heal. I told her this because she's become a friend over the years and she's very encouraging of my music. She has a podcast also called SongVersation, and as I'm healing in bed one day, I listened to her podcast, and she shouts me out and says, "I just want to give a shout out to my friend Angelica who's healing from surgery in Thailand." It was like, What is going on here?
I need someone to call the headquarters at Adidas because I need to be a brand ambassador with how much I wear Adidas tracksuits. In a celebrity world where you're being styled for so many things and have so many red-carpet events, when I have to get in and out of my clothes a lot, it's just so much easier to put on and take off an Adidas tracksuit: Unzip the jacket and pull off the sweatpants. It's so easy, but it's so stylish, because I get to choose a different color every day. I have tracksuits in pink, lavender, red, and blue.
I got this car in April of last year when I started filming American Horror Story season ten. I called up my friend Kalen Allen, and I told him I had always dreamed of having a convertible and wanted him to come with me to buy a used Fiat. So we go to CarMax and we're looking at this Fiat, and he pulls me aside and says, "Angelica, I know because I come from a similar place, so I know you're just thinking with an old mindset about what you think you can afford." He was like, you need to upgrade your vision. He told me I am now living at a certain level and I can afford a better car, so I ended up buying a pre-certified Porsche Boxster 718. Sometimes my friends have to help me see myself more clearly, because to me, I'm still the same girl from back in the hoods I grew up in. I've gotten a little bougie and my tastes have changed, but I'm still at my essence very rational and sort of simple, I guess, but I want to get better at being able to receive the things that life is trying to show me. Putting the top down and driving through the streets of Los Angeles, it's an understatement for me to say the kid in me is getting their life. I'm not really a materialistic person, but it's more about me being a Black trans woman who's gone through so much, and after a lot of hard work and a lot of challenges, the universe is now reflecting to me all the value I feel inside.
The Strategist is designed to surface the most useful, expert recommendations for things to buy across the vast e-commerce landscape. Some of our latest conquests include the best acne treatments, rolling luggage, pillows for side sleepers, natural anxiety remedies, and bath towels. We update links when possible, but note that deals can expire and all prices are subject to change.