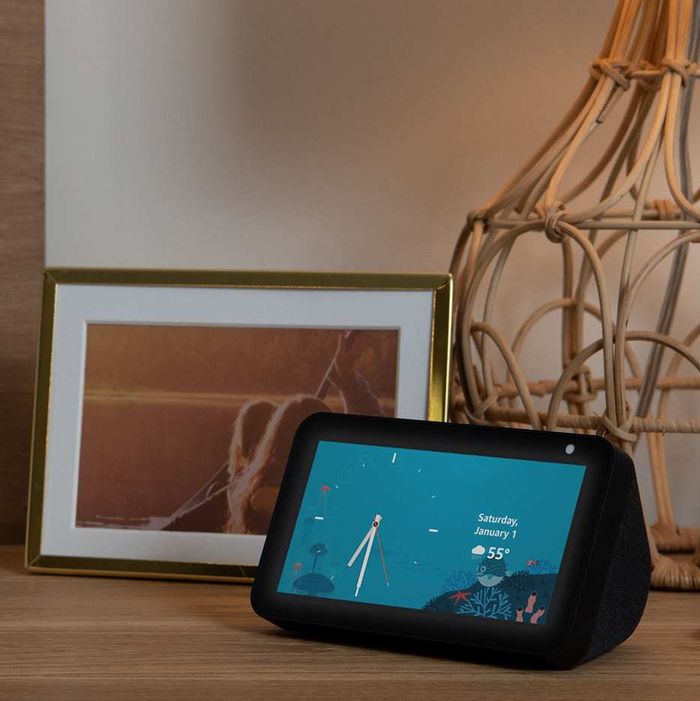 The fifth-annual Prime Day is here — if you need a refresher on what Amazon Prime Day is all about, check our explainer — and once again we're going to be working to help you find the actual great deals you'll want to know about (and not the "on-sale" mixer that's cheaper at Bed Bath & Beyond). Prime Day tends to bring especially steep discounts on Amazon devices such as Echos, Fire TV sticks and other Alexa-enabled devices, and this year is no different. And if you're not sure where to start, we're ready to help.
Note that everything will be on sale only until supplies last, so don't dillydally — and be sure to bookmark our Prime Day hub and follow us on Twitter for any updates. We'll be updating frequently. (And remember: You need to be a Prime member to snag all deals.)
The Echo is essentially the main building block of Amazon's Alexa; it's really the only thing you need to get started. In his review of the original Amazon Echo, Max Read writes: "It works extremely well. Space-station-AI well. Robot-butler well. Future-of-tech well." The new Echo is less expensive than what he wrote about in 2016 — even without this 30 percent off early Prime Day discount — but it still works seamlessly with all Amazon devices. Plus, you can pair it with another Echo for big-stereo sound.
The Echo Dot is an even easier (and less expensive) way to add Alexa to your home, and it's over 50 percent off for Prime Day.
And there's also the Echo Dot for kids, at the lowest price we've ever seen it. It connects with Alexa and your smart home system just like the standard Echo Dot, with some special features designed for kids. Most notably, it comes with a one-year subscription to FreeTime Unlimited for all sorts of kid-friendly music, podcasts, games, and content from brands like Nickelodeon and Disney. It also features parental control options to easily set limits on usage and content.
The new Echo Show is a real multitasker. You can use it as a portable TV and, with its 10.1-inch HD screen and built-in speakers, stream videos around the house or watch cooking tutorials in the kitchen. The built-in camera works for video chats, and you can also easily tap into compatible home-security systems like Ring. It also works as a smart-home hub, so you can use it in place of an Echo Plus. And of course, it has Alexa, so you can control music, set reminders, ask questions, and do basically anything else.
The Echo Show 5 offers all the same features at a fraction of the price, minus the ability to serve as a smart-home hub. The smaller display is only 5.5-inches, but it should be more than large enough for video conferencing or viewing a Ring door camera feed.
The Fire Stick was on sale this morning for $15, along with two free months of HBO. Unsurprisingly, this was one of the first deals we saw sell out. But we're happy to say that it's back in stock, and it comes with a $45 Sling TV credit. Get it while you can.
If you have a 4K TV, you'll want the Fire Stick 4K. We've never seen it priced this low.
If you don't need a huge TV, and would rather not deal with a Fire TV stick, this is a pretty crazy deal. It comes with an Alexa remote and Fire TV built-in, so you're basically getting a 32-Inch HD TV and a Fire Stick (minus the stick part) for $100. You can find more TV deals here.
The Fire TV Recast is also over 40 percent off right now. This black box lets you watch and record over-the-air TV (but only if you already own a Fire TV stick or Echo Show).
Strategist tech expert David Pogue has tried every home Wi-Fi system, and he says eero is the best. At 50 percent off, this is a no-brainer if you're looking to upgrade from a messy ad-hoc home system, or to stop paying that monthly fee the internet company scammed you into for "renting" a router.
This two-piece bundle contains a Ring Pro video doorbell (that one man used to scare away would-be home intruders) and an Echo Dot — for over 40 percent off.
Managing editor Maxine Builder called the Kindle Paperwhite the best thing she bought in 2018. She appreciates its simplicity, writing, "What I like best about the Kindle Paperwhite is that it's a technology that's not trying to do the most, and that simplicity is especially refreshing when it feels like every other gadget in my life is trying to connect to more." And this newest model is waterproof.
The baseline Kindle model, now comes with a backlight. The resolution isn't quite as crisp as the Paperwhite's, and it's not waterproof, but $60 for a brand-new Kindle is pretty great.