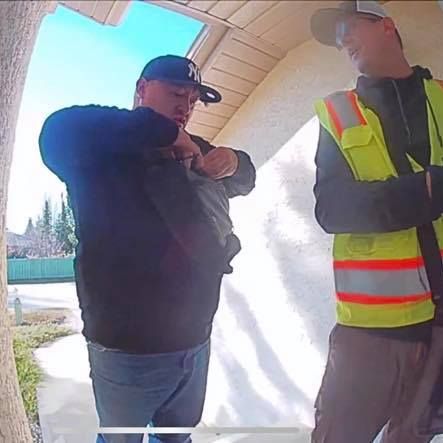 Footage captured from Ho's Ring doorbell — the suspects are still at large.
Photo: Courtesy of Clem Ho
Over the weekend, we read a story about a gentleman in Edmonton, Canada, who foiled would-be home intruders with nothing but his smart doorbell. While we know all about the devices, this was the first time we'd seen how one could be used to stop an actual break-in. The video captured by the doorbell is wild: The guy in the yellow vest gets the door open before a voice commands, "Get away from the door," and they skedaddle. Intrigued, we called Clem Ho, the homeowner who's basically an unpaid Ring spokesperson now.
Can you tell us what happened on October 16?
I was in my office one afternoon working when a notification popped up on my phone that there was motion at my front door. Ordinarily, if that happens, it's the kids playing in the front yard (I get all my deliveries sent to the office), but I knew my kids were at school, so something was up. I activated live view and there was a guy in a safety vest banging on my door pretty hard and looking through the window trying to see inside. At one point he even looked directly into my doorbell.
That's so scary. What did you do?
At this point he was trying hard to see if someone was home, so I couldn't really tell whether he was there on some official business, but then he motioned to someone on the street and pulled out a walkie-talkie. Then some new guy comes and joins the man in the safety vest at the door. The partner pulls a screwdriver out of a little pack and hands it to the safety-vest guy and turns to the street as a lookout. And then the guy in the vest goes to work on my door with the screwdriver. He's jamming it into the door crack trying to push it open.
And you're watching all of this.
It's surreal. My adrenaline is pumping, and I'd never actually used the two-way talk feature on my doorbell before, so I'm fumbling a little bit trying to figure out how exactly to activate it. You have to push a button to get to it, but I've never used it before and the whole time I'm trying to watch what's going on with the live feed, too. By the time I find the two-way talk button, you can actually hear that he's gotten the door open slightly and triggered our home alarm system. Right at that moment, I find the two-way talk button and shout, "Get away from the door!"
They ran off like scared little kids!
Yeah, they freaked out when the voice came through. I'd actually been freaked out a little bit myself because I was afraid my wife was at home with my youngest — she's usually there all day taking care of the little one — but they'd gone out to run errands just 10 or 15 minutes before.
What's wild is how clear the camera's view of their faces is.
Funny you say that because about a week later, I got a call from a police detective in Calgary, which is the other big city in Alberta, about a three-hour drive away. The detective mentioned that they'd been looking for those exact two guys in Calgary — they'd committed three break-ins already and made off with valuables — and because of the clarity and sharpness of my video, he knew they had made their way to Edmonton. As far as I know, though, they're still at large.
How long have you had your doorbell?
I've had it for about a year and a half, and I'd actually been having some electrical issues with it. There were some days when it wouldn't hold a charge completely. At the time I bought it, the Nest and others didn't even exist yet.
Oh, wow, so thank goodness it was working on that day.
Yeah, I had been putting off and putting off calling tech support, but finally I did after all of this happened. It turns out that my original had a faulty capacitor, but it's working great now. I'm embarrassed to say this, but a few months ago, I had nothing but a Post-it on my door saying, "Just knock because the doorbell is broken."
Ha, and now you're basically a Ring spokesperson.
Unofficially, yeah. I upgraded my doorbell and installed Ring security cameras, too. The week after it happened, all of the hardware stores around here were sold out of them. I've gotten Facebook messages from people in the Philippines and the Middle East asking me about the doorbell. I started offering tech support. Unpaid! I'm happy to do it if it's keeping people safe.
There's a newer version with a removable and rechargeable battery pack (something Ho's original on-the-fritz Ring did not have) and interchangeable faceplates.
The Strategist is designed to surface the most useful, expert recommendations for things to buy across the vast e-commerce landscape. Some of our latest conquests include the best acne treatments, rolling luggage, pillows for side sleepers, natural anxiety remedies, and bath towels. We update links when possible, but note that deals can expire and all prices are subject to change.
Every editorial product is independently selected. If you buy something through our links, New York may earn an affiliate commission.