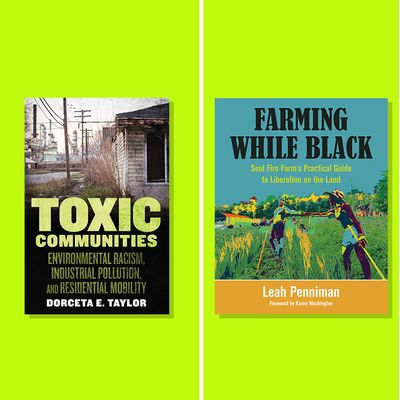 Photo-Illustration: retailer
If you have yet to stream Seaspiracy, it's undoubtedly in your queue (and has been recommended by a friend). It's the latest Netflix documentary that shows, through compelling narrative, how a toxic blend of human greed, overconsumption, and capitalism yet again imperils the natural world. And its popularity is indicative of how many of us think about environmentalism: as a series of distinct causes. But environmentalism isn't just about saving the sea, or protecting the rain forest, or saving the whales. It's also about how all these environmentally damaging activities disproportionately impact vulnerable people — and in America, that's often the poor and people of color. And this is where environmental justice comes in. The field was previously called "environmental racism," which mostly took on industrial pollution and racist environmental policy. Environmental justice, though, is a broader, multipronged movement that tackles everything from food justice (think food deserts and food sovereignty) to relinking Black and Indigenous people to outdoor spaces.
We sought out a diverse list of experts — ranging from longtime leaders like Peggy Shepard and Adrienne Hollis, to food-justice scholars, to younger activists like Diandra Marizet, who is using social media to amplify and educate about intersectional environmentalism through shareable infographics and interviews with climate activists. Below, the books our panel of 18 experts has recommended for understanding the field. Like all of our reading lists, every book has been named by at least two of our experts (one has been recommended by seven!). And while this list is diverse, it is in no way comprehensive. For every book about Black farming or Indigenous science, there's at least a dozen more, so we tried to stick to books that offer a thorough, entry-level understanding of the topic. So start with this list, but keep on going!
Start here for a primer on climate change
Environmental justice and climate change are intimately linked, so a solid understanding of the climate crisis is a must. As many of our experts pointed out, low-income communities of color are the first to suffer from its effects — making it a major part of the EJ conversation. This climate-focused anthology collection brings together some of the leading voices in the movement, like climate activist and lawyer Colette Pichon Battle, environmental reporter Emily Atkin, and Rhiana Gunn-Wright, an author of the Green New Deal and the director of climate policy at the Roosevelt Institute. Brittany Jefferson, a climate advocate and educator likes that the book approaches the topic of climate change with systemic issues in mind. "It's very comprehensive," she says, "discussing economics, psychology, racism, activism, public policy, and mental health. It really spans all of the various ways people are affected and will be in the coming years."
Next, read up on the history of environmental justice in America
Environmental justice is an expansive topic, and if you're new to it, the beginning is a good place to start. This book broadly covers the origins and history of the conservation movement. "It examines the history of the environmental movement and the often overlooked roles that race, class, and gender have played over the years," says Peggy Shepard, a co-founder and executive director of We Act and a recent appointee to the White House Environmental Justice Advisory Council.
Published in 2016, Clean and White explores how when ethnic immigrant groups take on jobs in waste management, they are stereotyped as dirty. Conversely, whiteness became associated with cleanliness, and hygiene became a central part of "purity" and white identity. "It starts from the beginning and makes it simple," says Kristy Drutman, host of the environment-focused podcast Brown Girl Green.
"If you're talking about environmental racism and environmental justice, you need to know who Robert D. Bullard is," says Drutman. Bullard is often referred to as the father of environmental justice and has written 18 books on the topic. Dumping in Dixie (2000) — his third book — tackles toxic factories, which are disproportionately located in Black communities. In the book, he outlines the economic, social, and psychological impact of these factories along with the need for mobilization within the communities to push back. Sheila R. Foster, a professor of urban law and policy at Georgetown University, an author, and a member of the New York City Panel on Climate Change, says Dumping in Dixie was formative to her understanding of the field: "It is a devastating look at what used to be referred to as 'environmental racism' and the powerful social movement of impacted, frontline communities in shaping the environmental-justice movement."
Black feminist eco-critic and founder of Ask an Amazon Chelsea Mikael Frazier recommends this critical, bird's-eye view of the environmental-justice movement. From the Ground Up traces the movement from its grassroots origins in cities like Kettleman City, California, a rural town where people banded together to protest a toxic-waste incinerator, sued the city, and won. It ends on Bill Clinton's executive order on environmental justice in 1994, which required government agencies like the EPA to implement environmental-justice policies.
Toxic Communities expands on the work of books like From the Ground Up and looks at how underserved communities are prime targets for industrial pollution. "Dorceta Taylor is one of the OGs," says Frazier. "She outlined how Black communities have suffered from environmental toxicity and policies that were essentially intentional attacks on Black people."
Then the books that are pushing the current conversation forward
Waste: One Woman's Fight Against America's Dirty Secret answers "What's next?" in the environmental-justice conversation by taking a look at basic sanitation in poor communities across America. Although it's primarily about sewage, it also wrestles with climate change, warning that the problem is increasing — not just in poor, rural communities but across the country. "Everyone needs to read this," says Arielle V. King, a student and an environmental-justice advocate. "Catherine is just brilliant."
Garbage Wars specifically zeroes in on Chicago. Written by sociologist David Pellow, the book discusses the politics of garbage in Chicago and tells the story of Hazel Johnson, who, in 1979, founded People for Community Recovery, one of the first environmental-justice organizations founded in a housing project. "It's a direct confrontation of the erroneous notion that Black people don't care about the environment," said Frazier.
"This book brilliantly expands on the socially exclusive relationship between race and environmentalism by highlighting the construct of nature as a white space," says Kaela Thomas, an environmental-justice leader at Black Women for Wellness. Carolyn Finney argues, similarly to Dianne D. Glave in Rooted in the Earth, that the legacy of slavery in America and Jim Crow has shaped the concept of the "great outdoors" to the point that Black people aren't associated with occupying that space. "As people of color, we belong in conversations about activism, access, and justice," says Thomas.
This book, recommended by Soul Fire Farm co-director Leah Penniman, is all about rejoining the Black experience with environmentalism. Dianne D. Glave posits that the Black experience in America is intimately linked with the Great Migration and urban life rather than the outdoors and the environment. The latter, she says, is often connected to traumatic images like slave ships, working in the fields, and being chased by dogs in the woods. She attempts to rewrite this through fictional vignettes, imagining what it might have been like for both historical figures and ordinary Black people. She illustrates Zeus, a wholly fictional aspiring ship captain, alongside the historical Abu Bakr II, a Mali ruler who had an affinity for the sea.
"People make an assumption that Indigenous wisdom has no relationship to science," says Diandra Marizet, a co-founder of the platform Intersectional Environmentalist. "Braiding Sweetgrass does a great job of saying, 'Hey, they're not mutually exclusive — it's just that our ancestral form of science isn't credited and validated by a Western perspective.'"  Each chapter explores a different part of the ecosystem, like why asters and goldenrods grow well together and the spirituality of gardens. As a trained botanist and a member of the Citizen Potawatomi Nation, Robin Wall Kimmerer uses her unique lens to blend the two and offers a peek into her life as well.
Environmental justice includes more than just climate justice or pollution — it's also intimately linked to food. Farming While Black: Soul Fire Farm's Practical Guide to Liberation on the Land tells the story of Soul Fire Farm (where Penniman serves as co-director) and makes a case for food sovereignty, a food system in which the people who produce and distribute the food also control the system (this isn't currently the case; food production is mainly controlled by corporations). The book also acts as a comprehensive how-to guide for Black farmers who want to farm the land using the techniques that Black farmers have developed. "It's not the first book ever written about how to start a farm, but there's a very specific lens that's geared toward liberation," says Abby Katz, who is currently earning her M.A. at NYU Steinhardt in food studies. "She also advocates for the acknowledgment of Black people's storied history in the U.S. as it relates to land and farming."
This book takes food justice from a systemic perspective by examining how food inequality is built into society — and how communities are surviving despite it. "There's a section about access, a section about consumption, a section about race and food justice, says Katz. It's a jumping-off point for thinking about solutions in this space.
The Strategist is designed to surface the most useful, expert recommendations for things to buy across the vast e-commerce landscape. Some of our latest conquests include the best acne treatments, rolling luggage, pillows for side sleepers, natural anxiety remedies, and bath towels. We update links when possible, but note that deals can expire and all prices are subject to change.