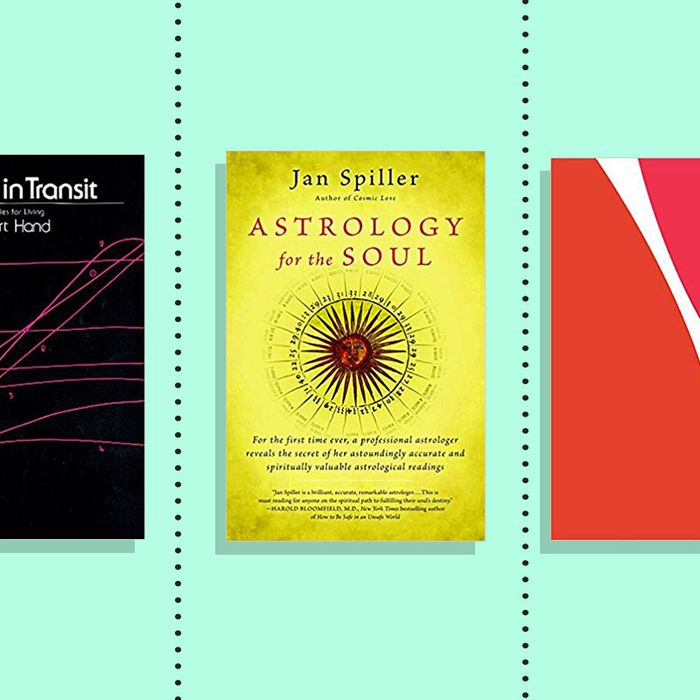 Photo: Courtesy of the retailers.
Welcome to Reading Lists, comprehensive book guides from the Strategist designed to make you an expert (or at least a fascinating dinner-party companion) in hyperspecific or newsworthy topics, from microdosing and psychedelic therapy to skin care. Here, we've found the best books on astrology, according to astrologers, horoscope writers, authors, and podcast hosts.
For this crash course in astrology, we consulted a range of professionals and enthusiasts who have made their careers out of reading the stars. Whether you're a recently converted skeptic looking to dip your toes in or a die-hard daily horoscope reader looking to deepen your knowledge, we've got the book for you.
Our panel of experts includes Annabel Gat, astrologer at Broadly and the author of the forthcoming book The Astrology of Love and Sex; astrologer Randon Rosenbohm; astrologer Janelle Belgrave; astrologer Chani Nicholas; hosts of astrology podcast What's Your Sign? Stevie Anderson, Julia Loken, and Lisa Chanoux; astrologer Kim Allen; astrologer Anne Ortelee; astrologer Dena DeCastro; astrologer and host of the podcast Christina and Sally Talk Astrology Christina Rodenbeck; Nationally Certified Consulting Astrologer Diana Brownstone; host of Ghost of a Podcast and author of the forthcoming book Astrology for Real Relationships: Understanding You, Me, and How We All Get Along!, Jessica Lanyadoo; astrologer Danielle Arias; astrologer Ashleigh D. Johnson; astrologer and author of Cosmopolitan's weekly Sexoscopes Jake Register; astrologer and horoscope writer at Teen Vogue, Bust, and The Hoodwitch Lisa Stardust; astrologer Katie Sweetman; astrologer Sonja Francis; astrologer Rose Theodora; astrologer and Nylon horoscope writer Gala Mukomolova; horoscope columnist at Harper's Bazaar and author of Your Body and the Stars, Rebecca Gordon; the Astro Twins, Tali and Ophira Edut; astrologer Anna Lesniak; and author of Never Throw Rice at a Pisces, Stacey Wolf James. As always, to earn a spot on our list, each title below has been recommended by at least two of our panelists.
The best books for astrology beginners
Planets in Transit, by Robert Hand was, by far, the book our experts recommended the most frequently. Lanyadoo calls him "the OG" whose book has been used by astrologers for decades. Stardust says that, "Hand is widely considered to be the forefather of astrology whose book really gets into the nuts and bolts of the transits." As DeCastro explains, transits "are the moving planets that impact an individual's natal chart." Register says that this text is "super beginner-friendly" and great "for those that are interested in horoscopes or looking at what the planets are doing right now."
Sweetman recommends The Essential Guide to Practical Astrology as the ultimate all-purpose book for beginners, because "Elliott Kent has a talent for breaking down the technical minutiae of astrology into something that beginners can understand, often doing so with humor. When people are starting out in astrology, Elliott Kent's is the first book I recommend." Belgrave agrees, saying, "Pick this book up if you want to learn more about zodiac signs, houses, elements, aspects, and much more."
This text focuses on one astrological point: the North Node. The Astro Twins explain, "Based on the eclipse positions at your time of birth, the nodes fall in opposing zodiac signs and reveal your path." In other words, "This point basically explains 'the story of your life,' the overarching themes and lessons you need to learn in order for you to feel fulfilled on a soul-level," Loken says. While this book is a little bit more advanced than beginners' astrology books, the discussion of larger themes makes it a good entry point for newbies.
Lanyadoo says this book's clear writing and systematic approach to astrological foundations "brings the stars down to earth." It is the first part of a multivolume series aimed at covering as much as ground as possible for students of astrology.
Steven Forrest has authored over a dozen books about astrology. This book in particular is ideal for beginners, because he "writes about the 12 astrological zodiac signs with humor, poise, and pure honesty," says Lesniak. DeCastro calls it her "absolute favorite astrological primer," great for both beginners seeking a foundational understanding of the sun signs and advanced students looking to deepen their perspectives.
The best intermediate astrology books
"A great intermediate book for people who are interested in learning how to read their own birth chart," says Rosenbohm. Brady provides techniques for predictive astrology that cover transits, cycles, planetary arcs, returns, and eclipses.
This book goes beyond the technical components of astrology to offer up a spiritual self-help guide. "Gung-ho, can-do, high-spirited, extremely smart — the doyenne of California–style astrology bounces profound ideas around these pages with the ease and confidence of an expert. Read this and find out how to make Saturn your BFF and invite Pluto to a party," says Rodenbeck.
Saturn transits and cycles are often marked by periods of stress and uncertainty. Ortelee says, "After I learned the basic language of astrology, I found this book to be the most profound in understanding our fears and limitations and how to work with them productively."
This book explores the natal chart in relation to childhood and familial dynamics. Belgrave says, "This book is for students who aren't afraid of a little deep psychology mixed into their astrology."
Sasportas goes in-depth on each of the 12 houses and, according to Gordon, "He takes you on an epic journey through the different slices of our sky."
The best book about astrological compatibility
The Secret Language of Relationships allows you to match your date of birth with another to discover the weaknesses and strengths of that particular relationship. With 1,176 combinations of personalities, you can gain a better understanding of every relationship, be it romantic or platonic, in your life. James says this is a "terrific coffee-table book and conversation starter."
The best astrology book about sex
Two of our experts recommended this book for those looking to understand the relationship between sex and astrology. According to Anderson, "This book is queer-friendly and focuses on the parts of our chart that may rule our kinks and pleasures. It's a handy, interesting guide on what signs get turned on by what, and trust me, they are spot on. Praise Venus!" Johnson adds, "This is my favorite sun sign book."
The best books about the history of astrology
Diana Brownstone recommends this text by historian and philosopher Richard Tarnas. The book explores the relationship between astrological configurations and historical events, making it an interesting read for history buffs and astrology enthusiasts alike.
Chris Brennan, author and host of The Astrology Podcast, breaks down the history, practice, and philosophy of ancient astrology and outlines how the foundational concepts have impacted astrology as we know it today. Nicholas says this "is a bible of a book on the history and uses of traditional astrology. It's for the hardcore astro nerd as well as the newbie with a sincere interest in learning this ancient tradition." Gat adds that this "book belongs in everyone's astrology library."
The Strategist is designed to surface the most useful, expert recommendations for things to buy across the vast e-commerce landscape. Some of our latest conquests include the best acne treatments, rolling luggage, pillows for side sleepers, natural anxiety remedies, and bath towels. We update links when possible, but note that deals can expire and all prices are subject to change.
Every editorial product is independently selected. If you buy something through our links, New York may earn an affiliate commission.