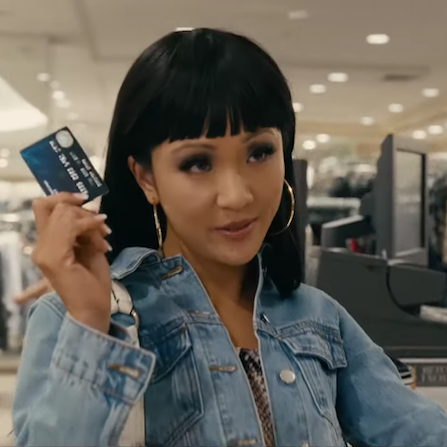 Photo: Annapurna Pictures
Terms apply to American Express benefits and offers. Enrollment may be required for select American Express benefits and offers. Visit americanexpress.com to learn more.
The concept of a cash-back credit card is fairly simple. As Erin Lowry, the author of the personal-finance book Broke Millennial, puts it: "If you make a purchase for $100 and it's a 5 percent cash-back category, you're going to get $5 back on that $100 purchase." But, as with any credit card, choosing the right cash-back card presents a lot of things to consider. Chief among them are, of course, fees (including annual fees, late fees, and return-payment fees, which you will be charged if you try to pay your bill with an account that has insufficient funds). But as Lowry points out, cash-back cards are inherently more attractive because "a lot of cash-back cards charge no annual fee."
The second thing to look for is a card's cash-back options, which basically come in two forms: flat rate or rotating category. Lowry says that if you're a credit card newbie who is "just going to have one, I would just go for one with the highest flat-rate cash back option, which is right now probably two percent." In this case, a 2 percent flat rate means you will get 2 percent cash back on all purchases, as opposed to only purchases from certain types of vendors; the latter, which is how rotating-category cards offer cash back, requires a little more strategizing. When a cash-back card pays back on rotating categories, Lowry explains that "the base rate is usually one percent, which isn't great, but then in one quarter restaurants might earn 5 percent back, and in another quarter gas stations might, and in another quarter wholesale clubs might." The cash back you receive from any card can be spent in different ways, depending on the card you choose. Per Lowry: "Some people apply their cash back to their credit card bill to reduce their statement, and some companies let you grow your cash-back total by offering gift cards for, say, $80 that only require you to redeem $75 of your cash back."
Below, Lowry and five other experts told us about the best cash-back cards they say you can apply for today. One thing they all caution: Reward cards like these are not worth their rewards if you're in debt. "As soon as you're carrying a balance on your card and paying interest, points just completely lose all value," Lowry says. So if you think you might not be able to pay a card off in full every month, it's important to look at the interest rate (or APR) you may be charged, which will be dependent on your credit score. (In our story on the best credit cards to own, finance expert Trae Bodge says that you want to look for a card with an APR under 15 percent; many of the cards below have APRs that could be as low as 12 percent or as high as 24 percent, depending on your credit score.) Note: Prices shown reflect annual fees charged by each card company; for cards that don't charge annual fees, no price is listed.
Best overall cash-back credit card
As Lowry mentioned, the highest flat-rate cash-back percentage is usually 2 percent, which the Citi Double Cash card has. That's one reason why three of our experts — including WalletHub analyst Jill Gonzalez; Nick Holeman, a certified financial planner and the head of financial planning at Betterment; and budgeting expert Andrea Woroch — think it's among the best cash-back cards you can apply for. Another reason? It charges no annual fee, as Gonzalez points out. Holeman explains that a card with no annual fee not only saves you money, but offers you more flexibility when you no longer want to use that card. "Let's say you get the Citi Double Cash card today, you start using it, and then maybe a few years from now, the card no longer makes sense for you to use as your everyday card," he explains. "Since there's no annual fee It's okay to keep the card open. Just let it sit in your nightstand. Use it once a year maybe so that it doesn't get closed. That way you still can keep all of the credit history that's helping your credit report, without paying an annual fee for a card you're not using."
It's important to note that the full 2 percent cash back this card offers is only earned once you pay off the bill. You get one percent back at the time of purchase, and the other one percent when you pay off the card. As our experts point out, this is a great incentive to pay off your bill in full, and on time, every month. (But, according to the Citi website, as long as you pay your minimum monthly balance, you can still earn the full two percent cash back.)
Best flat-rate cash-back credit card (with a temporary rotating-category bonus)
If you have a high-spending period on the horizon (a wedding or a move or another big event), or are planning to make some big purchases, Gonzalez recommends the Chase Freedom Unlimited card because it "doesn't charge any interest for the first 15 months." (After that, after a variable APR of 14.99–23.74 percent will apply.) It has no annual fee and the flat-rate cash back percentage is 1.5 percent — so it's not as high as the Citi Double Cash card, but it is higher than the average one percent, and it's all earned at once (not half up front, half when you pay your bill).
While this is a flat-rate cash-back credit card, right now there is a bonus for new cardholders that would allow them to earn 5 percent cash-back on grocery-store purchases (excluding Target and Walmart) for the first year, along with an additional $200 cash back. The 5 percent cash-back category, however, is capped at $12,000, so you won't get cash back on eligible purchases once you spend more than that in your first year. Still, even with the cap, Woroch says this is a great offer because $12,000 "is one of the highest spending maximums I've seen." (As we point out later in this list, rotating-category cash-back cards typically have spending maximums for getting cash back.)
Best rotating-category cash-back credit card
Like the Chase Freedom Unlimited card, the Chase Freedom card also has no annual fee, zero interest on purchases for the first 15 months (after which, again, a variable APR of 14.99–23.74 percent will apply), and the same sign-on bonus for new cardmembers ($200 cash back after spending $500 within the first three months, and five percent cash back on up to $12,000 worth of grocery-store purchases in the first year of use). But the big difference between the Freedom and the Freedom Unlimited is that the Freedom is a rotating-category cash-back card that incentivizes spending at different merchants on a quarterly basis to earn even more cash back. While it offers a flat (unlimited) one percent cash back on all purchases year-round, the real draw is the 5 percent cash back it offers on certain purchases every quarter. For example, in the first quarter of this year, this card earned cardholders 5 percent cash back when they used it at gas stations, or to pay for internet, phone, and some streaming services. But every quarter has a spending cap: You can only earn the 5 percent cash back on the first $1,500 you spend on eligible purchases; anything beyond that will just get you the base one percent back. And in order to ensure you get that 5 percent on eligible purchases, you have to activate them every quarter using the Chase app or website.
In talking to our experts, their take is that rotating category cards like this are best suited for people who really monitor their spending habits and are interested in gaming the credit-card system. Rich Jones, co-host of the financial podcast Paychecks & Balances, says, "Chase Freedom has been popular for many of my millennial friends, who've had minimal complaints as they've enjoyed the earnings and flexibility as categories have rotated." If you do opt for a card like this, Gonzalez recommends setting calendar notifications quarterly to keep up with which categories are the money-makers. Another way to maximize rewards is by using a two-card system, pairing a flat-rate cash-back card with one that has rotating categories — a strategy that Holeman recommends. In this case, he says the Chase Freedom Unlimited card would work as a default card and the Chase Freedom would be a secondary one that you would only use on the categories that earn you more cash back.
Best cash-back credit card with cash-back matching
The Discover It Cash Back card is a rotating-category card that Holeman says is comparable to the Chase Freedom. Like the Freedom, it has no annual fee and charges zero interest on purchases and balance transfers for the first 14 months. (After that, a variable APR of 11.99–22.99 percent will apply.) The base cash-back rate is also one percent, with no annual spending cap. And each quarter you can earn up to 5 percent cash back on purchases within select categories up to $1,500; as with the Chase Freedom card, you have to activate these categories via Discover's app or website to get the cash back. Through September, those select categories are restaurants and PayPal; from October through December, they'll include purchases at Amazon, Walmart.com, and Target.com — which, as Woroch points out, is "perfect for holiday shopping."
What separates this card from the others is that Discover will match your cash-back rewards at the end of your first year of use — with no cap on how much it will match. While this may sound enticing, Woroch warns "don't let this influence you to spend more in order to earn more." Another perk that comes with this card: You can use your cash back to pay for Amazon purchases when checking out at the retailer, which Woroch says is a pretty seamless way to redeem cash back.
Best customizable rotating-category cash-back credit card
With the rotating-category cash-back credit cards we've mentioned thus far, the categories that have higher cash-back rates are chosen by the card companies. But the Bank of America Cash Back Rewards credit card actually lets cardholders choose their higher earning categories from among several on offer, including gas, online shopping, dining, travel, drug stores, and home improvement/furnishings. Woroch notes the cash back offered on these categories is 3 percent — a bit lower than other cards' — but the ability to choose what you earn that on can help you game the system. "You can change that category at any time," she explains. "That means, if you typically spend more on online shopping but one month you are planning to spend more on gas for travel, you can switch it to maximize your cash-reward earnings." This card also has no annual fee, zero interest for the first 12 months (after which, a variable APR of 13.99–23.99 percent will apply), and currently offers a sign-on bonus of $200 cash back to new cardholders who spend $1,000 in the first three months.
While you can change reward categories any time, you can only change them once a month, and you can only choose one category to earn the three percent back at a time. But these limitations don't seem so bad when you consider that this card also offers a rate of 2 percent cash back on purchases at grocery stores and wholesale clubs (just know that those 3 and 2 percent earnings are capped at $2,500 a quarter). And it offers one percent cash back on all other purchases year-round, with no spending limit.
Best cash-back credit card for a pandemic
Echoing the wisdom that other experts gave us in our story on the best credit cards to apply for, Gonzalez says this card is the best one for the present moment because it combines the ease of flat-rate cards with the high cash-back rates of rotating-category cards — and some of the highest-earning categories include things that people are buying a lot of during the pandemic. The American Express Blue Cash Preferred card earns a whopping 6 percent cash back at U.S. supermarkets and on some U.S. streaming services, plus 3 percent cash back on transit purchases and those at U.S. gas stations. (The 6 percent cash back on U.S. supermarket purchases is capped at $6,000 per year; after that, those purchases earn one percent, as do all other purchases outside of the aforementioned categories). Woroch agrees: "Considering families are spending more on groceries and on streaming services, this is a great option for during the pandemic." Lowry adds that this card is a good option for anyone who spends a lot on groceries, gas, and transit because it optimizes the spending you're already doing, as opposed to incentivizing you to adapt your spending based on whatever category offers the highest cash-back rate that month. As Jones says, "People should look for a card that matches their realistic lifestyle."
There is a trade-off with the Blue Cash Preferred card, though: It has an annual fee of $95. But it offers a welcome bonus of a $300 statement credit (cash back, in other words) to new cardholders who spend $3,000 in the first six months. (Plus, new applicants will have their first annual fee waived.) Gannesh Bharadhwaj, the general manager of credit cards at Credit Karma, says, "If you run the numbers and think that the fees — including an annual fee and other fees — will be more than the cash-back you'll earn over time, it may not be worth it to get that card." View card rates and fees here.
Best cash-back credit card for people with excellent credit
"Typically, cards with high cash-back incentives and low interest rates and fees cater to consumers with higher credit scores," explains Bharadhwaj. This card, recommended by Gonzalez, is one of those. The card's website specifically says it is geared toward high spenders with particularly good credit. Your interest rate can be as low as 12 percent with this card and the annual fee is waived during the first year; after that, it's $99, and the flat cash-back rate of 2.5 percent is the highest of all the cards on this list. (That rate is eligible on all purchases with a cap of $10,000 a month). "A 2.5-percent rewards rate on all purchases is currently one of the highest-earning rates on the market," explains Gonzalez.
Best cash back credit card for people with not-so-great credit
"Those with poor credit are best off applying for a secured credit card," explains Gonzalez. A secured credit card requires the cardholder to pay a refundable security deposit to the credit-card company, which holds the deposit as collateral. The amount of your deposit is one of the factors that will determine your maximum credit line: Bank of America's Cash Rewards Secured Card has a minimum deposit of $300 and a maximum of as much as $4,900, and requires applicants to provide a checking or savings account (which is where the deposit will be pulled from). But there is no annual fee, so if you can front the security deposit, Gonzalez says this card "is the best for people with bad credit because it doesn't charge fees and still offers decent rewards." When it comes to those rewards, this card more or less offers the same cash-back benefits as the Bank of America Cash Back Rewards card above: One percent unlimited cash back, 2 percent back on groceries, and 3 percent back on a category the cardholder can choose. (There is a $2,500 quarterly cap on the 3 and 2 percent categories.) "That's very rare in this space," Gonzalez says.
Best retailer-affiliated cash-back credit card
"Generally, I hate store cards," says Holeman. But he admits that the Amazon Prime Rewards Visa Signature card is so enticing that even he's considering applying for one. He explains: "Store cards are inherently not flexible because you really only gain value at that one store. But the reason why I'm okay with it for Amazon is because you can buy anything on Amazon, so it has flexibility built into it." While there's technically no fee, you do have to be an Amazon Prime member to be eligible (and that membership costs $119 a year). Like the Blue Cash Preferred card, this one is somewhere in between flat-rate and rotating-category: You can earn 5 percent cash back on purchases at Amazon and Whole Foods; 2 percent cash back at restaurants, gas stations, and drug stores; and one percent on everything else. There are no spending limits in any of these categories, though the categories that earn you 5 percent could drop down to 3 percent if you close your Amazon account. You can apply your cash-back rewards directly to Amazon purchases, but they are also redeemable as regular cash back (to, say, pay off your bill).
The Strategist is designed to surface the most useful, expert recommendations for things to buy across the vast e-commerce landscape. Some of our latest conquests include the best acne treatments, rolling luggage, pillows for side sleepers, natural anxiety remedies, and bath towels. We update links when possible, but note that deals can expire and all prices are subject to change.