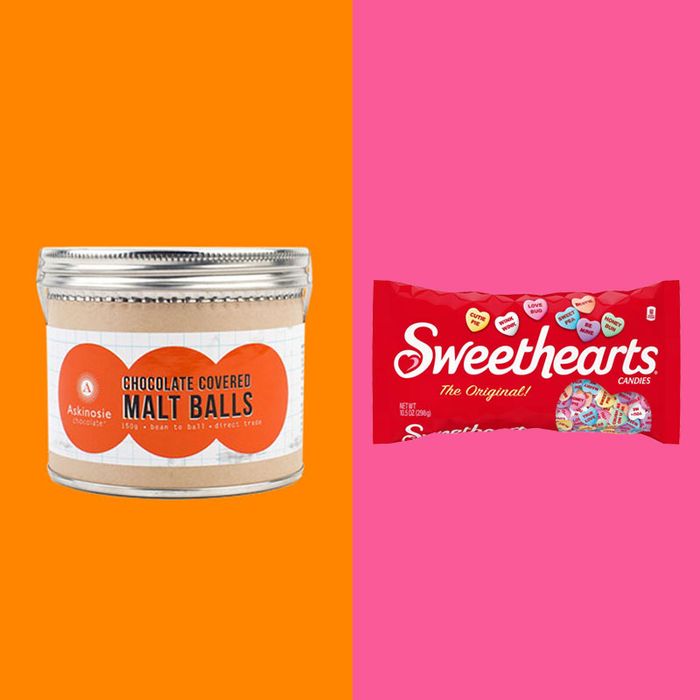 Illustration: The Strategist
They say the way to someone's heart is through their stomach, and, well, whether or not you believe that's true, you can't deny that food makes a perfect Valentine's Day gift. There's something out there for everyone — your best friend, your partner, your spouse, your crush, your kid, you name it. Whether you're looking for something indulgent or a cheap sweet treat, something that will last months or something that is best enjoyed as soon as possible, we rounded up all the best giftable foods we could think of for your shopping pleasure. We're coming up on the holiday, so you should place any orders within the next day or two (though no one would be mad at a belated V-day gift either).
Chocolate and candy
For the valentine who can't resist a classic (and prefers chocolate)
Yes, five pounds of chocolate Kisses is a lot of chocolate Kisses, but this way they'll be reminded of how much you love them for months and months to come.
For the valentine who can't resist a classic (and prefers candy)
It's never not fun to sift through a bag of Sweethearts and read all the messages. "Any candy that can make you laugh is at the top of my list, and they only come around once a year, so it makes sense to enjoy them while you can," Michael Fiorelli, executive chef and partner at Love & Salt in Los Angeles, once told us. At just $3 a pop, you can easily snag one for everyone you know and love.
For the vegan valentine
All of Fine & Raw's truffles are made by hand in Brooklyn with sustainably sourced cacao. Not to mention, they come in the cutest gift box. There's a smaller 4-piece set and larger 24-piece set available, too.
For the valentine who has a thing for miniatures
For the valentine who always gets a box of Whoppers at the movie theater
Jeni Britton Bauer, founder of Jeni's Splendid Ice Creams and James Beard Award–winning author, and Shake Shack founder Danny Meyer are both big fans of Askinosie. "One hundred percent of the chocolate he sells is 1,000 percent traceable to the farmer who grew the cocoa beans himself," Meyer explains. "That's probably not something you find on your average Whopper."