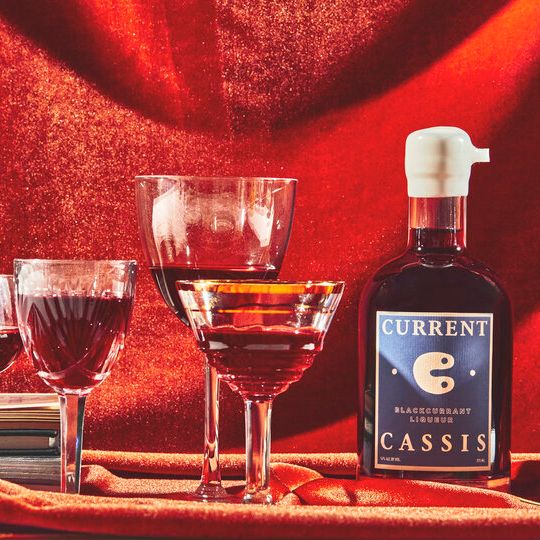 You don't have to go out to a restaurant or bar this Valentine's Day to show your valentine that you appreciate them. And if you want to do something a little bit different than order from the same old takeout spot, you can order some cult-favorite cookies or high-quality meat for delivery (and create your own tablescape with some cloth napkins). If they've got a sweet tooth, there's also Valentine's Day chocolates and candy — and to tie it all together, you can pick up a bottle liqueur or bitters. Since Valentine's Day is just a couple of days away, we went through and kept the items that should ship by February 14. But we can't guarantee that everything on this list will arrive in time — and in some cases, you may need to pay extra for expedited shipping — so just make sure to write a nice card to go along with it.
For the valentine who wishes the Buccaneers hadn't won the Super Bowl
This hand-cut, hormone- and antibiotic-free cut is sourced from Nashville, but the strip steak was first served in Kansas City. Even though Porter Road can't guarantee that this steak will be to you by Valentine's Day, their standard shipping takes one to three days, so order now and hope for the best.
For the valentine who took Gordon Ramsay's MasterClass
They'll know exactly how to sear all four of these sustainably raised racks of lamb and make a mint-yogurt sauce and glazed carrots to go along with it. And, if you tack on an additional $50 for two-day shipping, or $80 for overnight, these racks of lamb will get to you by Sunday.
For the valentine who only laughs when they watch Jay Pharoah
The actor and comedian bakes these chicken wings with sea salt, some Old Bay, and lemon-pepper seasoning, and says (to quote Stewie from Family Guy) that they're "better than sex.'" If you need these wings by tomorrow, order by noon ET today, and be prepared to spend $76 on shipping. Or, pay $55 and they'll get to you in two days.
For the valentine who watches Instagram Live baking videos
If they never miss a Monday #bakeclub live session with Christina Tosi, then they'll enjoy all 24 of these chocolate-chip and marshmallow-packed cornflake cookies from Milk Bar — which will arrive by Saturday for Prime members.
For the valentine who loves to dip their cookies in milk
A chocolate-chip cookie with double the chocolate chips, which one pastry chef describes as "the weighted blanket of pastries." Levain Bakery is now shipping these cookies nationally — though they're only guaranteed to arrive by Saturday if you're in New York City and pay $10 extra.
For the valentine you've known since middle school
A vestige of Valentine's Days past (with none of the hallway drama), these "mouth-puckering" conversational hearts are emblazoned with phrases like XOXO and CUTIE, and happen to be a favorite of Little Spain's executive pastry chef Thea Habjanic. Check your zip code at checkout, because Target has next-day shipping in select locations.
For the valentine who can't resist miniatures
Strategist writer Hilary Reid described this non-fusty assortment of miniature fruits as a "stylish alternative to the old Valentine's Day box of chocolates." And, they should be delivered on Sunday for Amazon Prime members.
For the valentine whose favorite meal is bacon
They can eat this sweet-and-salty bacon brittle — which will arrive tomorrow for Prime members — any meal of the day.
For the vegan valentine
All eight of these organic, vegan truffles from the Fine and Raw Valentine's Day collection are made by hand in Brooklyn with sustainably sourced cacao. Pay $40 to have these truffles shipped overnight, or pay $20 for two-day shipping.
For the valentine who's a New Yorker with a sweet tooth
They can't peruse the floor-to-very-high-ceiling shelves of vintage candy bars and rainbow gummies right now, but you can gift them a five-pound — or "approximately 20-25 handful" — bag of treats from New York's most iconic candy shop. If you live nearby, you can get your candy delivered, or pick it up curbside. Or, if you're out of the city, Economy Candy's priority mail will arrive in one to three days, so order now and hope for the best.
For the refined-sugar-free valentine with a sweet tooth
We said this organic, raw honey "can be enjoyed with cheese, on yogurt or just straight out of the box," and it'll arrive by Saturday for Prime members.
For the valentine who'd rather drink their chocolate
Now they can make cups of French truffle, peanut-butter cup, peppermint, and salted-caramel hot chocolate just with the swirl of a stick — each of which will arrive by Sunday if you pay $19 for one-day shipping, or $16 for two-day shipping.
For the valentine who likes to chill out
According to Gossamer co-founder Verena von Pfetten, these CBD-rosin-infused delights — made with locally sourced apple and passionfruit — "pack a very relaxing and tasty punch," and we think they'd pair well with a donation to the Last Prisoner Project, which works to free people incarcerated for cannabis offenses. An additional $9 in shipping will guarantee that these CBD delights arrive in two days.
For the valentine who loves Whoppers
When we arranged the Strategist White Elephant Gift Exchange a couple of years ago, these chocolate-covered malt balls were among the most-stolen items. Restaurateur Danny Meyer, who brought them to the gift swap and ate drugstore malt balls growing up, describes these as "something that tugs on your favorite emotional food memories, and then actually exceeds all the good feelings that you may have already had." And, an additional $15 will get them to you in two days, or you can pay $24 (or so, depending on location) for overnight shipping.
For the valentine who wants a cocktail (alcoholic or not)