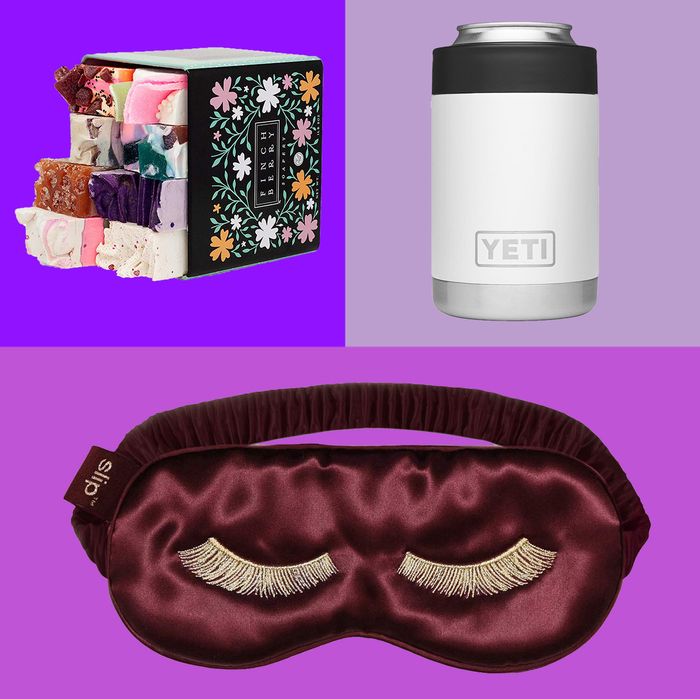 Photo: Courtesy of the retailers
Although Valentine's Day is just around the corner, there's still time to snag a gift for that special someone, whether it's your wife, husband, girlfriend, or boyfriend. To help, we've rounded up 32 Valentine's Day gifts under $50 that you can buy on Amazon, which include options for special someones of all sorts, from ones you're just getting to know to longtime partners who don't particularly care for the holiday (but would still appreciate a thoughtful gesture).
For the valentine who'd rather make dinner at home
This (adorable) miniature heart-shaped cocotte is the ideal size for a single tart or crème brûlée — or even baked eggs the next morning, if they're a breakfast-in-bed kind of person.
For the valentine who appreciates ambience
This set of natural beeswax candlesticks would create a moody tablescape for that romantic night in. (While this particular set comes with 8-inch candles, they're also available in 10-, 12-, and 16-inch heights.)
For the valentine who has trouble falling asleep at night


A silk sleep mask with a flirty lash embellishment helps to block out unwanted light, making going to bed a little more glamorous.
For the valentine who really has trouble falling asleep at night
Here's a top-rated weighted blanket that "soothes any sort of anxiety I feel when I'm trying to go to bed," according to one fan. Also great for a valentine who'd prefer to spend a lazy day in bed.
For the valentine with a strict no-shoes policy
A worthy dupe of the more expensive Glerups, these memory-foam slippers have a thermal cotton-blended upper, plush fleece lining, and a rubber sole that will keep feet toasty and comfortable. They're also machine washable.
For the valentine with (literal) cold feet
Contributor Steven John swears by these wool socks, which he uses for winter hikes, skiing, and running when it's freezing out. No matter how or where your valentine wears them, these will no doubt warm their perpetually cold feet, too.
For the valentine with a competitive streak
Recommended by gaming experts as one of the best two-player board games, this intermediate-level strategy game's objective is to score more points than your opponent by winning more tricks. According to one expert, it features "really lovely art" that has a touch of fantasy.
For the valentine with whom you're planning your first trip together
Photo: Bobby Doherty/New York Magazine
For the valentine who appreciates a little "me time"
These "teeny-tiny wands" have liquid-filled globes at one end; after popping them in the freezer and applying them to her cystic zits, our beauty writer Rio Viera-Newton found they visibly reduced the size of the pimples in minutes. But that's not all: Rio also said that the magic globes are great for de-puffing her face and eyes and for soothing headaches.
For the valentine who would appreciate something handmade
Handmade in North Florida with shea butter, coconut oil, and other natural and organic ingredients, these soaps also happen to look stunning all packaged in a gift-ready box set.
For the valentine who likes a good desk object
Senior editor Anthony Rotunno wrote about a very similar clock that tells the time in full sentences, in five-minute intervals, and called it "inherently calming."
For the wellness-obsessed valentine
Many health-conscious people (including RuPaul) swear by doTerra essential oils, and a vial of the protective blend is a great gift for the valentine who wants to make sure they're in tip-top shape for whatever is planned that night.
For the valentine who wants lots of candy
If they're a sour-candy fanatic, then they'll no doubt appreciate this gigantic tub of sour belts — 150 of them, to be exact — that could theoretically last until the next Valentine's Day.
For the valentine with an all-natural sweet tooth
If your sweetheart is cutting down on processed sugar but has always loved getting candy on Valentine's Day, this raw honeycomb splits the difference. It's entirely edible and can be enjoyed with cheese, on yogurt or ice cream, or just straight out of the box.
For the valentine who just wants chocolate
There's no shame in giving the gift of chocolate, especially if it's this trio of bars from Raaka, the Brooklyn-based chocolatier we hailed as one of the next status chocolates.
For the valentine with a well-groomed beard
For the valentine who has a green thumb
For the valentine who doesn't have a green thumb
This neon rose would look as cool in a teenager's room as it would behind a makeshift living-room bar. And it won't die.
For the less flashy valentine that doesn't have a green thumb
If your valentine loves flowers but might prefer more subtle décor, this vintage-style poster with illustrations of wildflower specimens would be a nice option.
For the flower-loving valentine that's also a teen (or teen at heart)
A set of 190 precut stickers of wildflowers, butterflies, and other vintage-inspired foliage to decorate their notebook or planner.
For the valentine who is tired of watching Netflix on their laptop
If giving your valentine a streaming device doesn't feel quite personal enough, consider presenting it as part of a "date night in." Dinner and a movie?
For the valentine who appreciates a good gag gift
Who wouldn't enjoy a night-light shaped like a croissant? It's also available in a boule and loaf.
For the valentine who wants breakfast in bed