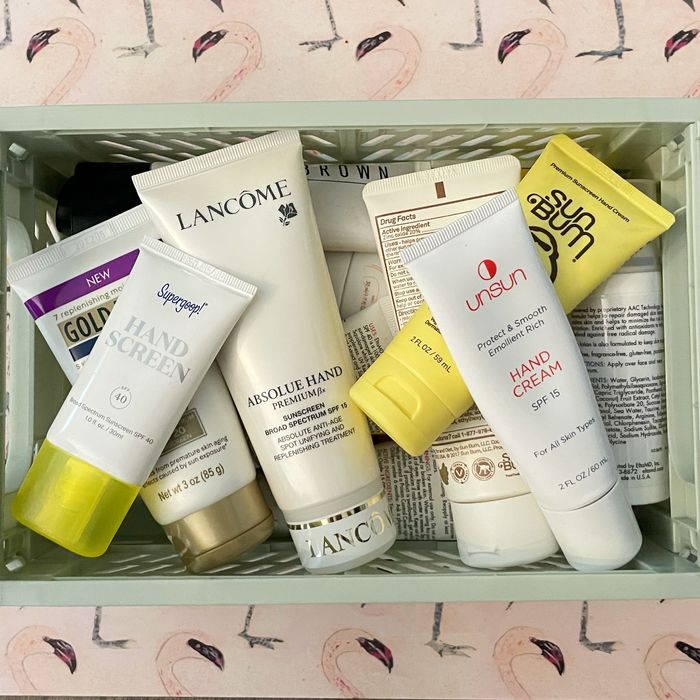 I'm very diligent about sunscreen — with red hair, very pale skin, and a family history of skin cancer, I kind of have to be. As a kid, I learned fast and early that I will never be someone who can sit in the sun unprotected and leave with a glowy tan. I, instead, burn instantly, so sunscreen has and always will be a trusty companion. Before the pandemic, I would apply it to my face, neck, and any exposed body parts before work and be fine, because I spent the majority of my days in an office. But once I started working from home, I began spending more time outside, whether working from my parents' backyard or taking my dog on numerous walks. This extra time outdoors soon exposed a flaw in my SPF regimen: Because of how much I was washing my hands and slathering them in sanitizer, applying one coat of sunscreen to them in the morning was no longer enough. Given how quickly I burn, it wasn't long before my hands became two shades darker than the rest of my arms.
At first, I tried simply applying more sunscreen after I washed, sanitized, and moisturized my hands (to combat the dryness). But that started to feel like too much effort, especially because I wound up doing it several times a day. I decided to look into alternatives by Googling "hand cream with SPF" and came across a version of that very product from a Black-owned brand, Unsun Cosmetics, that Strategist has written about before. It seemed exactly what I was looking for and had our stamp of approval, so I bought some. Formulated with ingredients like aloe vera, shea butter, and coconut oil, my hands felt extremely hydrated after just one application. At SPF 15, it proved plenty protective against the sun's rays on my hands. SPF is known to have anti-aging benefits, too, and the thick skin on your hands shows signs of age faster than skin elsewhere on the body, so using a hand cream with SPF can also help minimize those early signs of aging. (If you're wondering why I didn't just try a facial moisturizer with SPF on my hands, I did — in fact, I tried a few; the textures just didn't do it for me, and each either took forever to soak in or felt greasy on my hands in a way they did not on my face.)
As restaurants and stores began to open up, I started to carry the Unsun cream in my bag to apply on the go. After squeezing every last bit of product out, I'd reup. (I'm currently on my third tube.) At some point, I went down a rabbit hole of hand creams with SPF, researching different options from luxurious, scented ones to drugstore varieties I could grab anywhere in a pinch. With the exception of a few pricier ones, I pretty much bought them all. Below are the various hand creams with SPF in my current rotation and, beneath them, a few of the more lavish options I've considered, but have yet to splurge on.
The hand creams with SPF I've bought
The hand cream that started the obsession. I probably still use this one the most — partially because I currently own two tubes.
After Unsun's cream came this one from Supergoop!. I got it because it has a higher SPF (40), which I thought would be better on days I would be in the direct sun for a long time. Because of how lightweight the formula is, it blends in the fastest of all the ones I own. I bought the one-ounce bottle in case I didn't end up loving it; now that it's almost all gone, I'm considering paying more for the (roughly) seven-ounce one because I like it so much.
If you're not convinced that hand cream with SPF is for you, I suggest starting with this drugstore version. The cream is formulated with hyaluronic acid (a holy-grail ingredient for hydration) and vitamin C (which corrects dark spots), both of which help repair the skin while protecting it from further sun damage. I spotted it in the aisle of a Hannaford store while looking for makeup remover and was ecstatic to see its inexpensive price tag. Because it is so affordable, I don't feel bad reapplying every time I wash my hands or use sanitizer. But honestly, a little goes a long way. I've even used this all on my arms and only needed a little glob to cover each one.
I buy Sun Bum's body sunscreen every year because it's effective, formulated with good ingredients, and has a heavy (somewhat polarizing) coconut smell that I actually like. I noticed the brand sold SPF-infused hand cream while I was restocking on its sunscreen spray. Given my love for its sunscreen, I suspected I'd like the hand cream, too — and I do. It has the same coconut-y scent and nicely blends into skin. The cream is water-resistant, so I can go longer stretches without reapplying, even if I wash my hands or take a dip in a pool. (I always eventually reapply, though — and so should you.)
As I noted, SPF has anti-aging benefits, and that's where this Lancôme hand cream with SPF really stands out. In addition to protecting my skin from the sun, it's formulated to correct dark spots, reinforce skin's elasticity, and replenish moisture. It has a strong fragrance (and a steep price tag), but I love how smooth and lightweight it feels. Because it spreads so easily, you only need a dab for each application, making it more worth the investment.
The hand creams with SPF I've considered buying
This option from Shiseido has more or less the same formulation as the Lancôme cream above. On its face, it appears cheaper, but the tube is smaller, which is why I ultimately went with the Lancôme. But brand loyalists may prefer it, and it's definitely on my to-try list.
In a past job, I was lucky enough to get my hands on (samples) of a few RéVive products — a cleanser, a clay face mask, and a body cream. All were really good, which is why I even considered this hand cream, which the brand describes as "luxurious" and
"rose-scented."
The Strategist is designed to surface the most useful, expert recommendations for things to buy across the vast e-commerce landscape. Some of our latest conquests include the best acne treatments, rolling luggage, pillows for side sleepers, natural anxiety remedies, and bath towels. We update links when possible, but note that deals can expire and all prices are subject to change.