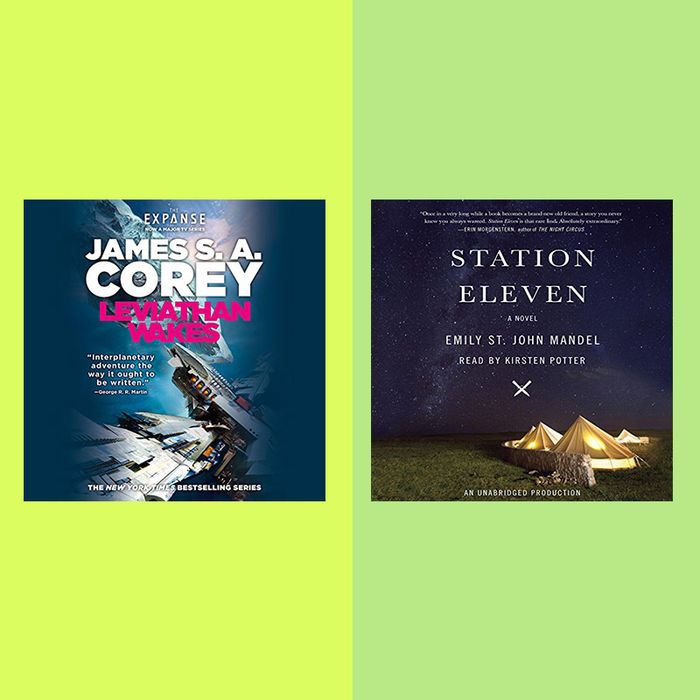 While everyone is spending their time at home dabbling in every hobby imaginable, we figured now would be a pretty good time to recommend some books you can listen to (or download on your Kindle, if that's more your speed). Here, we've rounded up the best science-fiction audiobooks, as praised by the most enthusiastic reviewers on Amazon. You can buy the audiobook for the prices we've listed below, or you can subscribe to Audible for $15 a month and download it for free, which, in our opinion, is a better deal, especially if you listen to audiobooks often.
Photo: Retailer
Actor Wil Wheaton, perhaps best known for his work on Star Trek: The Next Generation, narrates this audiobook version of The Martian, and even the most hard-core fans of the novel appreciate his performance. "This is my favorite book ever written, and I tend to go through about 200 books a year. I listened to it on audiobook, and I think the narrator enhanced the book greatly," says one, adding, "eventually, I had to stop listening to it in the lab because I was laughing so hard I was spilling solutions." Some listeners do complain that it can be difficult to absorb all of the facts and figures thrown out in the plot — about the journey of astronaut Mark Watney as he becomes the first person to walk on Mars, only to get stranded — especially when listening rather than reading. But even so, "the narrator's voice is superb. Full of wit and sarcasm, so this isn't the dry read you would at first imagine. Not often you come across an irreverent astronaut, and it's a treat."
Photo: Retailer
Nearly 300 five-star reviewers think Wheaton is also the right narrator for Ready Player One. "I mean what '80s baby wouldn't appreciate an audiobook narrated by Wil Wheaton loaded with '80s pop-culture references to boot?" asks one. "This book is rich with settings that span time, space, games, movies, memories, and places. The huge mix of material has been put together so well," says another recent listener. One reviewer even says they prefer the audio version to the book because of Wheaton's narration: "His mannerisms and use of inflection are outstanding and helped build a compelling world that sucked me in. When switching between the Kindle and Audible editions, I found myself reading the story in Wil's voice and loving every second of it." And several point out that it's a fun casting, because Wheaton "even gets to name-check himself in the book, which is hilarious." But even without the celebrity narration, this audiobook is well worth the listen because of the plot. "This book truly flipped all the nerdy happy switches in my brain. It is truly unputdownable, and I truly felt the stakes along with the characters."
Photo: Retailer
Over 300 five-star reviewers say they decided to listen to this audiobook because of how much they enjoyed the TV show adapted from the novel. But instead of watching it with Elisabeth Moss, this audiobook is narrated by Claire Danes, whose performance is described by one reviewer as "exceptional and enhances the story." Many picked up the original book because it's become so popular, but over two dozen reviewers report that the story actually made them so "angry" that the audiobook is much easier to digest. "Danes gives the listener a feeling of something very personal, like you are listening to a confession you wouldn't dare interrupt," one listener writes. Another reviewer even thinks Danes is what made getting through the whole book easier. "She was perfectly cast and an excellent narrator," though the reviewer does recommend only taking "small sips" of the story for "mood preservation."
Photo: Retailer
This George Orwell classic explores a dystopian society dominated by Big Brother and its network of agents, and a dozen readers specifically call out Simon Prebble's performance as a reason to listen. "The narration is excellent, and there is nothing I would change about it," one writes. Another reviewer says Prebble "gives a top-notch reading," and though he "only expected to listen to about one hour per day," he "ended up finishing the whole 11.5 hours in one weekend." But he seems to be the only one who thinks you can listen to it all in one sitting. Another reviewer bought it for a long car ride, but calls it "so long of a book" that he recommends breaking it up in order to fully digest it.
Photo: Retailer
"Despite being nearly 30 years old, Ender's Game keeps you hooked from the moment you pick it up to the moment you put it down," writes one reviewer who has read the book, as well as listened to the Audible version. One reviewer, who also read it before listening, disliked the choice of voice actors because they used a man with a very deep voice to play Ender, who is just 6 years old at the start of the book — "it took me out of the story at times," he says. But the voices didn't bother most listeners because many just wanted a new way to experience the story. "There are several actors who read the story, and it makes it come alive," says one reviewer, who has "listened to dozens of audiobooks" before. "The changes in the voices help to create the characters in the listener's mind, and it adds to the story overall."
Photo: Retailer
Though this book by Ray Bradbury is a science-fiction classic (especially in high-school English classes), listeners say the story is much more interesting thanks to the narration by actor Tim Robbins. "Tim Robbins certainly made the most of Ray Bradbury's very vigorous and to the point style of writing in certain parts of the book, to such an extent that I felt as if I was running with Guy Montag and experiencing his fear, pounding heart, and uncertainty," writes one reviewer." Robbins's narration is so compelling it even captivates otherwise antsy teens. As one teacher explains, "I've used other audios with my students, but nothing has grabbed them like this version. The voices and emphasis make you feel as if the characters are performing for you." Another reviewer calls this reading "one of the smoothest I've ever heard," because of how easy the plot is to understand via audiobook. "When you put it down, you want to turn to someone, take their shoulders and shake them, and say, 'You have to read this. You have to understand.'"
Photo: Retailer
The plot of Emily St. John Mandel's postapocalyptic Station Eleven seems complex, following three narrators across time in the wake of a devastating flu pandemic, but over a dozen reviewers say the audiobook is actually very easy to follow. Hundreds even say it's the best novel they've ever read (or listened to). "The time jumps played out like scenes from a TV show or movie," explains one listener. Another writes, "I think trying to read it would have driven me crazy, due to the jumping around of the timeline and the present-tense portions. But the audiobook was excellent." Kirsten Potter's narration is so nuanced that one reviewer says it's stuck with her since 2017: "It's been a couple years since I listened to Emily St. John Mandel's masterpiece on my audio reader, and the fact that I still regularly talk people's ear off about it should tell you how much I love this novel."
Photo: Retailer
Red Rising is the first book of a trilogy — the other two are also available as audiobooks — and many listeners say if you liked Harry Potter, Percy Jackson, or The Hunger Games, chances are you'll like this series as well. "We've laughed, we've cried, we've needed to know what happens next. Like, NEEDED," writes one reviewer who listened to this with her husband. She calls the book "phenomenal," thanks to Pierce Brown's "serious writing capabilities" and Tim Gerard Reynolds's narration. "Tim is a master at accents," says another recent listener. He's read the book four times but says the audiobook gives the story new life. "Be prepared to get lost in a world not so unlike our own." Another reviewer found Gerard's range of accents a bit unexpected and jarring at first, since the narrator is Irish, but as he listened to the recording, it became one of his favorite parts of the audiobook: "Listening to the actual narrative's words, it seemed natural and organic, as though the Reds of Mars are actually Irish."
Photo: Retailer
Stephen King originally published an abridged version of The Stand in 1978, but in 1990 it was reprinted in its full form — and this audiobook is of the full, uncut text, which many reviewers appreciate, especially those who only ever read the original. One reviewer has read the book six different times, but this was his first time experiencing the extended chapters, and he writes, "It was just as good this time as the last. With an hour-long ride to work and back, my time in the car seemed shorter because of the quality of the reader and the quality of the story." Another longtime fan initially didn't want to pick up the audiobook for fear it would ruin the book, but after hearing Grover Gardner's narration, he changed his mind. "Grover Gardner as a narrator has no equal. I would find myself frozen in one place during particularly dramatic moments." Listening to the entire audiobook is a large time commitment, but one reviewer says Gardner "made the whole 48 hours enjoyable." It's not lost on him how narrating this book was a "huge undertaking," and that makes him appreciate it even more. "He had 1,000 different tones and voices. Each character was unique, and that is saying a lot for a story that has over 20 of them."
Photo: Retailer
Much like The Martian, World War Z is sci-fi novel that became a movie, starring Brad Pitt — and though many reviewers still picture him as the main character, trekking through the zombie apocalypse, one reviewer says the audiobook was "star-studded" enough on its own, with a long list of actors taking on different roles. "From Martin Scorsese to F. Murray Abraham, each voice in this oral history sounds familiar, and some of the voices are instantly recognizable, like Carl Reiner and Alan Alda." She thinks the voice acting makes it "easy to become absorbed in this history of the zombie apocalypse." Another even says he "would have bought this for Alan Alda alone," although having Mark Hamill, the actor who played Luke Skywalker in Star Wars, reading really sealed the deal for him, too. "I was listening to this on a flight and wasn't expecting to hear all of these people. It made the time fly by," he adds.
This is also the full-length version of the book, not an earlier abridged one that didn't quite satisfy reviewers. "I listened to the abridged version a while back, and it was just a little disappointing with so many of the stories missing. This reissued version has added in a lot more stories and has less of a truncated feel," says one reviewer. Plus, because it's just essentially a group of short stories, you can easily pace yourself while listening.
Photo: Retailer
Even though Dune is an early classic of the science-fiction genre, many reviewers say the plot and characters are difficult to explain — you really have to just read it. But "the hype is justified," according to one reviewer. He does warn that you have to push through a little at the beginning because it is complicated, but "everything falls into place quickly enough," especially with the audiobook. One reviewer actually thinks "the audiobook is easier to keep up with than the book" thanks to narrator Simon Vance, who has narrated over 200 audiobooks. Another reviewer says Vance is actually "one of [her] favorite readers," noting she's listened to about a dozen of his books before. With Dune, she says, his performance is "magnificent" with "a great dramatization." But Vance isn't the only voice you'll hear: "Many scenes are actually performed by several actors, and that's done quite smoothly, so it's not a jarring transition going from a fully narrated scene to one that's performed." The book is unabridged and about 18 hours, which is long for an audiobook, but if you're going on an extended car ride or have a weekend with lots of time on your hands, it's likely a more efficient way to get through this sci-fi novel than sitting down and reading it.
Photo: Retailer
The audiobook version of Aldous Huxley's Brave New World is a novel take on something many were forced to read in high school. One reviewer enjoyed the audiobook more than the hard copy, mostly because of the narrator, Michael York, an English actor who's appeared in over 70 films. "Having the familiar voice of an actor we know makes the listening easier." One reviewer explains there are "sometimes confusing leaps from one character or conversation to another," but because York "uses different voices and intonation for each character," it was easier to follow. And some people enjoyed it so much, and found the themes so prescient, they even plan to pick it up again. "I could go on about what I felt, how the story moved me, and how it will stick in my head for a long time to come."
Photo: Retailer
Leviathan Wakes is the first book of James S.A. Corey's Expanse series — which eventually turned into a TV show, The Expanse, on the Syfy channel — that explores a humanity that has colonized on other planets throughout the solar system. Actor Jefferson Mays narrates the audiobook, and he's so clear in his performance that it's as easy to follow along as watching different actors on the TV show: "Mays changes his voice just enough that you know which character he is performing, without it sounding forced or strange. His acting is superb; he captures the emotions of the characters and mood of the scene flawlessly." Some reviewers were initially concerned they may have inadvertently ruined the book series by watching the TV show first, but another assures they're different enough, so you can still enjoy the audiobook: "Well, the show is great, and so is the book." And once you're done with the first book, the rest of the seven books in the series are also on Audible.
Photo: Retailer
Because it was originally published in Chinese, this is the first time readers can actually experience this award-winning novel in English, though at first listen, many reviewers say they weren't captivated by the plot — some even said it sounded "cliché." But after getting into the audiobook, they admit they misjudged the book. One calls The Three-Body Problem "the best sci-fi audiobook I've heard in a while" because "the concepts are amazing and based on modern scientific theories with multidimensional Eastern philosophies and Chinese cultural references." He thought the narrator, Luke Daniels, made the physics and technical jargon woven into the text easier to digest. And some reviewers who read the book in its original Chinese before picking up this audiobook appreciate that this English version allows them to experience it in a completely new way, like one who says, "The story really hooks you as the plots unfold. Liu has done a very good job both in involving real physics in the story and setting up the hooks with imagination." He read the other books in this series in Chinese, but because this book translated to English so well over audiobook, he plans to listen to the other two.
Photo: Retailer
While almost 200 reviewers watched either the 1981 TV show or the 2005 movie adaption, with Martin Freeman and Zooey Deschanel, they say listening to the book is better than either. "Hilarious and so much fun. Better than the TV series. If you love Douglas Adams, this is the fountain from which you must drink," says one reviewer. The chapters are short, note many reviewers, but that just makes it easy to get through. "This audiobook made my three-hour daily commute less unpleasant," says one reviewer, adding, "You probably know the story already. It is filled with nonsense, satire, and very clever, if not realistic, sci-fi concepts. So enjoy the listen." And almost three dozen reviewers credit the narrator Stephen Fry, who narrated the 2005 movie, with how great the audiobook is. "To have the wonderful Stephen Fry presenting it brought it from fabulous to ultramegafabulous. Super-enjoyable!" Another calls the audiobook "pure pleasure" and Fry's performance "the definition of classic British humor," which could be an acquired taste, but he thinks "the story is absolutely hilarious" with Fry's added flair. One mom even said he made the audiobook so good that it inspired her kids, who aren't big readers, to pick up the actual books. "They grabbed my complete collection as soon as we got home. Fry adds a delightful amount of character to the characters and really brings them to life," she adds. And once you're done, you can listen to the sequel.
Photo: Retailer
Edoardo Ballerini, the narrator of Watchers, was nominated for a 2019 Audie Award by the Audio Publishers Association for his performance in this audiobook, which reviewers agree is outstanding. "Nothing is better than the combination of a great story that is well read. The narrator of this audio novel could not have been a more perfect fit for one of Koontz's best tales," says one reviewer. He thinks that even those who don't typically enjoy audiobooks will love his performance, and another thinks this audiobook could be "the one to get you started." For him, Ballerini's performance is "the best I've ever heard" because "his vocal inflections and dynamics get you hooked right away" on this story about a man on a journey to find happiness with a deeply intelligent golden retriever. A third reviewer picked up this audiobook to impress a girl he liked, but ended up falling in love with the story and actually relistened to it on his own. He says the story overall was good, but "the pacing was perfect," which made it easier to comprehend without having to rewind. "If I never get to kiss the girl, at least I found an author that I plan on reading for a long time."
Photo: Retailer
"This is the THE technothriller, THE dinosaur novel, and THE best of Michael Crichton's works. I saw the movie first and even though it's still great, I believe the book is far above it," writes one reviewer, who eventually admitted he wished he listened to the book before watching the movie. And while most parents say their kids typically prefer movies, over a dozen said they enjoyed this audiobook, like one dad who says that's all thanks to "listening to Scott Brick's incredible narration." He put this on during a long road trip and writes, "My children (who usually fall asleep five minutes into any car trip) were alert and shouting as if they were part of the story. So great that all the characters are identifiable by sound — even those grandkids are believable (and annoying!) as voiced by the narrator." The audiobook is relatively long, so one mom says it got her family through an entire "20-hour-long road trip," which she thought would be tedious but says, "We all enjoyed it, and it made not only the trip go faster but enjoyable. Narrator was amazing."
Photo: Retailer
One avid sci-fi reader describes The Fifth Season as a "well-written fantasy with a largely unique magic system and mythos coupled with a satisfying personal story of loss, revenge, and what it means to be an 'other' in a stratified, xenophobic society" that truly came alive with Robin Miles's narration. Another says that Miles "was able to capture the voice and accents of each of the characters well," and because "the production quality was good as well," she recommends "this to anyone who likes fantasy novels with complexity." As a result, Miles takes on dozens of accents, "everything from an African to a Gaelic to a Slavic accent, without sounding fake," which "really brings the characters to life in a nice way," writes another reader.
Photo: Retailer
As far as young-adult sci-fi books go, many reviewers say most are cheesy or dull. But about 50 reviewers say while this one is technically "young adult," it's worth getting into. One listener calls it an "extremely well-written and conceived young-adult science-fiction novel," which makes it hard to put down — or to stop listening. She also appreciates that, compared to most sci-fi novels, this one actually has a female lead. "I care so much about the protagonist, a young girl called Spin, who is on the brink of womanhood." Many say the plot reminds them of Ender's Game because Spin is a young hero who attends an intensive flight school, so if you're looking for something a bit less intense, this is a good alternative to Ender's Game. The narrator, Suzy Jackson, also stood out to reviewers. "Suzy Jackson does a remarkable job with the narration on the audiobook! Kudos to whichever editor snagged her for this project," says one reviewer. She made each character distinct enough so you "always knew who was talking," as one character puts it. Another said she made it so "captivating" that it didn't feel like it dragged on for thousands of pages. Plus, she notes, "there were even times that I laughed right out loud."
Photo: Retailer
Octavia E. Butler combines fantasy with commentary on social conflict in most of her award-winning novels, and reviewers say Parable of the Sower is no different. Lauren, an 18-year-old prophet, documents in her personal diary the downfall of humanity as it becomes overrun with drug-obsessed pyromaniacs and violent neighborhoods. To save civilization, she tries to spread her positive Earthseed movement and implement divine change. "Forget 1984; Butler's 'Earthseed' series are the books one should read to get insight into our world today," says one reviewer. Very few specifically mention the narrator — although one says she "truly enjoyed Lynne Thigpen's narration" — but that's because they believe the story stands alone without the aid of a voice actor, no matter how excellent they are. And one reviewer actually thought Thigpen's exaggerated voice "was sometimes jarring." But overall, she recommends the book and even thinks the sequel, Parable of the Talents, is worthwhile to listen to too.
Photo: Retailer
Unlike the other audiobooks mentioned, which only offer one novel at a time even if they're part of a series, if you download this set, you get all six books in one recording. Much like the title implies, this audiobook depicts what it would be like to be the last people on Earth in a fully destroyed, apocalyptic civilization. Over 10 percent of reviewers mention that if you're a fan of "twists and turns" in a book, you'll love this one. Some people weren't hooked right away, though. One reviewer thought "it started off slow and confusing," and he almost lost interest but thankfully pushed through. "It got better and then it had me," he says. He explains that it's "not an apocalyptic book in the normal sense of the word," because there's much more nuance to each of the characters and more gore than expected. But he says it was so good that "it kept me off Facebook for a day." Another says it actually gets easier to understand the further into the series you get. "This is what I do while on the job when doing no-brainer data entries," he says, appreciating that it's easy to grasp so he can stay entertained at work.
The Strategist is designed to surface the most useful, expert recommendations for things to buy across the vast e-commerce landscape. Some of our latest conquests include the best acne treatments, rolling luggage, pillows for side sleepers, natural anxiety remedies, and bath towels. We update links when possible, but note that deals can expire and all prices are subject to change.