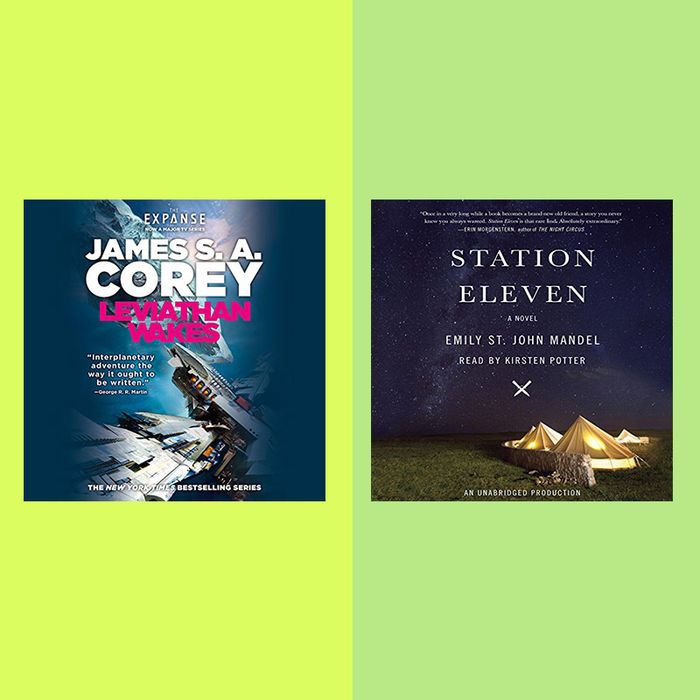 While everyone is spending their time at home dabbling in every hobby imaginable, we figured now would be a pretty good time to recommend some books you can listen to (or download on your Kindle, if that's more your speed). Here, we've rounded up the best science-fiction audiobooks, as praised by the most enthusiastic reviewers on Amazon. You can buy the audiobook for the prices we've listed below, or you can subscribe to Audible for $15 a month and download it for free, which, in our opinion, is a better deal, especially if you listen to audiobooks often.
Photo: Retailer
Actor Wil Wheaton, perhaps best known for his work on Star Trek: The Next Generation, narrates this audiobook version of The Martian, and even the most hard-core fans of the novel appreciate his performance. "This is my favorite book ever written, and I tend to go through about 200 books a year. I listened to it on audiobook, and I think the narrator enhanced the book greatly," says one, adding, "eventually, I had to stop listening to it in the lab because I was laughing so hard I was spilling solutions." Some listeners do complain that it can be difficult to absorb all of the facts and figures thrown out in the plot — about the journey of astronaut Mark Watney as he becomes the first person to walk on Mars, only to get stranded — especially when listening rather than reading. But even so, "the narrator's voice is superb. Full of wit and sarcasm, so this isn't the dry read you would at first imagine. Not often you come across an irreverent astronaut, and it's a treat."
Photo: Retailer
Nearly 300 five-star reviewers think Wheaton is also the right narrator for Ready Player One. "I mean what '80s baby wouldn't appreciate an audiobook narrated by Wil Wheaton loaded with '80s pop-culture references to boot?" asks one. "This book is rich with settings that span time, space, games, movies, memories, and places. The huge mix of material has been put together so well," says another recent listener. One reviewer even says they prefer the audio version to the book because of Wheaton's narration: "His mannerisms and use of inflection are outstanding and helped build a compelling world that sucked me in. When switching between the Kindle and Audible editions, I found myself reading the story in Wil's voice and loving every second of it." And several point out that it's a fun casting, because Wheaton "even gets to name-check himself in the book, which is hilarious." But even without the celebrity narration, this audiobook is well worth the listen because of the plot. "This book truly flipped all the nerdy happy switches in my brain. It is truly unputdownable, and I truly felt the stakes along with the characters."
Photo: Retailer
Over 300 five-star reviewers say they decided to listen to this audiobook because of how much they enjoyed the TV show adapted from the novel. But instead of watching it with Elisabeth Moss, this audiobook is narrated by Claire Danes, whose performance is described by one reviewer as "exceptional and enhances the story." Many picked up the original book because it's become so popular, but over two dozen reviewers report that the story actually made them so "angry" that the audiobook is much easier to digest. "Danes gives the listener a feeling of something very personal, like you are listening to a confession you wouldn't dare interrupt," one listener writes. Another reviewer even thinks Danes is what made getting through the whole book easier. "She was perfectly cast and an excellent narrator," though the reviewer does recommend only taking "small sips" of the story for "mood preservation."
Photo: Retailer
This George Orwell classic explores a dystopian society dominated by Big Brother and its network of agents, and a dozen readers specifically call out Simon Prebble's performance as a reason to listen. "The narration is excellent, and there is nothing I would change about it," one writes. Another reviewer says Prebble "gives a top-notch reading," and though he "only expected to listen to about one hour per day," he "ended up finishing the whole 11.5 hours in one weekend." But he seems to be the only one who thinks you can listen to it all in one sitting. Another reviewer bought it for a long car ride, but calls it "so long of a book" that he recommends breaking it up in order to fully digest it.
Photo: Retailer
"Despite being nearly 30 years old, Ender's Game keeps you hooked from the moment you pick it up to the moment you put it down," writes one reviewer who has read the book, as well as listened to the Audible version. One reviewer, who also read it before listening, disliked the choice of voice actors because they used a man with a very deep voice to play Ender, who is just 6 years old at the start of the book — "it took me out of the story at times," he says. But the voices didn't bother most listeners because many just wanted a new way to experience the story. "There are several actors who read the story, and it makes it come alive," says one reviewer, who has "listened to dozens of audiobooks" before. "The changes in the voices help to create the characters in the listener's mind, and it adds to the story overall."
Photo: Retailer
Though this book by Ray Bradbury is a science-fiction classic (especially in high-school English classes), listeners say the story is much more interesting thanks to the narration by actor Tim Robbins. "Tim Robbins certainly made the most of Ray Bradbury's very vigorous and to the point style of writing in certain parts of the book, to such an extent that I felt as if I was running with Guy Montag and experiencing his fear, pounding heart, and uncertainty," writes one reviewer." Robbins's narration is so compelling it even captivates otherwise antsy teens. As one teacher explains, "I've used other audios with my students, but nothing has grabbed them like this version. The voices and emphasis make you feel as if the characters are performing for you." Another reviewer calls this reading "one of the smoothest I've ever heard," because of how easy the plot is to understand via audiobook. "When you put it down, you want to turn to someone, take their shoulders and shake them, and say, 'You have to read this. You have to understand.'"
Photo: Retailer
The plot of Emily St. John Mandel's postapocalyptic Station Eleven seems complex, following three narrators across time in the wake of a devastating flu pandemic, but over a dozen reviewers say the audiobook is actually very easy to follow. Hundreds even say it's the best novel they've ever read (or listened to). "The time jumps played out like scenes from a TV show or movie," explains one listener. Another writes, "I think trying to read it would have driven me crazy, due to the jumping around of the timeline and the present-tense portions. But the audiobook was excellent." Kirsten Potter's narration is so nuanced that one reviewer says it's stuck with her since 2017: "It's been a couple years since I listened to Emily St. John Mandel's masterpiece on my audio reader, and the fact that I still regularly talk people's ear off about it should tell you how much I love this novel."