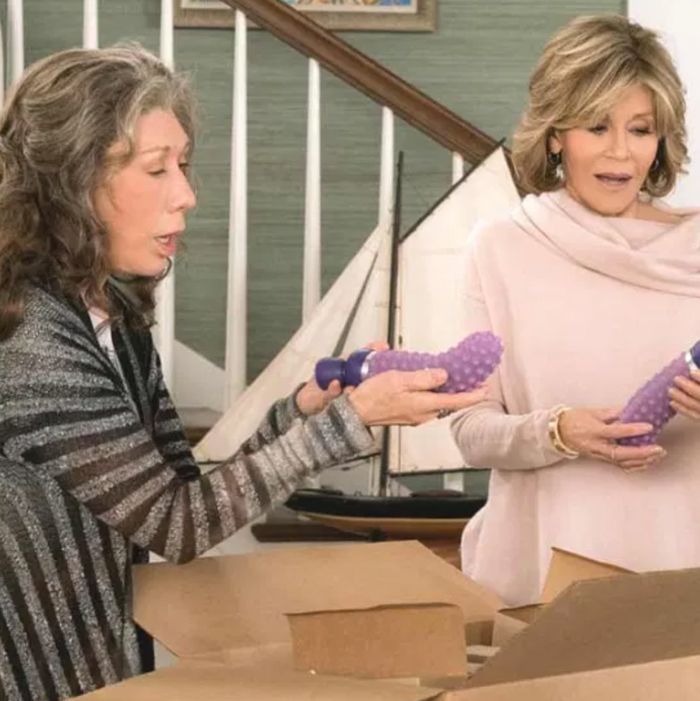 If your nightstand drawer is home to an ever-growing collection of loose vibrators and air-suction toys and strokers and beads, you might be running out of space and looking for a more effective way to store them all. Using something actually designed to store sex toys, according to the experts we spoke to, not only will help keep them organized, but also in tip-top condition. As sex educator Dirty Lola points out, "There are three things you need to think about when storing your toys: dust, temperature, and accessibility." The best sex-toy storage will protect them from gathering dust, and no matter what you put them in, she says toys should be kept in a cool, dry place because "high heat and moisture can damage your toys over time." When it comes to accessibility, sex educator Lola Jean recommends "organizing by purpose or usage," suggesting vibrators and lube might be kept within arm's reach, while less-used toys can be stored in other places, like under a bed. And all of our experts agree that if any toy you buy comes with something to store it in, you should use it. As erotic educator Taylor Sparks, the founder of the Black-owned adult retailer Organic Loven, explains, "It is best to put each toy in its own storage bag" if it comes with one, "whether it's cotton, velvet, or satin."
To find the best sex-toy storage for products that don't come with their own, or for stashing multiple products together, we asked Dirty Lola, Lola Jean, Sparks, and six other experts — including sex writers, sex-store owners, and sex podcasters — about the gear they use and where they put it. From pouches you can tuck in a drawer, to boxes that also promise to clean your toys, to travel-friendly storage options, their favorite solutions are below. To help you search, we've organized the products by type — bags, boxes, and storage for travel — leading each category with any items we heard about the most where applicable.
Best storage bags for sex toys


Even if you only own one toy, if it does not come with its own storage bag, our experts say that you should consider purchasing an affordable one like this if you don't have something similar (like an old shoe bag) lying around the house. This bag comes recommended by certified clinical sexologist Gigi Engle, the author of All The F*cking Mistakes: A Guide to Sex, Love, and Life, who says it "prevents the toy from getting gross between sex sessions." Sex educator and writer Elle Stanger explains why sex toys shouldn't simply be thrown loose into a drawer or other storage: "Squishy or softer-material toys shouldn't touch each other while stored as they can 'melt' or discolor each other."
This (far) higher-tech version of the above pouch comes recommended by Sparks. Meant for storing single toys, the B-Vibe pouch has an interior UV light, which Lola Jean says "is a great way to give your toys a thorough clean." All you have to do is plug in the pouch, place a toy inside, and press a button to turn it on. After three minutes, the UV light will have done its work and your toy will be ready for your next self-love session.
While folks with one or two toys can probably get by with storing them in a drawer inside pouches like those above, Sparks says that "if you have more than one or two," you might consider this micro-suede case (that just looks like a Dopp kit) as an alternative place to keep them all together. The case has "a water-resistant nylon lining" for added protection and is easily lockable with the included padlock and key, she explains. According to her, it can easily fit a couple large wands and smaller toys — but if you put multiple toys in it, each should still go inside its own individual cloth bag for the reasons Stanger explained.
Best storage boxes for sex toys


Boxes by design are going to be a bit larger than pouches, but the ones we heard about are compact enough to tuck under a bed or discreet enough to be left out on a shelf. Because boxes can generally accommodate more toys than a pouch or bag, people with lots of playthings will probably prefer one. Owners of multiple toys who want storage that can also sanitize (and charge) should consider the UVee Homeplay, according to Sparks, Lola Jean, and Emily Morse, Ph.D., a sex educator, a relationship expert, and the host of the Sex With Emily podcast. "It kills up to 99 percent of all infection-causing germs associated with the use of adult toys," Sparks explains, and should be able to fit three to five toys inside, depending on their size. As far as charging, the Homeplay has three internal USB ports to plug chargers into; once you plug in the Homeplay itself and close and lock the lid, it will begin to charge any toys inside it.
For a simpler, more affordable storage box, two of the experts recommend the Joyboxx, which Dirty Lola likens to a Caboodle. It's "sturdy, cute, lockable, and has a retro feel to it," she explains. Sofiya Alexandra, a co-host of the love and sexuality podcast Private Parts Unknown, says it's the perfect size for a couple toys and accessories like lubricant, adding that the Joyboxx has "an included drying rack that is incredibly handy." Made from dishwasher-safe, food-grade, nonporous plastic, it has more thoughtful details like a hole to stick chargers through and a combination lock for keeping unwanted hands out. Just know that any toys stored in this should still go in individual pouches.
"I love the Moi because it looks like a jewelry box and you can leave it out in the open," says Dirty Lola. The lacquer box has a soft interior with mesh compartments to keep your collection neat. "It's perfect if you have only a few small toys to hide," she says. Like with the Joyboxx, any toys you put in this should be inside their own pouches, too.
There are always those people who choose to invest a lot in one type of thing — and if that type of thing happens to be sex toys, then they might be looking for storage worthy of their sizable stashes. While she doesn't own it, Courtney Kocak, the other co-host of Private Parts Unknown, told us that "as my collection grows, I've got my eye on this gorgeous trunk: It's a sexy-looking piece of organizational equipment that makes me horny all on its own." The lockable, faux-leather trunk lined in red velvet opens to reveal what is more like a small closet complete with drawers, hooks, and slots for storing any manner of sex toys and accessories. (Which, again, should be kept in individual pouches if they might come in contact with each other.) When closed, it looks more like a fancy suitcase or briefcase and should be slim enough to slip under most beds.
Best sex-toy storage for travel


Dirty Lola calls Liberator's line of bedroom gear "a personal fave," noting it includes a ton of different storage options in a variety of sizes and styles. Her favorite of them all is this Tristan Toy Bag that she says looks more like "a fancy duffel bag," which is why she likes to use it when traveling with sex toys. While compact, she assures it can easily fit a Magic Wand vibrator and lots of other toys (that should be kept in individual bags if packed together). "I've filled it with sex toys and carried it on a plane and no one batted an eye," she says, noting it is equally discreet if you're just walking to your partner's pad.
Folks who have multiple toys for BDSM might prefer this organizer with plenty of slots and pockets for their tools. It comes recommended by Kenneth Play, the creator of the "Sex Hacker Pro" series and a co-founder of Hacienda Villa, an intentional sex-positive community. Once your gear is packed, the easy-to-carry bag rolls up into a tube complete with an adjustable shoulder strap. When not in use, loops at the top of the bag make it easy to hang in a closet.
Kocak says "this lockable sex-toy case is perfect for on-the-go storage," adding she used it a lot "while traveling for the podcast pre-'rona." Small enough to fit in a suitcase, it has a hard shell to keep any toys within from getting squished. While the brand says it's "lined with special antibacterial material to keep your toys hygienic," it would probably be a good idea to put toys in individual pouches if you are going to stuff it with more than one.
The Strategist is designed to surface the most useful, expert recommendations for things to buy across the vast e-commerce landscape. Some of our latest conquests include the best acne treatments, rolling luggage, pillows for side sleepers, natural anxiety remedies, and bath towels. We update links when possible, but note that deals can expire and all prices are subject to change.