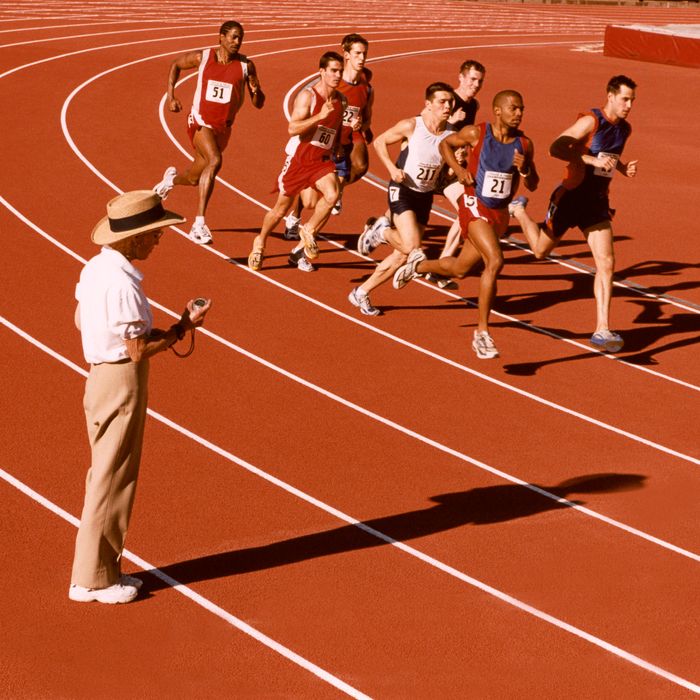 Photo: Yellow Dog Productions/Getty Images
Here at the Strategist, we like to think of ourselves as crazy (in the good way) about the stuff we buy, but as much as we'd like to, we can't try everything. Which is why we have People's Choice, in which we find the best-reviewed products and single out the most convincing ones. (You can learn more about our rating system and how we pick each item here.)
And while we've written about lots of athletic accessories before — including one writer's favorite gym shorts, the next status gym sneaker, and the best gym mats — here, we've rounded up the best stopwatches, as praised by the most enthusiastic reviewers on Amazon.
Best-rated stopwatch
"Sweet stopwatch," exclaims this baseball coach. "This is perfect for checking pop time of catchers, and pitchers pick-off move. I can use this in the dugout around other players without the annoying sound." And lots of reviewers used this stopwatch for sporting events because it's accurate and easy to use, including this mom who brings it to her kids' swim meets: "I bring my own stopwatch and love this one. As a game I often see if I can get the same time as the touchpad, and with other stopwatches that I've used, the buttons stick after a while but not so with this one." Another reviewer prefers this stopwatch to other models because it's "easy to use, has a large display and great warranty," adding, "If you are looking for a no nonsense stopwatch that you can comfortably take out in inclement weather, this is your stopwatch." Several reviewers also point out that this stopwatch is nearly silent. "I purchased this stopwatch to use for neuropsychological evaluations, in which I sit in a quiet room with a client. It's imperative not to have a stopwatch that beeps, which can be distracting to the client," one customer explains, adding, "This stopwatch has no beeping function (perfect for my purposes, but look elsewhere if you prefer the beeping)."
Best-rated (less expensive) stopwatch
"An economical yet accurate time pacer. Have used many stopwatches in my 24 year coaching tenure, this stopwatch has the feel and functions as those costing 10 times the price," assures one professional coach. And several other reviewers admit they purchased this specific stopwatch because it's "reasonably priced," but one adds that the beeping was a selling point, noting, "I was looking for an accurate stopwatch that beeps and is a reasonable priced. That was hard to find. I found it in this stopwatch. The buttons have a positive feel, but you also get the beep to know when you hit the buttons." A few even think compared to other more expensive models, this stopwatch is more reliable, including one reviewer who writes, "As an athlete and personal trainer, I've seen my fair share of stopwatches. This one is very easy to use and feels more solid and reliable than others I have used. Definitely great value for the price."
And now for some micro-picks for every type of stopwatch you might be looking for.
Best stopwatch for track and field
Competitive track and field runners and coaches rave about this stopwatch. One college track coach cites this as his "absolute favorite watch for coaching," explaining, "I must have the running lap split and running overall split. Nothing is worse than trying to figure out the math for the lap split (before actually seeing it at the end of the lap) in the middle of a workout with other groups also practicing." Lots of reviewers actually appreciate the splits, including one coach who calls them "easy to use and the watch is very accurate." They used it for their "entire track season," adding that they were "able to keep accurate splits on multiple runners in the same heat quite easily." Another reviewer even calls this "the most reliable stopwatch I have used in my 20 years of coaching track and field." Some reviewers dislike the beeping sound, but as this reviewer puts it, "It works just as described, the only thing I don't like is the beeping sound it makes, but really I use it at track meets and while outside at the meet I can never hear it so it doesn't bother me."
Best stopwatch for recreational runners
Recreational runners that want to keep track of their personal times tend to give this stopwatch top marks. "I purchased this stopwatch to record running time versus walking time, and the lap function works well to track this information," writes one reviewer. Another calls it, "by far the best stop watch I have ever used for training." They continue, "The buttons have never been 'touchy', and always start and stop the watch, or enter splits, with no errors. It also allows for a display of fractions of a second beyond the first 1/2 hour or 1 hour of time, a feature a lot of watches do not have. The split feature is incredibly useful." One reviewer "bought this over six years ago," and confirms that it holds up: "I can't say I've been kind to it. I'm a runner, and this thing has spent hundreds and hundreds of miles in my sweaty palms and pockets, and I've dropped it plenty of times, and it still just works. Lightweight and fits comfortably in my hand."
Best stopwatch for swimming
Because this stopwatch is waterproof, many reviewers use it while swimming. "I time my daily runs and swims, so water resistant is important," writes one reviewer who owns three of these stopwatches, adding, "I am very happy with all three watches." One mom bought this stopwatch for her son and laments, "We could have really used this back in the days of swim team as well." She explains, "After searching all the reviews and finding something budget-friendly, this turned out to be a perfect choice for us.Times appear to be very accurate. Of course, he needs to drop three seconds, but that's not the fault of the Marathon stopwatch." And as this reviewer concludes, "This is a high quality stopwatch and an unbelievable value for the price."
Best stopwatch for interval training
"Does what it's supposed to do: Keeps you on schedule for Tabata or HIIT workouts," assures one reviewer, explaining, "You can set the intervals easily and use the count-down mode to set your overall practice time. There is nothing fancy about this. You turn it on, press the button, and it works." A few more also note that there's nothing totally fancy about this stopwatch, but one reviewer who just began interval training admits that "this timer actually is motivating me," adding, "I've nicknamed it 'The Motivator.' I can't wait to get back to the park to do my exercise. It has helped to revitalize my workout routine. It's giving me goals to attain and makes my workout fun." A third reviewer agrees that this helps during interval training, and adds, "For the cost, and the functions, there is not a better portable interval timer that I have come across. The are sturdy as hell and have yet to actually break one yet. These things are just awesome for any coach, fitness professional, or exercise enthusiast tired of using their phone for everything."
Best easy-to-use stopwatch
Nearly half of all five-star reviewers use the word "easy" to describe this stopwatch. "If you know a little about stopwatches, this watch will be very easy to use," assures one reviewer who admits they "didn't even look at the instructions to operate the watch." A few mention that the watch is much bigger than expected, like one who says, "I didn't really expect it to be as large as it is, but that could play either way. The larger size could be bad if you carry a lot of junk in your pockets and expected to put it there, on the other hand though, it is a real advantage if you want a timer that is easy to see and easy to read, even hundredths of a second." An official for a roller derby league purchased this watch because of how many features it has, calling it, "a blessing for me. The countdown timer helps keep the jam timer and the scoreboard operator (who maintains the visible clocks) synced up. And it eliminates a lot of extra math trying to figure out what the clocks should be changed to when the visible clock is counting down and the backup clock is counting up." And as this reviewer puts it, "No annoying time, day, date, alarm function. Whew. It's just an excellent, does what you want stopwatch with a superb countdown timer."
Best stopwatch with a large screen
"This stopwatch is exactly what I've been needing," writes one satisfied customer. "The buttons are nice, large and tactile and have a satisfying click when depressing them. The display is very clear, large and easy to read, even for my bad eyes." Over a dozen more reviewers rave about how large and easy to read the screen is, including one who notes, "A fairly large stopwatch with time, date, and alarm functions. Big numbers make it easy to read." One more even appreciates that aside from the big screen, it has large buttons, adding, "I use the stopwatch function for swim meets. The stopwatch timer is easy to use; it fits nicely into the palm of my hand, it has large buttons which click when pressed so that I know that I pressed them."
The Strategist is designed to surface the most useful, expert recommendations for things to buy across the vast e-commerce landscape. Some of our latest conquests include the best acne treatments, rolling luggage, pillows for side sleepers, natural anxiety remedies, and bath towels. We update links when possible, but note that deals can expire and all prices are subject to change.