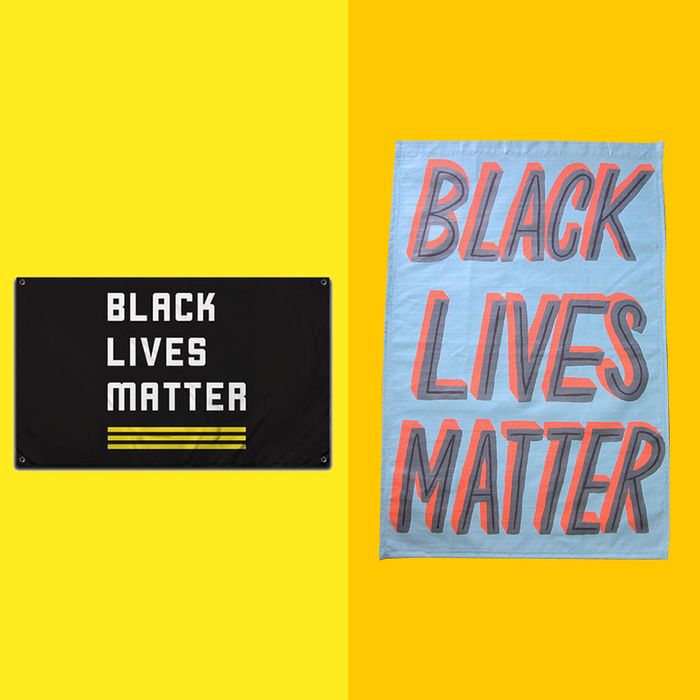 Since George Floyd's death, I've seen Black Lives Matter signs around every corner in New York City, as well as on recent trips throughout the Northeast. Many of the signs are endearingly slapdash: a collection of Post-it notes in an office window above the FDR, a simple printed poster in the window of a coffee shop, a hand-drawn sign in the window of a brownstone. But last week, I looked across the street in Bed-Stuy and noticed a massive red, black, and green Pan-African flag reading "Black Lives Matter" waving outside a neighbor's apartment — and that led me to spot more and more professionally made flags and posters around the neighborhood. That people are investing in more permanent fixtures to display proudly feels like more of a political statement to me than any presidential sign ever could — and it proves that the Black Lives Matter movement is now an indelible part of American life. Showing one's support for the BLM movement through signage is great — but making sure that signage supports BLM organizations or Black-owned businesses is just as important. Ahead, the best Black Lives Matter signs, banners, and flags, all of which are produced by Black makers or directly benefit the Black community.
Yard Signs
There are tons of straightforward, high-quality Black Lives Matter yard signs out there, but most of them aren't produced by Black business owners or don't benefit Black causes. That's what sets apart the signs made by Syracuse, New York–based Signs for Me. The Black-owned shop sells single-sided and double-sided yard signs plus stakes. Shipping is free and according to reviewers — all of whom have given this product five stars — the sign arrives incredibly quickly.
Black- and family-owned Signs of Justice is the perfect place to turn if you want to buy Black Lives Matter yard signs in bulk. The four-year-old shop — recommended by nearly 2,500 Etsy reviewers — is based out of Portland, Oregon, and is operated by Jameesa and Bryan Oakley and their daughter, Mia. Signs of Justice sells two-sided BLM yard signs in units of ten (stakes are not included but can be purchased for an additional $1.50 each).
Yard signs aren't exactly the most creative medium, which is why I really love these illustrated ones from New York–based costume designer and illustrator Rayneese Primrose (a.k.a. Mosaic Pop Art). And so does Etsy: One reviewer says, "This design is beautiful! It looks so good that I had to put it in the front window. I didn't want anyone to take it," and other cited several compliments from neighbors. It also comes in garden-flag form. Shipping is free for both items.
Some of the most vulnerable members of the Black community are Black transgender people, who have become a major linchpin of the Black Lives Matter movement. Boredom Buster Crafts and C and D Designs Inc. are both highly rated, Black-owned companies making high-quality yard signs that advocate for Black trans people.
Flags
One of Etsy's best-selling flags comes from Black-owned shop Delightfully Bliss, which specializes in a wide variety of polyester, UV-protected Black Lives Matter flags at affordable prices. Colorways include standard black and white, Pan-African, rainbow, and a Black Power "Say Their Names" flag. Reviewers report fast shipping, with one writing, "I got exactly what I paid for and it arrived in 6 days — that's what I call good service."
If you want a slightly smaller flag to display in your shop, window, or on your porch, Etsy seller BLM Flags makes attractive three-by-five-foot UV-resistant polyester flags featuring a modern font. While this shop is not Black owned, it is POC owned, and 20 percent of all proceeds go to Color of Change or the ACLU.
You can also go straight to the source. The official Black Lives Matter organization sells a sturdy, high-quality flag featuring its logo and four grommets, so you can hang it as a banner or a flag. The flag is double-sided, weather resistant, and machine washable. One reviewer writes, "This flag is beautifully made. We put this in our third-floor apartment window and it can be seen from the community room in our complex. It can also be seen by the trains that pass by (92 per day). Happy to have it and share it." (Note: Due to high demand, shipping may take two to three weeks.)
North Carolina–based Etsy seller Tyndall Treehouse offers the best-selling handmade Black Lives Matter garden flags with printing on one side or both sides on an all-weather duck fabric. Though this shop is not Black owned, all proceeds from the sale of these garden flags go to Forward Justice, a nonpartisan law, policy, and strategy center dedicated to advancing racial, social, and economic justice in the American South.